The Business of Selling WordPress Themes: Part 1
WordPress is to professional blogging what Photoshop is to design. Sure, there are widely used alternatives, but it's definitely the standard to beat. This post will examine how to sell, price and promote your WordPress themes.
Get unlimited downloads of 2 million+ design resources, themes, templates, photos, graphics and more. Envato Elements starts at $16 per month, and is the best creative subscription we've ever seen.
The success of WordPress has spawned an insatiable appetite in the huge WordPress user base for quality themes. Many savvy developers have recognized this need and have either added WordPress theme design to their repertoire or crossed completely over to full-time theme designers.
As a WordPress theme designer, you can choose to sell 100% unique custom themes, stock themes (as template), or both. This post will focus mostly on the stock side but will definitely venture into the custom foray.
Can I Make Enough to Pay the Rent?
The answer to this question is a resounding yes. To squelch all the skeptics, Twicet (the name of the theme) has sold 1,458 times since July 2009. Multiply that by the $35 it costs to buy it and you have over $51,000 in sales in 6 months! Now granted, he only gets somewhere between 40-50% of that so at worst, this file has made him around $20,000 thus far.
The amazing numbers above represent passive income from a single theme (i.e., the Holy Grail). The sales of this theme will no doubt continue to make the author a healthy chunk of change for some time to come with zero additional effort on his part. In the mean time, he can probably think about quitting his day job to spend more time trying to replicate his success with a different theme.
So now that I've got you seeing dollar signs, let's come back down to Earth for a moment. Realistically, this is the exception, not the rule. There aren't tons of designers out there making forty grand per theme per year, there are very few. But there are a lot of hardworking designers making a decent amount of money selling stock themes on top of custom design services. Let's look at how you can realistically become one of these designers while secretly hoping to score it big like the example above.
Where to Sell
There are a number of places to sell WordPress themes online. A smart designer will spread his work out initially to see where the biggest profit potential lies.
Your Own Site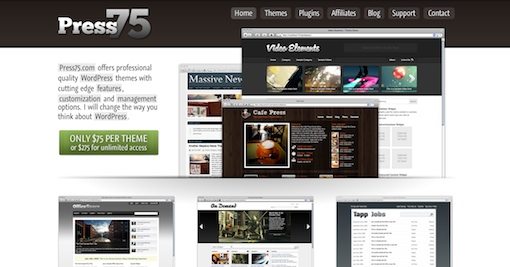 Creating your own site like the one above is a great place to start. This comes with several benefits including complete creative liberty, the freedom to charge whatever you want, reaping 100% of the profit, and the lack of annoying reviewers who have the power to decide your fate.
Of course, this solution is not without downsides, the biggest being that being on your own means that you are on your own (amazingly redundant but packed with truth). It's up to you to invest time in building an online marketplace for your themes. This goes beyond simply designing a pretty site to figuring out shopping carts and credit card payments. Another hurdle is that you are faced with the daunting task handling all your own promotion and marketing. We'll discuss this more later but for now just know that getting noticed is neither easy or cheap.
ThemeForest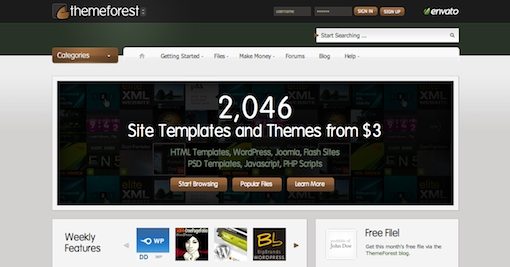 Mentioned in the success story above, ThemeForest is a great place to sell web design stock of all kinds. Uploading your work to a stock art site has pretty much the reverse of all the pros and cons of going it alone. The pros are that they do all the marketing for you and give you access to their huge pool of potential buyers. The cons are that you have to get your work approved (they have to be picky to maintain quality), they decide how much your work is worth and you take a huge hit in profit per sale. This is standard for all stock sites though and ThemeForest rates are among the most competitive out there. Below is a breakdown of how much you get to keep. Essentially, you start at 40% and work your way up.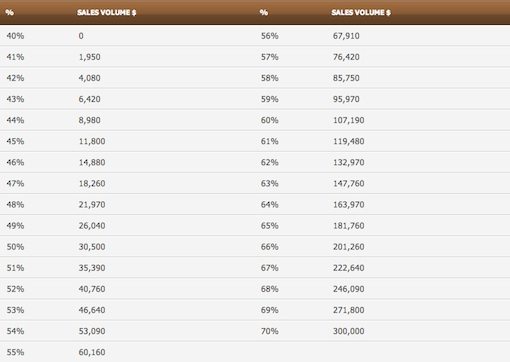 WP Theme Market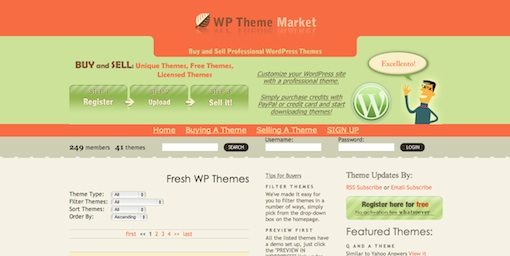 WP Theme Market offers authors a variety of ways to distribute their themes. You can sell a WP theme under a single or multiple use license, distribute it for free, or sell one off custom themes. Sellers keep a whopping 70% by default and 80% if you use the WP Themer Kit to help build your theme. Free themes can contain affiliate footer links which provide an alternative way to earn cash.
99 Designs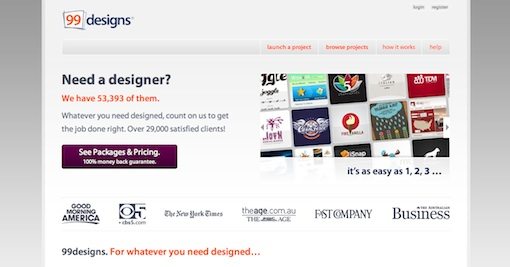 99 Designs presents yet another way to make money as a WordPress designer. This time through a method called crowd sourcing. Crowd sourcing is highly controversial from the designer's perspective. The essential idea is that a client submits a project and how much they're willing to pay for it. Let's say Joe Schmoe wants a WordPress theme for $350. Designers registered at 99 Designs then compete for this client's business by submitting their ideas (the more the better). The client picks the best version and the prize money goes to that designer.
Why It's Great:
Clients get to choose from a ton of options and styles from a pool of diverse designers. It's an unbeatably cheap way to get a large variety of designs.
Why It Sucks:
Each contest involves several designers competing for the prize. With every design submitted by someone else, your odds of winning go down. This results in good designers wasting profound amounts of time producing quality work that they don't see a cent for. Further, almost no measures are taken with these sites to ensure that designers aren't just ripping off each other and other sites. Consequently the quality of a crowd sourced "custom" design can be significantly lower than traditional client/designer agreements. As you can imagine, crowd sourcing has created an angry mob of professional designers furious about losing work to the lure of having dozens of designers compete over scraps of money.
What to Charge
The best advice I can give you for pricing your WordPress themes is to look around and see what everyone else is charging. The reason I suggest this is because it is exactly what your potential clients will be doing. If you're charging $100 over the competition, it's going to be difficult to snag a lot of business. As you look around, do your best to compare apples to apples. Meaning don't compare your bare bones single page theme to one with six pages and tons of features (or vice versa).
Keep in mind that pricing isn't an issue with sites like ThemeForest. This is because they decide how much your template is worth and set a price for you. ThemeForest templates are currently going for between $12 and $47. My own research indicates you could stay competitive selling template themes for $45-$150 depending on quality. If you're new to web development or WordPress theming, start near the bottom of that and work your way up as you learn to add more features and write solid code. Custom WordPress themes are another story and can go for hundreds of dollars or more. This greatly depends on the talent and experience of the designer as well as the demands of the client. Always seek to stay competitive but never sell yourself short.
Another really popular method of pricing themes is through offering subscriptions. Prices can range from $20-$200 per year for unlimited access to a library of themes. This method can provide great long-term profit potential.
How to Promote
The internet is a very big haystack and getting people to find your site is no small feat. Stock sites like ThemeForest take the pressure off by handling the promotion for you, but they take also take a big chunk of your sales. However, if you choose to take the route of striking out on your own, there are a number of ways to effectively drive traffic to your site.
Offer Free Premium Themes
If you've got enough themes to start your own site, grab a few and offer them up free of charge. Though there is no shortage of free WordPress themes on the web, there is not an overwhelming amount of amazingly high-quality themes packed full of options and features. Offering this kind of content free is a great way to get noticed. Be sure to include a "created by" link in the theme that will lead readers to your site. Also, send out emails to popular design blogs to let them know what you're offering.
Another take on offering a couple of free themes is to offer a free version of all your themes. Obviously, the free version would be scaled down from the "Pro" version. This gives users the freedom to try before they buy. If you have a satisfactory product, many will come back to purchase the full version.
Running Ads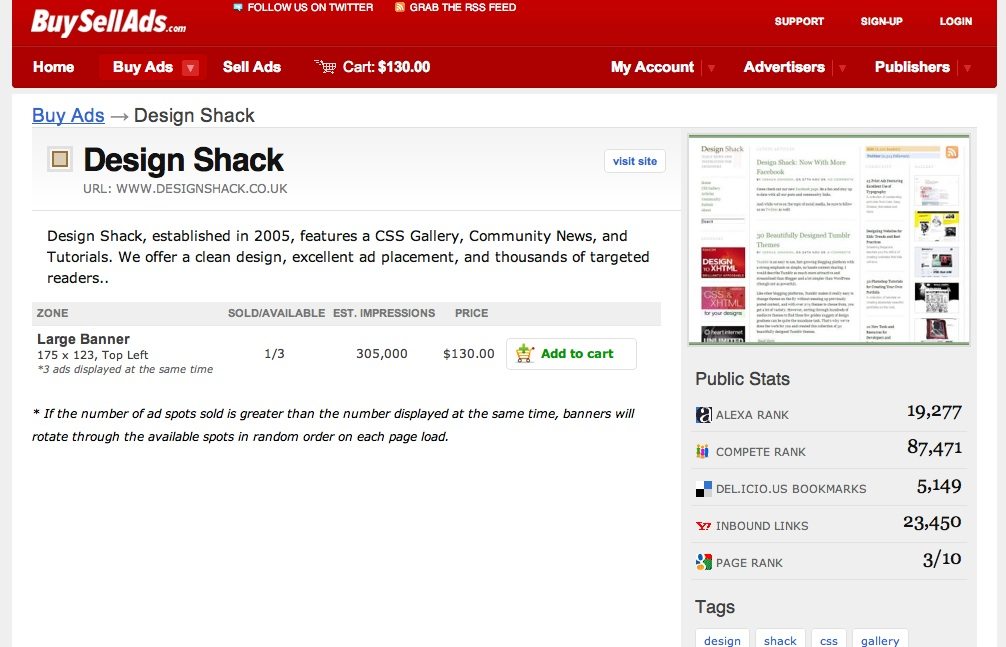 Sometimes to make money you have to spend money. There's no guarantee it'll work, but getting noticed is a heck of a lot easier if you've got an ad where the right kinds of people can see it. The first thing that probably comes to your mind is paying for an ad on a search engine like Google or Yahoo. This is definitely a good way to go but can be ridiculously expensive. A good alternative is to find a site like BuySellAds that provides quality impressions for reasonable prices.
When using a site like BuySellAds, consider your target audience. A good bet for WordPress themes is to target designers. On BuySellAds you can search for design related sites (like this one) and pick an ad spot that fits your budget (anywhere between $20 and $1,000 pre month). You then rent the ad space for a month. If it doesn't provide you with a significant return, toss it and try another.
SEO
If you're a web designer, this goes without saying. Good search engine optimization is the difference between getting on the first page of Google and barely making the first 100 pages. WordPress designers and themes are plentiful though so it won't be easy to get good results even with stellar SEO techniques. Try to find a niche and shoot for top results within that category. It'll be a lot easier to get on the first page of "WordPress designer Seattle" than "WordPress designer."
Social Networks
Social networks like Twitter are home to thriving communities of web designers. Join the club, make some friends, and tweet your brains out. Be sure to share lots of relevant links and information and don't blast your followers with advertisements. Once you build your followers through this method, the occasional mention of your WordPress theme gallery can go a long way.
Conclusion
That's my spiel on making money designing for WordPress. Use the comments below to let us know how you survive and promote yourself as a WordPress designer. Is it just one of many services you provide or are you an all out full-time WP designer? Also, be sure to check back in a few days for part 2 on what needs to go into a good WordPress theme!