The Business of Selling WordPress Themes: Part 2
This is the second article in our series on making money selling WordPress themes. In this post we'll look at what kind of features users look for in a professional WordPress theme.
Read through the list and use the comments below to let us know what features you think are most important in a WordPress theme.
Envato Elements gives you unlimited access to 2 million+ pro design resources, themes, templates, photos, graphics and more. Everything you'll ever need in your design resource toolkit.
A Beautiful Homepage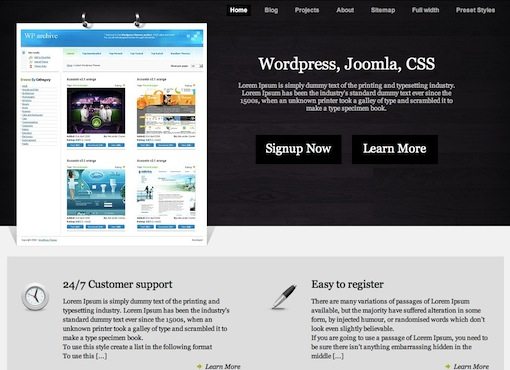 As a designer, I hate it when people say things like "just make it look good." As opposed to what? Intentionally making it not look good? I know I'm guilty of the same thing when I say to give your WordPress themes a beautiful homepage, but I want to emphasize the idea so it's the first thing on your mind when you hit the design stage. If you were a coder before becoming a designer, you might lean more towards writing solid code and cool features than putting a pretty face on a theme, but the attractiveness of the design is every bit as important as functionality if you hope to sell the theme. Potential customers will judge your theme on their first impression, which is most often the appearance of the homepage. So be sure and spend plenty of time getting every little detail right and putting on those subtle finishing touches that will really capture a user's attention.
Multiple Skins/Colors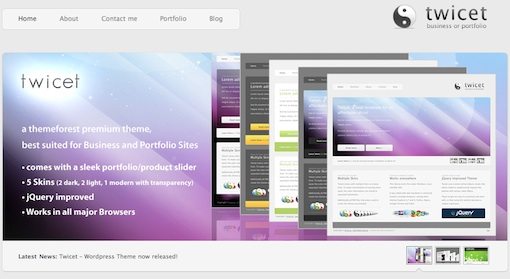 Always remember that value is a huge concept in sales. Whether someone is shopping for a WordPress theme or a blender, they're looking for the product that gives them the most benefits for a reasonable price. Adding in simple ways to change the look or color scheme of a WordPress theme is a great way to make a customer feel like they're getting an impressive deal. The theme above, mentioned in the last article for its amazingly high sales, features five alternate skins for users to choose from, thereby setting off any customer's value radar. Don't just stop at colors and layouts though, think of unique ideas to make each skin practical in a specific way. For instance, many site owners like to have their site reflect certain holidays or seasons throughout the year. To capitalize on this, your theme could include a default skin that can become snow covered for Christmas or spooky for Halloween.
Custom Widgets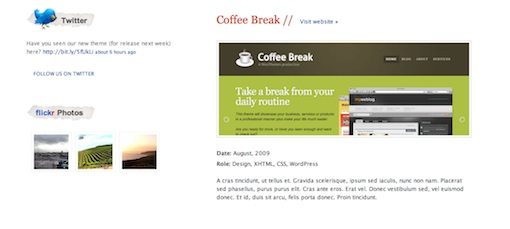 It's always a good idea to throw in an area for users to place their own widgets that complement whatever services or information the site will offer. However, you can really impress your prospective buyers by including custom built widgets that match the overall look of the theme. Social sites like Twitter, Facebook and Flickr are great places to start and are super easy to develop widgets for. Other options include interactive maps, chat windows, music/video players and whatever else you can dream up!
jQuery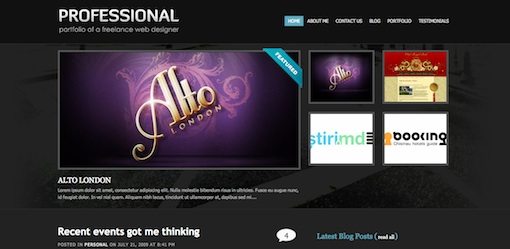 Though it is by no means a necessity, inserting jQuery (or MooTools) functionality into your theme is an extremely easy way to impress your customers. For instance, if your theme has a large main graphic, consider turning it into a simple slideshow as in the example above. Subtle, fluid animations can really bring life to an otherwise boringly static page. jQuery actions that hide and show content also provide an excellent way for users to cram a ton of information into a small, organized space.
Interactive Contact Page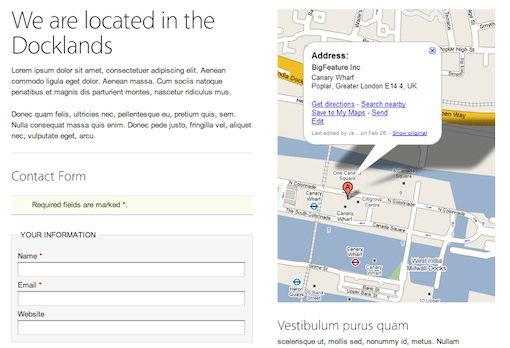 When designing a contact page for your themes, don't simply include an email link and call it a day. Instead, consider inserting a customizable form that visitors can fill out right on the site like the one seen in the example above. Business owners want to make it as easy as possible for customers to contact them for price quotes, customer service issues, etc. and will look for a theme with this functionality built-in.
Ad Integration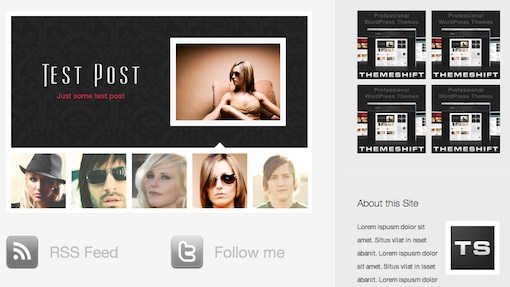 This is a major feature for blog-related themes. Professional bloggers have to pay the bills and we do so through offering advertising spots on our sites. Designing a specific space for ads is important because leaving it up to the customer can result in an awkward space that looks like an afterthought. The ad areas should be seamlessly integrated with the look and feel of the site while still having enough contrast to draw attention. Make sure you place emphasis on this in your features list as well so a potential buyer can immediately see that your theme makes it easy to make money through advertising.
Search Engine Optimization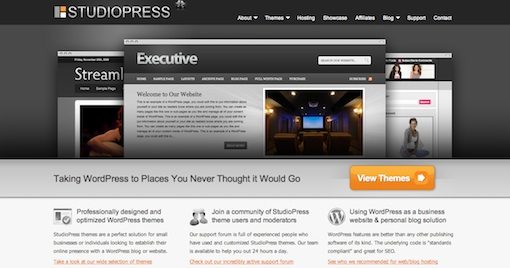 Much of the SEO (search engine optimization) will be in the content the buyer adds to the site after purchasing it, but there's still a lot you can do to your themes to make them search engine friendly. Yoast has a great article on good SEO practices for WordPress sites. The post is full of helpful tips like how to speed up your theme, what should and shouldn't be in a sidebar, and proper pagination techniques. SEO is a hot buzzword in web technology today so you can bet that many customers will be looking for it in a theme, even if they have no idea what it is!
Conclusion
To sum up, creating a beautiful homepage, including multiple colors or skins, building custom widgets, integrating jQuery, creating an interactive contact page, featuring easy ad integration, and optimizing for search engines are excellent ways to help your WordPress themes sell. As many of my readers pointed out in the last article, one final necessity is to make yourself available for customer support for those who have purchased your themes. Buyers will feel much better about their purchase if they see you are willing to go the extra mile by giving them personal guidance through any problems that they encounter when attempting to install and customize your themes.