Using Ptengine to Track Website Analytics
If you have a website – and chances are that you manage several – you know and understand the importance of good analytics. Understanding the numbers and use of your site by visitors is key to creating, designing and developing a site that will keep visitors coming back and clicking around.
But with so many analytics options out there, how do you know what to choose? Sometimes the answer goes beyond the basic information you can get from Google Analytics. Today, we are taking a look at one of these services – Ptengine – and how it can work for you.
Get unlimited downloads of 2 million+ design resources, themes, templates, photos, graphics and more. Envato Elements starts at $16 per month, and is the best creative subscription we've ever seen.
What is Ptengine?

Ptengine is a web analytics and heatmap platform that uses visual representations to let you know how your site is converting visitor actions. The tools allow you to log in and see what visitors are doing in real time on a variety of devices because Ptengine is designed to work for responsive websites.
More than 6,000 businesses already use Ptengine tools to capture analytics and are happy with the results. "I began using Ptengine in April 2014 and immediately saw an increase in visitor engagement and retention," said customer Megan, marketing director at KBeat. "By May 2014, we had a month-over-month engagement growth rate of 34%, and a returning visitor growth rate of 26%. For us, this was huge!"
So what makes Ptengine different? It's the ease of use and conversion tools. Unlike with services like Google Analytics where you have to really know what you are looking for and how to set everything up, Ptengine is a one-stop setup. Then you have access to tools that can help you learn more about and increase conversion rates.
Use real-time information to see what pages people are viewing
Heatmaps show what content visitors care about
Page groups can help show what categories and information is most popular
Segments and aggregates provide critical site data that is easy to understand
Tools monitor behaviors on any device and works great for responsive web designs
The goal of Ptengine is to help "enable decision makers to understand visitor engagement and retention by leveraging our award-winning heatmap and analytics platform across any device," according to the website. "Be able to visualize customer behavior in real time, increase conversions, create a better user experience, and have greater ROI." It is a tool that is valuable for digital marketers, UI/UX designers and web development teams.
Key Features

Part of what sets Ptengine apart is the robust set of features that comes with the service. The tools are useful and easy to understand without having to hire an expert to translate the information for you.
Here are some of the tools that come in the Ptengine package:
Heatmaps: The Ptengine tool uses thermographic visualization, which helps you see visitor behavior in just a glance. And you have multiple options for the type of heatmap or segment you want to see. From click to attention to page analysis to scroll reach to multi-device monitoring, you can get a visual view of a variety of visitor patterns.
Campaigns: Using the campaign tool will allow you to create a specific URL (or match URLs you are already using) to analyze traffic by name, source, medium, term or content.
Conversions: The goal for every website owner is to boost conversions with tools such as a conversion funnel and value conversion rates that are easy to tag and manage. You will understand why visitors leave your site and how they navigate to help keep people on your website longer.
Real-time tracking: Content strategy is something that changes constantly it seems and real-time analytics can help you make adjustments on the fly. With a real-time visitor overview, visitor details and geographical analytics, you can see who you are reaching and evaluate how to better serve those visitors or customers.
Multi-device and domain tracking: Ptengine works for every site and device you need. You can use multiple domains in one login as well. How's that for easy?
One-click filtering: One of the features that sets Ptengine apart is segmenting. You can segment anything at any time, save your segments and view them effortlessly.
How Ptengine Works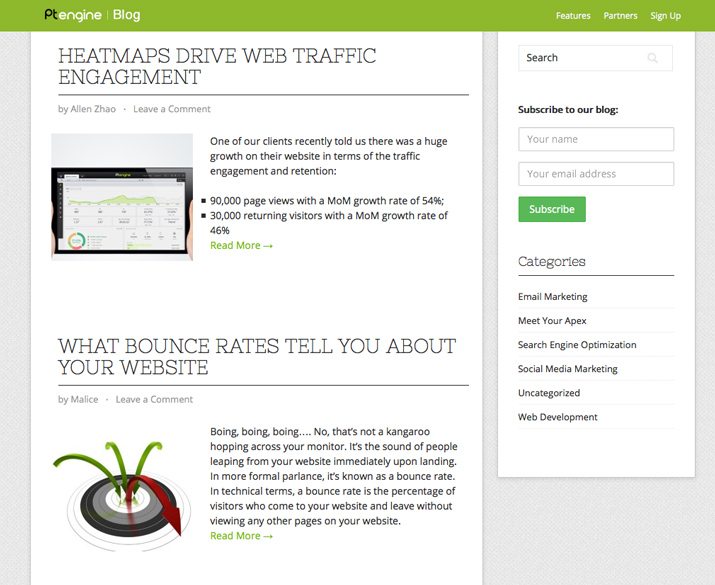 Ptengine is easy to set up. Just create an account – which starts with a free trial. (You don't even have to put in any billing information.) Create a profile for the site you want to track and insert a line of tracking code into your site. That's it.
Then you can login to your dashboard at anytime and see your site in action. Ptengine has plenty of support tools as well, so if you are new to analytics you can check out the site's blog to learn how to best use different types of analytics and get a feel for analytics lingo.
A Few Examples
Here are a few examples of how Ptengine can show data that's valuable to your decision-making process, using Ptengine's website as an example.
In the first, it's clear to see that the "Features" buttons was clicked the most frequently: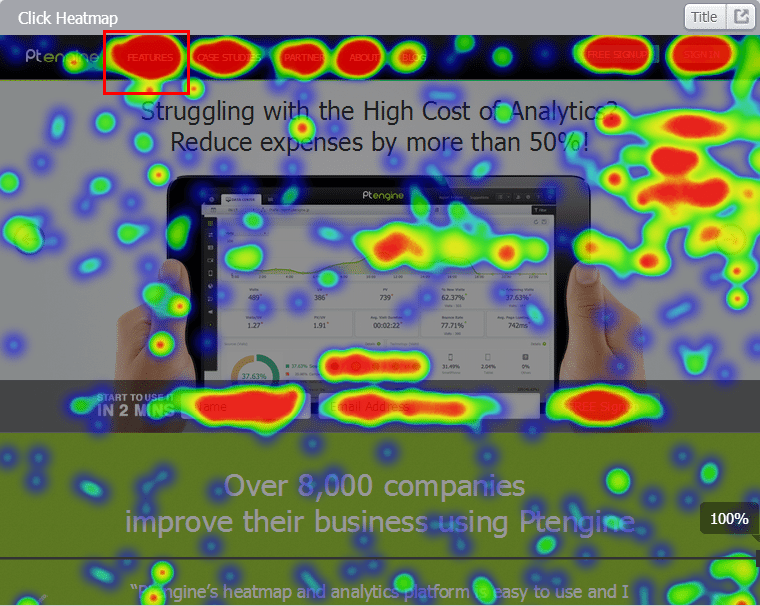 The second example shows the same page, but with a different type of visualisation (breaking clicks down into percentages):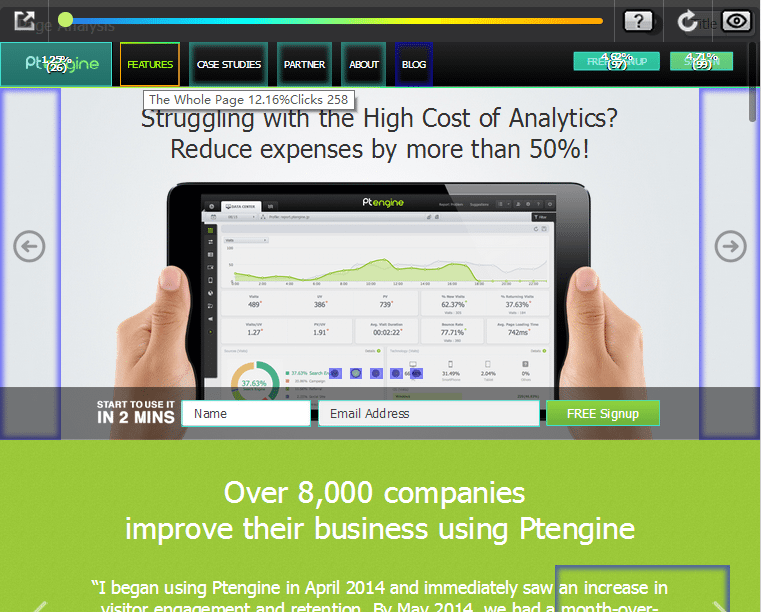 And then, within the features page itself, it seems that the "Heatmap" feature received the most attention (suggesting that's it a particularly appealing part of the product):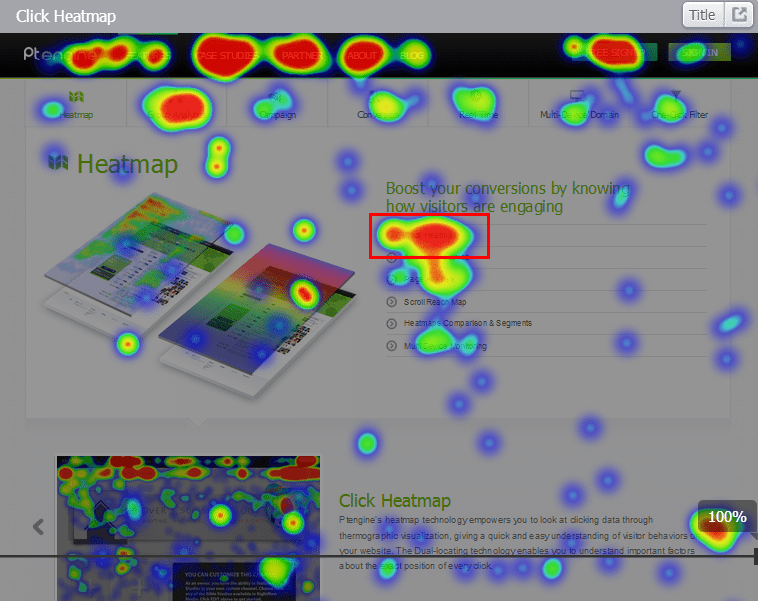 Cost
Every user can start using Ptengine in a manner of minutes with a free 30-day trial that includes all of the site's features. After that, users can opt for a free or premium version.
The premium version includes expanded features such as higher traffic volumes, unlimited heatmap pages, conversion funnel support, HTTPS secure connection support and more.
There are multiple full premium plans available, starting at $99 per month and can be paid via PayPal. Premium heatmap-only packages start at $49 per month. Different plan types allow for more pageviews per month, number of heatmaps available, expanded account management options and more. You also have the option of paying annually.
Ptengine is also working to partner with businesses. If you're an agency running A/B tests, conversion optimization, digital marketing, survey service, online advertising or web hosting, Ptengine might want to talk to you about a potential partnership. Contact them for more details.
Conclusion
Ptengine is a robust tool with plenty of great features. It's easy to use and understand and could be a great way to help just about anyone better understand the people coming to their website.
Running a website without a set of analytics tools, is not an option in today's market and Ptengine is one of the easiest to use tools out there. You don't have to know a lot about web analytics to get started and learn how to better your site.
Note: This is a sponsored post, commissioned by Ptengine. Thank you to them for helping to support the site.