Weekly Freebie: Printable Productivity Mousepad
Today's freebie is incredibly simple but also incredibly useful. It's a custom-made calendar, todo and notes sheet that you can print and use as a mousepad. I use it myself every day and thought I'd share it!
Envato Elements gives you unlimited access to 2 million+ pro design resources, themes, templates, photos, graphics and more. Everything you'll ever need in your design resource toolkit.
Grab Yours
To get your free download, simply click on the link or image below.
Download: Click Here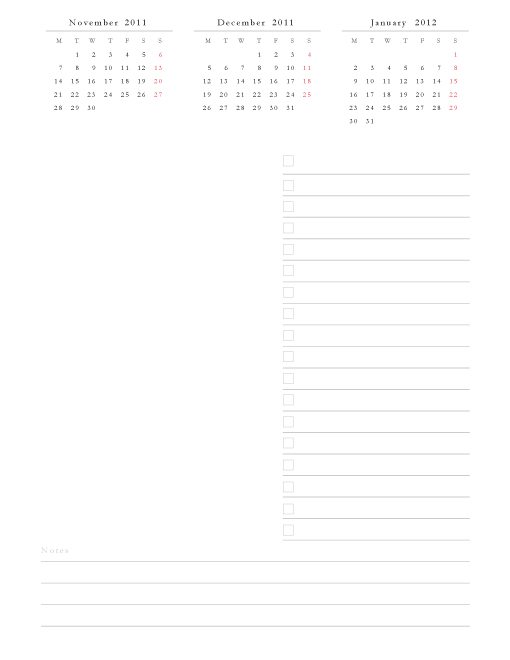 Paper: A Poor Man's Mousepad
I love my Apple Magic Mouse. It's simply the best computer mouse that I've ever used and is infinitely better than the Mighty Mouse, that train wreck of a device that preceded it.
"A single piece of paper didn't provide the optimum cushion but adding a few more proved to create a more than adequate surface"
Something that I don't like is the way the mouse scrapes across my wooden desk. Called me old fashioned but I like a smoother, quieter mouse experience.
This presented a problem, I don't own a mousepad. Even the term seems antiquated for some reason. Rather than remedying this problem with a quick trip to any of the hundreds of places within a twenty mile radius of my house where I could pick up a mousepad, I did what any homegrown, do it yourself Missouri boy would do, I improvised.
The solution turned out to be a small stack of plain old printer paper. A single piece of paper didn't provide the optimum cushion but adding a few more proved to create a more than adequate surface for my mouse.
Serendipity
It turns out, having a stack of paper as your mousepad is pretty convenient. I found that I instinctively began to use the paper to jot down notes, todos and the like. Before I knew it, I had a nice little system that I was sure that I never wanted to be without.
However, it wasn't perfect. Before long I began to wish that my mousepad had more features. I wanted productivity tools like I had on my iPhone. Thus is the story for the birth of the productivity pad, the mousepad that helps you get things done.
Features
Topping the page is a convenient three month calendar. I find that three months fit nicely on the page and create a perfect stretch for planning ahead.
There's also a task list running down the side, a notes area at the bottom and a large empty space for you to place your mouse in without any interference. As a bonus, the pad uses very little printer ink and having three months on one sheet means that those looking to save trees only have to print four pages per year.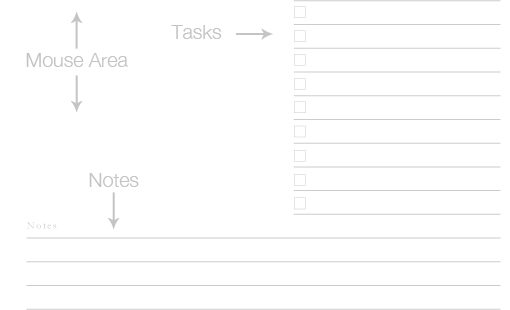 Love it? Share It!
If you enjoyed this week's freebie, share the love and send out a link on your favorite sites. Here's a convenient snippet for you to copy and paste as you please!
Free Printable Productivity Mousepad: http://goo.gl/bLqnm