Freelancing 101: How to Stay on Top of Trends
One of the biggest challenges that comes with working from home is the loss of a day-to-day design trend network. Those informal chats about what's happening in the design world and what's new, emerging and different can be valuable time spent with coworkers. It can open your eyes to new things and ideas.
So how do you keep the fresh feeling to your design projects when you work alone? It can be easier than you think if you put forth just a little extra effort. Here are some tips for staying on top of trends when you don't work in an office environment.
With Wix, you can create better websites with mobile-responsive templates, seamless drag & drop, and unlimited customization. Choose from 800+ stunning templates for any industry, sell your products or services, start a blog, and make smart decisions with clear analytics.
Start building for free today, and see just how quickly you can create a stunning, on-trend website.
Use Social Media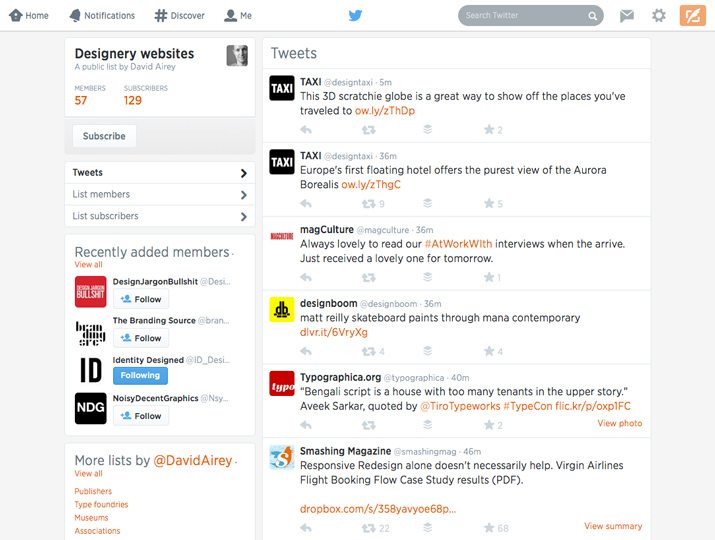 It may sound simple, but social media can be one of your best tools when used wisely. Make sure to follow or subscribe to designers, design firms or design blogs that you admire and trust. And then just read along.
But more than reading, you will also start to see trends in the visuals these social media gurus send out. What do their icons look like? Check out the look and feel of their timeline photos and visit sites often to stay on top of design updates or redesigns.
Interact with social media in the way it is intended to work as well by being social. Share some of your working projects online and ask for feedback (unless you are working on something confidential, that is). And take feedback openly. Don't argue merits with Facebook or Twitter peers that are nice enough to give you an opinion. (Remember they are busy too.)
Read Design Blogs
You need to figure time into your freelancing schedule to read – a lot. Design blogs are one of your best options. (You might have a good idea of this already since you are reading Design Shack.)
Design blogs regularly showcase great work and many offer tutorials that can help you learn new skills and how to create some trendy new elements.
Here are 10 that should be in every designer's bookmarks:
Have an Online Portfolio Go-To Site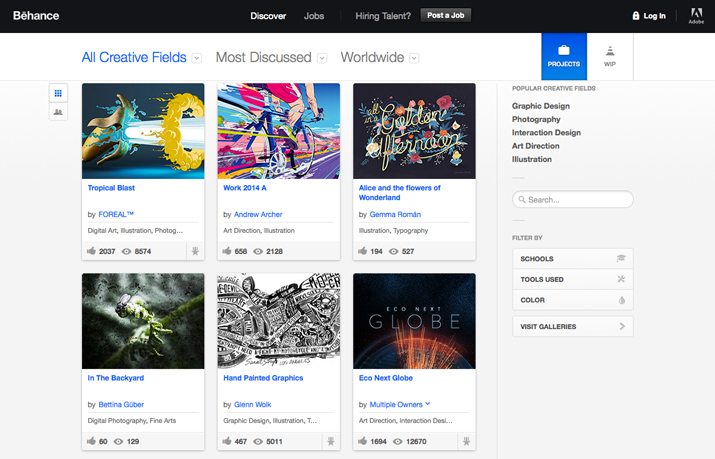 To stay current you must do two things with your portfolio:
Update it regularly
Look at plenty of other portfolios on the site where yours is hosted
Bonus action: Participate in online portfolio reviews and critiques.
Sounds simple, huh? It is. They key is finding portfolio and sharing sites that work best for the type of work you are doing and mixing those with sites that are different from what you specialize in.
Trends are crossing platforms every day. Think about flat design. The recent incarnation of this trend started on websites and mobile applications. But it is everywhere now. You can find elements of flat design in print and package design. By looking at other mediums, you might become aware of potential trends earlier so you can figure out how to use them before they are no longer trendy.
Attend Local Meet-ups or Networking Events
It almost goes without saying, but make sure you are networking with other like-minded professionals. Make a habit to attend several design- or software-based meet-ups in your market each year.
Some of the biggest names in design — Adobe and Dribbble, for starters – have meet-up groups all over the world. (You may be to travel a little. The nearest Adobe InDesign group meets every other month about two hours from my house. But it is worth the time.) These groups give you a few hours of that office chitchat that you seldom have as a freelancer.
These meetings are also a good way to get first looks at new software or tools (sometimes before they are widely available).
Use and Learn New Software
One of my favorite features that comes with an adobe Creative Cloud subscription is that I always have the "latest and greatest" design tools in my hands. This makes it easy to open and send files without saving down and it keeps you in the habit of learning.
Every time a major update comes out, you are interested if you have the tools. Really interested. (I find myself reading about every new feature in every new update and trying to figure out just how it can make my life easier.)
Attend a Conference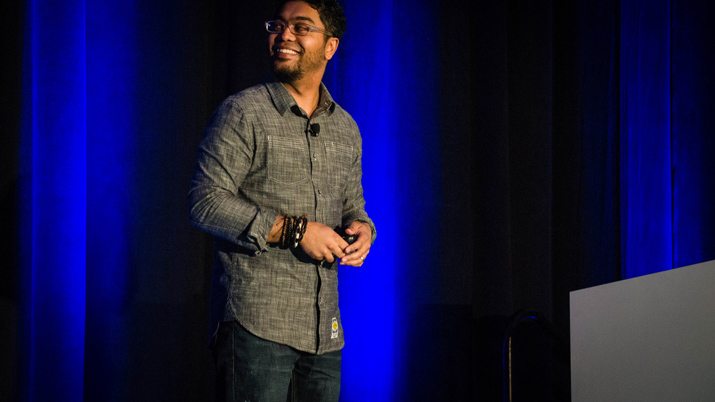 I know what you are thinking. Conferences can be pricey. This is true; so be choosy. Pick one super valuable conference for what you do and go. It will be worth it.
Make the most of the experience and attend as many sessions as possible, network with other design movers and shakers and participate in a panel or discussion if possible. Talk to vendors as well. Pick up some swag. See what's new. All of these things can help you see what others are doing and what might be around the corner.
Travel for work is often considered a qualified business expense as well. So while you are paying out o f pocket up front, you might be able to recoup some of that expense at year-end.
Subscribe to Design Annuals and Magazines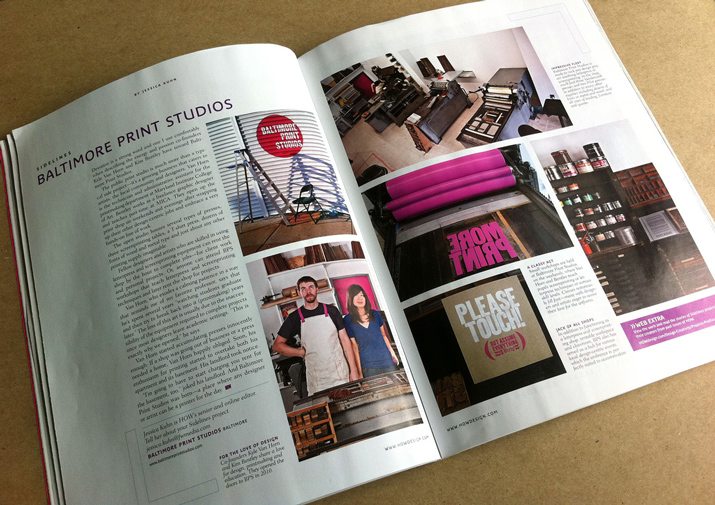 Design magazines and annuals are a good way to look at what's trending and look back at the top design work of the last year. Magazines and annuals sometimes provide a level of detail and in-depth information that can't be found elsewhere. They often do a great job of categorizing and displaying information in a way that you can refer to later.
Design magazines are just one more tool for keeping current. Many offer tutorials as well as articles. Ads in magazines are super-valuable when it comes to new tools and software.
And don't forget to eye the design of the magazines themselves. You can tell a lot about publishing and print (and even digital) trends by examining how the magazine itself looks, what type of paper it's printed on and the size of the publication. Make sure to look equally close at digital editions to see how they are different and what techniques are used.
Magazines can also be a great way to start learning about a design field that might be outside your comfort zone. If you primarily work in print, pick up something like "Computer Arts;" if you are a web designer, consider reading "Print." You might even find the mediums are more similar than you thought.
Use 'Trendy' Tools
You don't have to have the newest of everything, but you should be using modern design tools. (I am talking to you InDesign 2.0 users.) Current software (no more than 2 versions old) and devices can make a huge difference when it comes to trends. How will you design for an iPhone if you have never used one?
Pick a few of these tools and work with them. Borrow or rent if you must. But you should know how tools of the trade work and function. You need to understand how users will interact with what you are designing.
And when you have fun "toys," you will be more apt to branch out and try new, fun things.
Conclusion
It doesn't take a giant office or staff to be one of those designers who starts trends. It just takes a bit of effort. Get out, read, network, share and play around so that you can find what's new in design.
Freelancing 101 is a monthly series to help the increasing number of freelancers in the market. Whether you are a designer, writer, developer or wear multiple hats, we will share tips, resources and ideas to help you make the most of your small business. Is there something in particular you want to know? How do you feel about this series? Let me know at [email protected].
Image Sources: Jay Mantri, Jeffrey Zeldman and Kyle Van Horn.