How to Live Life as a Hustling Freelancer (And Get S#%! Done!)
I came across this tweet not too long ago and couldn't stop thinking about how much I hustle every day. The post was a simple image and outlined "good hustle" versus "bad hustle." And it got me thinking… am I hustling all wrong?
We all know that freelancing could be described as the life of a hustler. There's always so much to do, and so many things going all the time. But how can you hustle the right way and just get s#%! done? Today, I am expanding on the outline presented by Meg Robichaud to help explain better ways to manage it all.
Get unlimited downloads of 2 million+ design resources, themes, templates, photos, graphics and more. Envato Elements starts at $16 per month, and is the best creative subscription we've ever seen.
Build It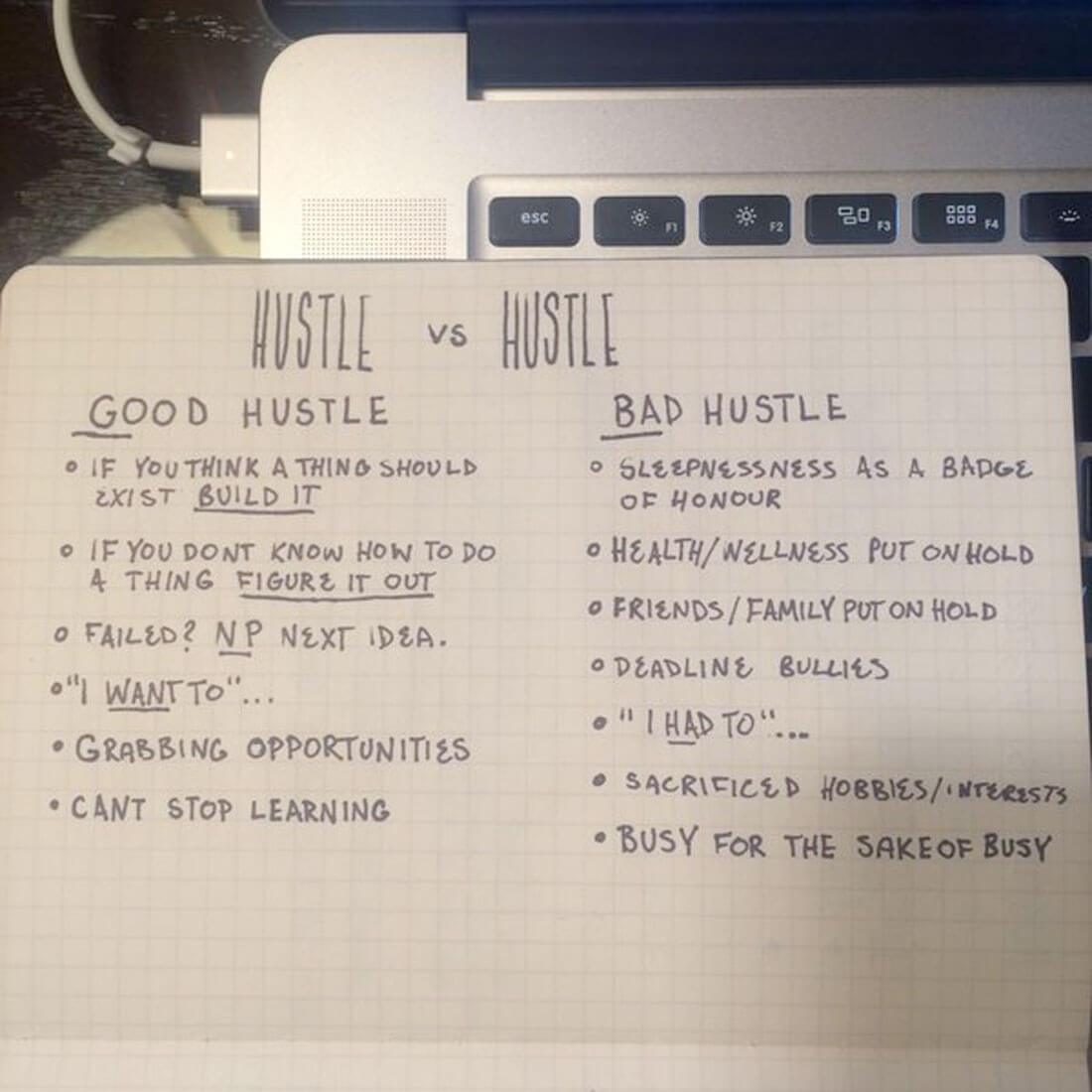 "If you think a thing should exist, build it."
Good design is about solving problems. A good freelancer – regardless of field – is a problem-solver as well. You fill a need for a specific client base.
If you have experiences like mine, many clients aren't always sure what they want or need until they see it. You have to stay out in front of this and build it for them. Help clients visualize the solutions to their problems. This might be in the form of a cool website or poster or written piece … anything really. The key is building something – even just a rough sketch or mockup – that can help a client see what you are thinking.
It's important to remember here that the creative thought process can be hard to explain to clients who might not think in the same way. Build it so they can see what you are thinking. It goes back to the adage: Show, Don't Tell.
Figure It Out
"If you don't know how to do a thing, figure it out."
Confession time: I saw the term "responsive design" in blogs for months before I got it. I was astounded at how this concept as going to be a game-changer, but I did not understand it at all. So I dove in and researched and asked questions and learned everything I could so that I would not get lost in time.
This is going to happen to you many times in your career. As a freelancer, it can be somewhat tricky because when you work alone, it can be easy to get caught up in your own projects and miss what's going on around you. Make a point to stay current and keep figuring out things that you don't know or understand. You might not use every skill, but it will make you a more rounded worker (and more valuable to clients!).
Get Back Up Again
"Failed. NP. Next idea."
This is my favorite hustling concepts. And it is the trick to getting things done – you can't get caught up in things that don't work.
Just keep swimming.
This can be a lot easier said than done, but you need to develop a thick enough skin to understand failure, learn from it and carry on without getting stuck in the past. We've all had plenty of projects that just did not work. That's ok. It does not mean you are a failure; it means the project was unsuccessful. How you deal with that fact says more about you as a freelancer, than one bad project every now and then.
'I Want To …'
"I want to …"
Fill in the blank. Now go do it!
That want can be anything from making more money to learning a new skill to going on a vacation. The want is yours. Once you establish what it is, outline a path to get there.
Treat your want like a project. Create a timeline for making it happen. Budget funds if necessary. Pencil in dates on the calendar. Just make it happen. You deserve it.
And it is important in the scope of getting things done as well. You will feel more fulfilled in your work if not only needs but some wants are met. When you are working to goals you set, you'll feel more engaged and driven to do the work efficiently.
Grab Opportunities
"Grabbing opportunities."
Don't expect the best opportunities to fall in your lap. You have to reach out and grab them.
Keep your eyes and ears open. Talk to people. Offer your services and pitch yourself to people you want to work with. It can be intimidating at first and not everyone feel comfortable selling themselves or their work, but it will help you get closer to your goals faster.
Apply for projects that interest you as well, even if you think they might be out of reach. Every touch with a potential client is a selling point for your work. Think of it like this: Maybe that big project doesn't work out, but the client loves your work and recommends you for something else.
If you see an opportunity that strikes your fancy, go for it. You don't want to be left questioning whether you should have afterward.
Keep Learning
"Can't stop learning."
This is a message that is so important. Learning something new isn't restricted to the classroom, although it can happen in that environment.
But with any creative field, things are changing every day. Just think of how much website design has changed in the past five years or what trends (flat and material, for example) have dominated the conversation for design projects of all types.
If you don't keep learning, you'll get left behind. Read blogs, pay attention to trends, seek inspiration. All of these things will help you keep learning and likely help you become a better learner. (And then you'll follow that "can't stop learning" mantra without even thinking about it.)
Conclusion
I can't thank Meg Robichaud for inspiring me to think about the hustle of getting things done. Her little list is something we can all pin on our walls to help on those days when things aren't going as planned. Make sure to follow her on Twitter for even more bits of creative inspiration.
Freelancing 101 is an occasional series to help the increasing number of freelancers in the market. Whether you are a designer, writer, developer or wear multiple hats, we will share tips, resources and ideas to help you make the most of your small business. Is there something in particular you want to know? Let me know at [email protected].
Image used with permission from Meg Robichaud.