Procreate vs. Photoshop: Should You Make the Switch?
Designers are in love with Procreate. The app built for creative professionals makes designing on an iPad easier and more efficient in a completely new way. But can a $9.99 app be a realistic Photoshop competitor?
For some, the answer is a definite yes.
Here are five reasons Procreate could become your go-to design app (and five reasons why it might not). Plus, an introduction to what Procreate is, and why it might be the perfect app for you.
Download thousands of Procreate add-ons, brushes, scripts and more with an Envato Elements membership. It starts at $16 per month, and gives you unlimited access to a growing library of over 2,000,000 graphic templates, design assets, themes, photos, and more.
What is Procreate?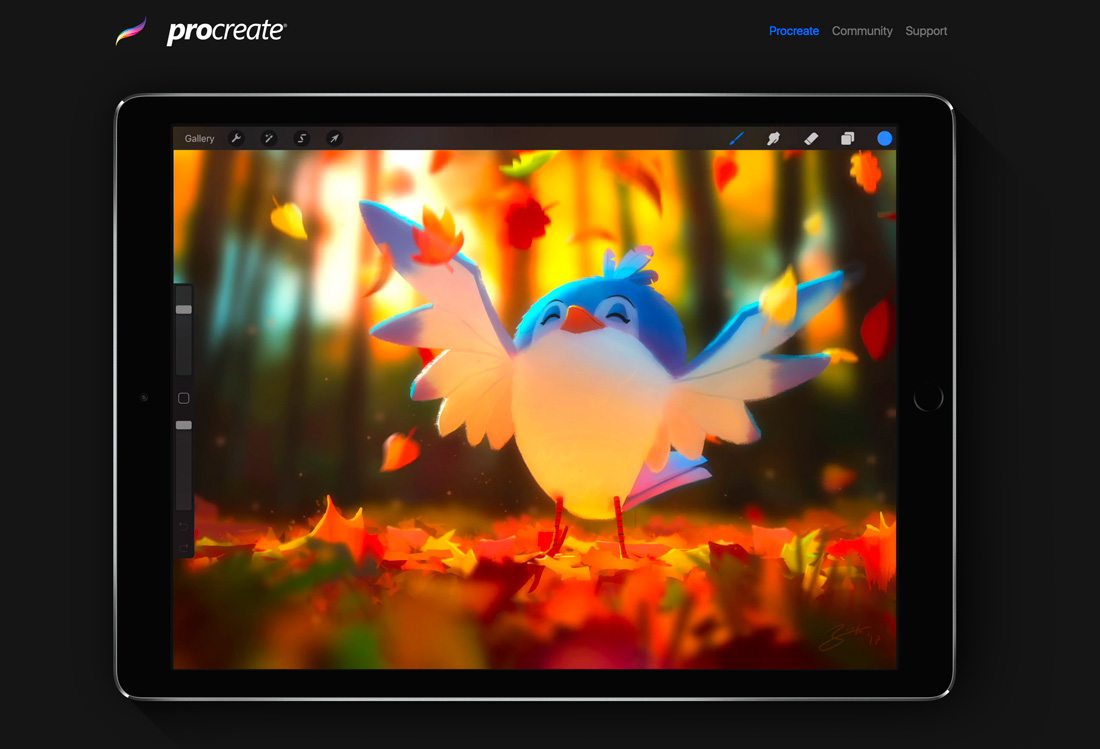 If you aren't familiar with Procreate, it's an iPad app that's made for professional creatives. You can sketch, paint and edit with a robust collection of tools. It responds to touch and pressure with the Apple Pencil for detailed work.
The tool includes a sleek interface and is a game changer when it comes to online drawing apps. It includes 64-bit color, customizable brushes, incredible canvas resolutions, a nice layer system, and cinema-style effects.
Plus, everything includes the ease of use you'd expect from an Apple product (and you can save images from device to device). While this tool is fun for a lot of creatives, it's most practical applications are for sketching, illustrations, some light editing and for drawing typography. But can Procreate replace other software and tools? (Maybe.)
1. Quick Image Tweaking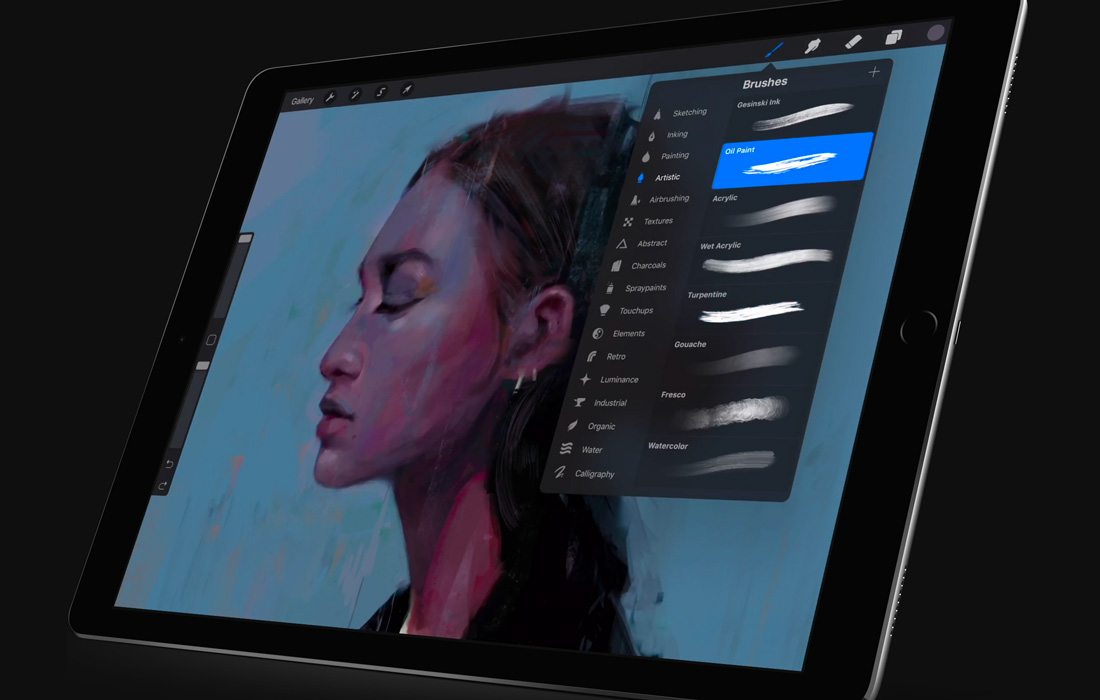 Want to touch up an image or stylize a piece of artwork? Procreate has got you covered. The image tweaking – we won't call this an editing suite – includes blurs, sharpening, curve manipulation, color balance and more. Think of these tools as giving you the ability to design a cool filter of your own (Instagram style) and apply it to images.
Then you can make it super fun with a time-lapse view of the changes that you can share. This small feature is great for designers that are experimenting with new techniques and want to get or give feedback.
For editing on a tablet, this is probably one of the best, and most professional options available.
2. Illustration Tools are Fantastic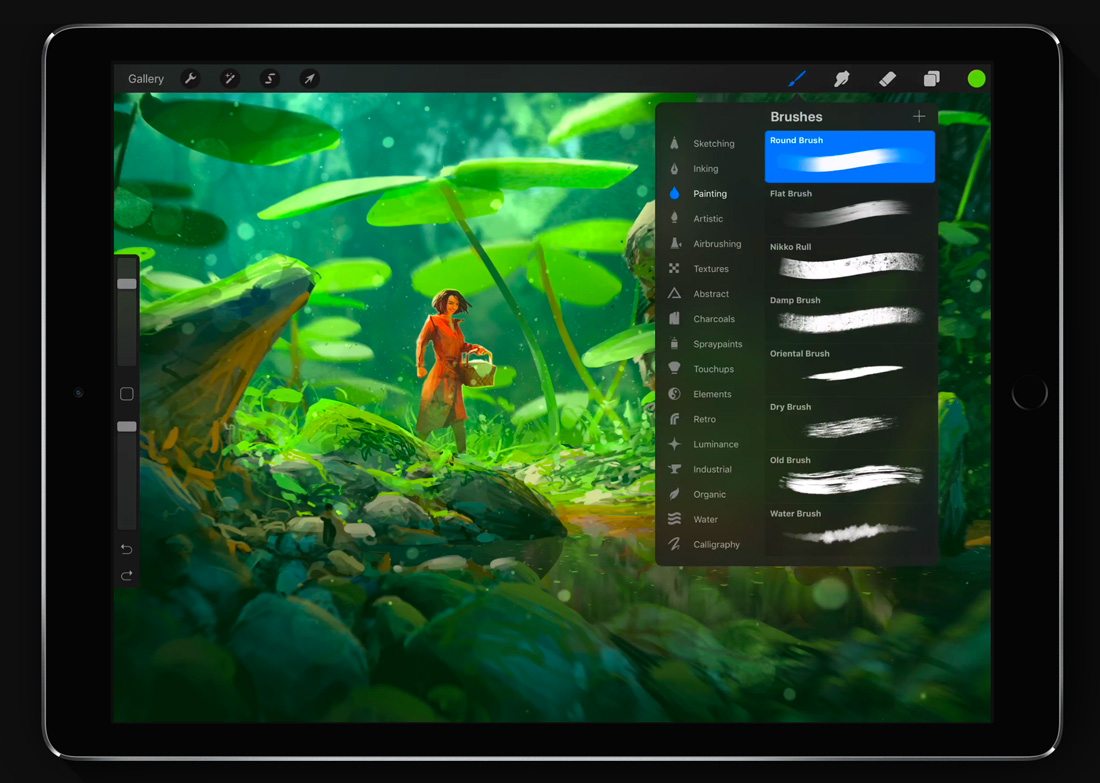 While tweaking images is fun, Procreate is really designed for illustrators. The brush library has more than 130 brushes that create almost any art technique you can images. There's also a dual-texture system so you can mix and match brush types.
Every brush is customizable as well. (You'd be hard-pressed to have this many tools in an actual studio.) And we have a collection of 30+ of the best Procreate brushes to get you started!
What sets Procreate apart in terms of illustration is that this is a professional set of tools. You can create a huge canvas to work on and export the drawings in high resolution still or video frames.
It's hard to imagine how cool the illustration tools are until you start playing with them. Add the Apple Pencil to the mix and it's just like the real thing… albeit with the ability to tap "undo"! The drawing experience is as close to real as you can get in the digital space.
3. Layers Allow for Nondestructive Editing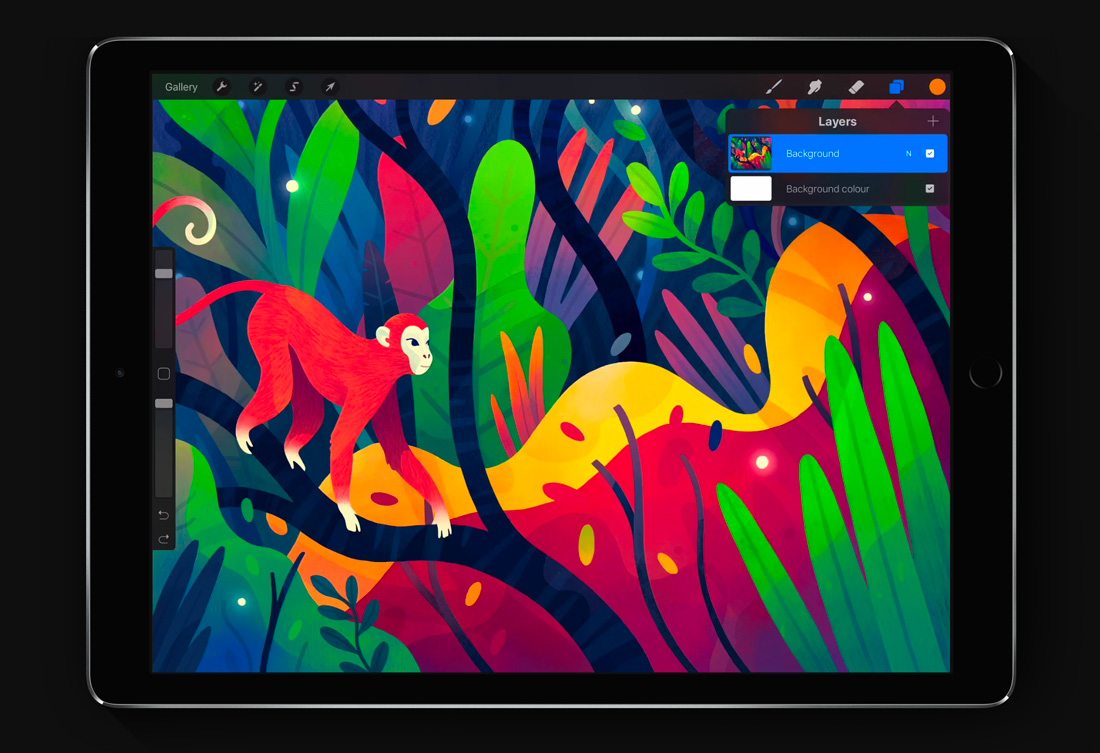 One of the best things about Photoshop is layers. Every piece of the design is an independent element that you can move, change and adjust without impacting surrounding elements.
Procreate uses this same model. The layering system gives you complete control over individual elements and includes layer masks for nondestructive editing. Just like with Photoshop, you can organize and combine layers in groups and you can select and transform multiple layers (or objects at the same time).
Finally, there's a 17-layer blending mode so you can work and compose in Procreate like a pro. (Most of the tools in this app/software package are pretty advanced and not for casual users, which you can tell in part from the $9.99 price tag.)
4. Import and Export Across Platforms and Devices
Like many other apps, designs created in Procreate are made to be shared. The workflow tools and integration make it easy to work on your iPad and then open files later on another device.
Procreate supports use of Photoshop files as well. So, you can actually import old PSDs and keep working. You can drag and drop artwork from other applications right into Procreate. The same holds true for brushes and palettes. (They are making it as easy as possible to get started with the app.)
The app supports a variety of native file formats including its own, and PSD, TIFF, PNG, PDF, and JPEG.
5. Price is a Stellar Deal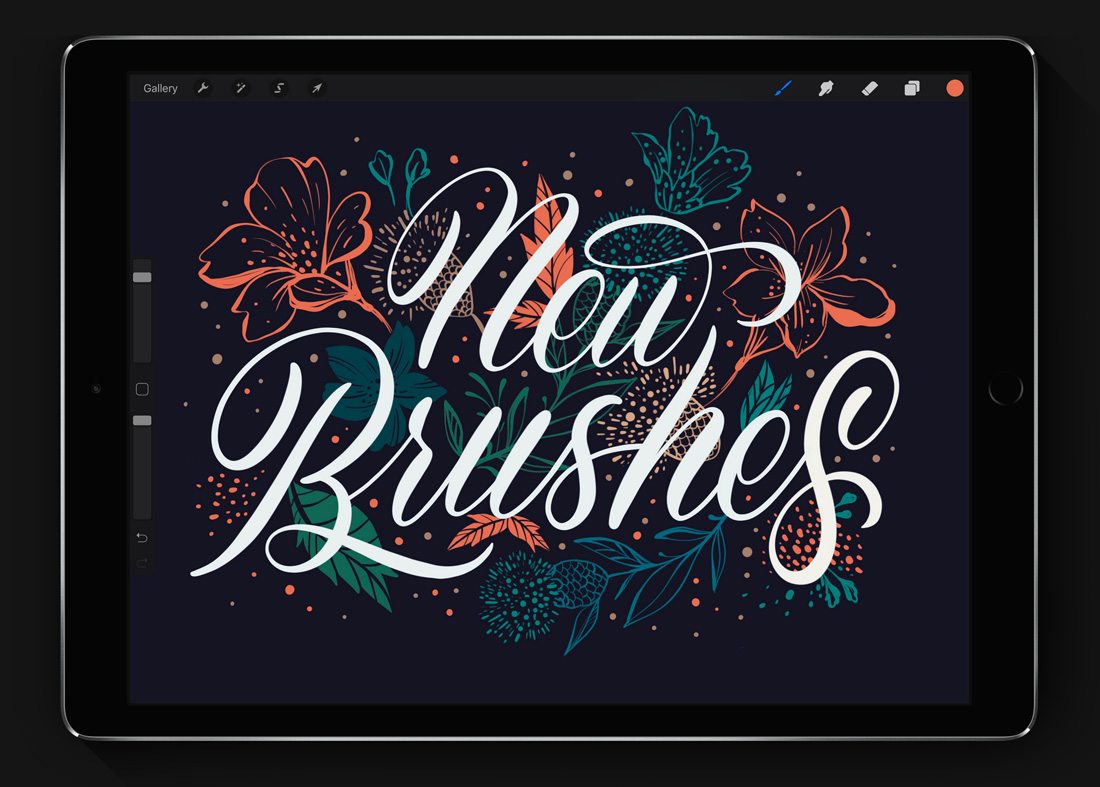 The top reason that some designers might make the switch from Photoshop to Procreate is the price. Procreate is $9.99 to download. There's no subscription or renewal fee. You pay for the app once and that's it.
If you are already using an iPad Pro and Apple Pencil, that's a pretty enticing deal. (It gets a little more enticing every month when you have to pay that Adobe subscription renewal.)
And 5 Reasons That It Won't
While Procreate gets all around rave reviews – it is an Apple Design Award winner and App Store Essential app – it probably won't replace a desktop application such as Photoshop or Illustrator. More than likely, Procreate is an additional tool that comes with all the benefits above, understanding that it has some shortfalls as well.
This is an iPad tool. While the app is inexpensive, other start-up costs (iPad Pro, Apple Pencil) can be barriers.
There's no way to test or sample the app with a "lite" or free version.
There's a bit of a learning curve, and you'll want to read the documentation to get the full spectrum of application from Procreate.
You aren't going to mockup a large-scale project with this tool. (The canvas can't be resized.)
Not everyone wants to use a tablet for projects. There are plenty of designers (myself included) that like the screen size and comfort of working on a desktop machine.
Conclusion
There's no doubt, Procreate is a stellar tool packed with features that creatives will surely appreciate. It's better than the iPad versions of Adobe apps but is truly a tablet-based tool. If that's your preferred method to work, Procreate could actually replace some other tools and applications based on how you use them.
It's definitely worth trying. For less than $10, it's a lot of fun… even if you don't get a lot of work done.