Have a More Successful Brainstorming Session
One of the most important aspects of the creative and design process is the sharing and development of ideas. Seldom does a first draft of anything — from an ad concept to a new web layout — see the light of day without planning and revision. Jumpstart the process with more productive and creative brainstorming sessions for your team. The concept sounds simple, right?
The best planned brainstorming sessions take some work. As the leader of the group you must decide how many people to invite and what ground rules will be set. Most of all you want to help bring something positive away from the meeting. Try these tips to spice up your next brainstorming session.
Get unlimited downloads of 2 million+ design resources, themes, templates, photos, graphics and more. Envato Elements starts at $16 per month, and is the best creative subscription we've ever seen.
Like the article? Be sure to subscribe to our RSS feed and follow us on Twitter to stay up on recent content.
Think Ahead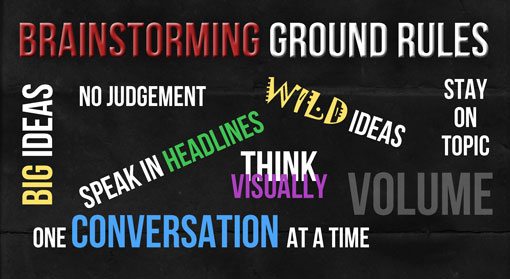 Although it is impossible to predict when the best ideas will come to life, the most efficient brainstorming sessions are actually planned. Set a time and day for team members to come together and share ideas, but don't limit communication to the meeting. Ask team members to bring ideas to the group setting. This will encourage people to keep notes as good ideas come to mind.
Outline in the meeting notes what kind of project you have so the team can think about the project in advance. Let people know this will be an active participation meeting. Encourage team members to bring sketchbooks and pens, tablets and have a few spare supplies available.
Set ground rules for the session. Keep them loose and light but to the point. Some things to keep in mind: No judgment, volume and big ideas, one conversation at a time, speak in headlines, think visually, stay on topic, showcase wild ideas and build on each previous theme.
Set a timetable for the brainstorming session and honor the schedule. Few things are more valuable these days than time. One to two hours is generally plenty of time to get to the heart of something. Spend the first part of the meeting tossing out ideas as a group; spend the second half of the meeting refining and developing the best options.
Power in Numbers
There is no magic formula for how many people need to sit together to create the perfect idea. Keep the group small enough so that people will not fall in to the background but large enough that a variety of ideas will be presented. For large groups, you may consider having several brainstorming sessions with different people.
Invite a variety of creatives to each – designers, copy writers and illustrators should be in the mix at every session. You may also think outside the "creative box" when making invites. Sometimes the best ideas can come from an office assistant or intern. Allow them to participate in the experience as well.
As the meeting facilitator, leave the room at some point while the meeting continues. Allow the team to work without you. Sometimes the presence of a boss can make people more shy than they would be otherwise.
Bring and Create Visuals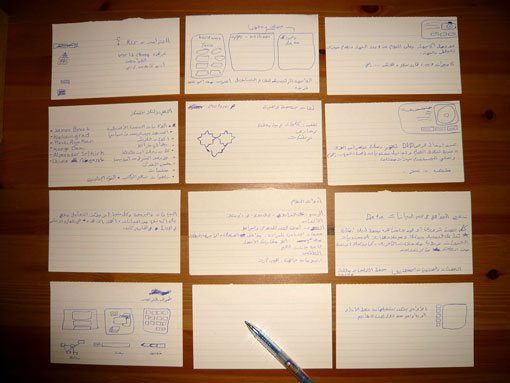 Why would you come to a meeting for a visual concept with nothing but a pen and paper? Bring ideas with you. Showcase inspiration work from other places – websites, book covers, street signs, anything with a creative flair. Ask team members to do the same. Develop a theme. Choose colors and ask team members to create a 10-minute visual using their color. The short exercise will get people thinking and interacting with each other.
Create a visual that showcases your group's ground rules. Don't hand them out on a sheet of copy paper. To encourage visual thought processes, you too must bring visual thinking to the table.
Have you ever come from a brainstorming session with a ton of great ideas only to find that they are all forgotten three days later? Get all those ideas in a visual form. Sketch out design options on pads and paper. Build rough outlines on computer software as the meeting progresses.
Use Technology
Use technology to your advantage. Build a Pinterest pin board or use SpringPad or Moodshare during the meeting to gather all your ideas. Try software applications such as Word Storm or Popplet to expand your thinking. Make these tools available to team members after the meeting as well, so they can expand on ideas.
Pinterest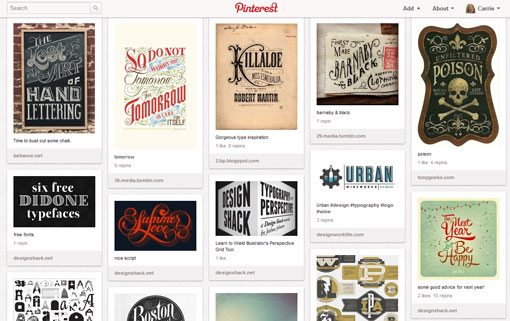 Pinterest allows users to create boards for visuals. Boards can be shared so that multiple individuals can add pins and anyone can look at the information posted on the board. Be aware that boards and pins are public and almost anyone can view them. Access to the site is free by invitation.
Moodshare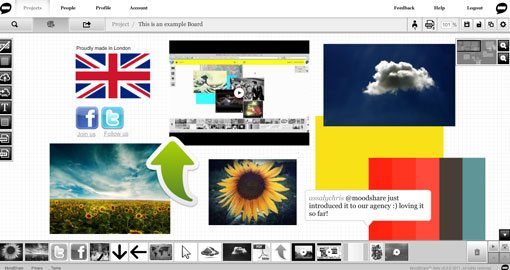 Moodshare allows you to search, create, save and share a variety of information from the web. It uses a search database that includes Twitter, ColorLouvers, Google, Flickr, Shutterstock and YouTube to create mash-ups of images, video and text. The site is free to use with registration and integrates in real-time with social media applications or can be saved to a local computer hard drive. Moodshare developers boast that this software is made just for creative professionals and allows you to share to private groups (and even clients) and communicate and share instantly. The interface is easy to use and quite intuitive.
Word Storm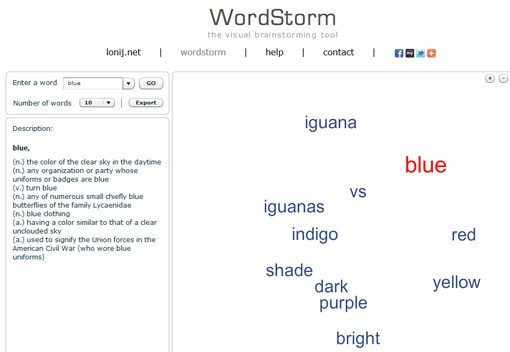 Word Storm is the prefect bookless thesaurus for creatives. Type in a word and get a description of your word plus a word cloud of 5, 10, 20, 50 or 100 options that relate to your word (plus descriptions for each). The site is free to use (and you don't have to register). Word clouds can also be exported to your computer desktop.
SpringPad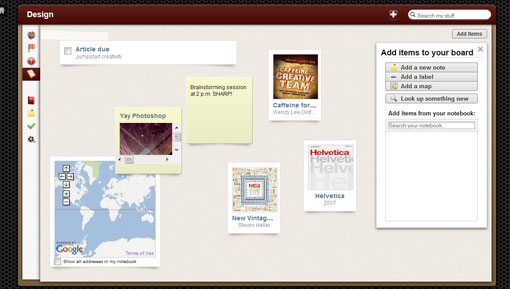 SpringPad helps you compile notes, calendars and social networking all in one site. It uses the same board concept as Pinterest but has a looser, more customizable organization. SpringPad boards live in the cloud and can be accessed anywhere, even on mobile devices, and registration is free. What's neat about SpringPad is its online connectivity; it "acts" for you, sending reminders, adding links to projects and sending alerts to related information but navigation and designing boards can be a little clunky when you first start using it.
Popplet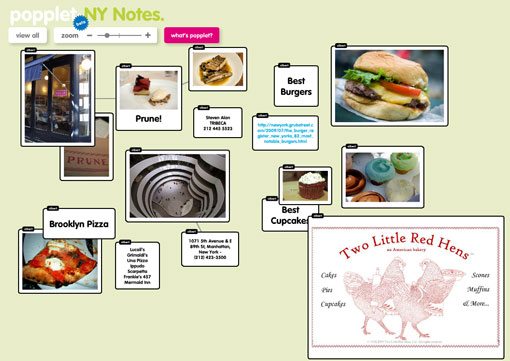 Popplet is an app that allows users to create flowcharts using text, images, videos and colors in an expanding platform. You can use Popplet online or on the iPad and notes are sharable on social media networks, by link and via email. Registration for the site is free and the iPad application is really slick.
Get Out of the Office
There are not a lot of creative vibes in boardrooms. Get out and try meeting in a new environment. Coffee shops, public parks and other informal settings can be a great place to start.
Try to select a meeting place that reflects the feel of the project. For example, if you are getting ready to start a project for an upcoming festival, visit the event site. Gather materials from previous festivals for your team to peruse.
No Dumb Ideas
Be aware of the strongest personalities in the room. Help some of the more shy people come out with ideas in the session. Remember, as the meeting facilitator you are there to keep things moving along, but most of the conversation should come from the rest of the team.
Make it clear that every idea is a viable one. It never hurts to hear something. Nothing will be set in stone at a brainstorming session and many new thoughts can dovetail from "odd" or "crazy" ideas. Encourage different thought processes.
Have Fun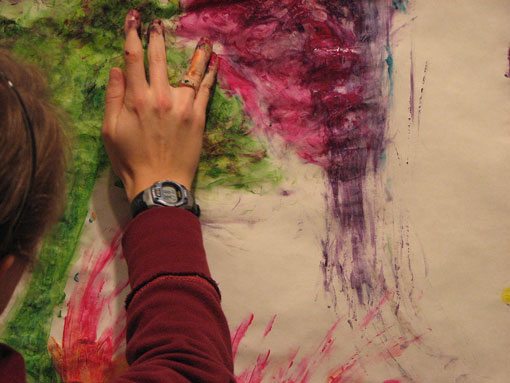 Get your hands dirty. It may seem silly but play games to jumpstart the creative process. Brainstorming should be fun and loose. "Caffeine for the Creative Team" by Stefan Mumaw and Wendy Lee Oldfield offers a variety of group exercises that can be done in just a few minutes to get ideas flowing.
Consider other options as well, such as bringing snacks or surprising the group with a special guest. Encourage team members to sketch, draw or conceptualize their ideas visually rather than with words so that everyone can "see" what each idea is all about.
Roll out a scroll of paper and finger paints. Add music. Get people moving. Remember the wheel was not invented by someone sitting in a chair; it required an active thought process.
Conclusion
The brainstorming and creative process works best in a set time frame with fluidity. Allow team members to laugh and interact as a group while tackling the creative process. Encourage outside thinking and impromptu design.
Keep meetings simple and on point and follow up with visual ideas. Use technology to share your group thoughts. Pin boards and other online visual sharing methods are simple to create and use.
How do you keep brainstorming sessions interesting and effective? Share your ideas with us.
Image Sources: Brianfit, Abdulla Al Muhairi and Chrysaora.