10+ Best iPhone 15 & iPhone 15 Pro Mockups
If you find yourself eagerly searching for high-quality mockups of the latest and greatest iPhones, look no further. In this post, we showcase the best iPhone 15 and iPhone 15 Pro mockups for your design presentations.
The point where functionality meets aesthetics, our collection of high-quality iPhone 15 mockups, available both as free and premium versions, will allow you to present your designs in a more professional way. Be it to your client or your team, your designs framed in these mockups will enhance their visual appeal, making it easier for your audience to visualize the end product.
The following list won't just make your work more presentable but also streamline your workflow by offering easy-to-use templates. These iPhone 15 Pro mockups are designed with precision, intuitiveness, and an eye for detail that mimics the real device, helping you capture every nuance of your design. Let's dive right in and check out the mockup collection.
Download thousands of beautiful iPhone mockups and templates, product mockups, and anything you need to showcase your design with an Envato Elements membership. It starts at $16 per month, and gives you unlimited access to a growing library of over 2,000,000 mockups, design assets, graphics, themes, photos, and more.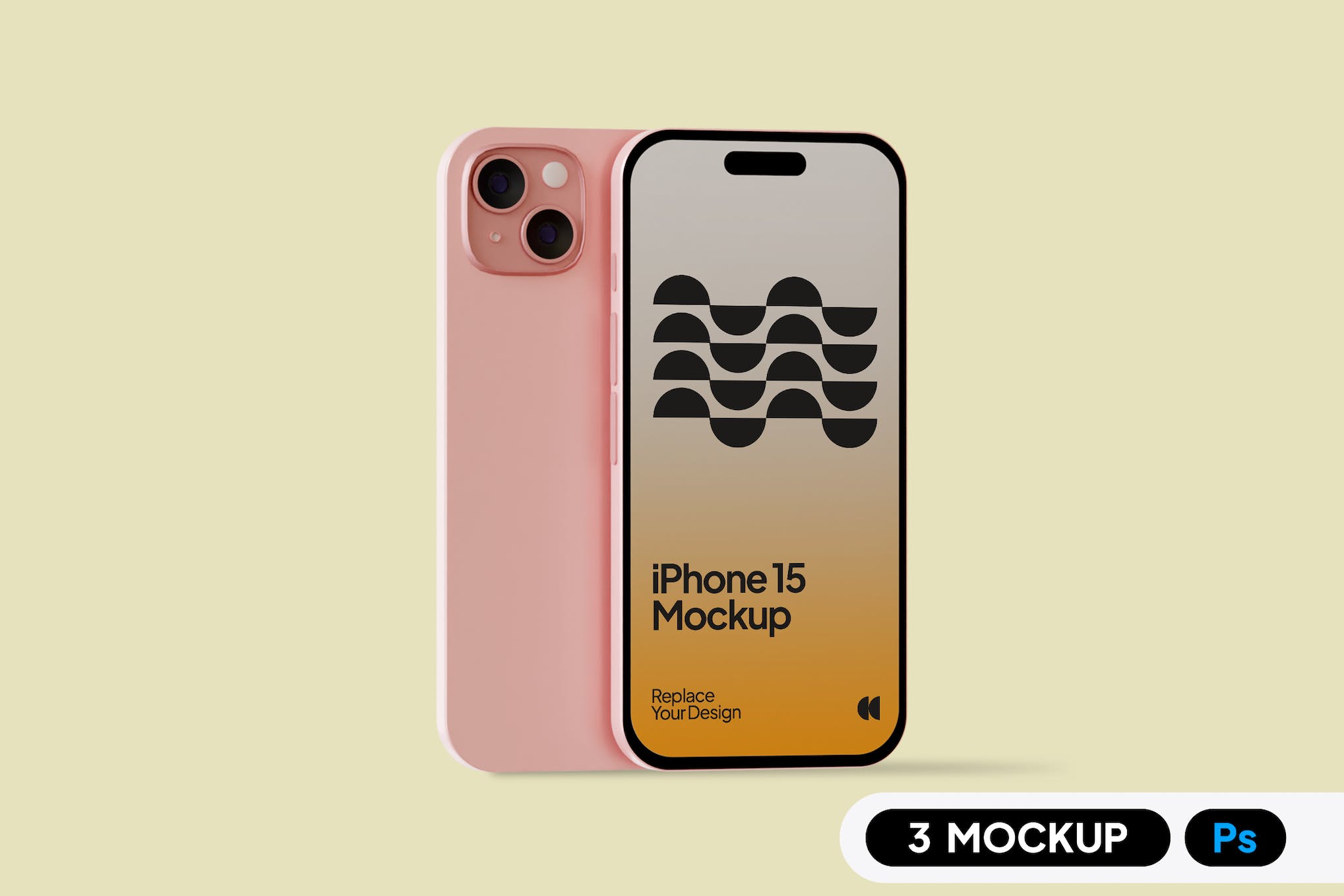 Experience the future with this brand new iPhone 15 Mockup collection, a sleek ensemble of PSD mockups that enable you to stylishly display your app and UI designs. It's a versatile, high-resolution (4000×3000 pixels at 300 dpi) template set in trendy pastel colors, with easy-to-edit smart objects. Be it projecting your brand or illustrating a campaign, these mockups add just the right touch of minimalist elegance.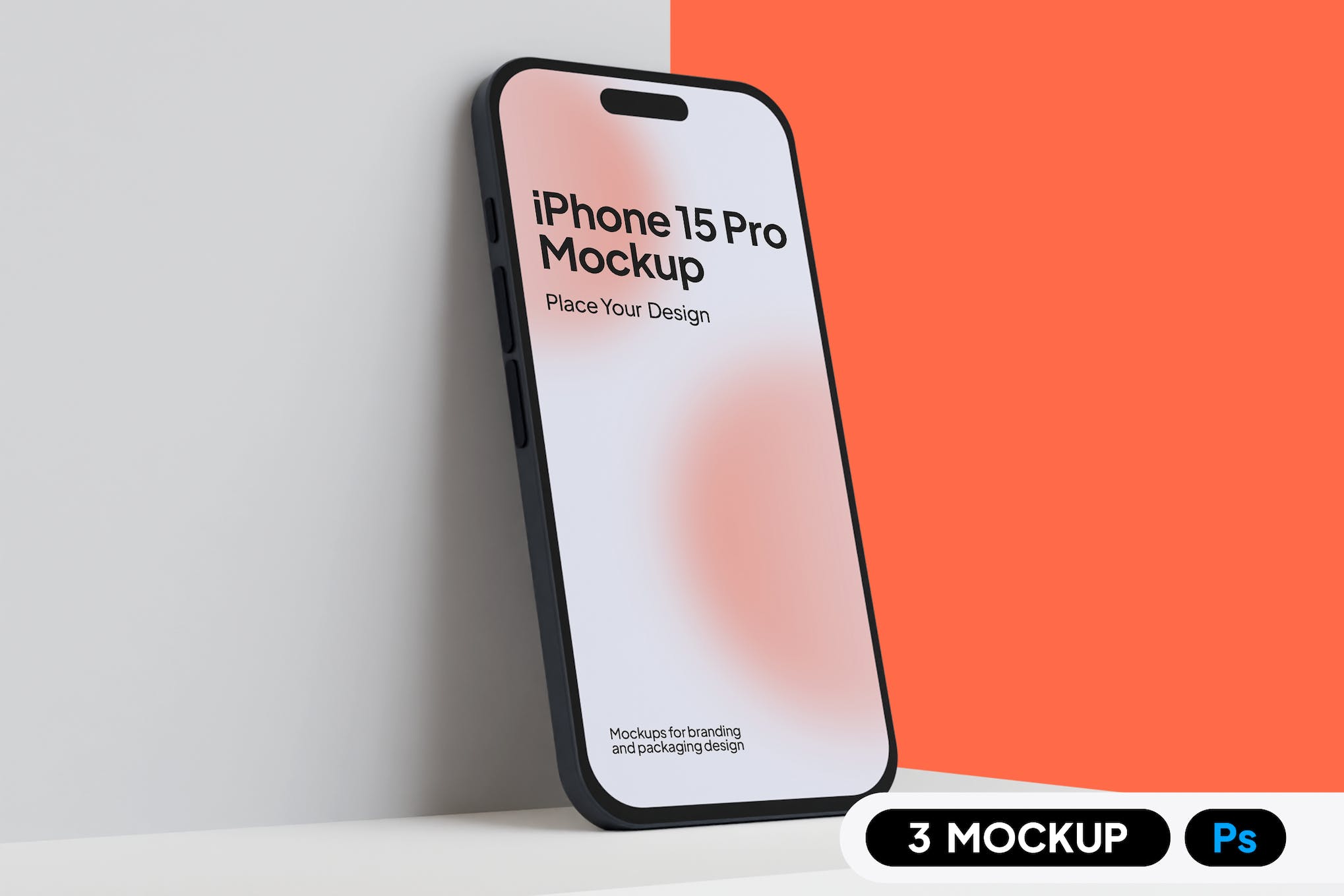 Try out the Minimalist iPhone 15 Pro Mockup, a sleek collection of iPhone screen mockups designed with an elegant, minimalist look. Great for showcasing your apps or online store, they come in a design-friendly PSD format with changeable backgrounds. The pack includes 3 connected mockups in one .PSD file, perfect for branding.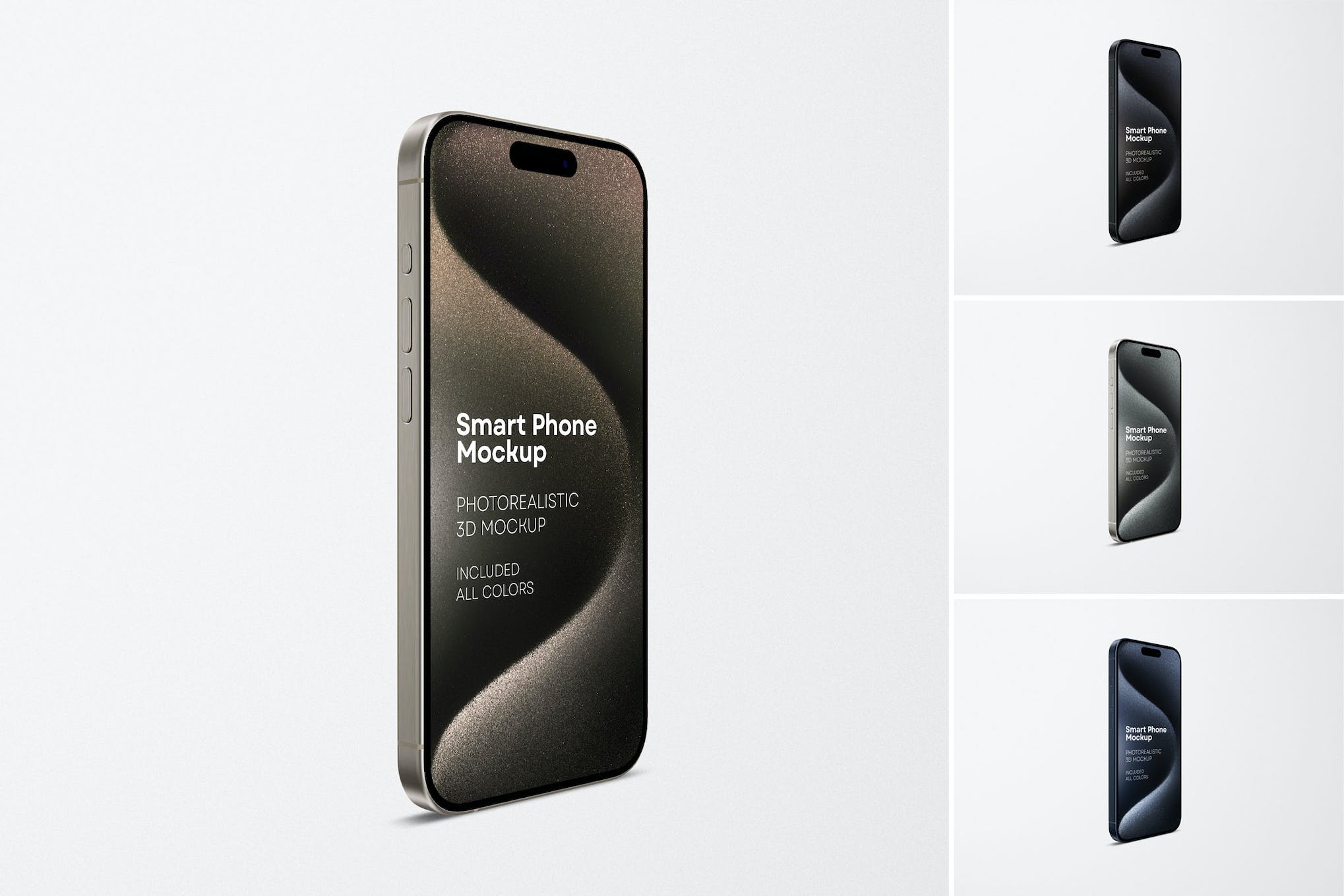 Take your designs to the next level with the new iPhone 15 Pro PSD mockup. Highly adjustable to your creative needs, this mockup includes multiple versions with different color models of the device. The true-to-life quality of this mockup makes it an excellent choice for showcasing your work to potential clients.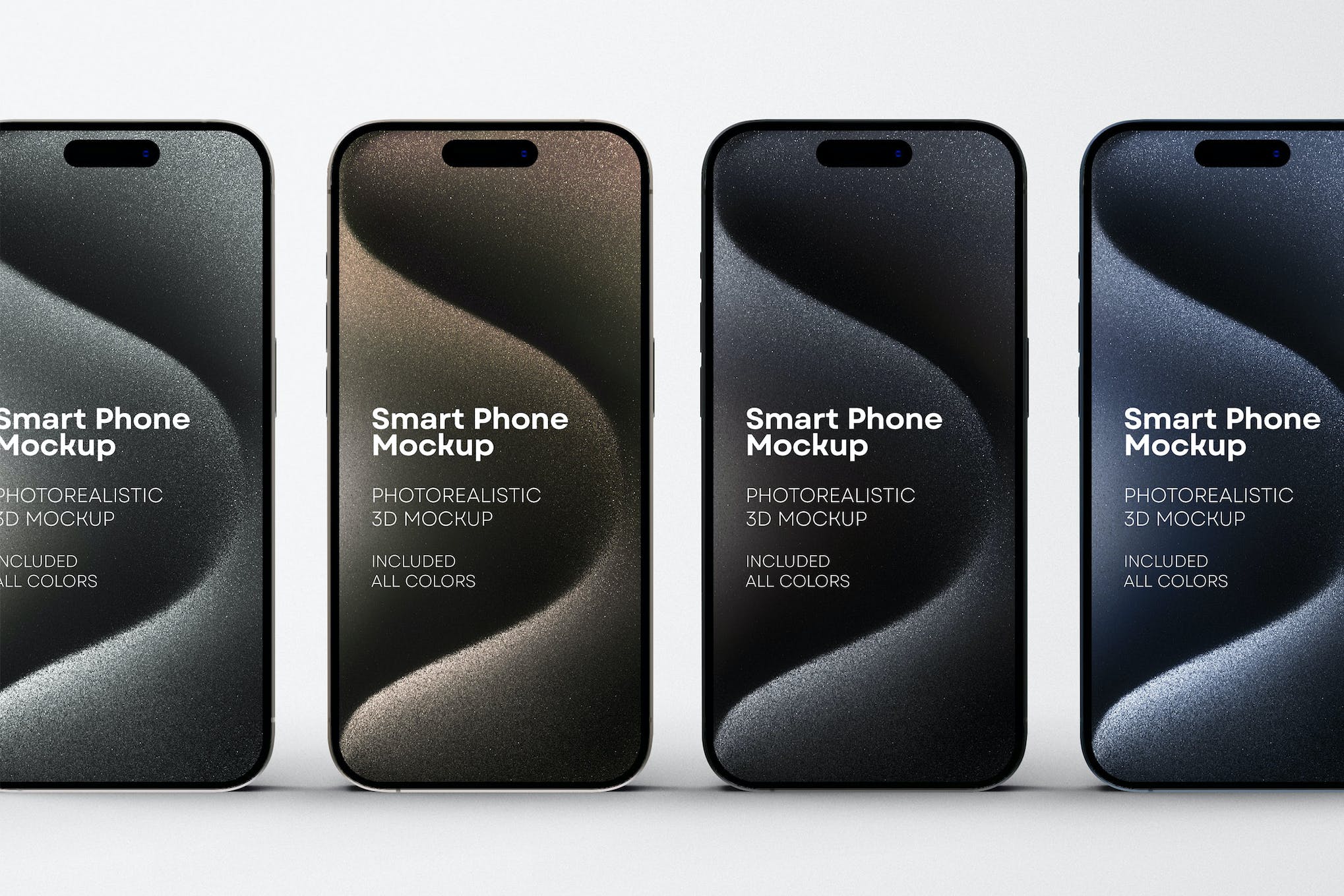 The iPhone 15 Pro PSD mockup is a versatile template for presenting your designs. It offers the ability to modify the phone's color and background to fit your vision. Its lifelike appearance makes it ideal for showcasing your designs to customers or clients and enhancing your presentations.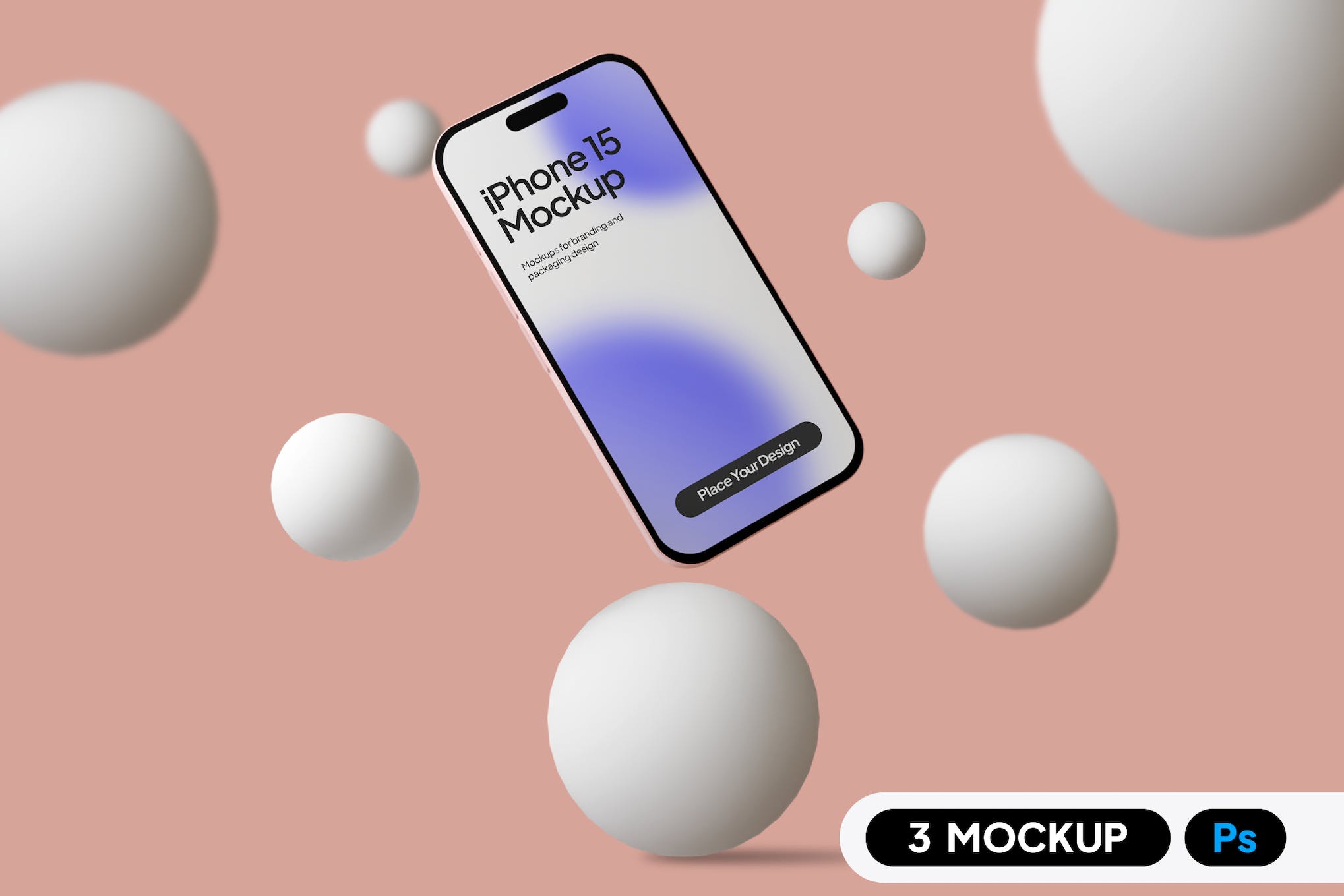 This is a collection of elegantly designed PSD mockups ideal for previewing your app or online store branding on the latest iPhone 15. It comes with three mockups featuring a changeable background color and a high resolution of 4000×3000 pixels at 300 dpi. These minimalist templates and additional ornaments offer versatility for a variety of promotional uses. The mockups are available in multiple appealing pastel colors, catering to different design aesthetics.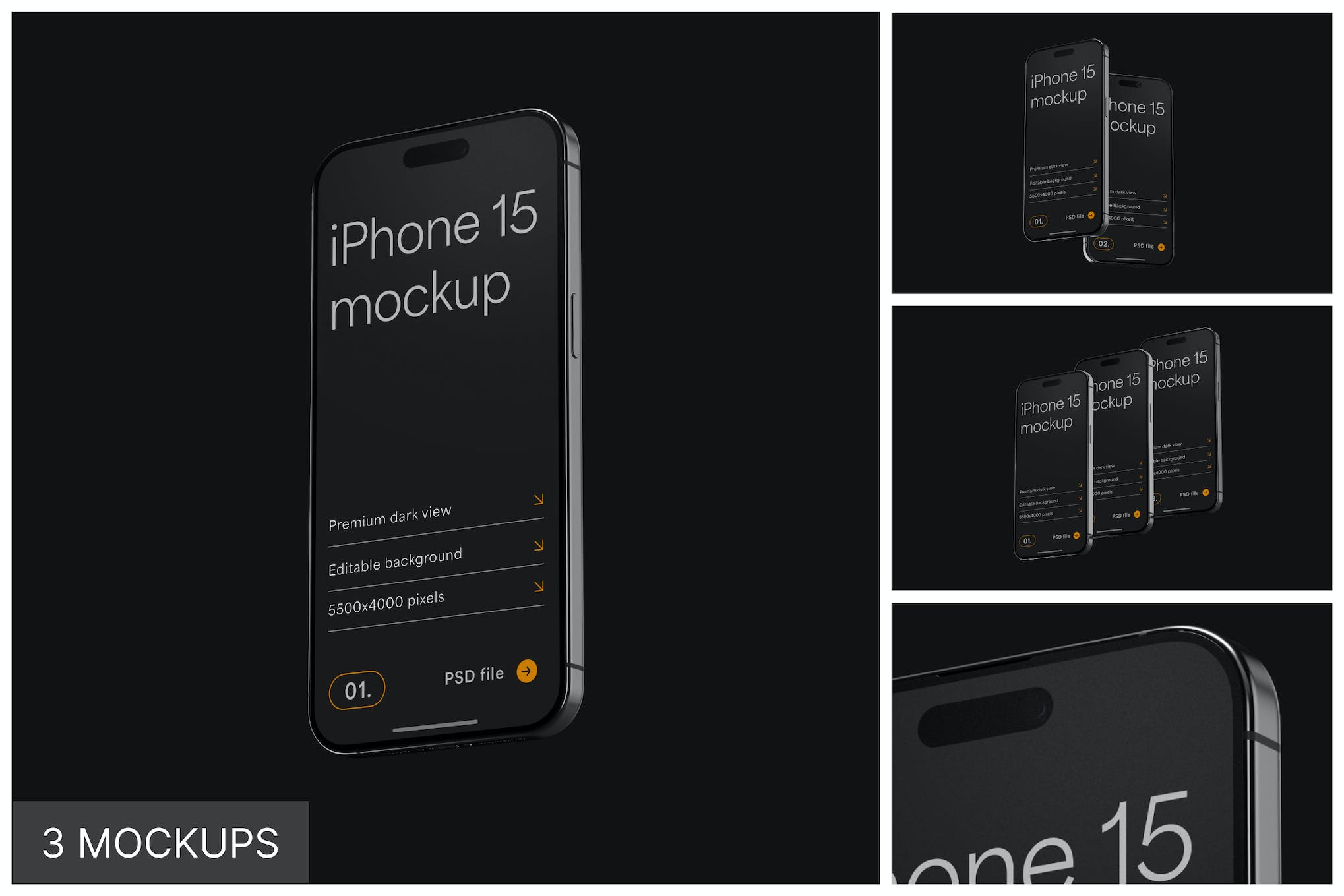 Experience perfection in presenting UI designs with this high-quality iPhone 15 Pro mockup Set, a premium template offering unmatched realism and clarity. Its fully editable and high-resolution nature allows seamless integration of designs and easy customization of backgrounds. Featuring photorealistic lighting and smart object layers, the set is ideal for showing off app interfaces, website designs, and mobile user experiences. With user-friendly guidance included, it's perfect for professionals, or anyone looking to showcase their UI work with sophistication.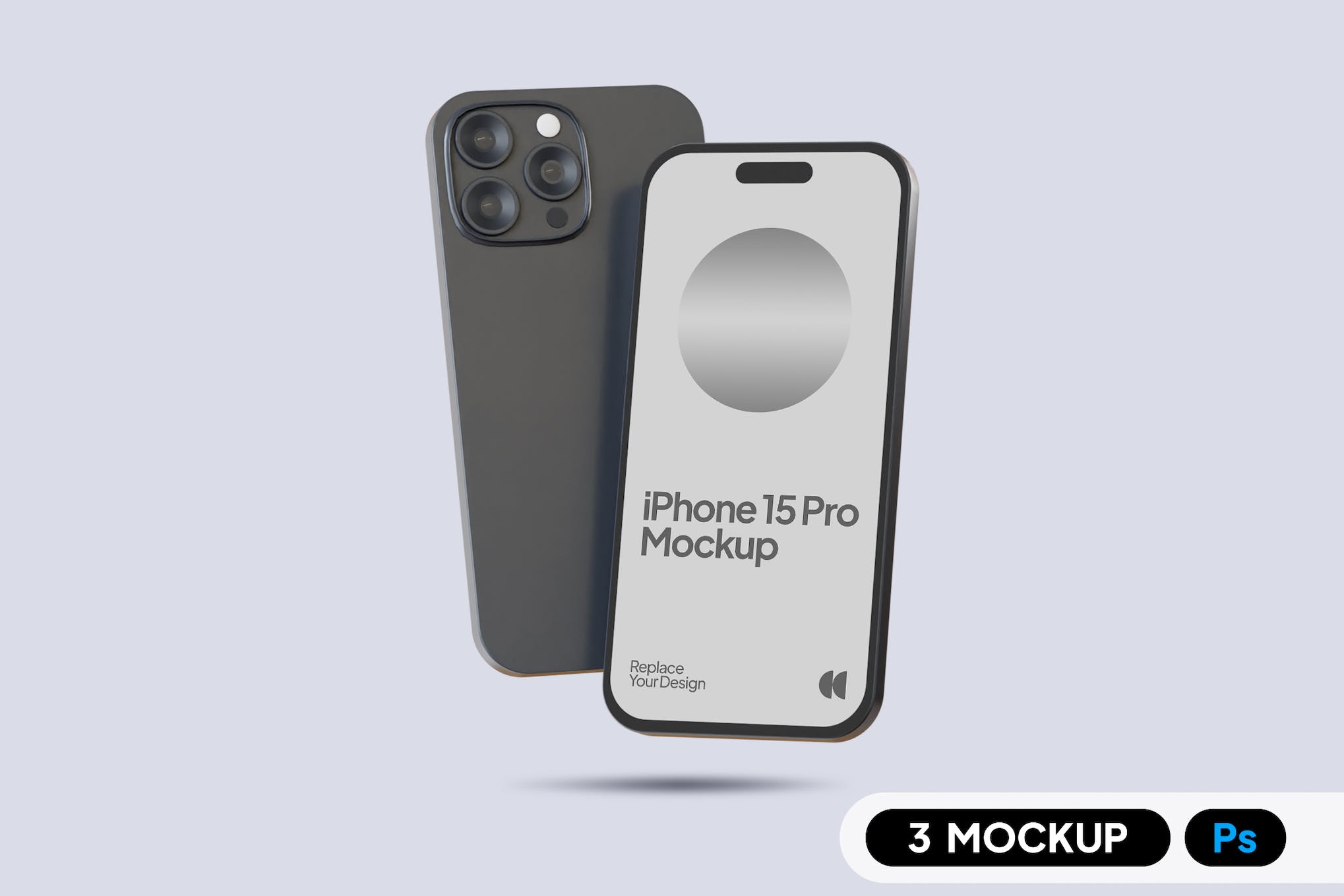 A collection of minimalist and modern mockups crafted in Photoshop for the latest iPhone 15 Pro. These versatile mockups offer a clean, blank canvas for showcasing your app screens, websites, and UI designs. The mockups come complete with changeable background colors, 4000×3000 pixels, and a 300 dpi resolution. Available in five pastel shades, they're a stylish way to promote your brand.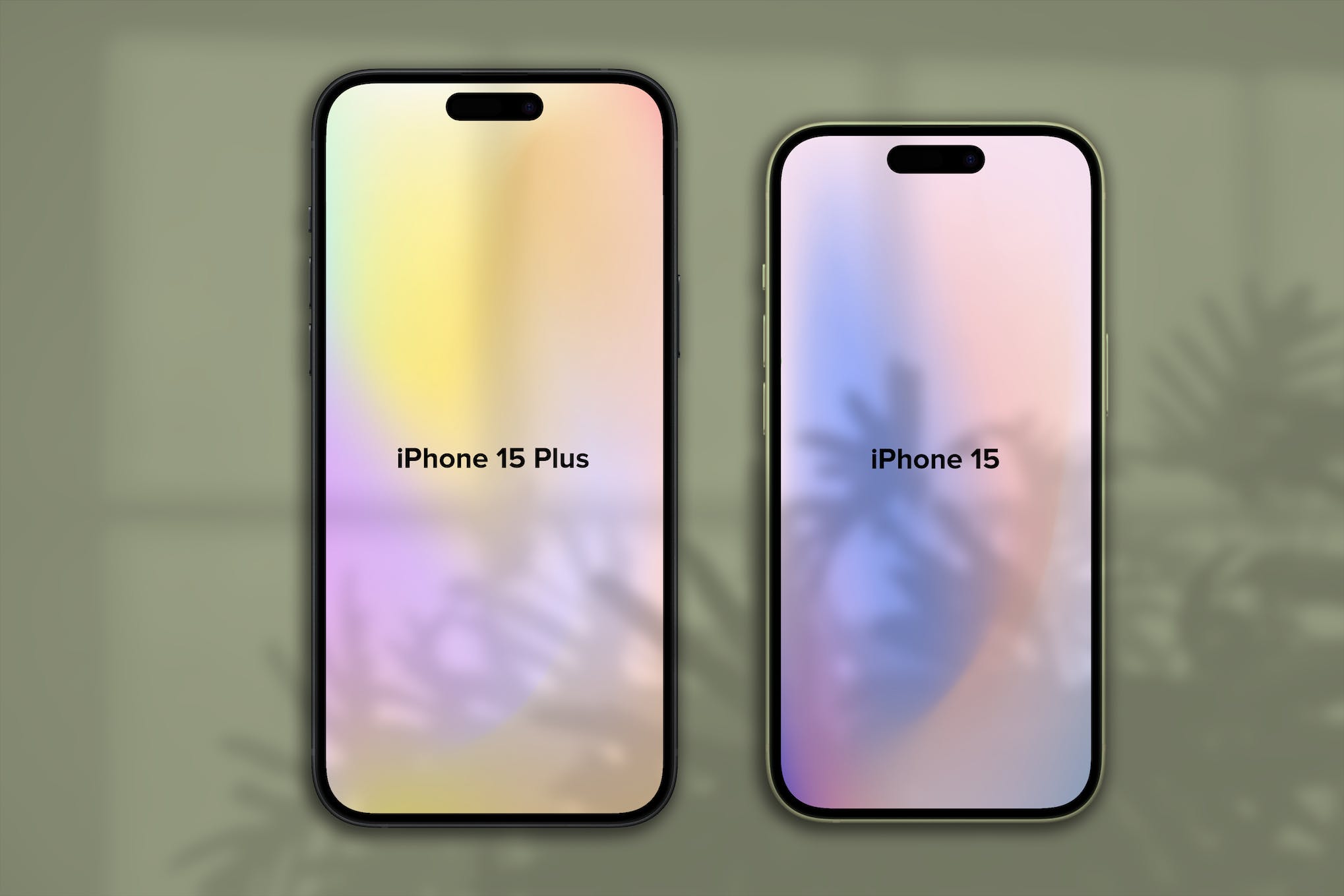 The iPhone 15 and 15 Plus Scene Generator is a mockup kit offering full customization for your iPhone 15 mockups. It comes with a variety of customizable options including unlimited background colors, five original shadow overlays, and five textured backgrounds. This high-resolution asset (3500px by 2333px) provides fully editable layered files in PSD, Figma, Sketch, and XD formats, and includes simple instructions.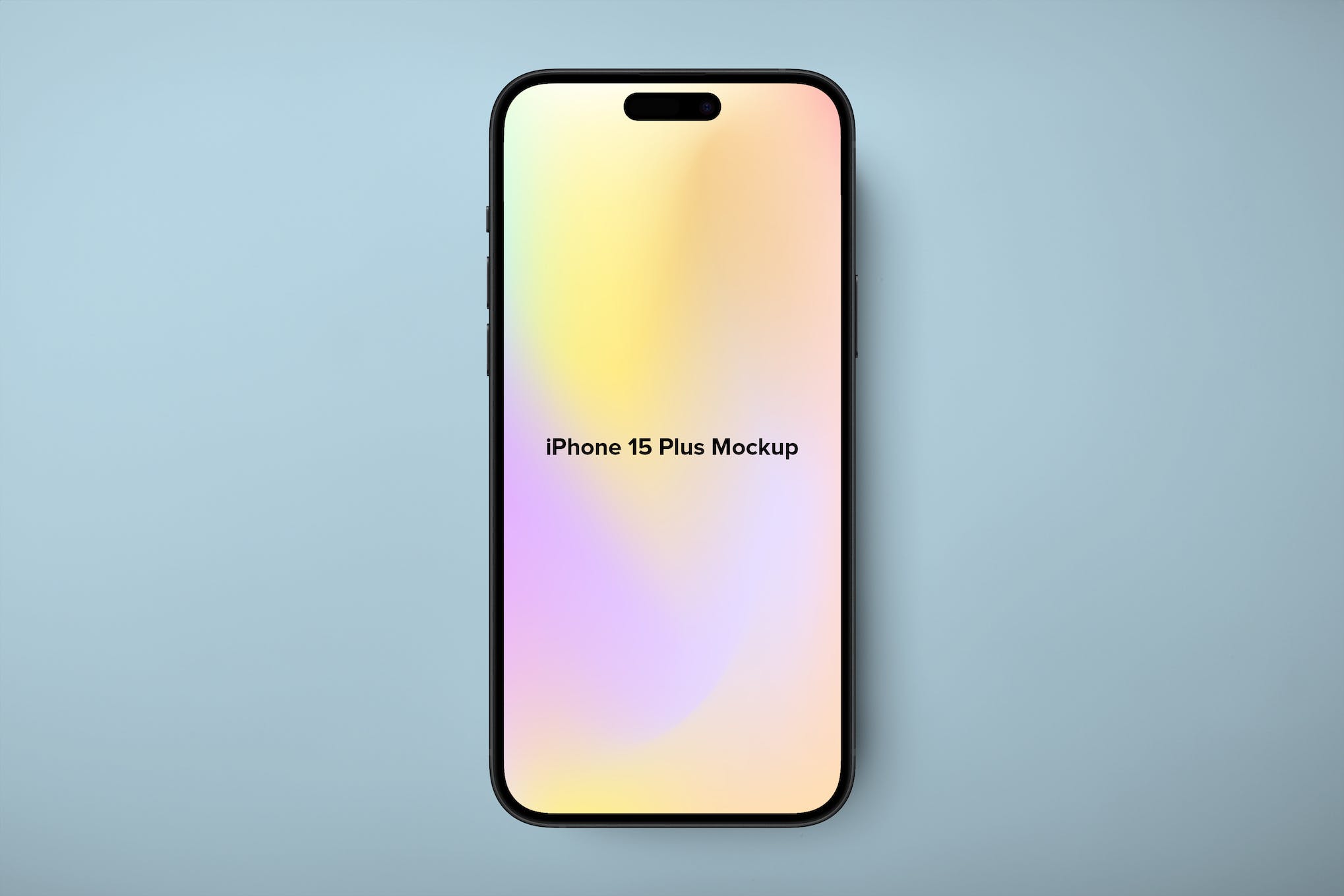 The Minimal iPhone 15 Plus mockup offers a sleek, modern, and high-resolution representation of Apple's latest device. It comes packed with customization options, including unlimited background colors and full editability. With fully layered files for PSD, Figma, Sketch, and XD, it ensures you can tweak every element to suit your needs. You'll even receive clear instructions for an effortless design process.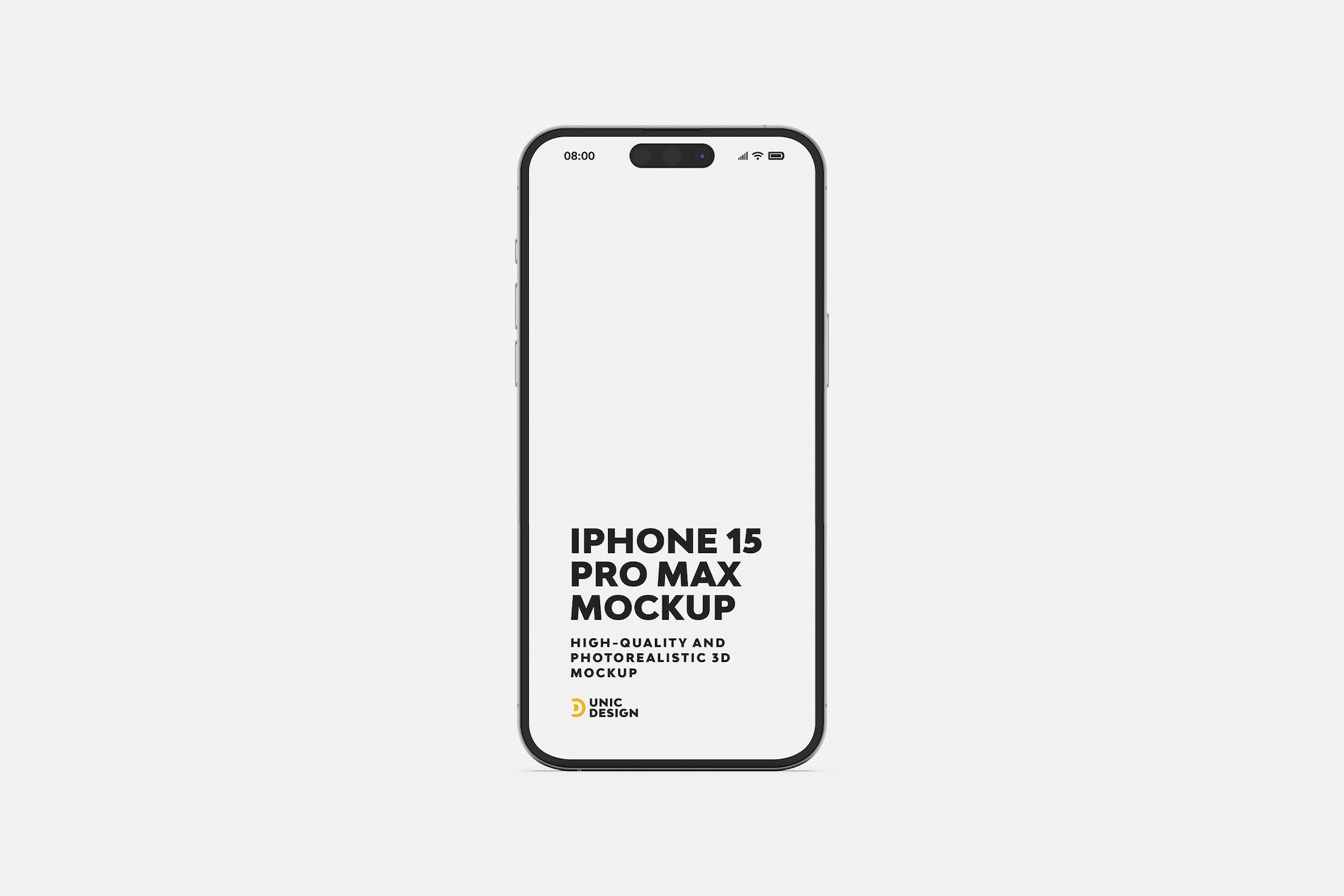 The iPhone 15 Pro Max mockup is a high-quality, photorealistic asset designed to showcase app designs, websites, Instagram posts, and more. It features nine versions of the iPhone 15 mockup, easily customizable with a click using Photoshop smart object. Users can adjust or remove shadows, reflections, tweak colors, and swap backgrounds, giving full control over each layer of the design. Compatibility spans across various Photoshop versions, from CS3 to CC 2023+.
Free iPhone 15 Mockups
These free mockups look just as good as premium mockups.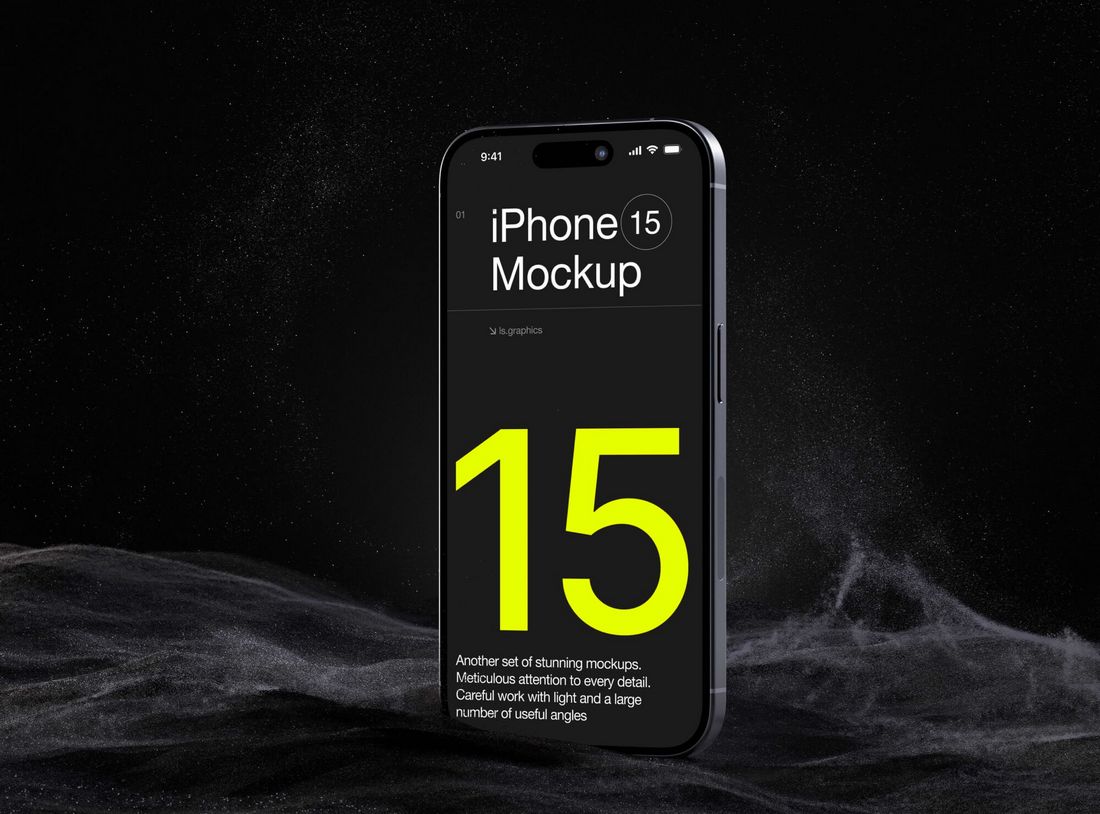 This mockup features a bold and dark scene showcasing the brand-new iPhone 15. It's perfect for showcasing your designs and app screens on websites and portfolios. The mockup is free to download and use.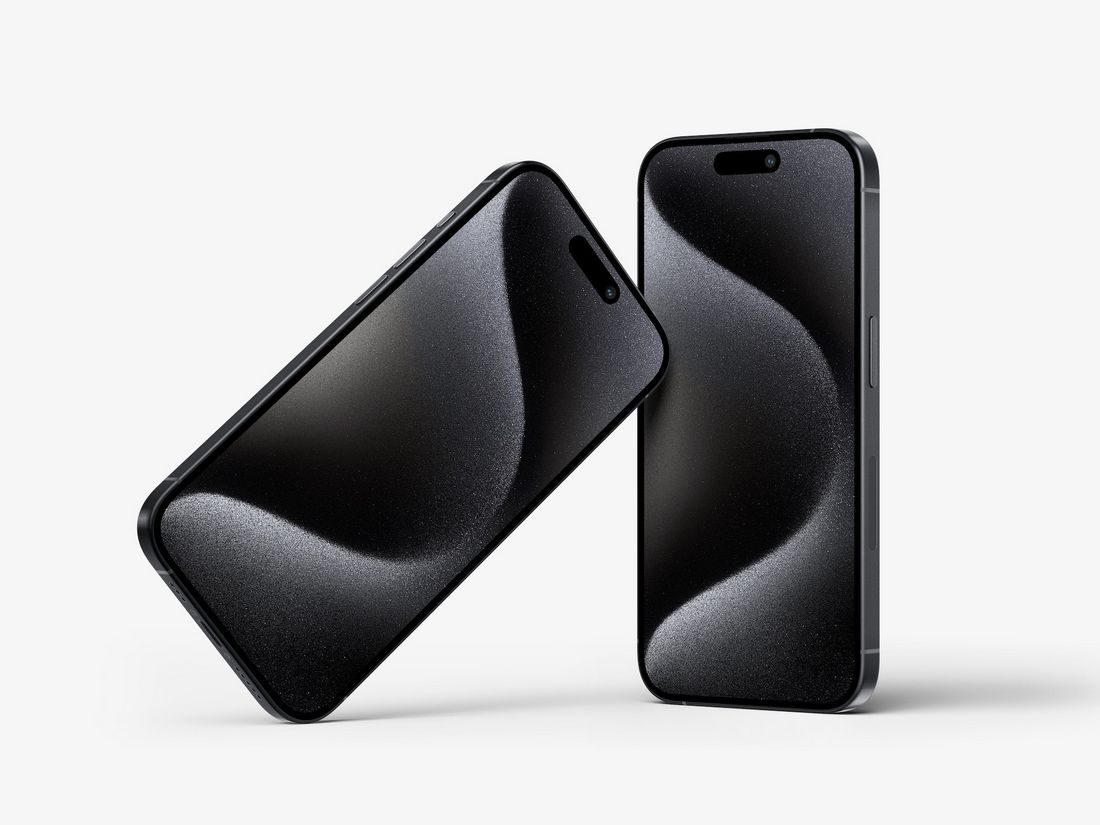 This template has a high-quality rendering of the iPhone 15. And it includes all the official color models of the new Apple device. The mockup pack is free to download.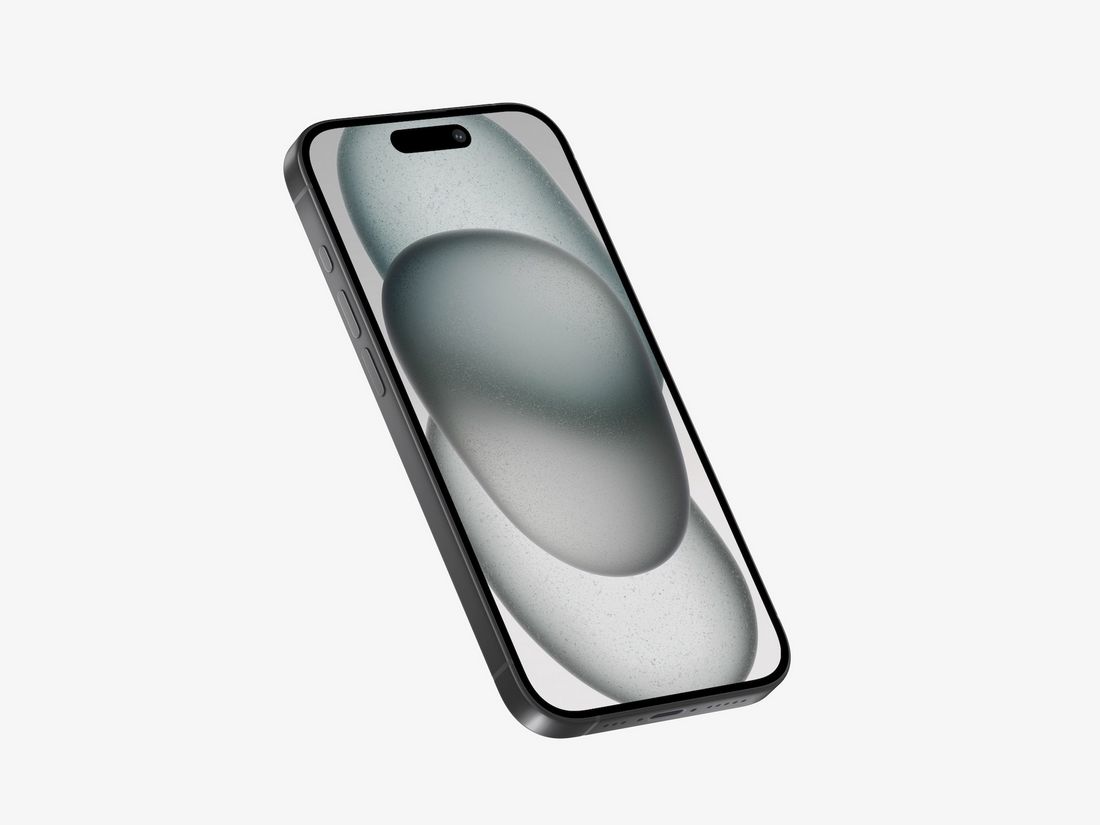 You can download this iPhone 15 mockup for free to present your professional designs to clients. The mockup features a close-up view of the iPhone. It includes multiple versions of the device in official colors.