How to Create a Facebook Timeline Cover Photo: Examples and Best Practices
Facebook announced Jan. 24 that it will be moving all users to the timeline format in the next few weeks. Although the change will be mandatory soon, you can make it early as some users have been doing since it was launched in September. Timeline is the new Facebook "wall" and highlights your personal information based on when it happened.
The biggest visual change included in Facebook timeline is creation of a cover photo. When someone lands on your page they not only see a small square profile image but also a large photo that you have selected for the top of your page. The shape can a little intimidating and includes a hole where the profile image rests. But you can crop or create your own timeline cover photo in just a few minutes. Follow along as we take a look at some great examples and advice for creating the perfect cover photo.
Get unlimited downloads of 2 million+ design resources, themes, templates, photos, graphics and more. Envato Elements starts at $16 per month, and is the best creative subscription we've ever seen.
Like the article? Be sure to subscribe to our RSS feed and follow us on Twitter to stay up on recent content.
Select a Cover Image
Technical Specs

The cover photo covers the width of the timeline but does not change size based on browser width. It remains 720 pixels wide. The photo is 265 pixels deep, but gains a little added depth with the addition of the profile photo box. Because of the size requirement, Facebook recommends uploading a high resolution photo for the cover image and acknowledges that all photos, especially those will low resolutions, can be used as a cover photo.
But those numbers might be a little hard to work with. A standard photo print is 6 inches wide by 4 inches high. For comparison, the Facebook timeline cover image aspect ratio is about 4 inches wide and 1.5 inches high. For your cover photo you will crop nearly half of the vertical space out of the image.
You do not have to have a pre-cropped image available in Facebook to create the cover photo. As long as any photo is wide enough to cover the space, Facebook will let you drag the photo within the cover image box for use. But just any old picture is not going to make a striking cover image. For a timeline cover with pop, you need to take the extreme horizontal aspect ratio into consideration.
Crop a Photo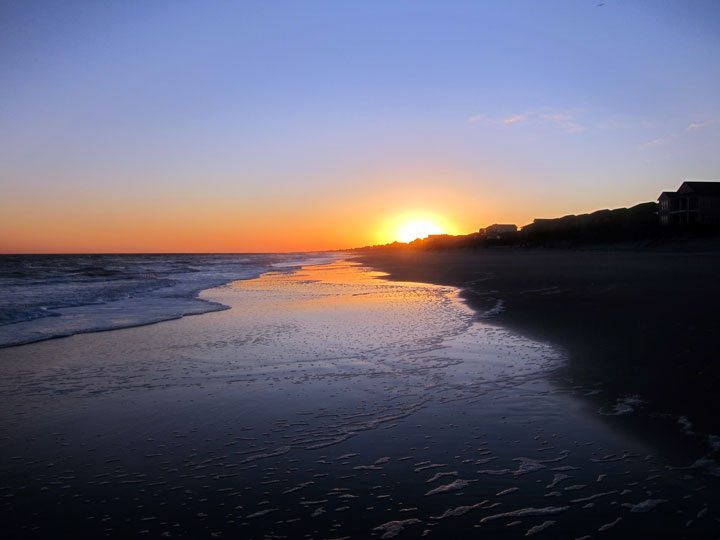 Sort through your digital images to find something that you think represents you well. It can be a large headshot, you and a group of friends or a photo from your travels. When looking at photos, keep that super-horizontal shape in mind and remember that part of the bottom left of the photo will be covered.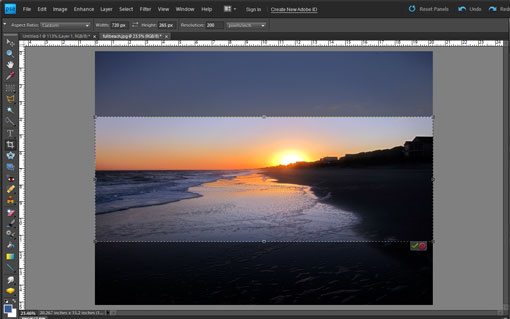 Open the image in photo editing software such as Adobe Photoshop and set cropping constraints. With the Constrained Crop Tool, you can see exactly what your photo will look like before cropping. Many find it easier to work using the proper aspect ratio in inches. Select the crop tool and then select 4 inches for the width and 1.5 inches for the height. (You will shave a sliver off the top or bottom of the photo using this method.) Crop using full resolution.

Save your and upload to Facebook. You do not have to shrink the image to 720 pixels before uploading and remember to upload using high resolution. When adding a cover photo for the first time, click "Add a Cover" on your timeline; to change an existing cover photo, select "Change Cover" in the bottom right corner of the cover photo.
Create an Image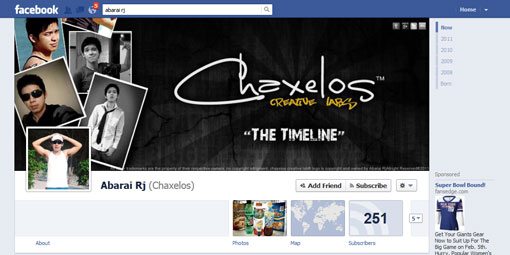 You can also create an image for your cover in the same way you would crop. Start with a blank canvas that is about 4 inches wide by 1.5 inches high at a high resolution (300 dpi or higher).
Remember to leave space for the profile photo. It is positioned in the bottom left corner of the cover image and sits near the left corner and mortises into the image.
If you create your own image, you may consider adding a watermark or digital signature, such as a website address somewhere on the image. That way others are less likely to steal your work if you do not intend for it to be available for public distribution and if it is stolen, you will still get credit for the design.
Download an Image
A variety of websites are beginning to post Facebook timeline photos for download.


The Detroit Free Press posted one just for Lions fans on their Facebook page. Designers at the newspaper created the timeline image with fans in mind. Using your profile photo you are almost inserted into the cover photo. They also used it as an opportunity to push branding as well, incorporating their logo into the image.
Several other websites, such as WhataTimeline.com and fbProfileCovers.com have a variety of premade, pre-cropped cover images available for free download.
What Works Well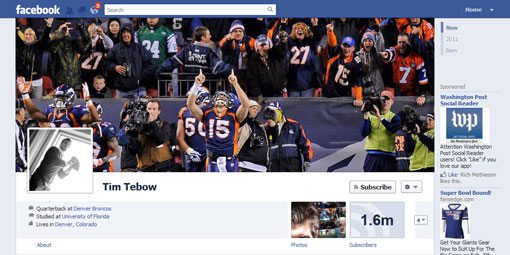 Look for images that are sharp and crisp when selecting a cover photo. Remember this picture is going to be large and details will show. Facebook founder Mark Zuckerberg uses a tight crop of a dog; Denver Broncos quarterback Tim Tebow uses a photo from a game.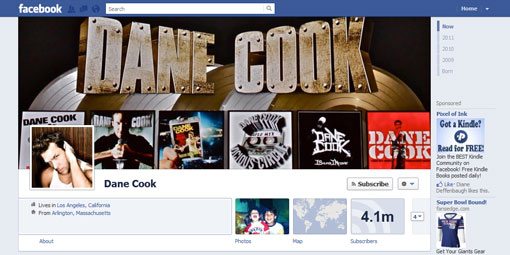 Pick something unique. Although there are a lot of ways to grab timeline cover images, they will not really reflect what you do. If you are not comfortable with a giant photo of yourself, showcase some of your work or create an image just for Facebook. Comedian Dan Cook uses his image to promote his work.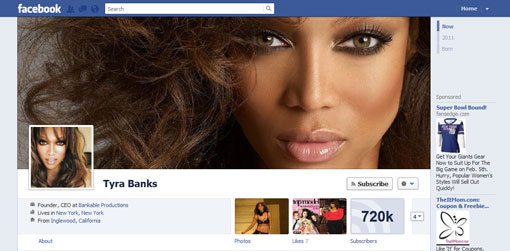 Remember the placement of your profile photo. Select a cover image that uses space well. Opt for something that has the "meat" of the picture to the right or top of the photo so that the square cutout does not cover the image being showcased. TV personality and former model Tyra Banks' page uses the space well with her face positioned in one side of the cover photo.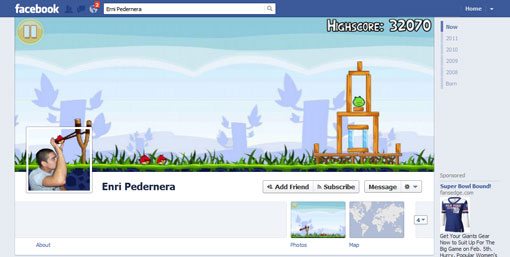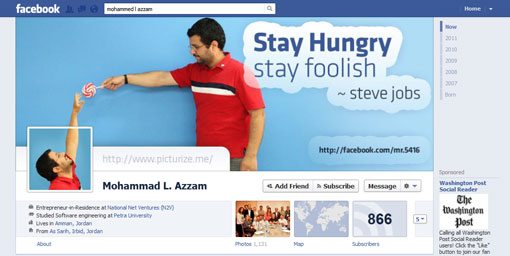 For a twist on the cover photo and profile photo combination, try to merge the images in a unique way. Facebook user Enri Pedernera created an image where he was part of the popular game Angry Birds and Mohammad L. Azzam created another fun image linking his profile and cover photos.
A Few Things to Avoid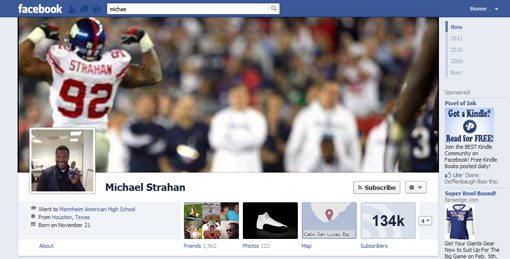 Avoid images that are pixelated, such as the cover photo from former NFL player and current Fox analyst Michael Strahan. The placement of the cover photo is also distracting and the profile photo ends up in a quite unfortunate part of the cover photo. Strahan's image is in the top left above this profile picture and the part of the image where the eye is drawn contains no visual information that would suggest the photo is of him.
Stay away from images that might be offensive or showcase you or your work in a negative light. Also, avoid images that are widely distributed such as those shared on current Facebook walls or in mass emails. The profile image is visible to the public, according to Facebook, as are profile images or past profile and cover photos.
Conclusion
Facebook's new timeline feature is about a lot more than just photos and while the reviews are mixed, you can get ahead of the curve by hopping on board with an impressive image. It only takes a few minutes and a little photo editing.
Remember that the image you choose is a representation of your digital self and should be considered carefully. Even though most of your profile may be limited to friends, the cover image is not. Take a peek at what your friends and groups you like are doing with their cover photos to help spark a little imagination.
Facebook is giving users seven days to preview their own timelines before they go public. So take a couple days to experiment with different photos and find something that works best for you.