Design Shack Is Evolving!
If you've taken a look at our site design in the past few hours, you might have noticed a few changes! We've taken the design paintbrush for a spin, streamlining and simplifying the layout and re-focusing on the parts of Design Shack that we particularly love.
All this comes hand-in-hand with a change to the Design Shack brand, and a funky new logo courtesy of Aaron Mahnke. Read on to find out a little more about the design, branding, and the changes we've made to the site.
Get unlimited downloads of 1 million+ design resources, themes, templates, photos, graphics and more. Envato Elements starts at $16 per month, and is the best creative subscription we've ever seen.
Simplify & Streamline
The new design is a little more toned down, and we've stripped away quite a bit of the clutter that used to adorn the previous layout. The gallery is easier to navigate, articles are presented in a familiar fashion, and we're placing more focus on the content.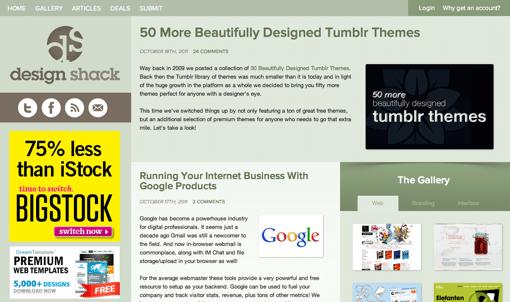 Our New Logo

I've felt for a while that Design Shack has been in need of a more compelling logo, and unique visual brand. Our new logo retains the understated simplicity that we're always aiming for, incorporates a few unique elements relating to our name, and gives Design Shack a better feeling of identity.
The logo has been designed by Aaron Mahnke, and we're really pleased with how it turned out.
Submitting Your Design
It's now easier than ever to submit your site design to our gallery, and you can send us a web design, piece of branding, or an interface example. Just head over to our submission form, fill out the details, and we'll consider it for inclusion in the gallery.
If you'd prefer to receive a little more feedback on your submission (and advice from the Design Shack team), there's another option available to you in the form of a Design Critique. This costs $49, but also includes a post on the site that promotes your site and includes all our constructive feedback on the elements of the design we love, or feel could be improved!
Find out more and see an example here, along with details of a few other design guidance and advice services that we're starting to offer.
.co.uk to .net
Last (and probably least for most readers!) we've made a switch from our old .co.uk domain name to the new designshack.net. We've always been an internationally focused site, and this new change reflects this better moving forward.
Thanks for Reading Design Shack!
As ever, we're incredibly grateful to you, dear reader, for taking the time to visit the site and read what we have to say. Thank you for your support over the past five years, and I hope you'll continue to enjoy our articles and inspiration!
If you have any feedback or suggestions for the site, please leave a comment. I'd love to hear your thoughts.