20i: Multi-Platform Managed Cloud Hosting at an Affordable Price
In this review, we check out 20i, a managed cloud hosting provider that offers a wide variety of benefits and features at very affordable prices.
One of the many benefits of using managed hosting is how it allows you to run and maintain your website worry-free. There's no need to check the servers or update websites every day. The hosting provider handles all the technical aspects of managing the sites for you.
20i managed hosting plans take this even further by providing you with lots of additional features, including the ability to choose a cloud platform of your choice to host your website and apps.
Let's dive in and find out more about this web hosting provider.
What is 20i?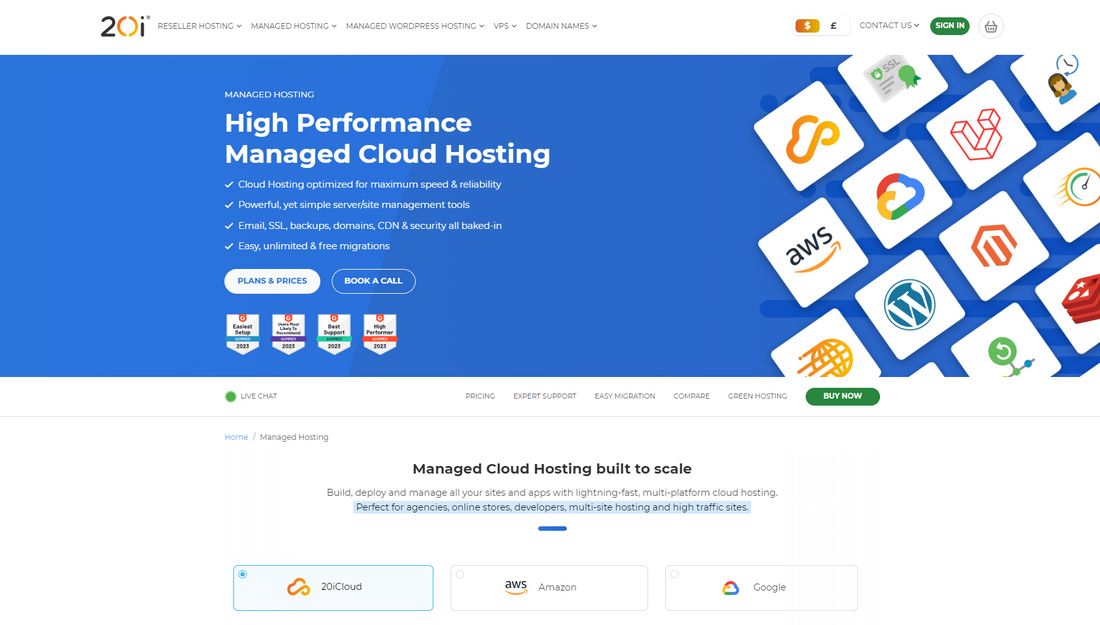 20i is a web hosting provider of many solutions ranging from shared hosting to VPS and reseller hosting. In 2023, the company introduced its brand new offering, managed cloud hosting service, which allows users to easily build and deploy apps as well as host high-traffic websites at an affordable price.
20i was founded by two leading industry experts, Tim and Jonathan Brealey, who have decades of experience in launching platforms like Webfusion and 123-reg, which goes all the way back to 1997. Their goal with 20i is to offer "premium hosting" that everyone can afford.
Why Managed Cloud Hosting?
There are many benefits to hosting a website in a managed environment. The main benefit is not having to worry about the technical side of managing a website.
You won't have to maintain the server or check for security updates, patches, etc.
There will be enhanced security and protection against hackers
The servers are optimized with caching for faster load times
If any issues arise, technical support experts will handle that for you
Managed hosting makes it easier to scale your site as it grows
Managed WordPress Cloud Hosting
20i also has a managed cloud hosting service specifically built for WordPress websites. It includes all the benefits of the cloud hosting service with added benefits for WordPress users.
For example, it allows you to quickly setup WordPress staging sites, clone websites, and even manage all the plugins and themes in one place with the WordPress Manager.
All of the 20i managed WordPress cloud hosting plans include its StackCache Optimisation system, which fully optimizes your site for better performance and speed.
You'll get lots of other benefits on top of that. Here are just a few.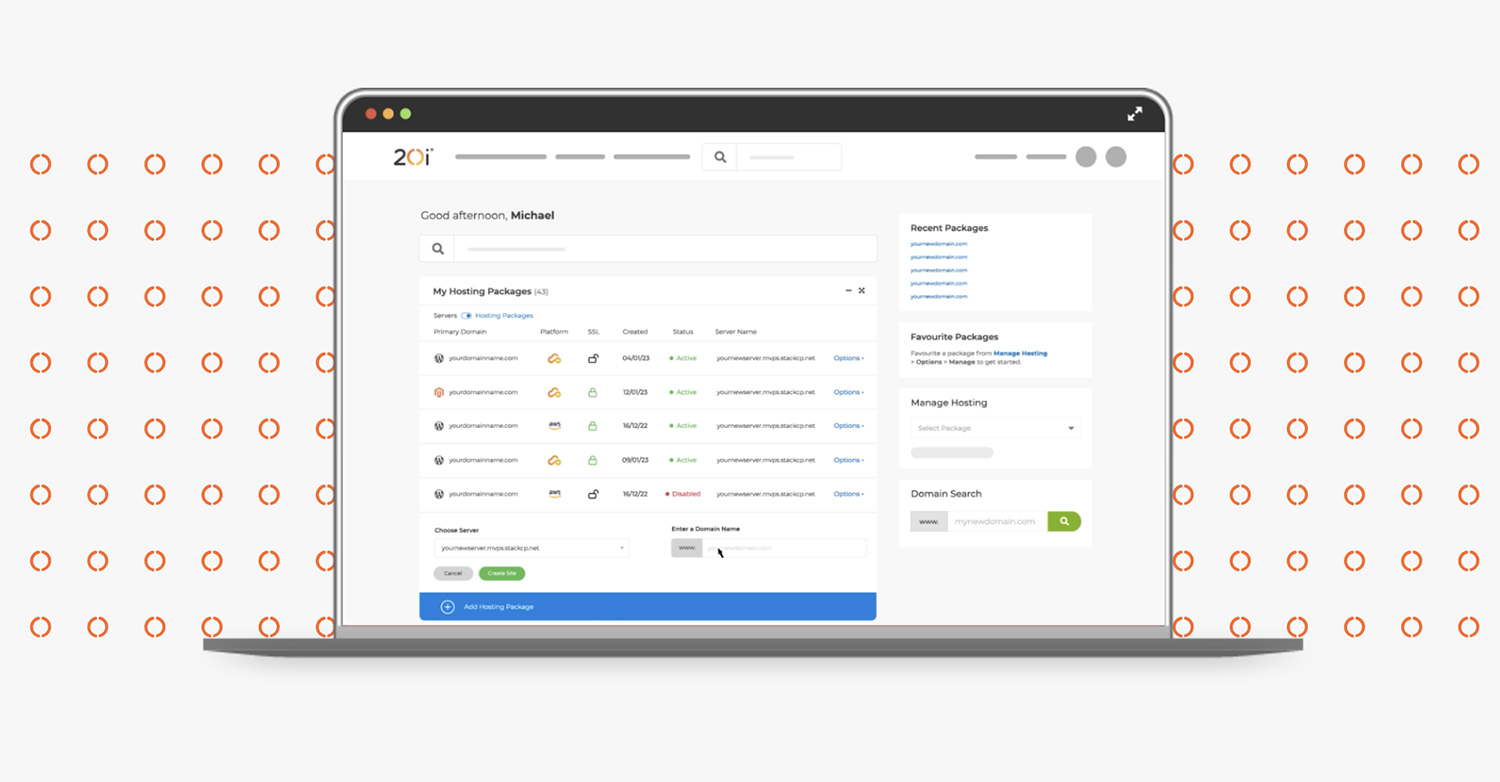 Choose Between 20iCloud, AWS, and Google Cloud
20i is one of the few web hosting providers that allows you to choose your own cloud platform to host your website. It lets you choose between Amazon AWS cloud, Google Cloud, or its own 20iCloud platforms to setup your sites. For all cloud platforms, 20i guarantees 99.99% uptime with fast speeds.
Host Unlimited Websites & Apps
Whether you have one high-traffic website or dozens of niche websites, you can host them all in one place with 20i managed hosting plans.
It lets you host unlimited websites or apps. Or at least as much as your chosen hosting plan can support. There are limits to disk space but most plans are capable of supporting even a hundred or more websites.
Free Daily Automatic Backups
20i will automatically backup your website files and databases every day. And it offers a timeline of backups for you to easily explore and roll back whenever you need to.
This will make sure your site is safe no matter what happens. Even if something breaks your website, you'll be able to recover it without a hassle.
Free Unlimited CDN & SSL Certificates
Most hosting providers offer a free SSL certificate for the first website you setup on their platform. If you setup additional websites, you'll have to purchase the SSL certificates separately. This is not the case with 20i. You get unlimited SSL certificates for free.
As a bonus, you also get a free CDN (Content Delivery Network) without any limits. This is highly valuable for websites that target audiences from around the world. Normally it costs around $10-20 per month to use a CDN.
24/7 Expert Customer Support
The 20i customer support team is available at all times 24/7 to help solve all your troubles. Whether you want to move your site from another host, troubleshoot a technical issue, or even setup a new website, 20i expert support team will help you out with all your needs.
It's also worth mentioning that 20i provides unlimited site migrations for moving your sites from other hosting providers.
60+ Global Data Center Locations
With more than 60 different data centers located around the world, you'll have plenty of choices to host your website on a server that's suitable for your business and target audience.
20iCloud servers are located in the UK and North America. Amazon and Google Cloud offer lots of different locations in Asia, the Middle East, Africa, and more.
100% Green Hosting
When hosting your websites on 20i, you'll be able to proudly claim that your sites have less of an impact on the environment and carbon footprint than most other sites.
20i data centers are fully powered by renewable energy. Even their offices are paperless and use solar power.
How Much Does It Cost?
Pricing plans for 20i managed cloud hosting differs based on the cloud platform you choose to host your sites. Of course, there are multiple plans for you to choose from depending on your requirements.
20iCloud: Pricing for 20iCloud managed hosting starts at $10.99 per month and it offers 1 core processor with 1GB of RAM, 25GB of SSD space, and 1TB bandwidth.
AWS: Amazon AWS hosting plans start at $13.99 per month and it features 2 core processor with 1GB of RAM, 20GB of SSD space, and 2GB bandwidth.
Google Cloud: Google Cloud pricing starts at $45.99 per month and it offers 1 core processor with 3.75GB of RAM, 20GB of SSD space, and 2GB bandwidth.
There are many other plans available for each platform. And no matter which cloud platform you choose to host your site, you will get all the 20i benefits and additional features at no extra charge.
Should You Use 20i Managed Hosting?
20i is proof that finding a managed cloud hosting plan with affordable pricing options is not an impossible task. The enterprise-level benefits and features it offers are more than suitable for hosting any type of website you have.
It's an ideal platform for freelancers and agencies for setting up reliable websites for clients. And also for entrepreneurs and bloggers for hosting all their WordPress sites, niche blogs, and websites in one place.
Getting all the additional benefits, like unlimited CDN, free SSL, full DNS control, and proprietary caching systems, makes 20i managed hosting plans worth every penny.