The Best Black Friday Deal Yet: UX Design Education
There's a trend this holiday season to opt-out of a lot of the chaos and consider alternative gifts that have more meaning or create greater experiences. To choose something that can benefit yourself, serve a bigger purpose, and not just be another gadget that'll wind up in the trash six months from now.
The gift of a UX education fits perfectly for anyone with a design background. The Interaction Design Foundation is offering a stellar Black Friday deal with 25% off UX courses for Design Shack readers.
It's the perfect way to choose to spend money on something meaningful, that will bring you long-term value.
Want to know more about what you can give (or get) with this deal? Read on.
UX Design Education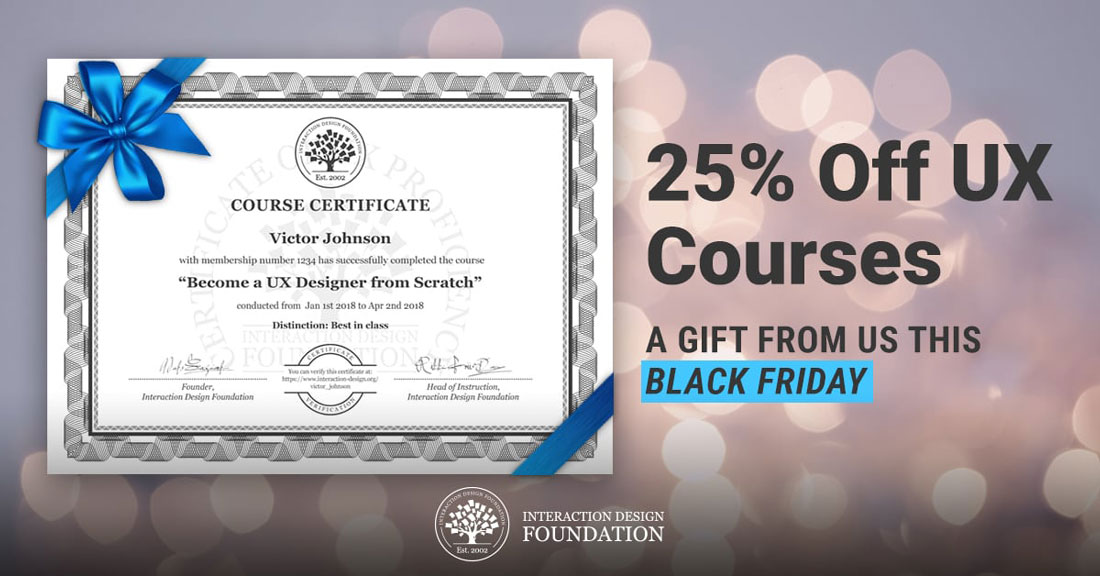 If you've ever wanted to up your UX design game, the Interaction Design Foundation is packed with information to help. (You'll even find some of their information and research quoted throughout articles published here at Design Shack.)
The Black Friday deal is a stellar one – it makes a great gift to another designer or yourself – with an Interaction Design Foundation annual membership.
You'll save 25% off regular membership rates and be able to enjoy a year of UX design learning at your own pace.
The annual membership includes access to 29 online UX design courses. According to the foundation, they've helped "40,136 members (and counting) advance their careers and raise their salaries. They use our industry-recognized course certificates to make a life-changing shift into UX design or stay ahead in their careers."
Every course comes with a certificate that recognizes your achievement. It's a tangible tool that you can use to show your skills and expertise to clients, bosses, or potential employers. Plus, each certificate comes in a format that you can add to LinkedIn with just a couple of clicks.
Available courses include the following areas:
User experience design
Design thinking
Human-computer interaction
User research
UI design
UX management
Emotional design
Mobile UX design
Interaction design
Accessibility
Gestalt psychology
Information visualization
The best part? With an annual membership, you can take as many courses as you want for the same flat rate. (That makes this an amazing experiential gift that lasts all year!)
What is the Interaction Design Foundation?
Courses in this deal are from the Interaction Design Foundation.
If you aren't familiar with IDF, they are experts in the field and have been designing website design courses for more than a decade.
Here's what they describe themselves: "We are an independent nonprofit initiative with an objective that sounds like a paradox:
"Raise global design education to an Ivy League standard, while at the same time reduce costs to as low as possible.
"In other words, we democratize learning by providing top-quality, online design courses at a fraction of the cost of traditional education.
"We collaborate with top universities and companies—Stanford, Cambridge, and SAP Labs, for example—as well as noted authors like Clayton Christensen and Don Norman. This means our educational material focuses on practical relevance and is backed up with academic rigor."
Courses That Better the Design Field
Still on the fence? This deal will make you a better designer. It will also help someone else somewhere in the world to learn UX design.
A proportion of the money generated over the four days of the Black Friday sale will sponsor memberships for people who are passionate about UX, but unable to afford an education in the field.
Now that's an experience gift that you can feel even better about.
Get the Black Friday Deal
So here's the good part. How do you get the UX design courses Black Friday deal?
All you have to do is visit this link, and sign up for an annual membership this weekend. The 25% discount will be applied and you can start taking online design courses right away.
Think of it as an investment in yourself or that special designer in your life. This field will only continue to grow and professional certifications and courses can set you apart from others in the field.
Conclusion
This is definitely an item on my wish list. I'll be first in the virtual line to get access to this year of UX design education.
Don't miss out on this Black Friday deal. You won't find UX design courses like this anywhere else at this great value. Get (and give) yours today.