Build a Website Today With Squarespace
There are a lot of ways to build a website. If you are new to creating and managing a website, a site building tool can be one of the best and easiest ways to get started.
The benefit of a site building tool is that you don't have to know code to create a beautiful design that works seamlessly across devices. Squarespace is one such option. Squarespace is designed to help you get a professional-looking website online in a short time. It's a great option for creative professionals with plenty of template options that can make your portfolio shine.
Here's a look at Squarespace, plus a discount code if you want to give it a try!
Get unlimited downloads of 2 million+ design resources, themes, templates, photos, graphics and more. Envato Elements starts at $16 per month, and is the best creative subscription we've ever seen.
What is Squarespace?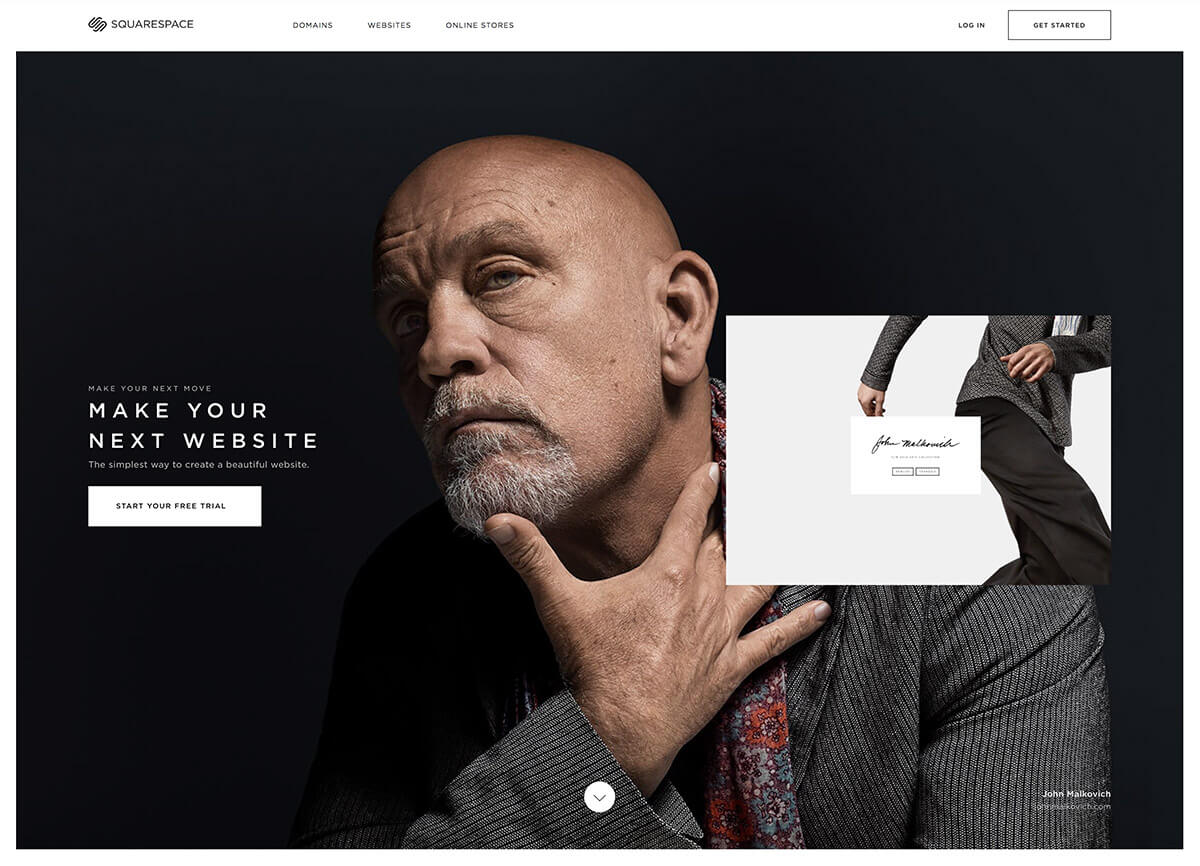 Squarespace is a website builder. What makes it different from some of the other options is that the platform includes website building tools as well as domains and is robust enough to run an online store.
The platform is an all-in-one platform so that you don't have to shop multiple places for domains, design and hosting to get your website online. You can do it all with Squarespace. Plus, it all comes with 24/7 customer service via email or live chat. (That's a feature that's somewhat hard to find.)
You might be surprised at the number of people building websites on the Squarespace platform. With dozens of templates to get started and tools for every type of site design, from individual blogs to portfolios to retail stores, Squarespace powers millions of websites.
Web Design Made Easy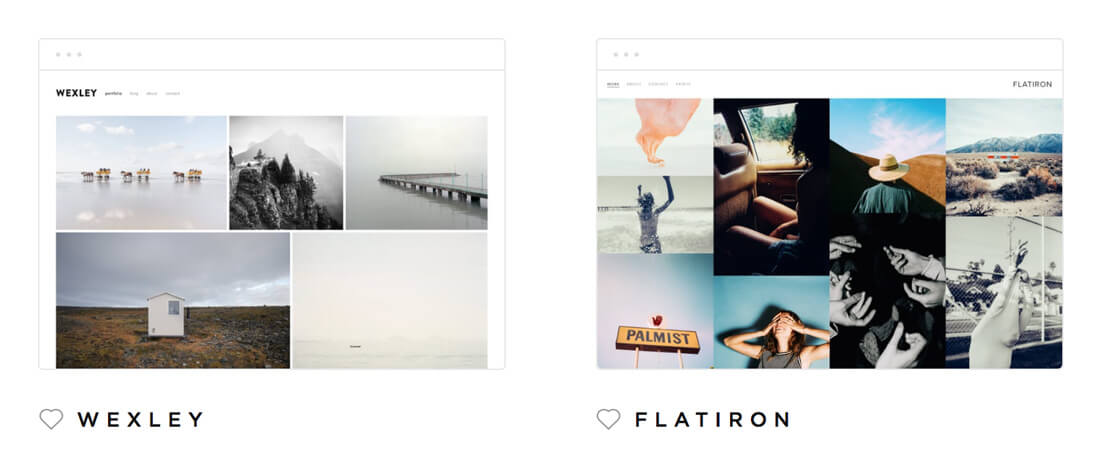 One of the biggest reasons to build a website with Squarespace is ease of use. It really couldn't be easier to find a design to start with and get online.
Just pick from one of 45 templates that you like and use the drag and drop builder to move elements and customize the design. Making changes is so simple that your website will have a personalized feel with just a few clicks. (So you don't have to worry about publishing a website that looks like the template or another Squarespace user.)
You won't have to think about all those pesky website integrations either. Every Squarespace template is responsive, meaning it will look great on every device. (And it happens automatically.) Every plan includes hosting, is search engine optimized and will sync with your social media accounts. Plus, everything works in the cloud. You don't have to buy anything extra or install software to build your website.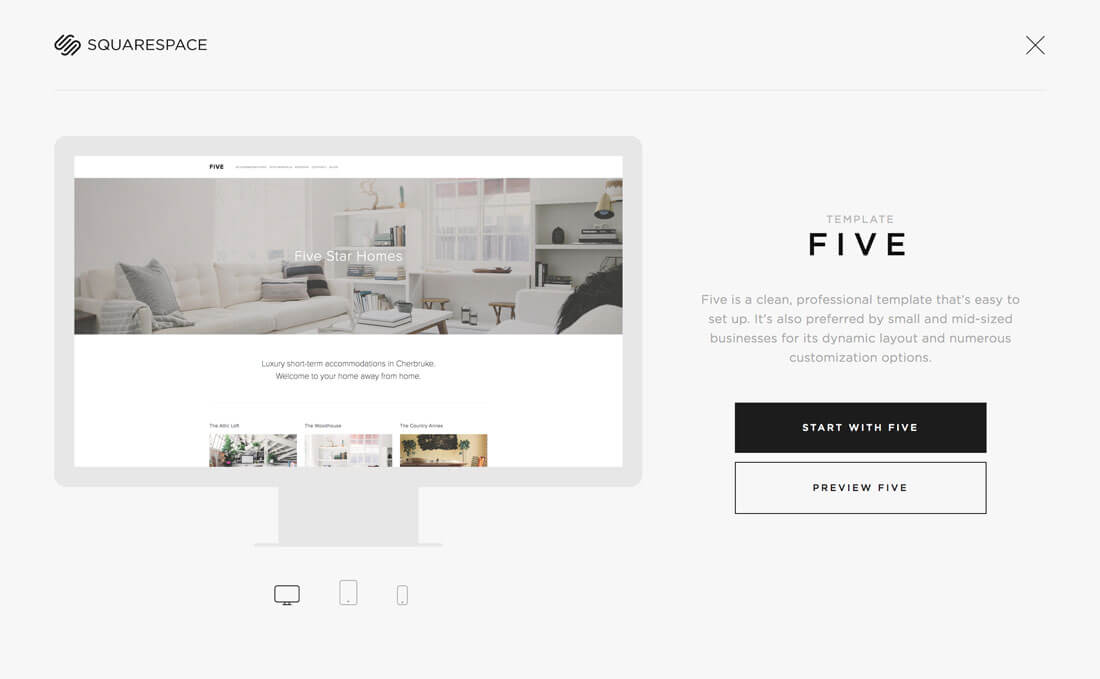 Key Features
Squarespace is packed with all the tools you need (and maybe even a few that you don't). The platform is simple enough for the most inexperienced user and includes options for more advanced web designers that want to build a site fast and without strings attached. Some of the key features include:
Modern template designs: Every template was created by a designer and is tested on modern browsers, mobile devices and uses the latest HTML, CSS and Javascript standards.
Create multiple designs: You can install multiple templates for the same content and work simultaneously if you aren't sure which option is best.
Preset content types: Settings and frameworks for pages, galleries, blogs, commerce, calendars and more are included.
Every font you can imagine: Squarespace sites include both Typekit and Google Fonts integration. All of the font options are included and you won't have to pay extra licensing fees or worry with embedding codes.
Image editor and management: Add images using drag and drop tools and make adjustments or crop using the built-in editor. But what's really nice is the responsive image loader, which saves images for optimal performance on every device without you having to resize a thing.
Squarespace connects with other accounts: Link social media profiles, Dropbox, Flickr, Amazon and more so that everything works together seamlessly. Your site can import from other services and post new information simultaneously if you desire.
Blocks for everything: From maps to menus to social media to quote or buttons, Squarespace has already created blocks that you can drag and drop right into the layout. These blocks can house any type of content, include image galleries, video or audio and links or feeds from other websites.
Forms are included: Collect data from users and save it right to popular services such as Google Docs, MailChimp or email. Ask users to sign up for a newsletter or gather up to 15 different data types using a drag and drop form.
SEO and analytics included: Everything you need to get seen by search engines is waiting for you in the back end. Squarespace sites are recognized and rank highly in Google. You can also change any tags you like. In addition, Squarespace Analytics provide real-time information on users, such as traffic, sales and popular content. Download the free iOS app and keep an eye on your site from anywhere.
Everything is customizable: From your domain name to colors and typefaces, any part of your design can be changed with a few clicks. There's also a CSS editor if you want to add your own styling or code.
Additional Tools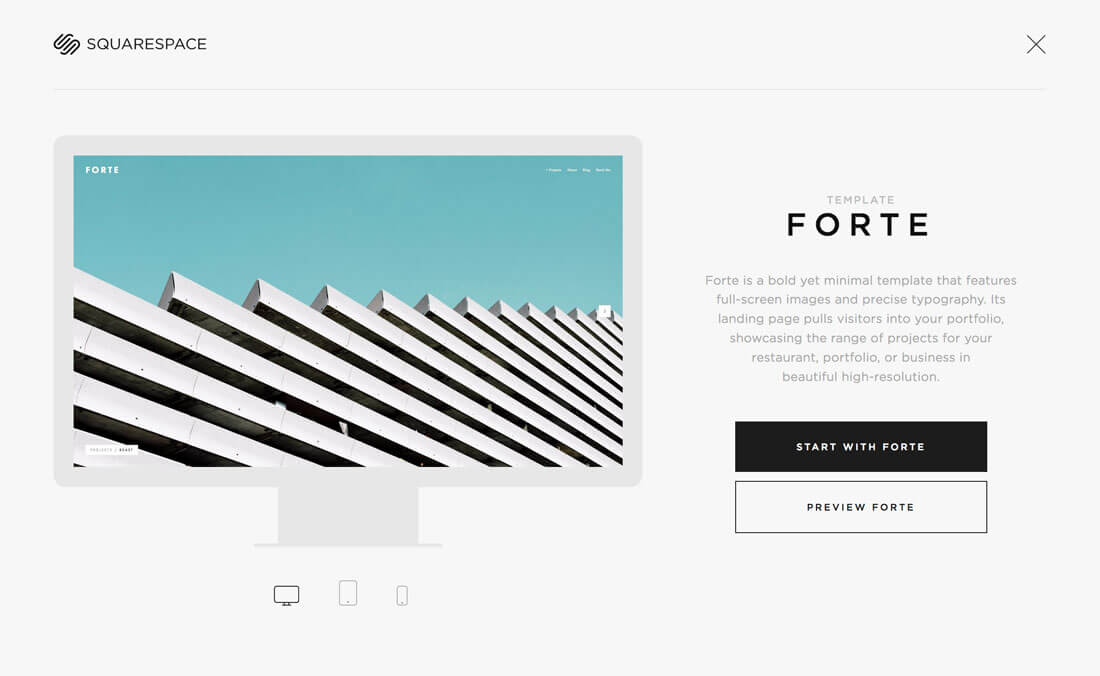 Squarespace tools aren't just for first-time websites. Robust packages, including the e-commerce platform, can help users of any size from individuals to small businesses to larger companies.
Squarespace offers domains so that your website features a white label design. Every domain comes with WHOIS privacy and a 2048-bit SSL security certificate. Domain can be connected to the Google Suite of apps for customized email. And here's the best part – the renewal rate for domains never changes.  
The Squarespace e-commerce platform is for websites that are retail based. The online store option is one of the most popular website options and includes a free custom domain with an annual plan. Integrated analytics can help you keep track of and manage sales and the results are impressive: Squarespace websites have generated more than $1 billion in revenue.
Pricing and Coupon Code
Depending on what you need, there are a couple of different Squarespace pricing plans.
Personal websites start at $12 per month (billed annually).
Business websites start at $18 per month (billed annually).
Online store packages start at $26 per month (billed annually).
If you think Squarespace is for you, this is the time to act. Design Shack readers can get 10% off their first Squarespace purchase with code DESIGNSHACK at checkout.
Conclusion
One of the best things about a Squarespace website from the designer perspective is that every site looks great. Building a website can take a lot of time, but not with this tool.
If you've been meaning to get your portfolio online for a while or have a client project looming, this might be the place to start. You can design, build and publish in no time. Try it today, you don't even have to enter payment information to get started. (If you do opt for a plan, remember to use code DESIGNSHACK at checkout for 10 percent off.)
This content is sponsored via Syndicate Ads. Our thanks to Squarespace for supporting Design Shack!