Bushel: A Better Way to Manage Your Apple Devices
Managing devices is one of those business problems that you don't hear a lot about. But how do you keep up with all your Apple devices across your agency or business? Do you know which users have what equipment and apps?
Bushel is a tool that makes this inventory process that much simpler. It is a cloud-based Mobile Device Management solution for the iPads, iPhones and Macs in your workplace. Bushel makes device management accessible and affordable for everyone, so businesses can support their users without help from IT. Here's a look at how it works.
Get unlimited downloads of 2 million+ design resources, themes, templates, photos, graphics and more. Envato Elements starts at $16 per month, and is the best creative subscription we've ever seen.
What is MDM?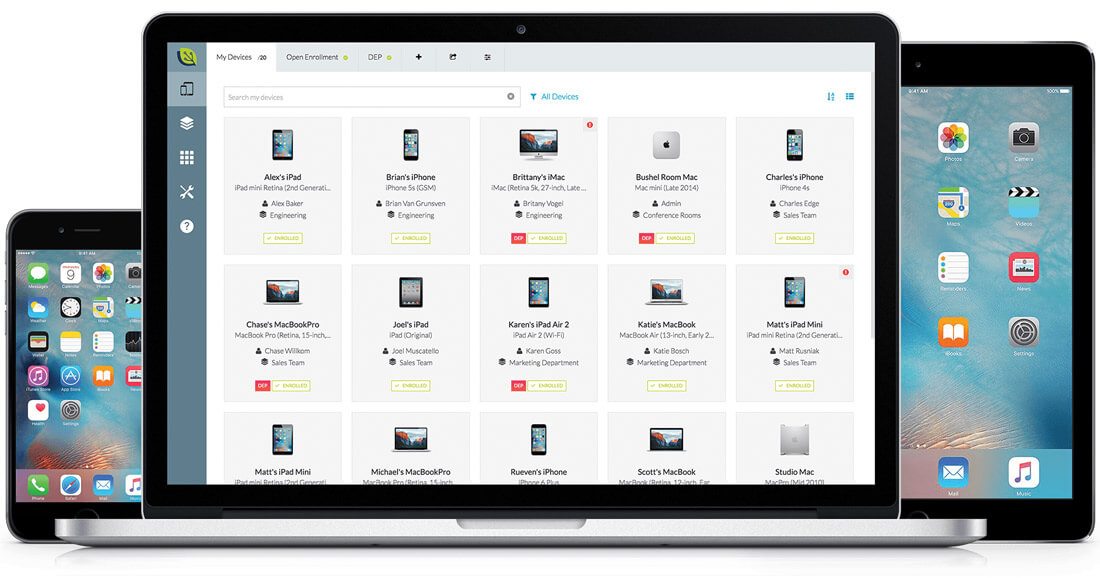 Mobile Device Management (MDM) allows you to keep track of mobile devices, smartphones, tablets and computers with software. Most MDM is employed through third-party software (something that does not come on your device) that helps you manage hardware, settings, and apps.
For a business with multiple devices and users, an MDM solution is a great way to keep track of everything. It can help small businesses with device management in an accessible and affordable way without help from an IT staff.
That's just what Bushel does. It is a cloud-based Mobile Device Management system for Apple devices – iPads, iPhones and Macs in the workplace. Bushel's tools are easy to use and allow businesses to proactively configure and support devices to reduce downtime and increase productivity. And since it is cloud-based, you can access it any time from any location, making it a great option for remote workers as well.
Features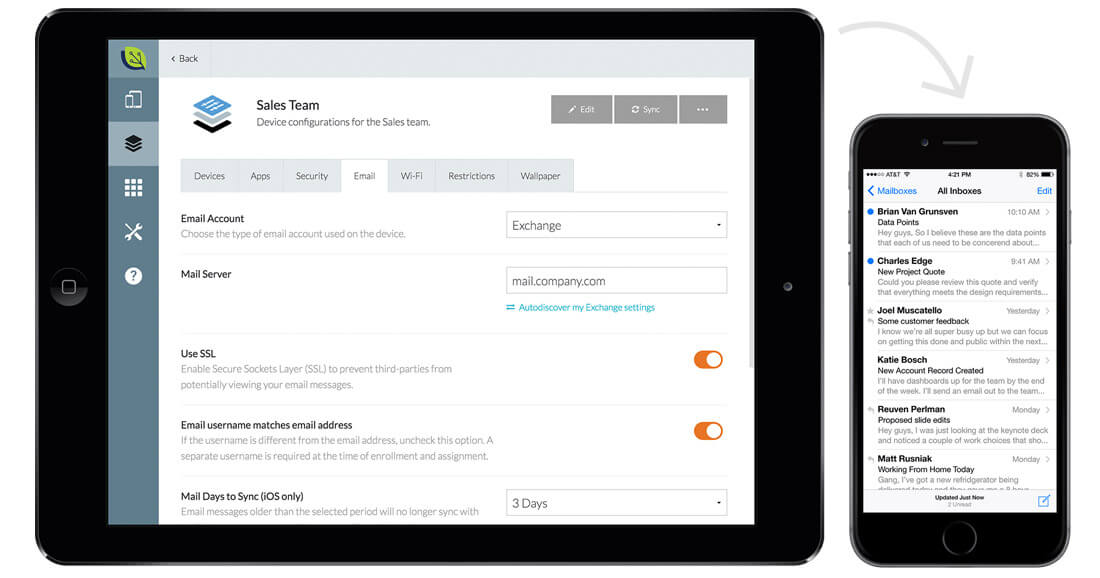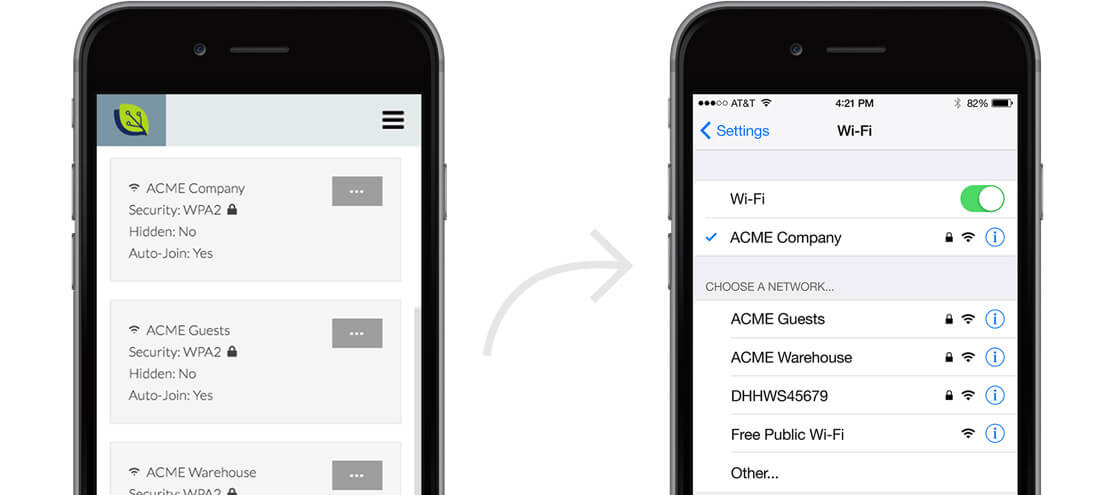 Bushel is packed with features to make it easy to manage your Apple devices. What's great about these features is that pretty much anyone can use them with ease, thanks to a robust and easy to understand Bushel interface.
Device inventory: Keep up with every element of your inventory. The dashboard shows you details about every device such as model, serial number, hardware addresses and storage capacity in one location. Plus, you can see what user is assigned to each device, and what settings and apps are in use.
Blueprints: Customize and configure device settings from the cloud. You can create groups so that all devices get the same settings in a single push or create device-specific profiles. The Blueprint contains everything you need to keep up with in terms of apps, plus security, email and Wi-Fi settings. (You can even change device wallpaper.)
Security settings: While many of the other features Bushel provides are practical, security is vital. Bushel allows you to set passcode and encryption settings for every device so that users can't forego security. You can also lock and device or wipe clean a lost or stolen device. Bushel provides an immense safety net for your business and helps you protect sensitive information.
Email and Wi-Fi settings: You can setup email accounts for almost any platform – Microsoft Exchange, Google, Yahoo and more – remotely. Plus set up every device to join the correct Wi-Fi network automatically. (No more writing down passwords for every employee.)
Apps: Linking Bushel with Apple's Volume Purchasing Program helps you easily distribute the apps your employees need with one click. This is a great time and money saver because you can "pull back" and reassign apps to different users if roles change. The best part is you can do it without device-specific Apple IDs when you use Bushel.
Enrollment: You don't need any new equipment to get started, and you won't have to collect devices to set them up. You can use the Apple devices you already own and simply have users go to your Bushel URL to enroll.
Streamline Device Inventory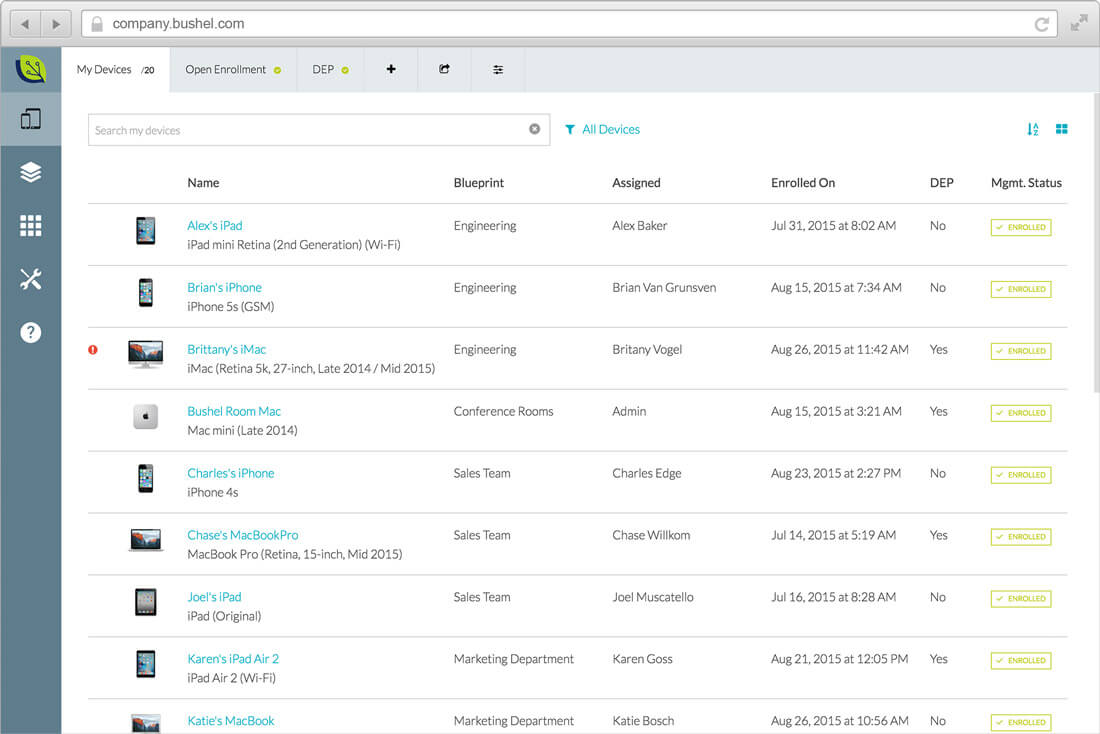 Using Bushel is easy and will give you piece of mind that every device has the right settings and apps at all times.
Here's how it works:
Enroll your devices into Bushel and configure settings quickly and consistently. You can create profiles for each device type or by user so you know precisely what settings and apps are on each device for seamless workflow. You won't have to collect devices for settings and app updates, because you can do everything over the air after setup.
Manage your devices. With Bushel you can deploy new apps to devices and reassign licenses to employees with just a few clicks.
Protect secure information. You can use Bushel to enforce passwords and encryption over the air. You can lock or disable a device over the air. It can give you the peace of mind you need to keep company data safe, even on devices that aren't physically in the office.
Pricing
Bushel is an affordable solution for businesses of any size. Freelancers can also take advantage of Bushel tools to keep track of downloads and devices as well. (Just think of how awesome it would be to push all your app updates at once!)
Manage your first three devices for free and add more for just $2 per device per month. Users on the free version don't need a credit card to sign up.
Bushel operates on a pay-as-you-go system. So you are billed each month. If you decide to cancel a paid plan, Bushel spots you an extra 30 days to make sure your devices are ready for the transition, you can also flip back and forth between paid and free plan, as necessary.
Conclusion
Bushel is a great Mobile Device Management solution. It's easy to use, hassle free and makes managing your Apple devices possible without the help of a full IT support team. Bushel is free to try for your first three devices, so create an account and give it a try. You might just find it fits your needs perfectly!.
This content is sponsored via Syndicate Ads. Our thanks to Bushel for supporting the site!