Design Feedback Is Easier With Claap
What if you could get time back in your day with better and more efficient meetings and design feedback sessions? Claap is designed with this solution in mind.
Claap is an asynchronous video collaboration platform that can help design teams make better, faster decisions without endless meetings or messaging threads that you get lost in.
The tool can help you spend less time in meetings and is ideal for hybrid design teams.
Here, we'll take a look at Claap and how it may work for you.
What is Claap?
You can use Claap for internal processes and to help facilitate the strategic design feedback process, even turning meetings into quick videos that can be shared.
The goal of Claap is to help you share work, get feedback, and speed up processes for more efficient and effective design. You share projects and capture actionable items from annotations across your team or even from non-designers.
Claap can even help you create better designs. When everyone can collaborate and iterate together, the end result is stronger.
Claap also allows you to keep everything in one location so that research, wireframes, and UX flows are in one place. This can help keep everyone on the same page so that the design is understood and consistent before you gather feedback.
What's most beneficial is probably the ability to use Claap to help your team move faster. Cross-functional teams get more context with commenting features that make working online feel almost like being in the same room. This can shorten the feedback loop to improve product development speeds.
Claap also integrates with other tools that you may be using to make it easy to add to your company processes. Current integrations include Slack and Notion, with Github, Google Calendar, and others coming soon.
Finally, Claap can even help you create better designs. When everyone can collaborate and iterate together, the end result is stronger.
There are teams all over the world already using Claap to facilitate design processes and feedback, including Revolut, Qonto, Kavak, Openclassrooms, Libeo, and more.
How To Run a Design Review with Claap
Everyone is looking for a way to make work more efficient. Here's how Claap works for design teams:
Turn meetings into quick videos that explain projects or feedback. Then others can comment on their own time.
Share feedback in a contextual format that everyone can see.
Create actionable items from shared feedback to move forward faster. Plus, all tasks and actions are transparent.
What else can you do with Claap?
Create product roadmaps
Demo products
Generate big reports
Conduct user research
Facilitate design QA
Conduct creative review
Share information or knowledge
Case Studies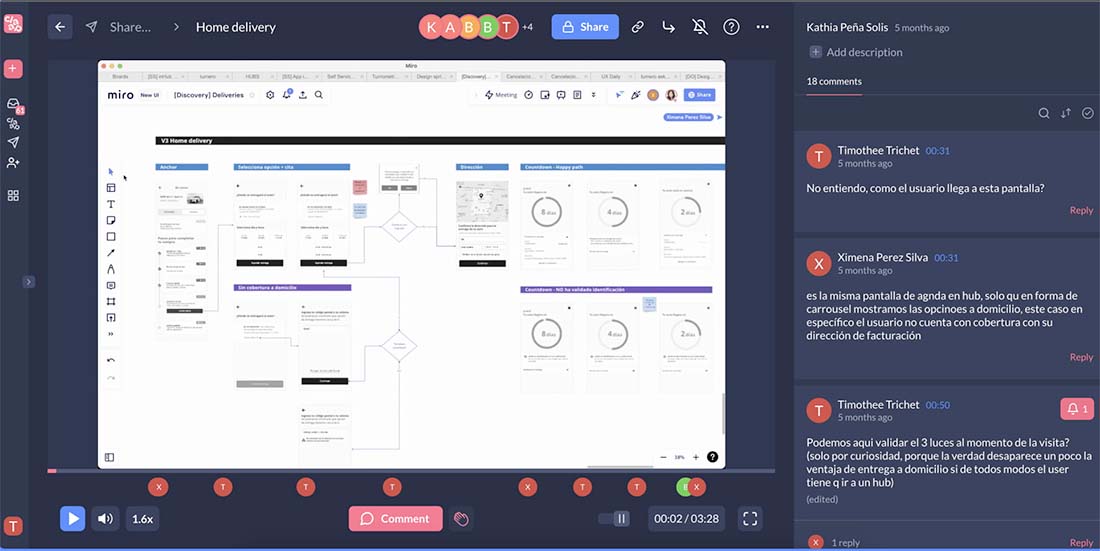 With Claap already in use, some of the successes of other companies using the tool might help you best imagine how it could work for your team.
Kavak
Kavak was able to cut meeting times by 20% with Claap. As a global company this time savings is significant and helped them work better with a team of 8,000 employees and make decisions more quickly.
The company was able to completely revamp its design review process, turning a design decision-making meeting into a recording that gives stakeholders a walk-through with Figma where they explain their plan, show the hedge cases and ask for a decision. The decision maker either adds a comment at the end with "go/build" or they write their feedback. Just like that, they have something written.
OpenClassrooms
OpenClassrooms uses Claap to create a single source of knowledge so that their entire team can find anything they need with ease. The fully-remote company has 500 employees and started using Claap to record meetings for async "meetings" for everyone.
Moreover, the use Claap to facilitate the design process. It starts with documenting design system components, then making a Claap explaining how the component works and when to use it. Then they have documentation of everything for new projects and can also use it to help onboard new employees.
Libeo
During a time of massive growth, from 40 to 120 employees, Libeo needed a solution to ensure that meetings were more efficient and everyone was on the same page when they were located in different parts of the world.
Moving in-person design reviews to Claap was a game-changer for the company. They realized the feedback process became an ongoing habit, rather than a singular meeting. Instead of waiting a few days for the next design review, the team is sharing Claap to get feedback. And it has made decision-making a lot faster.
Pricing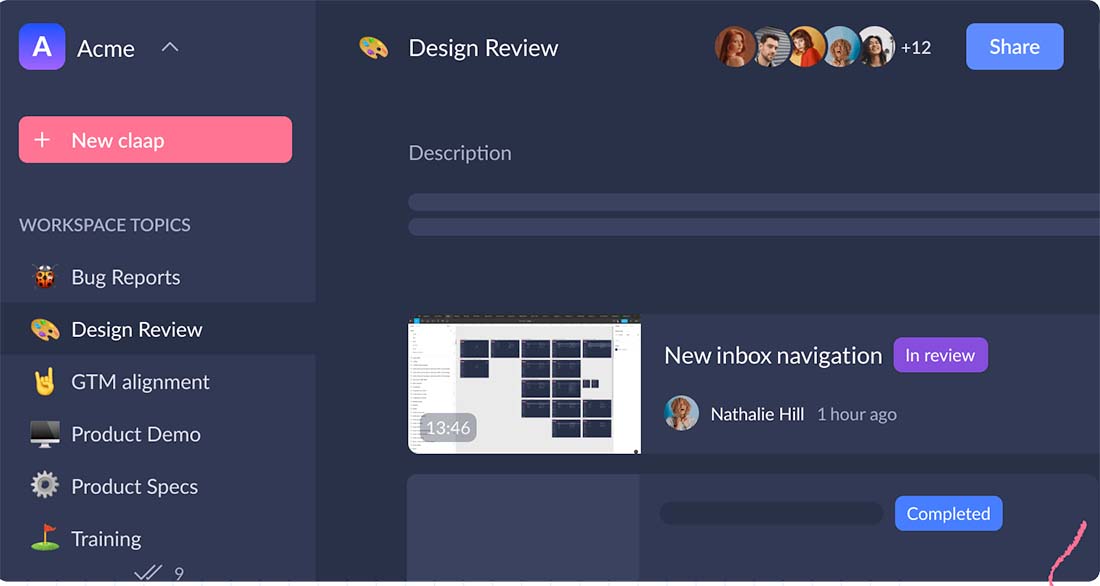 Claap has multiple pricing plans for different-size teams, including a free starter plan that you can use to test it out.
You can pay monthly or annually and cancellation is easy (just in case).
Claap plans include:
Starter (free): Allows you to share video recordings for feedback with unlimited members per workspace, unlimited guests per workspace, unlimited recordings, up to 20 searchable record histories, up to 15-minute recording time, unlimited numbers of topics and teams, 5GB storage per user, and workspace and teams
Team ($10 per member per month): Everything in the starter plan plus up to 30 minute recording time, 10GB storage per user, and advanced collaboration tools (sections, privacy, search, and filters)
Business (contact for pricing): Everything in the team plan plus unlimited recording time, unlimited storage, HD video recordings, and advanced privacy and SSO
See the full list of features available for each plan.
Conclusion
Claap has a robust set of tools that can be your design team's superpower. Use it to gather feedback, collaborate over distance or time, and iterate faster.
Get started for free and test it for yourself today!