Market Test: Get Real Human Feedback on Your Designs
Conjointly's Market Test is a suite of surveying tools that allows you to quickly and efficiently test and validate your designs from a group of real US consumers, at a very affordable price.
Testing your designs and content on real consumers has many benefits for both designers and businesses. It not only validates your ideas and concepts but also allows you to make data-driven decisions based on real feedback from consumers.
This is why most big design agencies and corporations have their own focus groups with real consumers to test everything from brand logos to product descriptions before making any final decisions.
Conjointly's Market Test offers an agile and affordable solution for Market Research, making it the perfect fit for small agencies, freelance designers, and small businesses.
This post showcases what Conjointly Market Test offers and how it can benefit designers and businesses.
What Is Conjointly Market Test?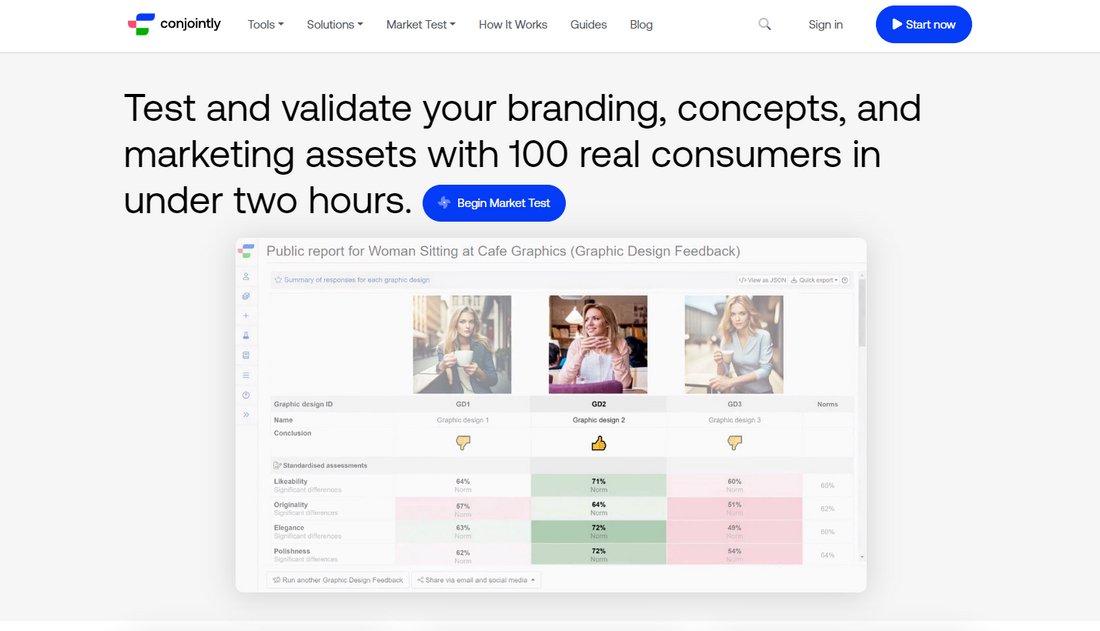 Conjointly is a popular online platform that provides various solutions for performing online market research. Their latest release is a suite of research tools that allows you to test your designs with 100 real US consumers in under two hours.
Basically, it's like getting access to your own focus group to test your content. There are 16 tools to test everything from logo designs to print ads, packaging designs, and even NFT artworks.
For designers, Conjointly Market Test has integrations with design tools such as Figma and Canva to make it even easier to get feedback on designs you are working on. Market Test emphasises affordable and agile testing, making it accessible to all designers, content creators, agencies, and businesses.
Main Features
Using Conjointly Market Test is very straightforward and it comes with plenty of features to make the process a smooth experience.
Launch Tests and Get Results Within 2 Hours
One of the impressive things about Conjointly Market Test is its fast delivery. Creating a test takes only a few minutes, with results delivered in 2 hours or less.
For most tests, you can include up to 3 different designs to let the respondents compare and provide feedback. For other tests like ad copy and product description tests, you can only include one item.
After completing the test, you get access to an online report, which you can easily share with your team, colleagues, and clients using a sharable link.
16 Different Tools To Choose From
Through Conjointly's years of experience as a market research leader, they were able to develop a wide variety of Market Test tools, each designed from the ground up for testing different types of assets.
The 16 Market Test tools currently available include:
Image Ad Test
Ad Copy Test
Print Ad Test
Out-of-Home Ad Test
Product Concept Test
Product Description Test
Idea Screener
Package Test
Business Name Evaluator
Brand Name Test
Product Name Test
Logo Test
Domain Name Likeability Check
Business Card Design Test
NFT Artwork Test
Graphic Design Feedback
Industry-Standard US-Based Respondents
Who are the respondents of this test group? Where are they from? What qualifies them to give feedback?
The primary purpose of market testing is to test your designs and concepts with a general audience to see how consumers react and gather their feedback.
With Conjointly Market Test tools, you will get an industry-standard sample of 100 real consumers picked from the US general population. The sample includes quotas for age and gender to ensure it is representative of the general population.
Integration with Figma, Canva & More
Designers can also get feedback on their designs directly from within Figma by using the Conjointly Market Test integration.
Designers can also get feedback on their designs by launching Market Tests directly from Figma and Canva by using the Conjointly Market Test integrations. Both plugins make it easy to test your logos, graphic designs, and more quickly and easily.
Photoshop and Zapier integrations are also in the works and will be available in the coming months.
Affordable Pricing
According to Neilsen Group, it normally costs over $11,000 to run a focus group for just a two-session evening. Needless to say, it's not something a small agency or a freelance designer could afford.
With Conjointly Market Test, the cost ranges from just $99 to $289 per test. The affordable pricing plans make these market tests more accessible to even small designers to create and deliver high-quality projects. It's especially a great way to back your decisions with real data.
Examples Of Market Testing
The Conjointly website has a few case studies of market tests that show perfect examples of what you can expect from the Market Test tools.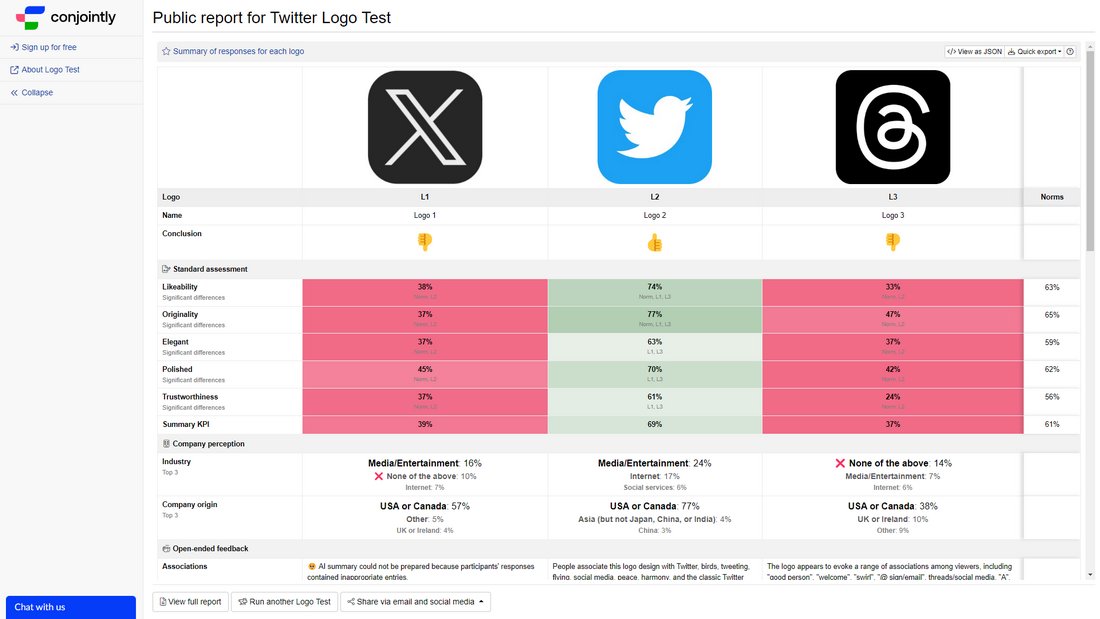 This is a market test report comparing the new X (Twitter) logo design to the previous design. It shows that the new logo performed poorly on various factors, including likeability, originality, trustworthiness, and industry perception. You can view the full report here.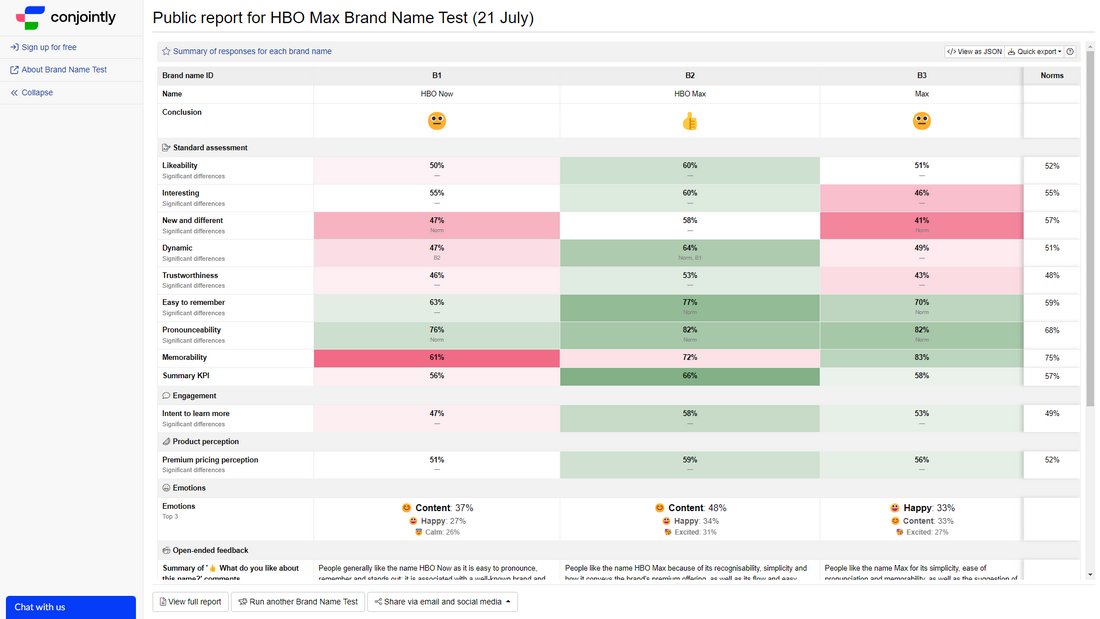 This is a brand name test for the new HBO branding. Find the full report here.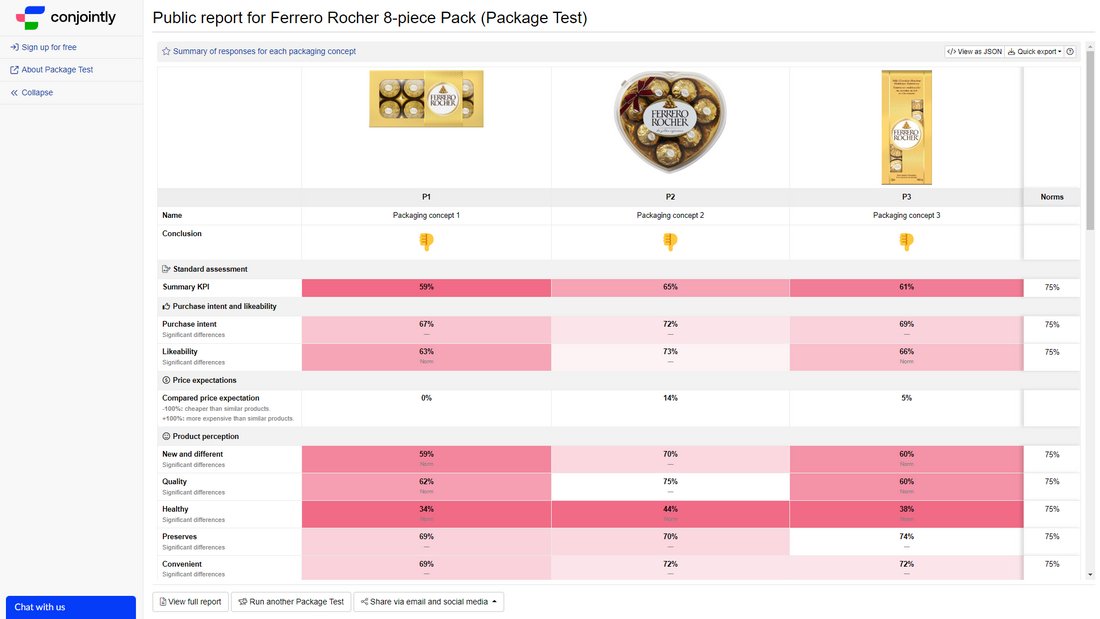 Another interesting package test for a Ferrero Rocher product. The full report can be found here.
There is always something you can learn from these market tests, especially for designers. Sometimes, they will send you and your team back to the drawing boards. But it will always be less expensive than going to market with a flawed design.
Who Should Use Conjointly Market Test?
With so many low-quality designs and Al-generated content being produced, it's getting much more difficult to prove the importance of quality and your design choices to clients. Tools such as Conjointly Market Test will make that process a bit easier.
When you can back your decisions and ideas with research and data, you will no longer have to explain them to clients. And for businesses and clients, it will provide peace of mind and confidently go to market with new product and branding designs.
These are just a few reasons that make Conjointly Market Test a valuable platform for all types of designers and businesses, especially thanks to its affordable pricing.
This will give you an extra step to optimize and enhance your designs even further. And get a competitive advantage in the marketplace.