Dotgrid.co: Your Next UI Sketch Book
Today we're going to take a step back from the digital world and take a look at a real life physical product: Dotgrid.co notebooks. These notebooks are made in the UK and are the work of Callum Chapman, a name you'll likely recognize from the design community.
Callum has worked hard to create a solid product and I couldn't be happier with my own Dotgrid.co notebook. Read on to see what they're all about.
Envato Elements gives you unlimited access to 2 million+ pro design resources, themes, templates, photos, graphics and more. Everything you'll ever need in your design resource toolkit.
About Dotgrid.co
As I mentioned in the opening, Dotgrid.co is an effort headed up by Callum Chapman in collaboration with Steve Vince. The former is an interface designer, the latter a printer. Bring those two together an you have the perfect recipe for awesome notebooks that are both highly functional and extremely well made. Dotgrid.co notebooks are made in the UK and use paper from sustainable forests.
Why Not Graph Paper?
Personally, I love the dot grid format. Graph paper is more traditional and perhaps more popular, but I find that a full on graph can often be distracting. The lines are so prominent that, as you're sketching, you almost feel bound by them. It takes a conscious effort to break that old grade school habit of staying inside the lines.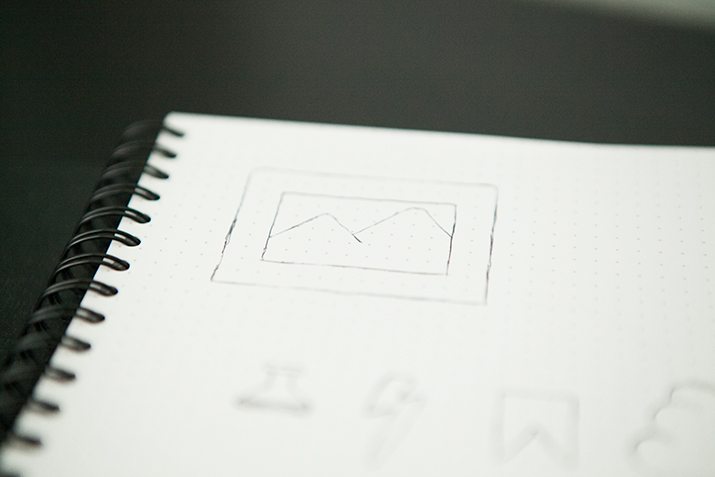 With dot grid paper though, you get the benefits of graph paper without the distraction. Straight lines and proportions are easy enough given the grid of reference points, but the dots are so subtle that it's easy to forget they're even their until you need them.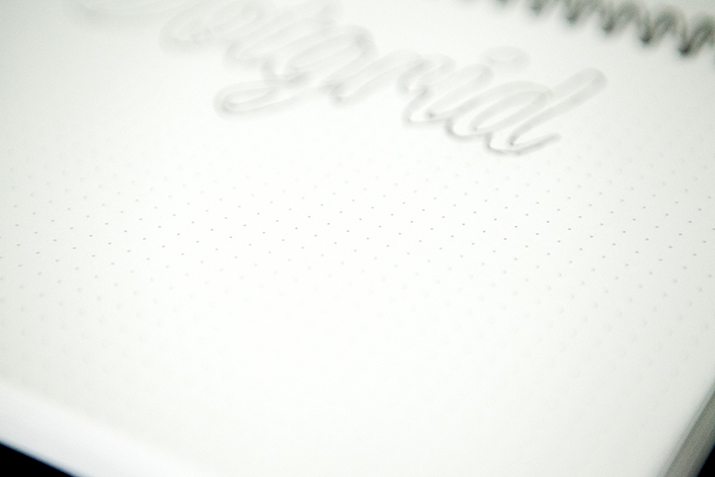 In the Dotgrid.co notebooks, the grid is printed on both sides of every page using Pantone Warm Grey 4 ink, so again, it's bold enough that you don't have trouble seeing it when you want to but it's also easy to disregard when you don't.
A UI and UX Lover's Dream
Dot Grid notebooks are obviously good for everything, but I've found that they really seem to fit the bill if you're sketching up some UI ideas or UX wireframes. That kind of sketching is so full of straight lines and precise proportions that even the simplest sketches can eat up a lot of time.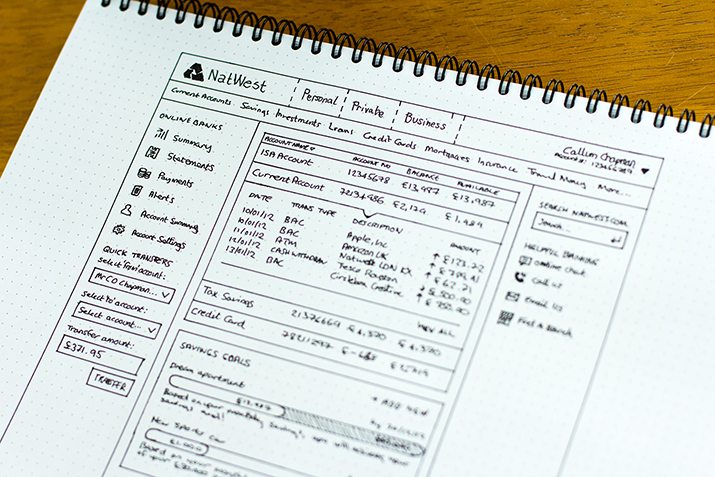 Sketch via Callum Chapman
Dot grids help speed this process along as you can instantly get a feel for measurements, proportions, straight lines and even curve radius.
The Books
Dotgrid.co notebooks come in two sizes: A4 (297x210mm) and A5 (210x148mm). Both versions use similar materials, the size is really the only major difference.
When I received my Dotgrid.co notebook, I was blown away by just how well made it is. This thing is stout. The cover is matte laminated and 350gsm, which means that it's a gorgeous, non-glossy black that's super durable.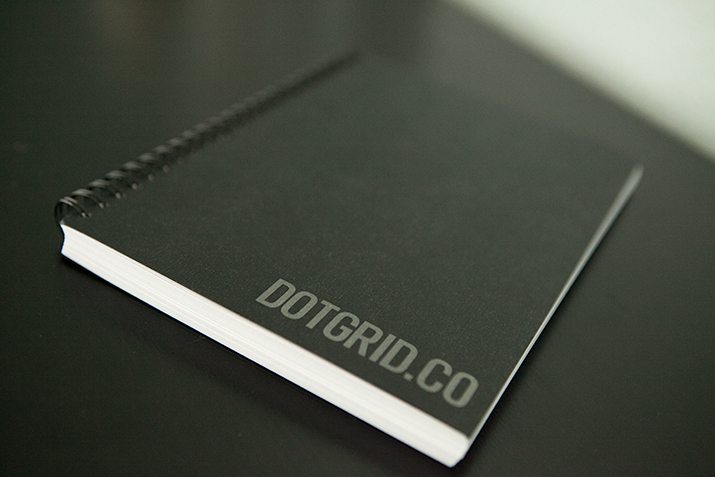 Similarly, at 104gsm, the bermuda pages are also much thicker than I'm used to from my daily Moleskine use. Admittedly, if you're going to be doing a lot of tracing, this can be a hindrance without a light table, but for virtually everything else, you'll love the thickness of the pages.
I tested mine out by sketching in ink, and nothing bled through, even in the thicker spots (I have experienced bleeding on my Moleskines).
Spiral: The Way to Go For Sketching
One thing that I can't stress enough is how much I appreciate the large spiral binding. Let's face it, sketching in anything that's trying to close up on you sucks. And then when you do close it, unless you have a band, it's going to try to pop back open. Not so here.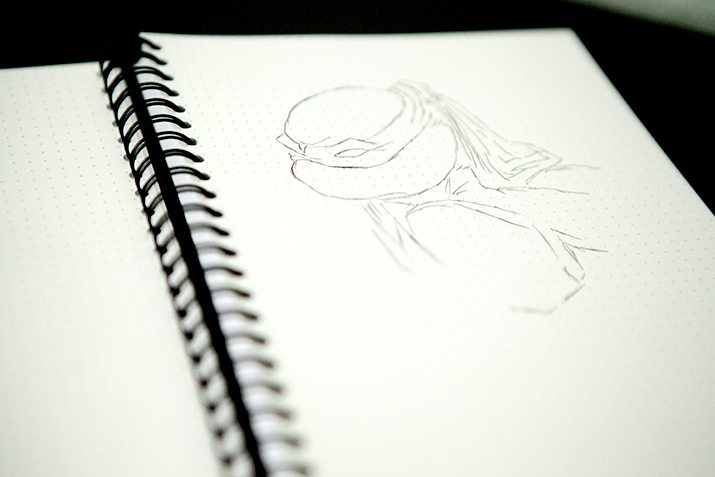 Sketch inspired by Radimere
The spiral format means that the book lays perfectly flat with no effort while you're sketching and folds all the way closed when you're not. Trust me, sketch something out on one of these things and you won't look back.
Worth a Purchase?
At £10.00 and £14.00 for the smaller and larger sizes, Dotgrid.co notebooks are actually right in line with what you might pay for a similarly sized hardback Moleskine, not bad for a small shop. Especially considering they don't experience the economies of scale that Moleskine enjoys. To sweeten the deal, they offer free shipping in the UK.
If you're a designer who spends a lot of time with your head in a notebook, it's worth it to buy something that you'll enjoy carrying around and using. As far as I'm concerned, Dotgrid.co notebooks knock it out of the park on both accounts.
They're minimal, but stylish while also being quite durable. You can toss it in a crowded backpack without fear of it getting destroyed. The dot grid format isn't nearly as easy to find as graph paper, so if you're like me and favor that design, then you've got a major selling point.
Get 10% Off Through Design Shack!
If you're looking to snag you're own dot grid book, now's the time. Callum was kind enough to extend a 10% discount to all of our readers from now through January 18th, 2013. Simply use the order code below during your purchase.
Order Code: designshack10