FilmHERO: Stock Video Made Easy
Do you find yourself asking where other websites find such amazing video clips?
You don't need a monster budget to get high-quality video for your website. With the right stock video, you can create a custom website experience that uses one of the trendiest and most engaging elements out there.
FilmHERO is a good place to start. The video provider has a huge collection of video clips that you can download and use in any number of projects. Here's how it works.
Envato Elements gives you unlimited access to 2 million+ pro design resources, themes, templates, photos, graphics and more. Everything you'll ever need in your design resource toolkit.
What is FilmHERO?
FilmHERO is a stock video service. What's different about this provider is that they produce fresh video content every week, using their own team of directors and crews to make clips that look amazing.
Video content on the site is 4K or higher, so it will look great on every screen, every time.
Here's how the company describes their product:
We know that flexibility is key. That's why we offer packs of footage for that one-off project or subscriptions for regular users. Whether you're a global studio or a film student, we have the right solution for you with keen pricing. Epic content for all. We're not here to make a quick buck, we're in it for the long term. Take our footage and mix it with your passion and creativity then see what happens next.
Large Video Selection
All of the clips on FilmHERO are sorted into categories so that it's easy to find just the right stock video footage. Packs also come in these category-based themes.
Choose from categories such as adventure, aerial, arts, business, education, faith, fitness, governance, humanities, industry, lifestyle, media, medical, retail, romance, scenic, science, sports, technology, and vacation.
There's also a robust search option if you have an idea of what you need in particular.
The collection includes more than 12,000 4K clips in more than 800 theme-specific packs. Packs are great because you can download a series of related videos that have a similar visual theme for a project.
Key Features
The best thing about FilmHERO is the quality of video footage available. You won't be disappointed in the quality of clips.
Key features include:
4K resolution for everything at 29.97 per second frame rate
Multiple Codecs – H264 (graded), DNxHQ (flat ungraded) and Prores (flat ungraded)
Large variety and selection with packs and themes
High quality videography – almost everything is shot on RED Cinema Cameras or Phantom Flex Super Slow Motion cameras
Easy to find footage from many angles, ideas and concepts
Some packs have additional sound effects that you can add to video clips
License is easy to understand and you don't have to credit the source (although you can if you like)
You can edit video footage as needed for your projects
Everything is royalty-free for the pack purchaser or subscription member and their clients
Try clips before you buy packs with watermarked versions to make sure video matches your project
When you download from FilmHERO, you get a lifetime license that's good even if your subscription ends
Pricing and Licensing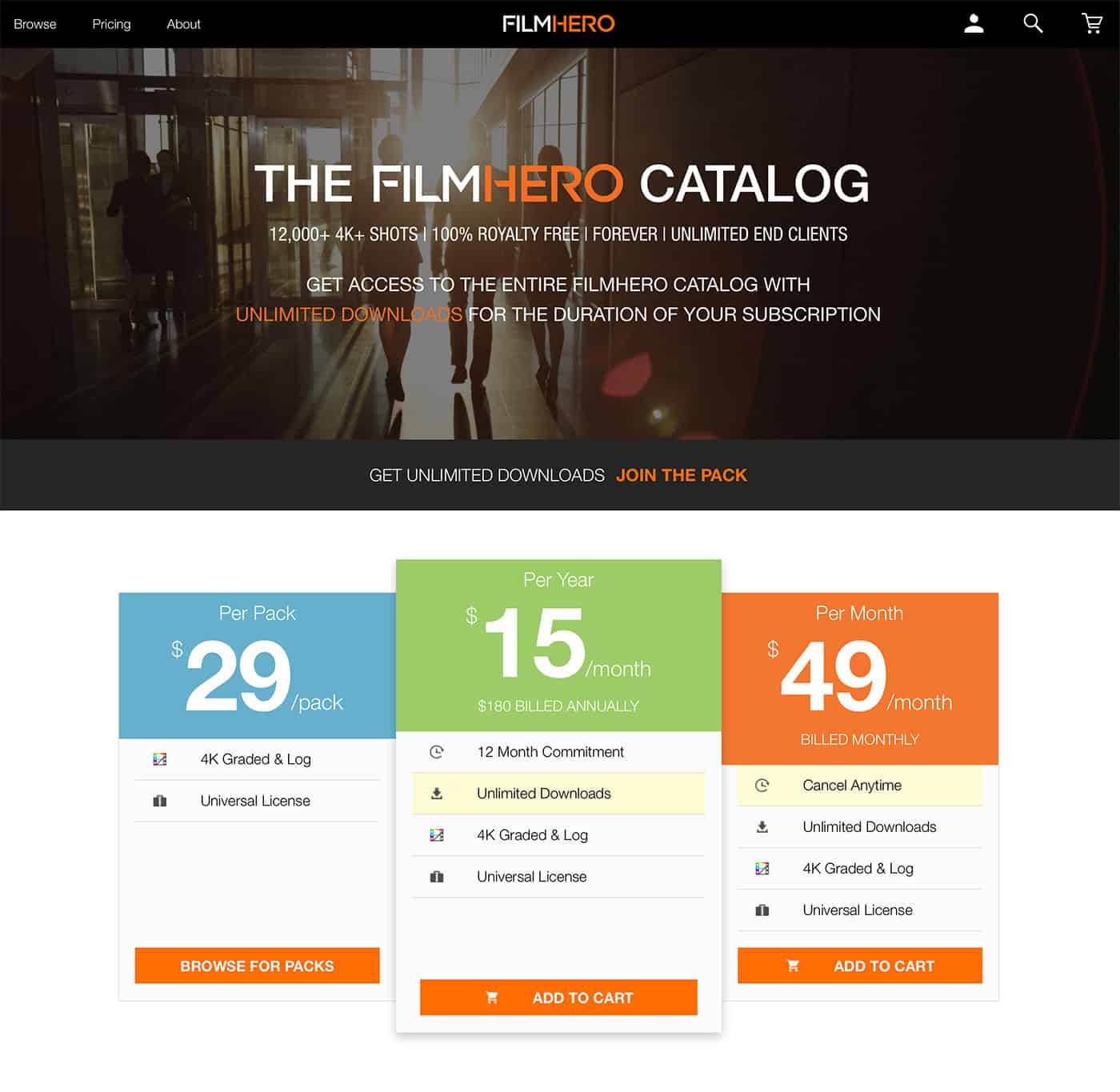 FilmHERO offers three pricing plans based on your video needs.
Per Pack: $29 — Includes 7-17 curated & narrative driven shots.
Unlimited: $15/month for unlimited downloads, billed annually
Flexible: $49/month for unlimited downlaods, cancel anytime
Every FilmHERO clip comes with the same easy-to-understand license. Every subscriber gets unlimited access to the FilmHERO library and can use any clip in private or public projects, including commercial video on any platform anywhere in the world.
Everything you download is yours to use in perpetuity.
Plus, everyone who signs up gets 50 free clips to test out FilmHERO. Try it now.
Conclusion
FilmHero has a solid offering of stock video. A quick search shows that you can find something for almost every project. The quality is amazing and easy-to-understand licensing (it's all royalty-free) make this tool stand out.
If you need stock video for projects, FilmHERO is a great place to start. And the pack concept is great for projects where you need multiple clips in the same theme.
Go take a look around at FilmHERO, we think you'll like it.