Freepik: More Than Just Stock Photos
If you are anything like me, design goodies can make your day. And free design goodies can have me doing a little dance around the office for a minute before getting back to work.
Freepik is one of those tools that might get you on your feet. Their website is packed with highly usable design tools and resources.
We're going to take a look at what Freepik is, what you can find, and how you can use these tools in your design projects.
Get unlimited downloads of 2 million+ design resources, themes, templates, photos, graphics and more. Envato Elements starts at $16 per month, and is the best creative subscription we've ever seen.
What Is Freepik?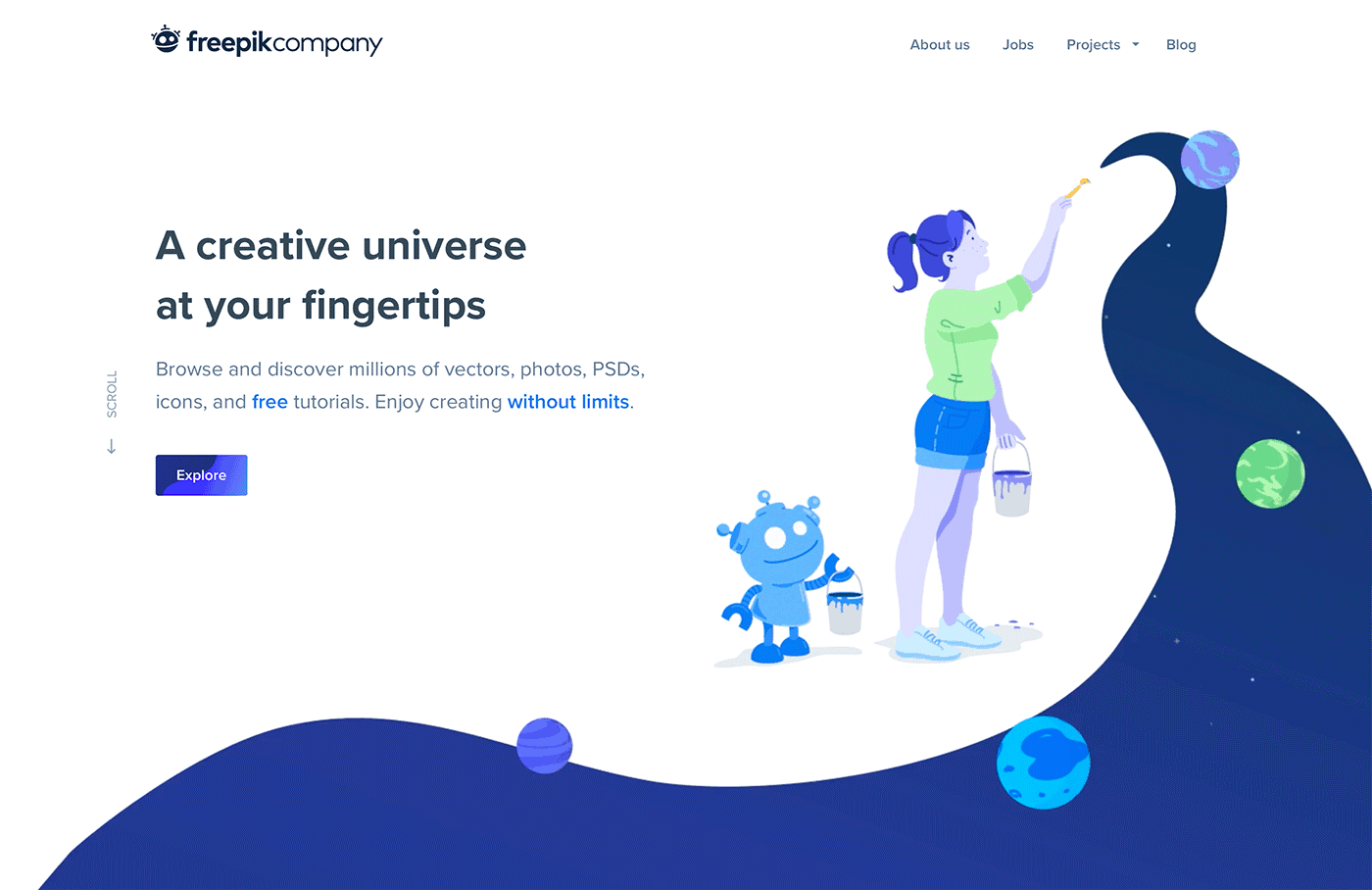 Freepik is a collection of design resources, including stock photos, vectors and PSD files and icons for designers. The site is packed with tools to make your design life that much easier.
The things that make Freepik so usable include easy search. Pop open the filters menu and narrow down resources to find just what you need by category, license, and even shape or color. (You can also use the search bar, but the filter set is great for brainstorm browsing.)
Freepik also offers a premium tier with even more downloadable assets.
The best part is the site is packed with free design elements, including plenty of stock photos. The only "catch" is that you have to attribute images to Freepik. If you need something for backgrounds or to jumpstart projects, these resources can be valuable. (And the stock images don't have that cliched stock look to them.)
Freepik also offers a premium tier with even more downloadable assets. That library has even more to choose from and you don't have to attribute any images (they are all royalty-free with a premium plan).
At less than $10 per month, it's a great deal for designers that use more than a couple of assets a month. Plus, once you log in there are no ads on the site. The premium library includes more than 3 million resources (vectors, photos and PSD files).
Freepik is a trusted resource and has been offering high-quality design resources since 2010.
Flaticon for Vector Icon Packs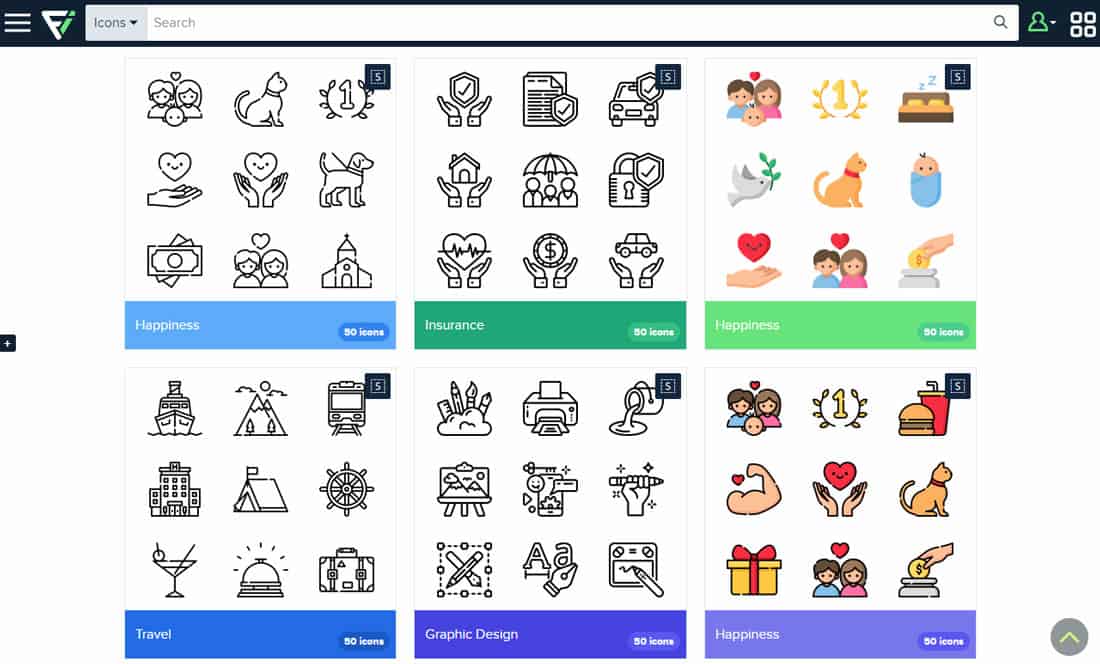 Flaticon, part of the Freepik family, is a database of vector icon packs. The database claims to be the largest available featuring free icons in PNG, SVG, EPS, PSD and BASE 64 formats.
Flaticon includes more than 1.6 million premium vector icons.
Icon sets include everything from fill color elements to line-drawn styles, and feature all types of designs in a number of categories.
The really cool part of Flaticon is that you can actually customize icons to better suit your design needs. The site includes an icon editor, where you can adjust the size, position, and colors of any icon set you like. (Just do it once and the whole set adjusts to match!)
Popular icon designs include social media elements, multimedia icons, essential shape collections, and industry-based icons. Flaticon includes more than 1.6 million premium vector icons to work with and use in projects.
Icons and the icon editor are free. You just have to provide credit. Upgrade to a premium plan for less than $10 per month and all downloads are royalty-free.
Tutpad for Studying Digital Design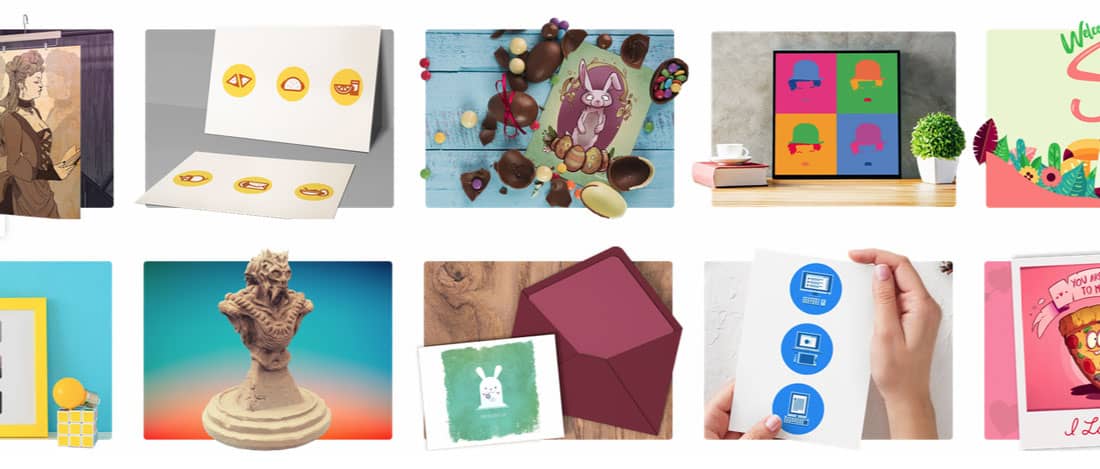 Tutpad is a Freepik tool you might not know about – or expect from a digital asset provider. The site is a hub for learning about digital design with free courses and tutorials.
There are plenty of learning paths in animation, graphic design, illustration, photography, typography, 3D, UI/UX, and flat design concepts.
…there's a sense of accomplishment when you finish, with a certificate of completion for each course.
The advantages of using a tool like Tutpad to further your design skills is that you can work through courses and tutorials at your own pace and whenever it's convenient for you. Watch videos or work through creating design assets from a tutorial from any location where you have a computer and internet connection.
There are opportunities for almost everyone, with options for beginners to intermediate and advanced learning modules. Plus, there's a sense of accomplishment when you finish with a certificate of completion for each course.
Popular tutorials include creating a liquid smoke animation, learning to illustrate a pop-art portrait and creating a glitch photo effect. Popular courses in include learning about gradients, drawing landscapes and creating animated ads.
Courses and tutorials are free. All you have to do is sign up, pick one and follow along.
Slidesgo for Presentation Templates

Slidesgo, another tool from the Freepik Company, is a collection of free presentation templates for PowerPoint and Google Slides.
While this database isn't as large as some of the other Freepik tools, it's still impressive. And the best part is that every option comes in both formats, whereas as most presentation templates only come in one or the other.
You can modify templates and change content. Every template is designed to help you better create – and finish – presentations. Browse template options by recent or popular downloads until you see a design concept that works with your presentation content and style. Then download and start working.
Fun options to try include Organic Forms, Agency Travel, and Geometric Gradient. Each features a trending style.
Conclusion
Now that you know a little more about Freepik's family of design tools, bookmark the sites for next time you need a little design help. These tools really are the ideal of "freemium" and with vast libraries with plenty of options, there's probably something that can work for your projects.
Add in the learning library and you might stay busy on websites from the Freepik Company for a while. There are plenty of design goodies to explore.
Our thanks to Freepik for sponsoring this post, and helping to support Design Shack.