What's Your Rage Grade?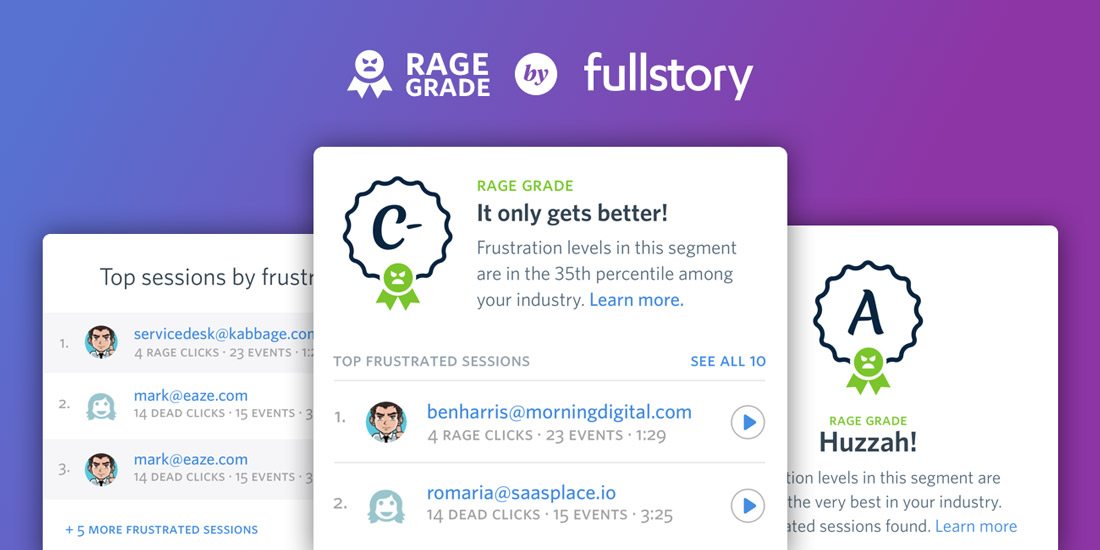 FullStory's "Rage Grade" metric intelligently combines rage, error, and dead clicks, abandoned forms, and mouse-thrashing movements to accurately detect user frustration. The grade – on an A-B-C grading scale reminiscent of your school days – is a benchmark of your frustration score against other companies in your industry, so you know whether you're the head of the class or falling behind.
Here's the best part. You can find your Rage Grade for free and then find out whether you are rocking an A – no user frustration there – or more of a C – proving that there's some friction that could be driving users crazy.
Regardless of the grade, you gain insight into what problems users are encountering and learn how to solve them so your app will blow users away. The report will detail top most frustrated sessions, so you can instantly watch and understand what's dragging down your customer experience — in pixel-perfect detail.
Improve your Rage Grade and watch your conversions go up!
Now, Improve Your Rage Grade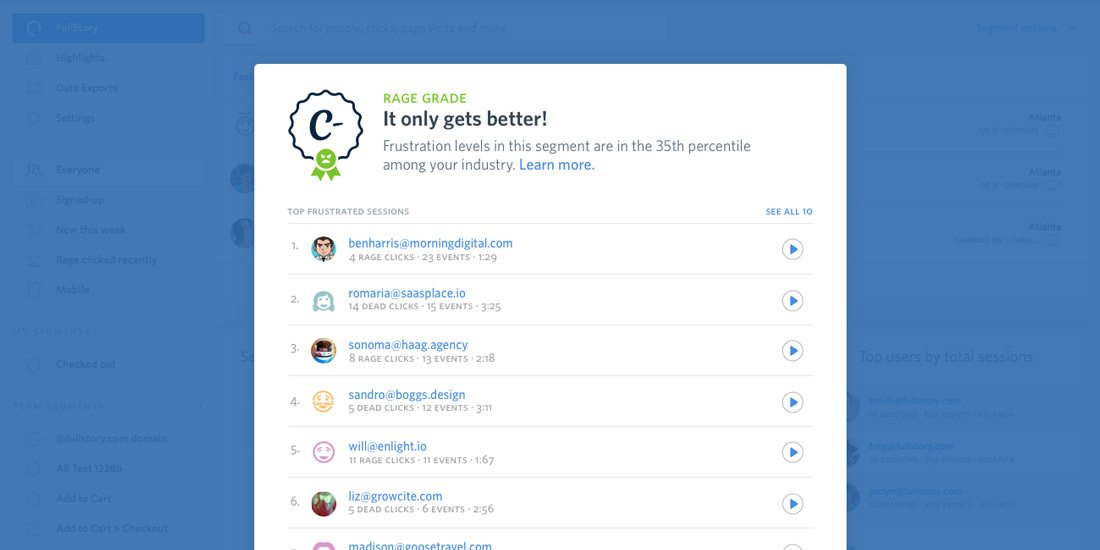 The most common types of frustration from users come from clicks that shouldn't really happen — "rage clicks". We've all been in that position, tapping the mouse repeatedly when something doesn't work the way you expect! Then there are other frustrations as well such as abandoned forms or elements that just don't work. The solution is FullStory.
FullStory aims to make the internet a better, more usable place by allowing web teams to play back real customer visits to their site. When you see your site through your users' eyes, it's easy to spot frustrating web design, broken code, or new features your customers would love to see.
The FullStory platform captures and indexes every event – from mouse movements to frustrated rage clicks – during a user's visit. That means you can answer any question about your customers and how they use your site.
FullStory records your page actions; plus, what you see during playback renders beautifully on every screen and is fully inspectable. As you watch a session play back, you can make notes on different interactions, save a session as one to review later with your team, or share it with another team member for them to review.
As an added bonus, FullStory integrates with plenty of common apps and services, including Zendesk, Trello, Slack, Intercom, HipChat, Magento, Shopify, Squarespace, WordPress + WooCommerce Plugin and more.
Key Features of FullStory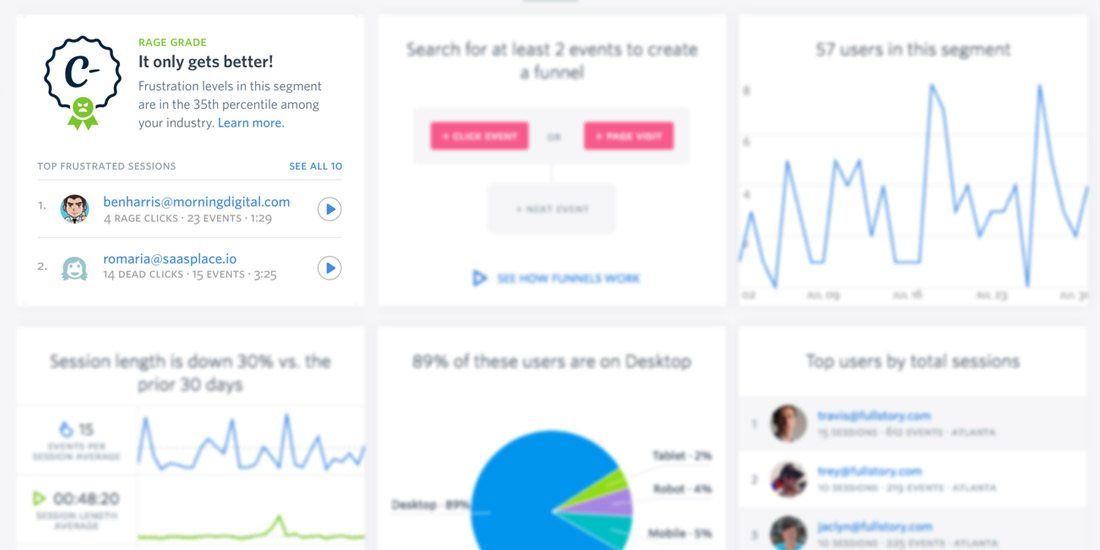 The main benefit of a platform like FullStory is that you can finally search and delve into your customer experience like you would with any other web search. The interface is really "Google-like" in that manner. FullStory captures every click, is fast and intuitive and, of course, it detects user frustration so you can fix small problems before they turn into major issues.
Other key features include:
High-fidelity playback that's more than video; it's a re-creation of your website
Instant page insights tell you exactly what users do and don't interact with
Built with cross-team collaboration in mind so that the whole team can use the service seamlessly
Intuitive analytics are at your fingertips with cool graphs and charts that make data easy to see
Setup is easy and there's no maintenance or manual tagging
Privacy protection is built in so that sensitive data never leaves your customer's browsers

Pricing

FullStory comes with three different plans; additional features packs are also available. Getting your Rage Grade is free (so go ahead and do that right now).

Plan options:

Free: Features include session playback, omnisearch, searchies, identify API, custom user attributes, rage clicks, dead clicks, integrations, FullStory TV and session sharing
Professional (from $199 per month): Everything above plus inspect mode, click maps, domain/IP/geography/user agent blocking, error clicks, JavaScript console, go live, reflection API and ability to export user data.
Enterprise (call for pricing): Includes everything above plus an account manager, priority support, a security review and custom agreements.

Conclusion

Learning how visitors use your website is a key part of growing and improving your online presence. It's easy to fall into the trap of assuming you know how people click around your site (after all, you know it back-to-front!)

But employing a service that can capture every click, swipe and scroll can give you a whole new level of insight into where the pitfalls really are on your website. Find out how you compare to competitors, and learn how to improve your FullStory Rage Grade today. You (and your customers!) will be glad you did!