Understand Your App's Performance With Headspin
Everyone knows the key to a great website or app is superior user experience. You have to create and design something people want to interact with.
But how do you know if you are close? When is your app successful?
Headspin is a tool to help you better understand your product with deep insights into app performance. It looks at elements such as what the user sees, edge utilization, system performance, code execution, and more to provide a comprehensive picture of your product and how users interact with it.
Here's a look at the tool and how you can use it.
What is Headspin?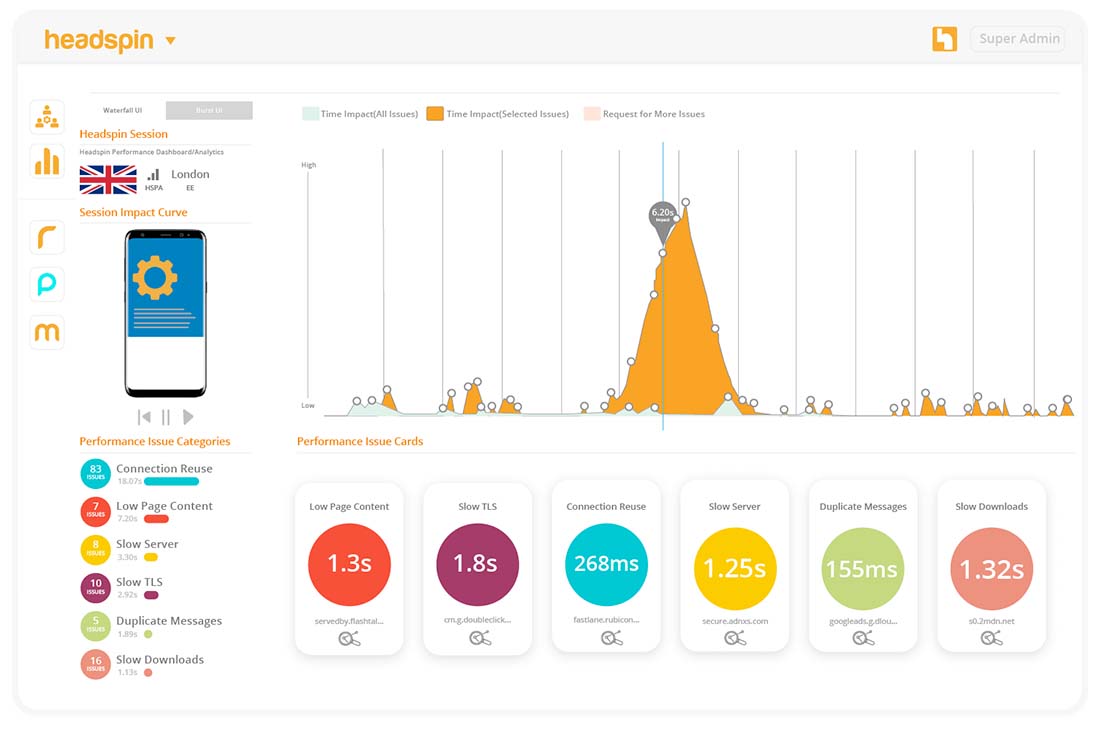 Headspin is an app performance and testing tool. It's designed to help you deliver superior user experiences that relate to business key performance indicators.
Benefits of the tool stretch to multiple parts of the design and development team with fewer quality assurance hours spent on new releases, faster development cycles, quicker in-app load times, and a reduction in production issues. (We can all agree that these are major development bonuses.)
Headspin was founded in 2015 as the world's first AI testing and dev-ops collaboration platform.
Here's how the company, based in Palo Alto, California, describes itself:
"The HeadSpin platform is an industry first, providing a powerful, easy-to-use solution that enables development, QA, product, and operations teams to accelerate release cycles, build for complex real-world user environments, and know whenever any component of the system degrades or breaks — whether at the code, device, or network layer — anywhere in the world."
Two key elements of Headspin that will help you maximize your app's potential include cross-browser testing and digital experience monitoring.
Cross-Browser Testing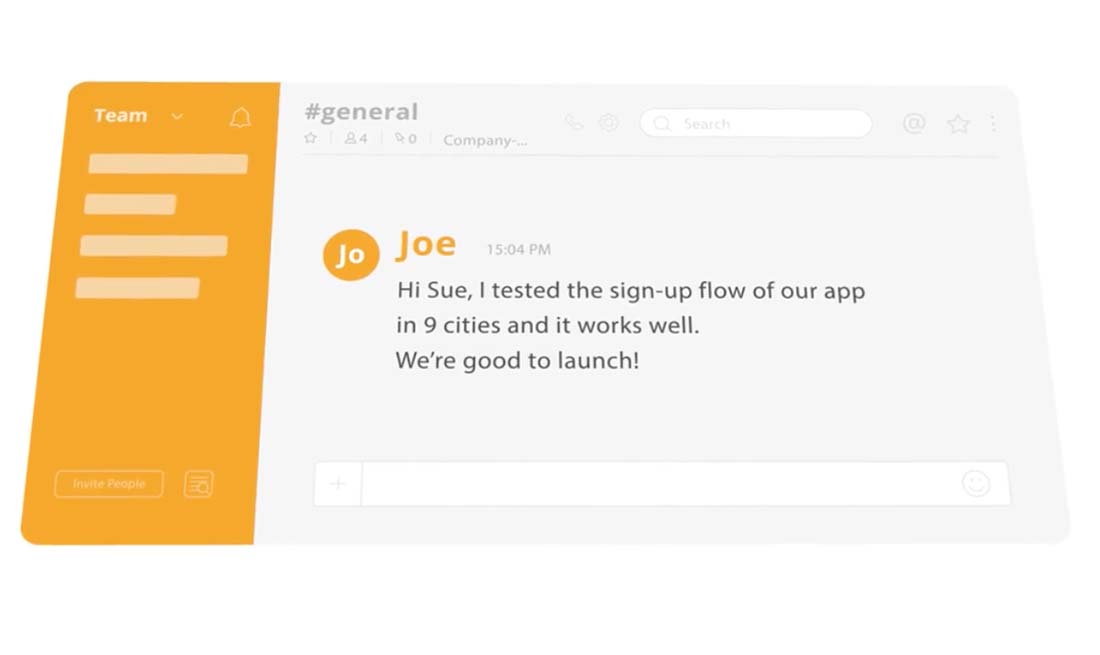 Cross-browser testing allows to you ensure that your app works the same way on every device. Headspin does this all automatically and runs cross-browser tests to debug mobile, web, audio, and video applications on thousands of devices around the world.
The real value of Headspin for cross-browser testing is that you can run any application on any device anywhere in the world. Testing runs through remote devices with SIM cards in the company's secure global device cloud.
Plus, you get a flexible distributed system to scale securely. HeadSpin enables developers to monitor non-noise interfered data through proprietary RF-compliant hardware and a custom USB hub.
Key features and functionality of Headspin cross browser testing include:
No maintenance stress
Less time debugging
Increased development speed (up to 10 times)
Test remotely and continuously on real devices
Identify bugs before your customers
Automate Selenium tests
Test compatibility on the go
Run automaton in browser testing tools in a secure, scalable, and reliable environment
Digital Experience Monitoring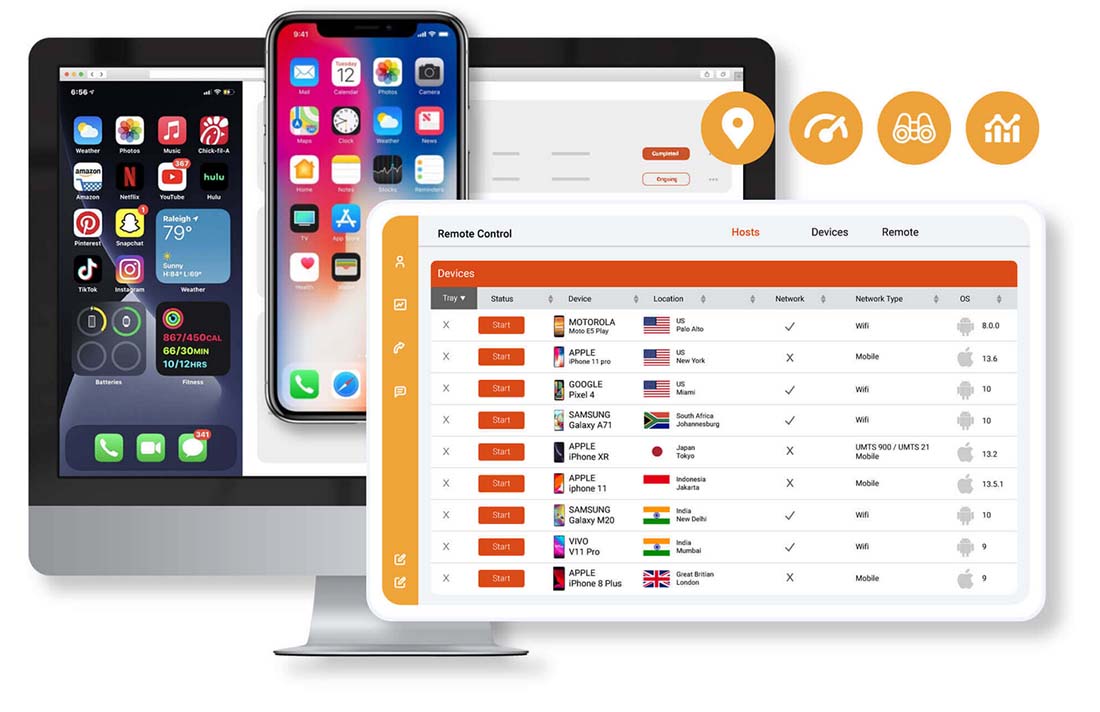 Digital Experience Monitoring allows you to measure multichannel KPIs on real devices and networks. This means you know exactly how your app looks and works.
You can measure end-to-end app, network, and device KPIs, including screenless, machine-to-machine, streaming, and even custom user journeys that are specific to your application. Plus, the monitoring comes with insights, alerts, and analytics to help you understand and make the most of your data with actionable information.
Key features and functionality of digital experience monitoring include:
Crucial insight into health and performance with monitoring, visualizations, alerts, and AI-powered insights
Measure KPIs, such as user journeys, screen transitions, benchmarks, and more
Find code-level issues early
Support from a global device infrastructure
Improve business insights and metrics
Accelerate development and innovation
When it comes to measurables with Headspin, the list of options is extensive. There are metrics for user experience (such as page content score and views) to devices, responsiveness, code profiling, network protocol details, connection times, third-party SDK, API server-side performance, domain information, CDN, and more. You can measure and track almost anything that has to do or connects with your app using Headspin.
Other Features
Headspin includes some other tools outside of cross-browser testing and digital experience monitoring as well. Depending on your needs, some of those add-on products or solutions could help you further develop your app.
Some additional features include:
Smart TV testing
Android or iOS testing
Regression intelligence
Automobile testing solutions
NimbleApp code profiling
Conclusion
If you think Headspin has the tools you need to make the most of your app, you can start a free trial. Plenty of big companies – from Tinder to CrazyLabs – are using the tool.