How to Find the Right Name for Your Small Business
One of the toughest challenges for a startup can be actually coming up with a great name – and website domain – for the business.
While the brainstorming process can be a lot of fun for some, it can also get taxing. Using a tool to facilitate the process can help. That's where a tool like Business Name Generator can come in.
Here's a look at the tool and how it could help your small business or startup.
Get unlimited downloads of 2 million+ design resources, themes, templates, photos, graphics and more. Envato Elements starts at $16 per month, and is the best creative subscription we've ever seen.
How to Find a Name for Your Business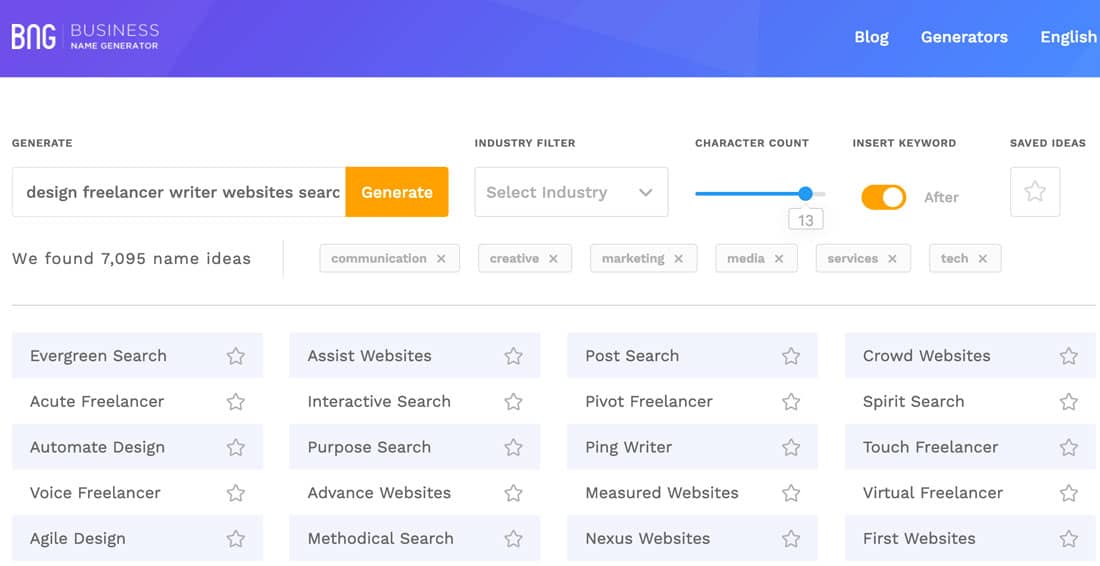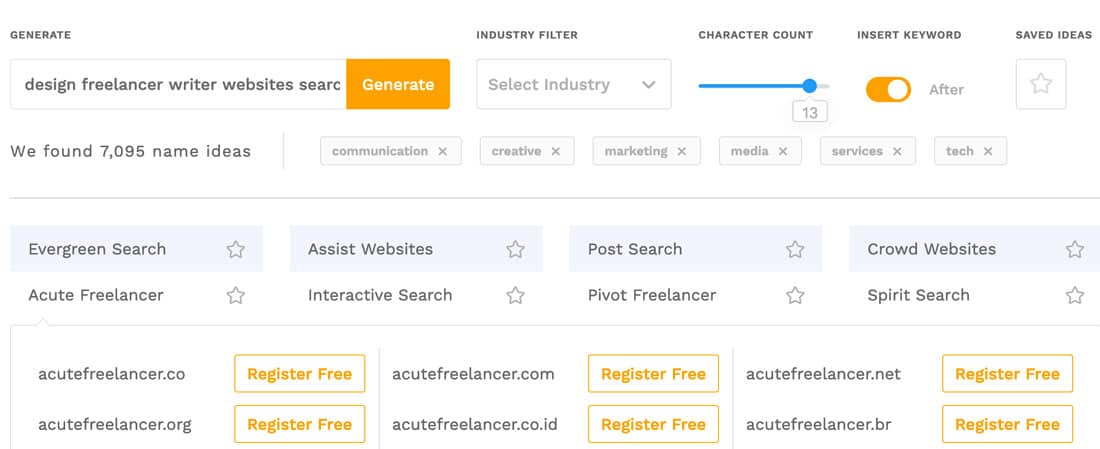 Business Name Generator can help you find the inspiration to put a permanent moniker on your startup or small business.
Just enter a few words that define or describe your business and the generator will suggestion relevant ideas.
The tool uses an intelligent word recognition artificial intelligence tool to help generate relevant name ideas based on your keywords.
Just enter a few words that define or describe your business and the generator will suggestion relevant ideas. It can really get you thinking in new ways and jumpstart the brainstorming process. Plus, the tool generates name ideas that are related to your business or industry and checks multiple domain extensions for availability.
I put in this query: design freelancer writer websites search, and added some industry criteria. The tool returned 7,095 name ideas.
You can star the ones you like and with one click, check domain availability for each name combination. You can see what options are available and even register the domains right there.
It's a quick and easy solution that's born out of your digital brainstorm.
How To Name Your Business
Business Name Generator gives you the tools to create a name for your startup, blog, podcast or pretty much any other business venture you can imagine.
Here's how you do it:
Make a list of words that relate to your business and that you like. Consider words that communicate value, emotion, strength or uniqueness of your business.
Enter your top words into the generator.
Narrow the list even more by selecting relevant industry types.
Create a shortlist of all the ideas that appeal to you. Try to stick to less than 10 options. (This might be the hardest part with so many great choices offered in the generator.)
Narrow the lists based on available domains that appeal to you as well.
Share the ideas and gather feedback from the rest of your team.
Narrow down the options and pick the perfect name for your business.
Key Features
Business Name Generator gives you high quality results thanks in part to the AI-powered intelligent word recognition feature. This helps you get more names that relate to your business and industry.
Plus, you can narrow the focus even more with industry-specific targeting.
Intelligent word recognition AI generates relevant results
Industry selection helps generate better results
Works in six languages: English, Spanish, Italian, Portuguese, German and French
Checks for available domains and extensions, using BlueHost (a popular provider)
Ability to save ideas and share with other members of your team
Specific search options for business types such as blog, podcast, brand, store name and more
Pricing
This might be the best part of Business Name Generator – It's free to use. You don't even have to create a username or sign-in to get started and name your company today.
You won't find many other tools with this many options available. There's nothing to lose if you need to create a new name … or just want to engage in some creative brainstorming.
Conclusion
Business Name Generator is a great free tool that can help you start – or expand – your brainstorming process and help expedite your startup processes. Give it a try. Brainstorm some new ideas, and generate the perfect name for your business, plus find a domain.
Our thanks to Business Name Generator for sponsoring this post and helping to support Design Shack.