How to Test HTML, CSS, and JS Programming Skills
How do you know if someone really has programming chops? It's an important consideration, especially if you are planning to add someone to your design and development team.
Tests for Geeks has a ways for you to find out more about each potential job candidate before you make the hire with a set of tests that can tell you how well someone understands anything from HTML to search engine optimization. It's one of those little tools that can make life that much easier. Here's how it works.
Envato Elements gives you unlimited access to 2 million+ pro design resources, themes, templates, photos, graphics and more. Everything you'll ever need in your design resource toolkit.
What is Tests for Geeks?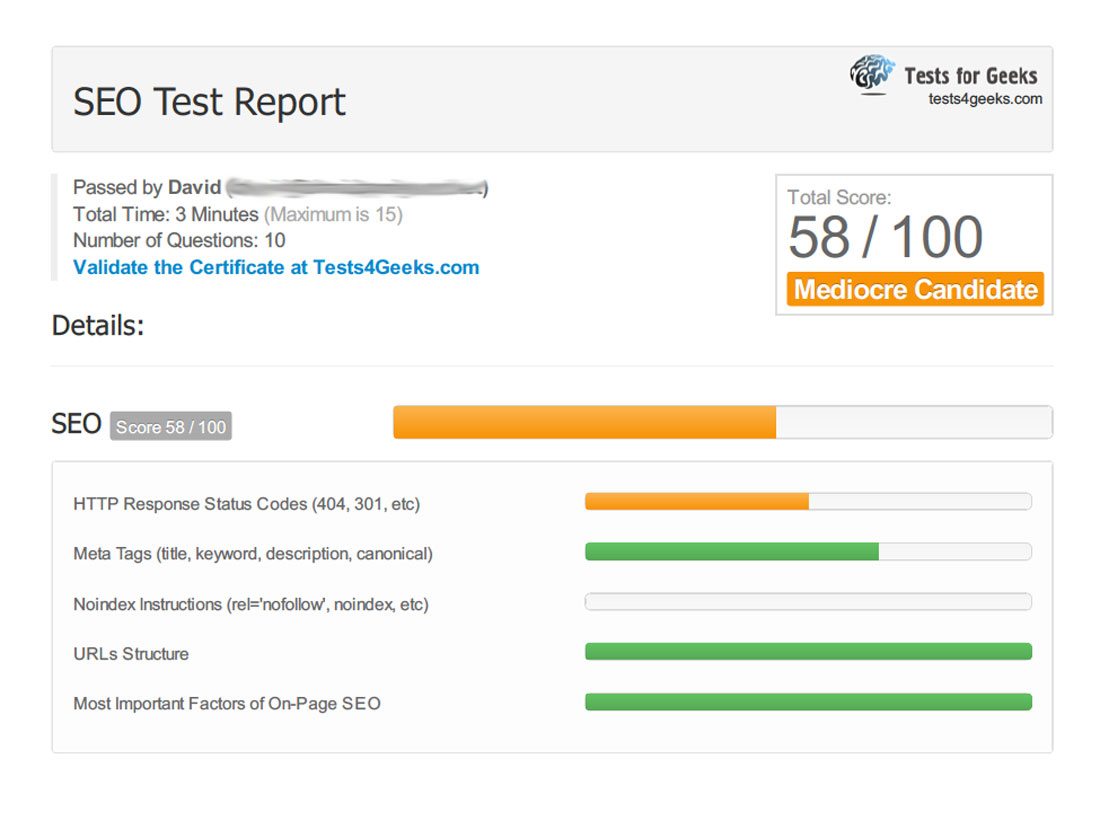 Tests for Geeks is an online testing tool that is designed to compliment a company's interview process when hiring a programmer or developer. With a robust set of tests available – for a lot of different programming languages and skillsets – the platform can make it easy to human resources or hiring managers to see what level a person is at before an in-person interview.
The idea behind Tests for Geeks is that the tests can serve as a clearinghouse for job candidates so that you can spend time only with those who are equipped to do the job.
Tests can be conducted from anywhere, making this tool a real time-saver for companies (and even small teams) looking to make a hire. Each candidate gets a test link and the software is designed to prevent cheating. Immediately after the test, the job candidate and referring account-holder get a copy of the results.
Product Background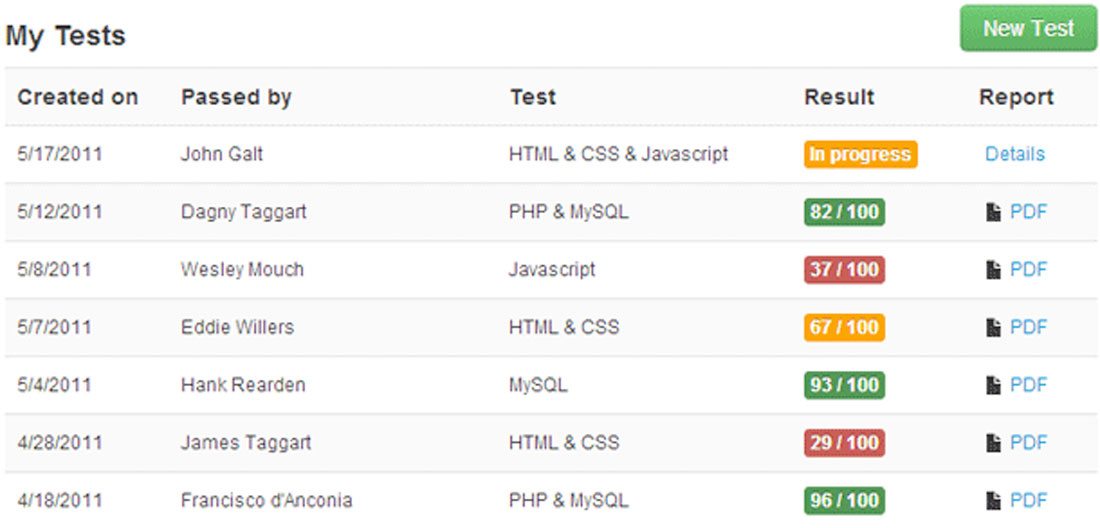 The skills tested and knowledgebase standards that come with Tests for Geeks is top notch, as are the scoring system and reports. Each test provides a report that scores in multiple categories for a total of 100 points.
This allows you to see an overall competency level for a certain skill such as HTML or JavaScript and which areas the candidate understands best and where there are some further needs.
Cool features
No cheating blocks. Tests stop working if the user tries to copy and paste, take a screenshot or even touches the keyboard in any way.
White label options and custom logo features so that you can brand each test with your company information.
Huge question sets. The large question sets ask enough for you to get a good idea of a job candidate's qualifications. And all the tests come preprogrammed, so you don't have to come up with test questions yourself.
This is a time and money saving tool. Tests can be conducted from anywhere at any time with ease. Companies don't have to hire someone to "babysit" a testing room.
The test dashboard (above) is designed so you can see every test-take and score at a glance.
Tests are designed by professionals in development and IT fields, using current standards and technology. So you don't have to worry about tests being out of date.
Try it for yourself with the HTML, CSS & JavaScript Test, which tests basic website development knowledge. (This is a great tool for anyone looking to add a web designer or developer to their team.)
Applications
Tests for Geeks has plenty of practical application for almost anyone looking to work in a field where programming and development is a necessary skill. Testing can give employers that might not "speak the language" a good idea of where job candidates rank. Taking tests in advance can help job seekers prove their competencies in the hiring and interview process.
For Hiring Managers
Tests for Geeks makes it easy to conduct a job assessment early in the hiring process.
Choose a test type
Send the candidate a link (or publish a link on your website)
Great for working with job candidates that might live overseas or across the country to reduce travel expenses in the hiring process
Know what skills each job candidate has from the start
For Job Seekers
If you are in the job market Tests for Geeks can help you stand out from the competition.
Open an account on your own
Take tests in your skill areas
Add the competency reports to your resume
Tests Available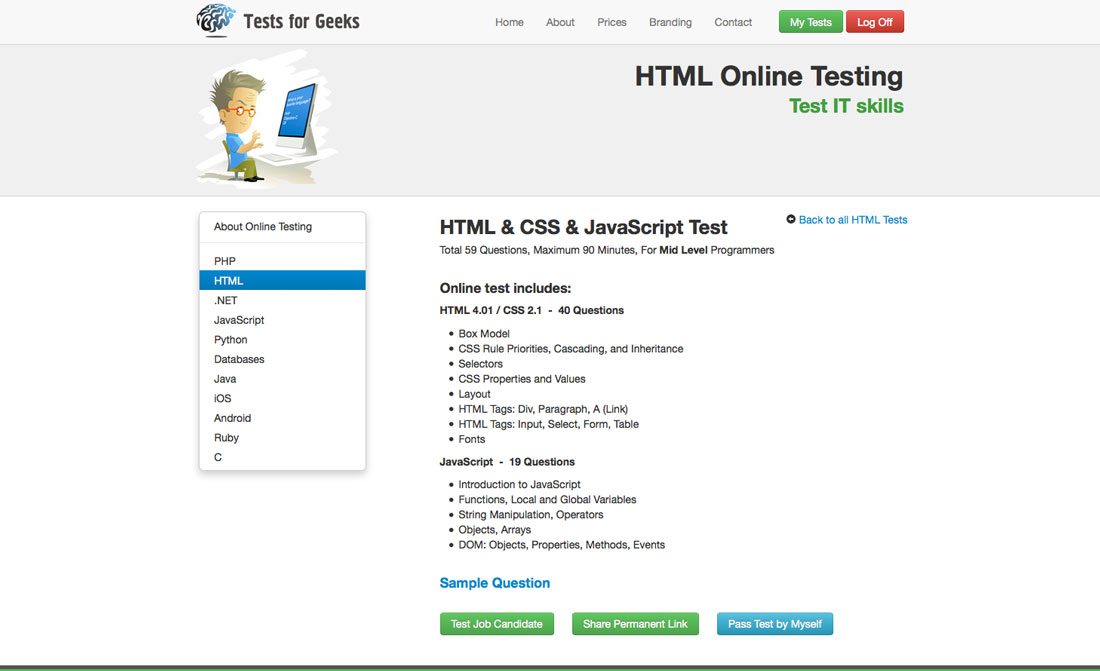 There are more than 25 tests already available in the Tests for Geeks collection with 10 more coming soon. (You can also request specific test types.) Tests come with an known number of questions and time limit.
Here's what you will find:
PHP
PHP and MySQL
PHP and JavaScript
PHP and MySQL and JavaScript
PHP and HTML/CSS and Javascript
Python
Pythong and MySQL
Django
Python and Django
Python and Django and MySQL
Python and Django and JavaScript
Python and HTML/CSS and JavaScript
HTML and CSS and JavaScript
HTML and CSS
SEO
MySQL
C#
C# and JavaScript
ASP.net MVC
ASP.net MVC and C#
ASP.net MVC and C3 and JavaScript
JavaScript
Java
Java and MySQL
iOS and Objective-C
Coming soon:
jQuery
MS SQL Server
Oracle
PostgreSQL
Java for Android
Android SDK
Ruby
Ruby on Rails
C
C++
Tests can last anywhere from 15 minutes to 2 hours and range in number of questions. Most of the tests do include more than 30 quality questions to help you build a solid assessment.
Pricing
Tests for Geeks offers multiple pricing models based on how many tests you need to conduct, from the single user to large corporate accounts. (And make sure to ask about long-term discounts if you plan to use this tool all the time.)
The plan levels include:
3 tests for $29.95 (great for individuals looking to prove their skills)
10 tests for $59.95
1 month of unlimited testing (great for companies)
3 months of unlimited testing
Tests for Geeks accepts major credit cards, PayPal and has a direct invoicing tool on their website.
Conclusion
If you want to know from the start you are getting the best candidates for your job openings and know their skill levels, this is the tool for you. Visit Tests for Geeks to learn more or get started. The number of ways this tool can prove helpful is almost limitless.