OnmiStar Mailer Review

There are a huge number of different tools for email campaigns available; Emma, Campaign Monitor and MailChimp to name a few. Today I'll be looking at a longstanding piece of email marketing software with a whole range of tools, Omnistar Mailer. It differs from other software in that it is hosted locally on your server.
Get unlimited downloads of 2 million+ design resources, themes, templates, photos, graphics and more. Envato Elements starts at $16 per month, and is the best creative subscription we've ever seen.
The general overview of OmniStar offers the following range of features:
Create Unlimited Email Lists
Create Unlimited Autoresponders
Send Automatic Campaigns
Make Online Surveys
Automate Online Reminders
Receive Detailed Reports
Increase Email Deliverability
Advanced Search Technology
Personalize Email Campaigns
Segment with Our Target List Creator
I'll be looking at a few of these in a little more detail.
The Interface
After logging in, you are presented with the main interface for managing your email campaigns: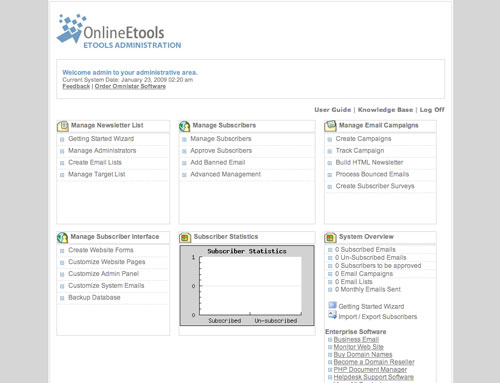 Whilst certainly lacking the polish and style of a modern interface, it does contain all the information needed to get the job done. There's a helpful walkthrough for getting started, and the different tasks you may like to perform are well broken down.
Managing Subscribers
An email list is no use without people subscribed to it! As you'd expect, tools are available to easily add and manage subscribers, and you're able to import data from Excel. If coming from another system, options are slightly limited and you may need to use Excel as a pass-through.
It's simple to blacklist members, preventing a certain person from signing up to receive updates. There are also a comprehensive range of administration tools to find members with invalid, inactive or unconfirmed email addresses.
Sending Newsletters
Sending emails is managed through "Campaigns", with a whole host of settings and options available for creating visual templates, sending emails on a set schedule, avoiding keywords associated with spam, and – one feature I particularly like the look of – the ability to preview your email in a variety of different email clients.
A good introductory video is available to walk you through the process of setting up a new campaign, and there are also a variety of different (albeit a little dated) email templates to choose from.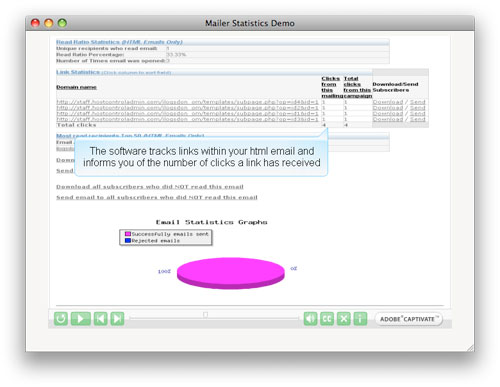 Once sent, you're able to track a newsletter's reach and readership, there's a good video outlining the software's capabilities at their site. There seems to be a reasonable amount of data on offer, but the way in which it is presented appears to be slightly dated.
Customization
There are a good range of customization options available, for changing subscriber box style, website integration and admin panel options for users when managing their subscription options. You're also able to take a backup of your email subscribers, newsletters and data – this simply downloads a dump of the SQL tables/data related to your account. Whilst fairly rudimentary, this does give you peace of mind that you are in control of your information.
Conclusion
From playing with the system for a short while, it seems that OmniStar Mailer does have a good range of functionality. All the features you'd expect from a newsletter management system are present.
It's priced at $257.00 for a license to use on your server. Unlike other systems this is a one off fee, though still seems quite expensive for the features on offer. If you're planning on running a newsletter for several months it could save money over the longer term compared to a hosted system.
There's no harm in trying, though, and Omnistar Mailer comes with a money back guarantee along with guaranteed same day support.
In addition, Omnistar Mailer is offering a discount to all Design Shack readers. Use promo code "designshack" when you purchase this product to receive 20% off.
I'd be interested to hear your thoughts – which email system do you use for newsletters?