How to Create Your Own Stock Photos With Photo Creator
The problem with stock photos has always been that they are never quite what you envision. The new Photo Creator tool from Icons8 solves that dilemma.
This neat tool actually allows you to create stock photos with elements that you can choose, move, and place inside a basic scene.
The result is a "semi-stock" photo that does exactly what you need to tell a story in your design project. Here's how it works, and how to use it to create a stock photo that perfectly fits your needs.
Get unlimited downloads of 2 million+ design resources, themes, templates, photos, graphics and more. Envato Elements starts at $16 per month, and is the best creative subscription we've ever seen.
What is Photo Creator?
Photo Creator includes a collection of thousands of elements – models, backgrounds and objects – that you can mix, match, and layer to create the perfect image. It's a tool that allows you to create customized stock photos.
You can use it to make something serious to help showcase a product or service or have fun and do something silly.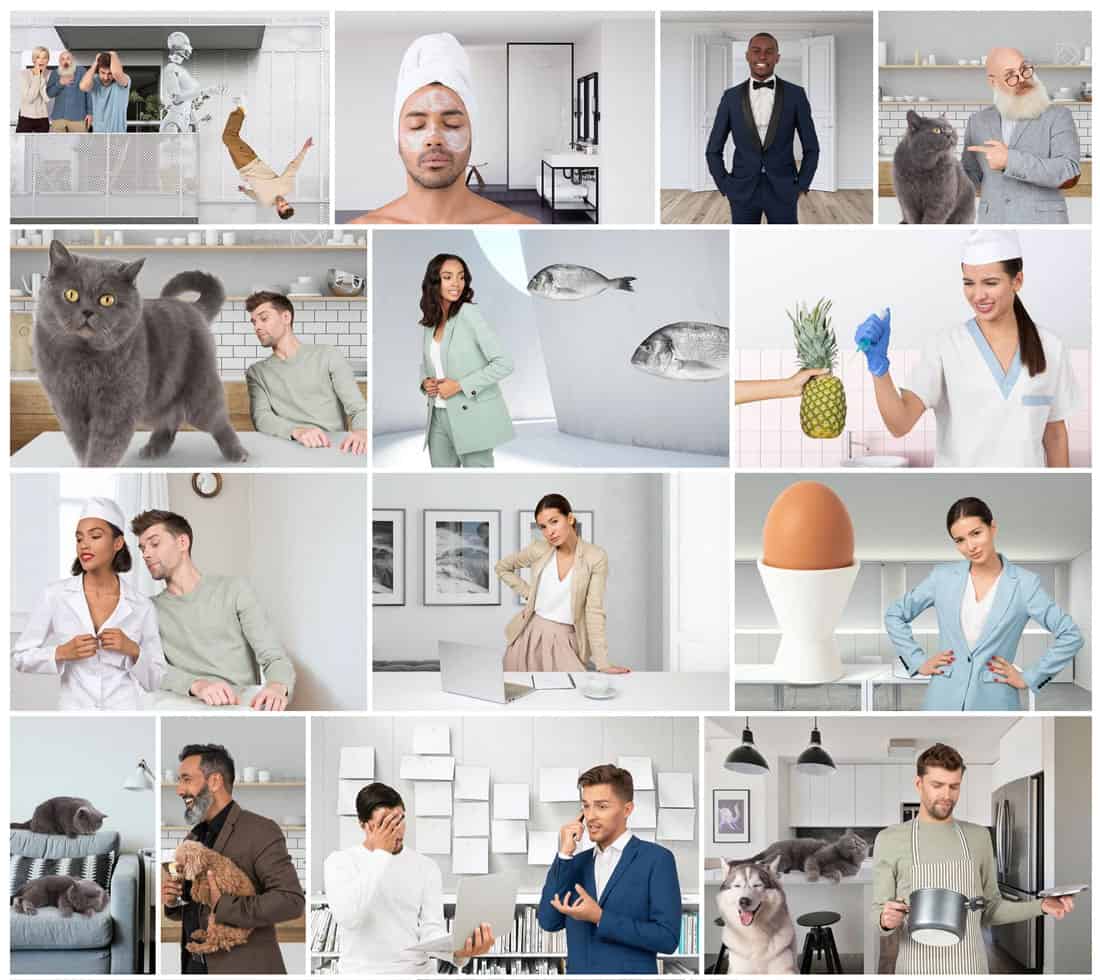 Some of the rather "inspired" creations from the tool are available in their Photo Creator gallery. (This gives you a good idea of what you can do with this tool.)
How Does It Work?
All it takes to create an image with Photo Creator is a little imagination. What is the scene you want to show?
Start with a background or model (there are so many different people to choose from covering different races and ages, wearing everything from beachwear to business clothes). Then build the photo with objects and environmental assets. You can also add text elements.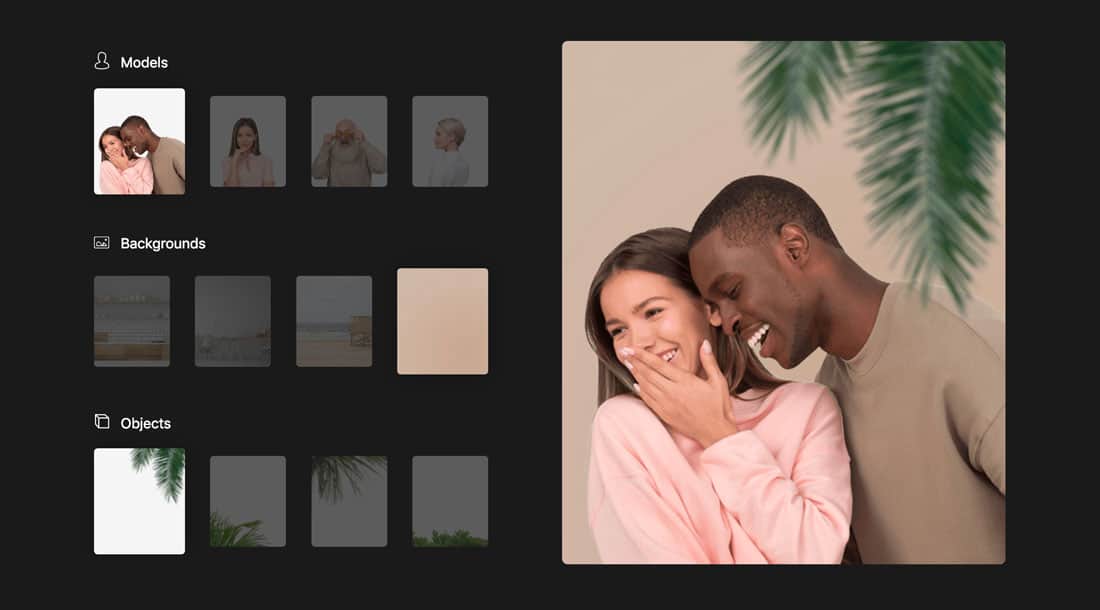 You can scale and size each object using the drag and drop tools. Layer elements, add shadows and depth… there are plenty of possibilities. The most difficult part is that you can get totally wrapped up playing with all the elements, creating and recreating scenes to tell different stories.
The interface is smart and intuitive and takes a lot of the work out of creating stock imagery for you.
What's nice about Photo Creator is that you can make an image as simple (a person on a blank background) or as complex (a fully-created scene) as you like or need. Set an aspect ratio as well, to design right in the format you need.
One of the best features of Photo Creator is that it suggests elements – models and objects – related to the scene you are creating. This makes it easy to change the expression or mood of the same models or tweak small elements in the photo without having to start over.
The interface is smart and intuitive and takes a lot of the work – and guesswork – out of creating stock imagery.
Then, once you have your photo set, export it as a PSD file for use in any project you want. You can also continue with advanced editing features in Photoshop.
What Can I Do With It?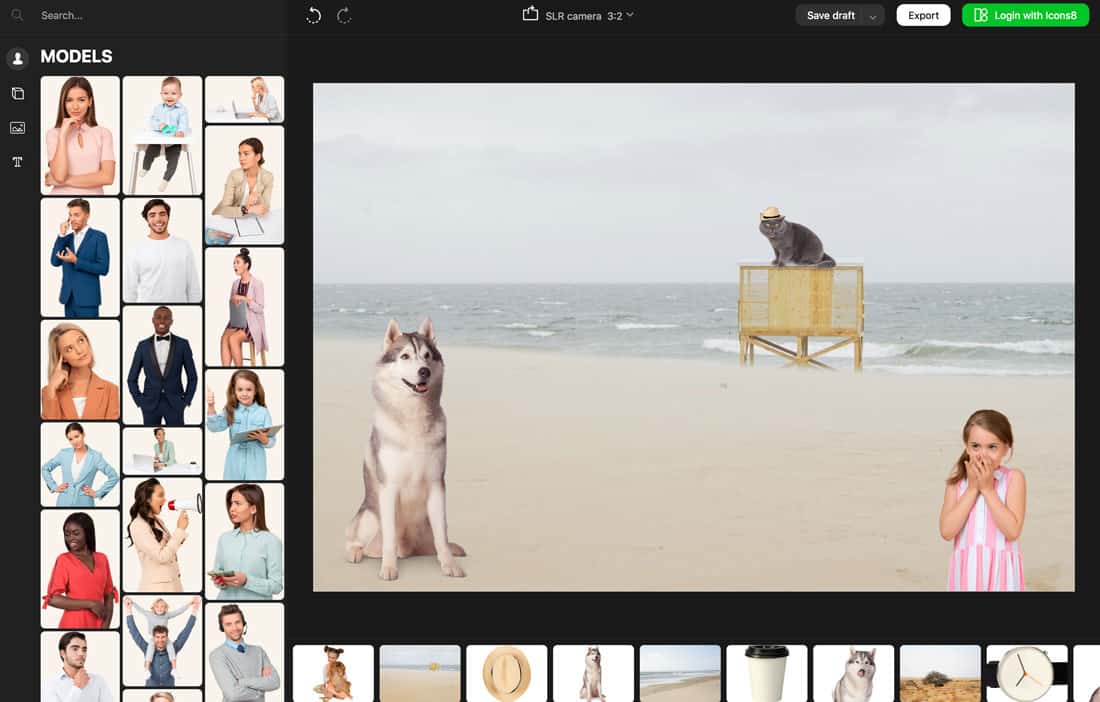 Images can be downloaded in PSD or JPG formats, depending on your needs.
The Photo Creator tool lets you make your own photos, plus use an increasingly large library of photos that other users have created. This might be the first library of crowd-sourced stock photos?
Once you create or find an image, you can use it for all different types of projects.
Images can be downloaded in PSD or JPG formats, depending on your needs, and are sized appropriately for web or print projects. The nice thing here is that you can create a stock image and use it for all your branding needs. There's really no limit to how you use photos you create with the tool.
Photo Creator has application and usefulness for pretty much anyone that needs photo content, including marketers and advertisers, content managers, bloggers and writers, designers and people who need images for slideshows or other projects.
And this tool is created for people who don't necessarily know how to use other photo software (although with PSD exports, it works for them too). Using just drag and drop, anyone can create a photo and export it for use in just a few minutes.
Pricing
Anyone can play around with Photo Creator for free. (You'll have fun for sure!)
Once you create the perfect scene, download photos in JPG format free with a link back to the Photo Creator website.
If you want to go without a link or get editable PSD files, Photo Creator is $20 per month. That also includes access to all the models and objects in the collection as masked and layered elements, as well as everything else that Icons8 offers!
Conclusion
If you need photography for a design project and can't quite find the stock images you need, try Photo Creator.
Make something serious or fun; build something completely custom or start from the user-generated library of images. With so many options, it's almost certain you'll find something to fit your projects with this tool.
And it's so easy to use that anyone can create their own "stock" photo. No experience (or other software) is necessary!
Our thanks to Icons8 for sponsoring this review, and helping to support Design Shack.