PhotoWorks: An Affordable Lightroom Alternative for Beginners
Adobe has the industry leading suite of software for designing and photo editing. However, not many designers can afford its hefty monthly subscription.
Thankfully there are many affordable alternatives out there. PhotoWorks is one of them. It's a simple and beginner-friendly photo editing app for PC that comes with a one-off price tag.
Whether you're a photographer looking for an app to improve photos or someone looking to optimize their everyday photos without an expert level of photo editing skills, PhotoWorks can be a great option for you.
Let's take a closer look at this photo editor.
What is PhotoWorks?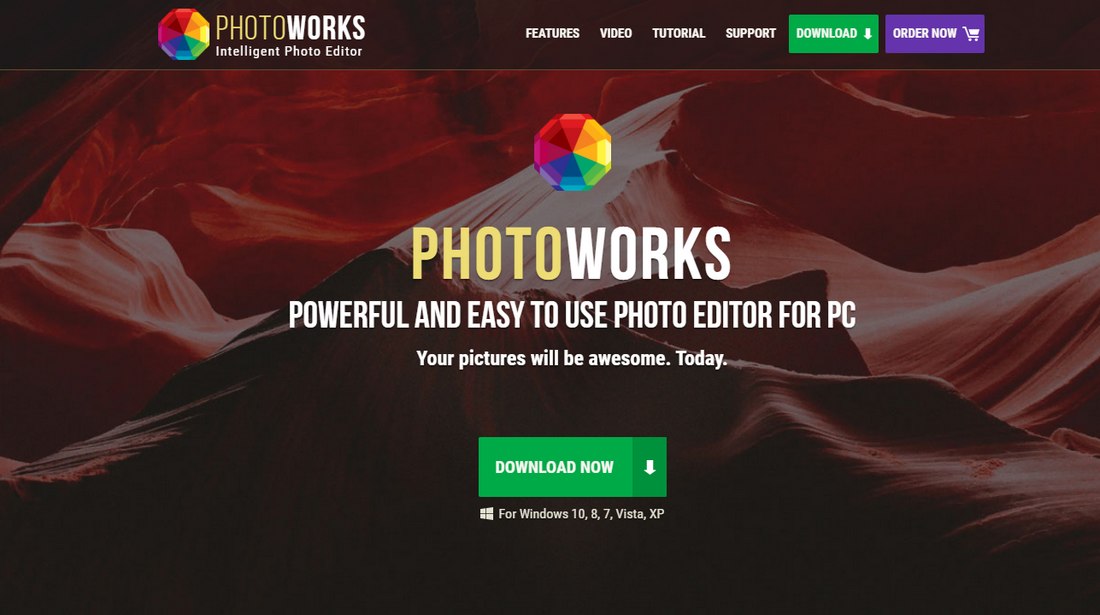 PhotoWorks is a piece of photo editing software for PC that comes with features and options that are quite similar to Adobe Lightroom. The app is designed to help both expert photographers and beginners do basic photo editing and retouching work. Especially for post-processing optimizations.
PhotoWorks comes with a simplified user interface. Unlike Photoshop and Lightroom, it doesn't take much effort to learn to use this app and start editing photos.
Who Should Use It?
Photographers who process photos in batches will surely find PhotoWorks to be quite useful. The app even has LUT color profiles, which you can use in post-processing to enhance photos without an effort.
Since it comes with an affordable price tag, PhotoWorks is also suitable for bloggers, social media influencers, and almost everyone else. The app has lots of presets and one-click buttons to help improve your selfies and smartphone photos with automatic enhancing.
Main Features: What You Can Do With PhotoWorks
PhotoWorks has all the basic tools that come with a photo editor for PC, like tools for cropping, healing, clone stamp, red-eye removal, and more. There are a few other features that make this app quite useful.
Easily Optimize Colors, Saturation, and Contrast
Adjusting colors and enhancing photos with the right balance of contrast and saturation is one of the most time-consuming tasks of post-processing. But, with PhotoWorks, you can easily adjust these settings with simple sliders.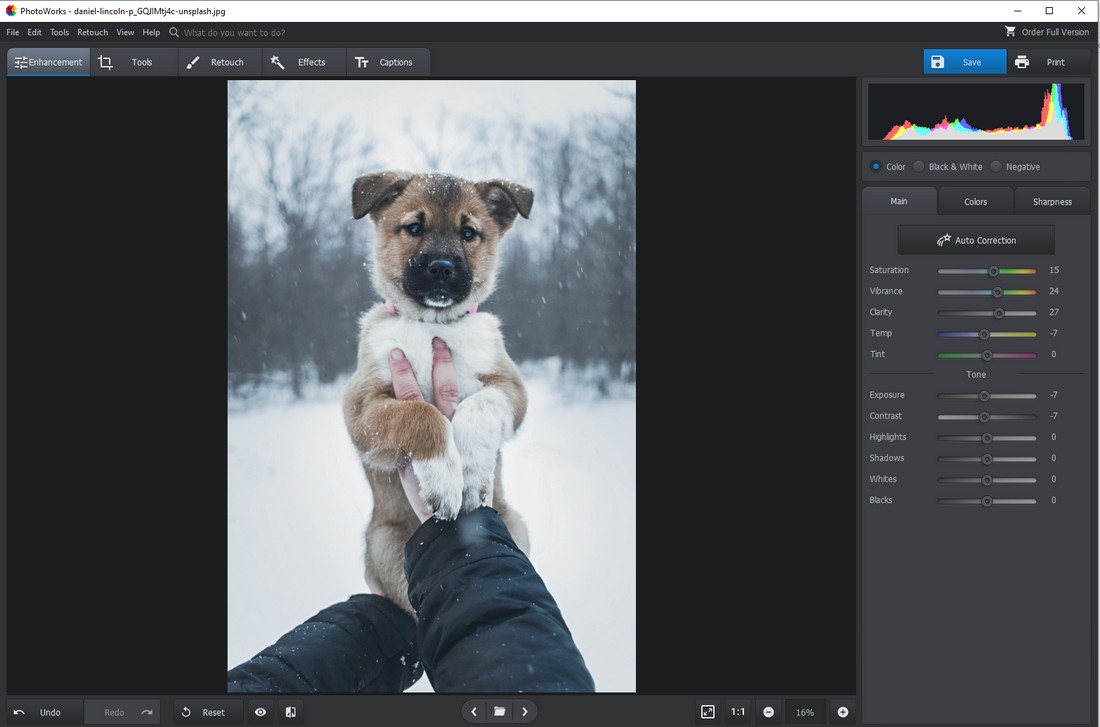 The app has a slider-based adjustment system similar to Adobe Lightroom. You can optimize a photo to look more professional within a few minutes.
Do Basic Photo Retouching
When it comes to retouching photos, PhotoWorks has several different options. For example, you can use the healing brush to remove blemishes in your photos. Or use the clone stamp to get rid of objects and unnecessary parts in a photo.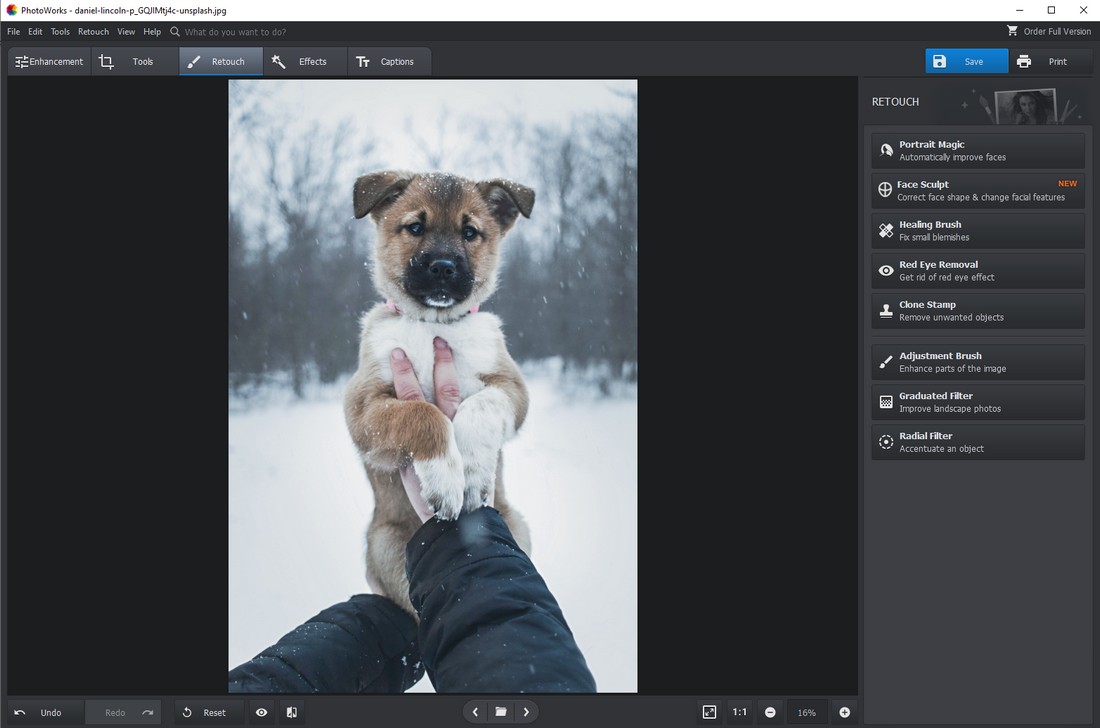 Even though these tools aren't as sophisticated as the ones you use in Photoshop, they are enough for simple fixes and optimization.
Instantly Remove Image Background
Removing the background of an image requires careful selection and a lot of work that consumes time. PhotoWorks has a nifty tool that makes this job much easier.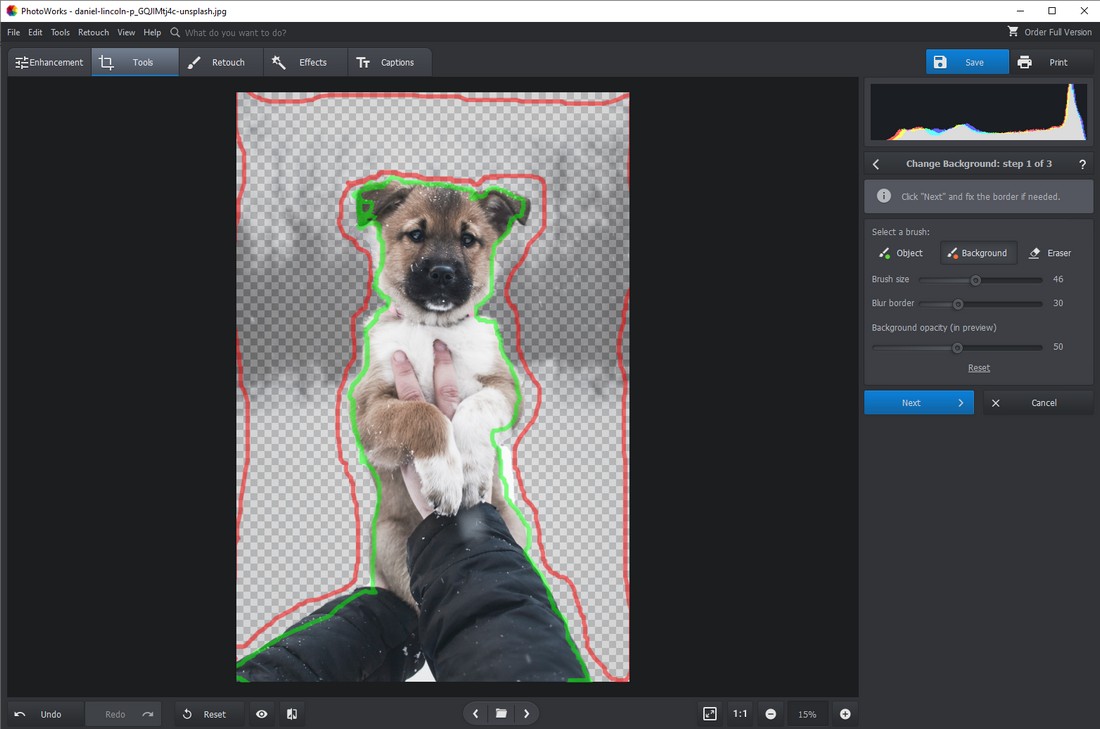 With the Change Background tool in PhotoWoks, you can easily remove the background from a photo in just a few steps. First, you select the object you want to keep by drawing around it. Then you draw around the background to remove. And the background gets removed with just a click.
The tool does a great job of removing the background on most images. But you'll need to do a bit of extra work to smoothen the edges. Still, it's a very useful feature to have on a photo editor.
Apply Effects & Filters With One-Click
PhotoWorks photo editor for PC also comes with a set of its own photo effects and filters. There are more than 150 effects available in the app featuring various types of filters and optimizations. Such as lighting effects, toning effects, movie effects, and much more.
Once you apply an effect, you can easily adjust its strength using a slider to match your preference as well.
Transform Photos With LUT Color Profiles
LUT (Look Up Tables) color profiles is another advanced feature available in PhotoWorks. There are over 30 LUT profiles available in the app to help optimize your photos, enhance colors, and do more with just a single click.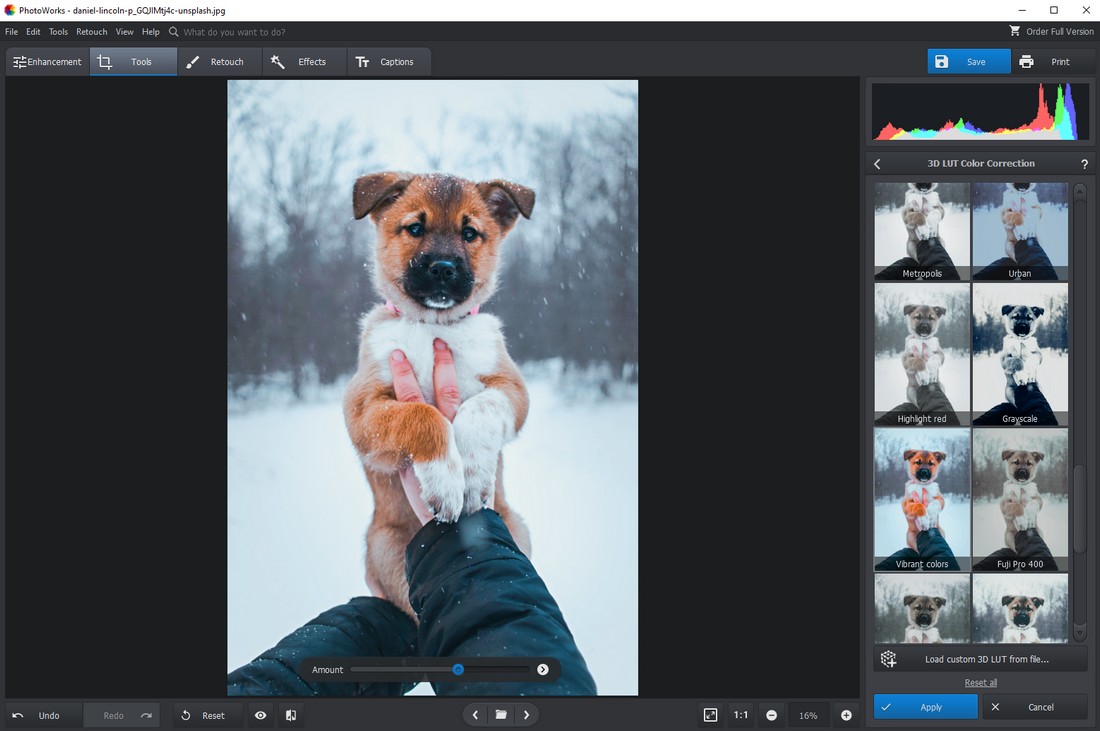 The best part is you can even upload your own LUT files to add your own color correction profiles as well.
Tools for Optimizing Portrait and Landscape Photos
PhotoWorks is great for quickly improving both portrait and landscape photos as it comes with a few unique tools designed for both types of photos.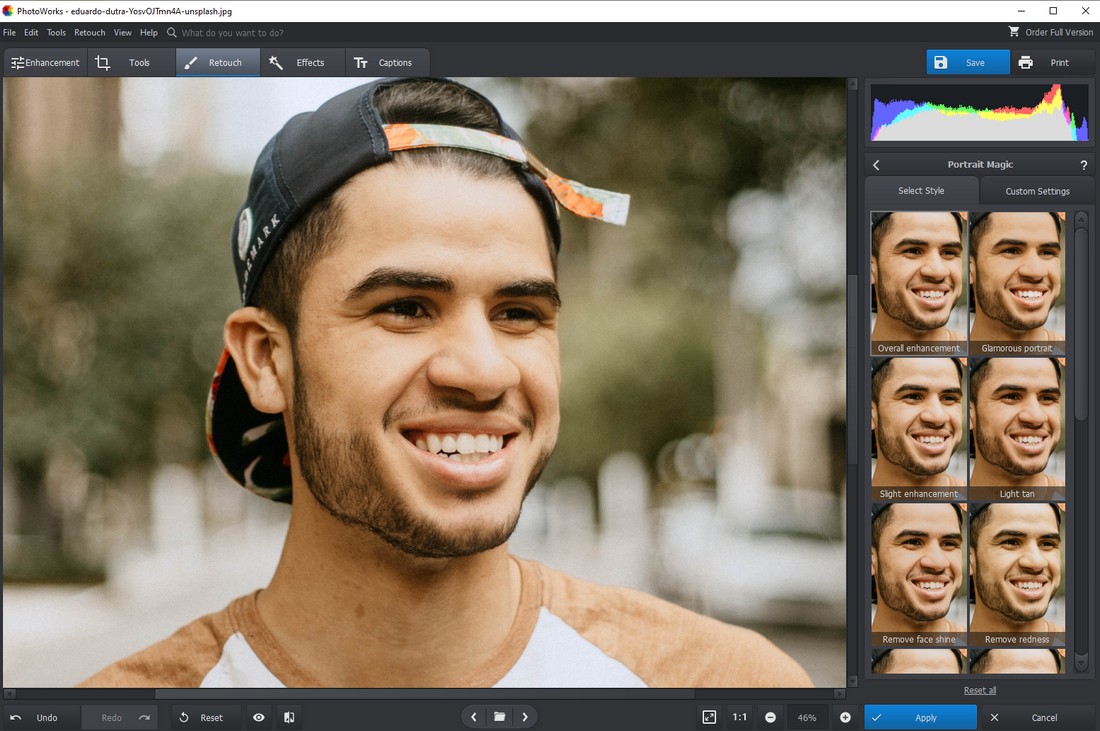 For portraits, you can use tools like Portrait Magic to automatically improve the faces of your photos to smoothen the skin, lighten up the face, and even whiten the teeth.
For landscape photos, you can use the adjustment brush to improve specific parts of an image. Or use Graduated Filter to optimize colors, exposure, and more.
Add Beautiful Tone Filters
Tone mapping is another handy tool that comes with PhotoWorks. With this tool, you can easily add a color tone filter effect to your photos to give them a more stylish and trendy look.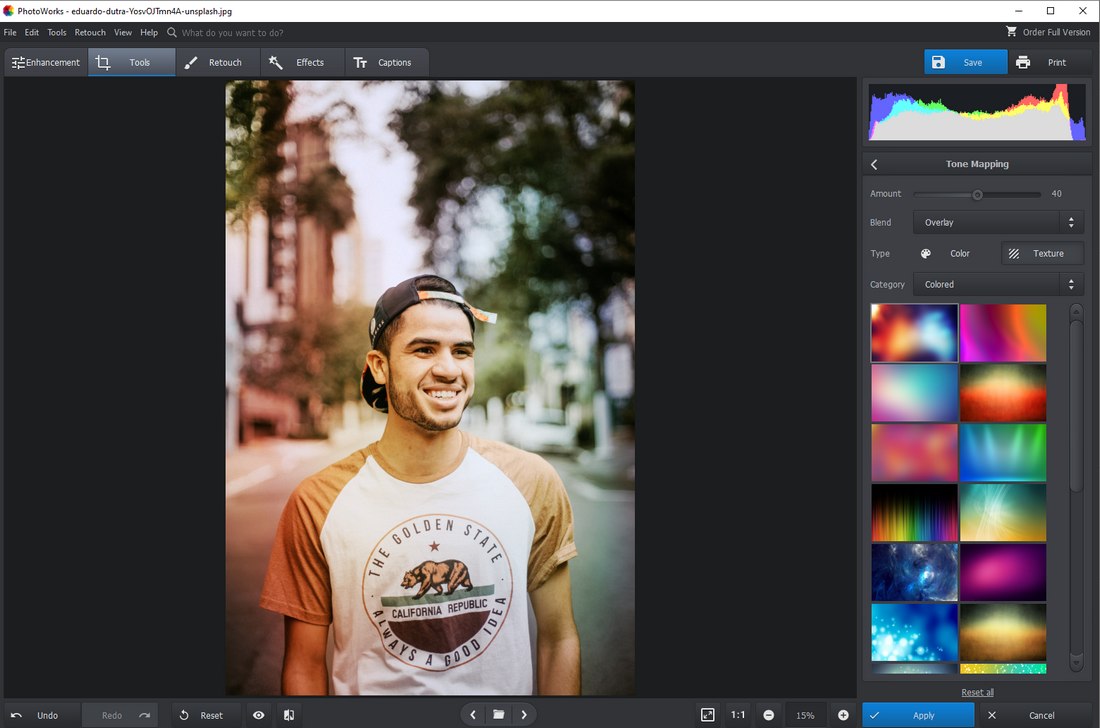 Better yet, it even supports texture-based toning effects as well. You can customize these effects to target colors and highlights as well as achieve a vintage or classic look.
Pricing and System Requirements
PhotoWorks works on Windows PCs and not yet supported on Mac devices. The app will work on almost any Windows PC or laptop. It's actually compatible with every version of Windows starting from Windows XP to Windows 10. And it only requires 256mb of RAM.
The basic version of PhotoWorks costs $27.50. But you'll need to get the Deluxe version at $42 to get access to the photo effects. And the $56 Pro version to access the background removal tool and the other advanced tools. It's a one-time purchase and you get all future updates and customer support for free.
You can test the app before buying using its free trial version. The free trial gives you full access to the app for 5 days.
In Conclusion
While PhotoWorks is not as advanced as Adobe Photoshop or Lightroom, it's more than enough for doing basic photo editing and optimizations. It's especially a great choice for beginners and for doing simple edits without having to pay for a subscription every month.
The app also comes with plenty of video guides and tutorials to help you get started with the app and get the most out of it.