UX Designers Will Love Phrase
Have you ever struggled with translation management across languages for a website project? It can be a complicated task to navigate. Phrase is designed to make it a lot easier, saving UX designers time and effort during website builds.
Phrase is a translation management solution for software products. It's built with designers in mind, and their recently released Sketch Plugin can be incredibly helpful for anyone designing with multiple languages in mind.
We're taking a look at the broad tool, as well as the new Sketch Plugin, and explaining how it works.
Get unlimited downloads of 2 million+ design resources, themes, templates, photos, graphics and more. Envato Elements starts at $16 per month, and is the best creative subscription we've ever seen.
What is Phrase?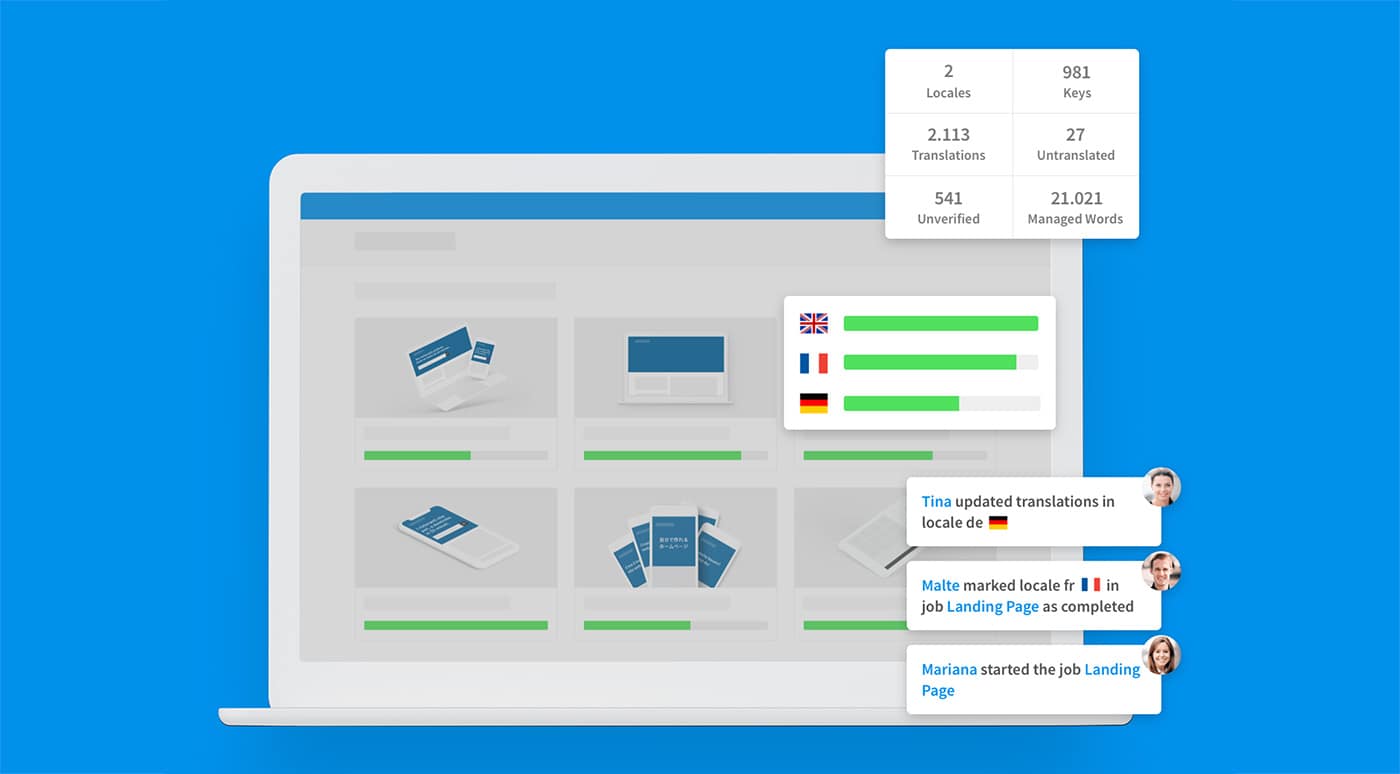 Phrase is a developer-centric localization tool that's made to make translation easier for you and more seamless for users.
Developers, copywriters, designers, and project managers can all reap workflow benefits.
It's a scalable solution that is rooted in an API that's designed to fit all software localization processes. Phrase integrates with the API, plus other tools such as GitHub Sync so that it works with the requirements of localization teams around the world.
Phrase includes a translation editor so that you can work with the tool to ensure that translations are accurate and work in the proper context. Everything about the tool is designed to make your website or app seem like it was created in the native language of the user.
The tool is designed to make work for the creative team easier. Developers, copywriters, designers, and project managers can all reap workflow benefits from it with more streamlined processes.
More than 1,000 companies are already using Phrase for translation services, so you might have already interacted with this tool without even knowing it.
Key Features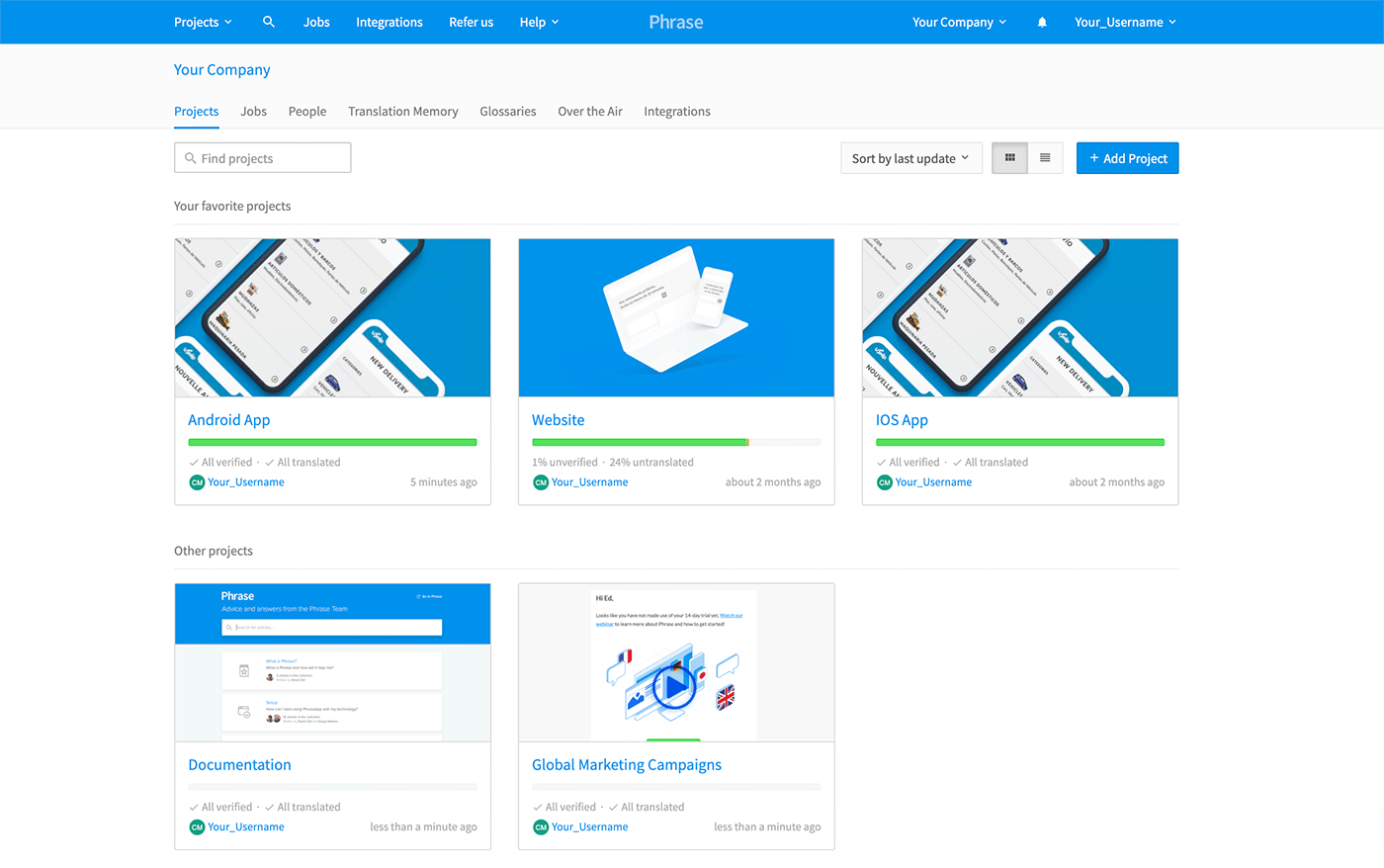 Phrase is packed with features developers and the whole team will love for projects that need to be read and understood in multiple languages.
Key features include:
Developer-centric design with fast and reliable import and export for language files and support for more than 40 file formats
Strong API
Assignable jobs and tools within the app to manage projects
Real-time process monitoring, reporting, and statistics
Ability to set up notifications and add comments
Tons of localization file formats across programming languages including Android XML, Angular Translate, PHP Array, CSV, iOS Localizable Stringsdict, Chrome JSON Messages, and tons more
Designed for rapid production with modern tools including React components and real-time webhooks
Easy to understand project overview with the ability to sync with common repositories and work on multiple versions
One-click translations; use your own or buy direct from Phrase partners
Fast translation editor lets you customize as needed
Easy to understand dashboard to manage projects
Search and key tagging
Translation Memory
In-Context-Editor, History, and Smart Suggest for quick editing
Sketch Plugin
Sketch Plugin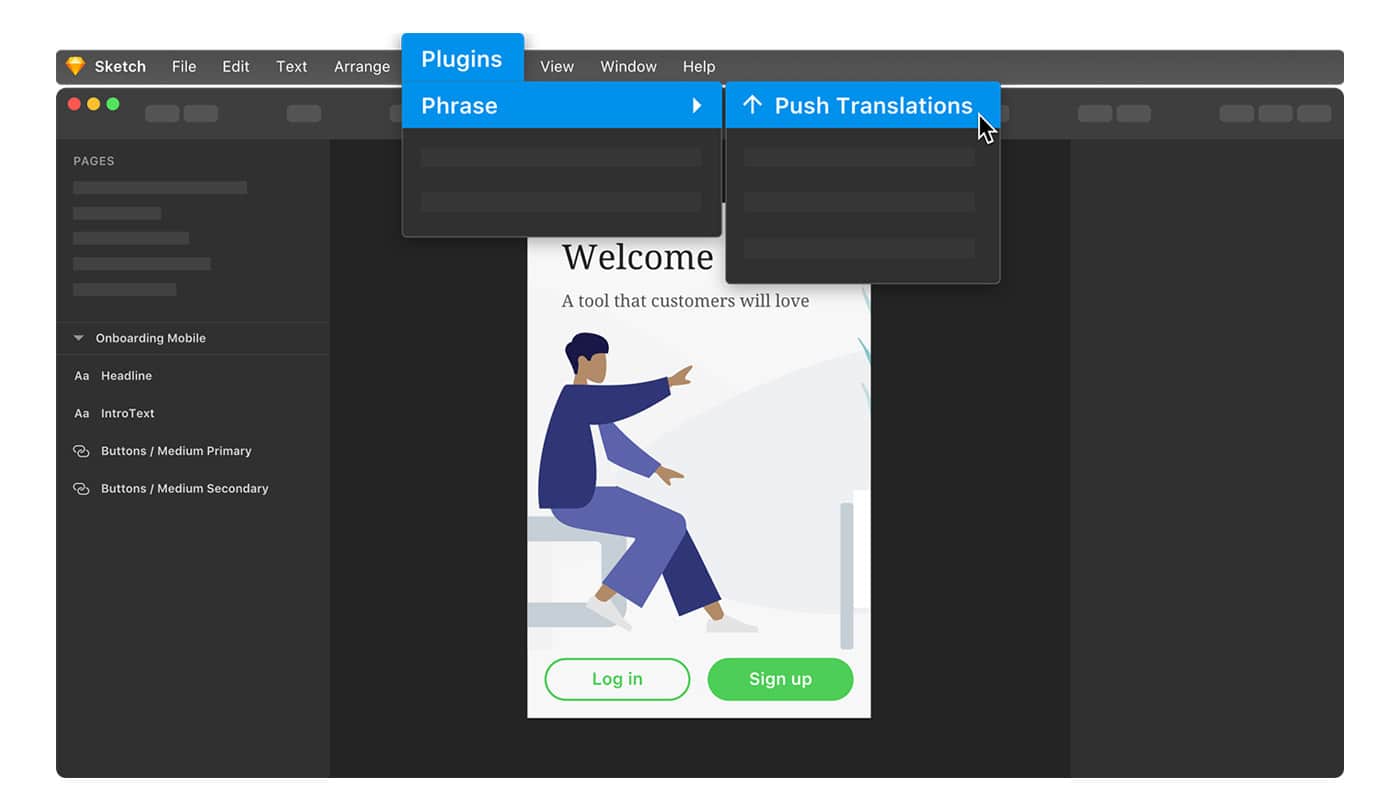 One of the best new features of Phrase is their Sketch Plugin. The plugin was released in June and allows designers and developers to push content from a Sketch artboard to Phrase with just a few clicks.
Using the Phrase Sketch Plugin
Start by downloading the Sketch Plugin, and after installation and configuration, you can add a project from Phrase right into the design tool to sync content.
The configuration is easy with on-screen prompts to guide along the way.
You can export designs in all languages from Sketch to user testing tools. Phrase can help reduce the risk of design breaks (since you can see translated designs) and save time.
Once content is translated, you can sync it back to Sketch to continue checking and working on the design.
Perfect for Design Teams
For many product teams the workflow to looks like this: Mockup > UX design > development > launch in one market > localization > launch in multiple markets. With the Phrase plugin for Sketch product teams actually integrate localization into the design phase and can make adjustments before launch.
The plugin allows to you push designed content. No more copy and paste between translated versions, and you can do it all within Sketch.
You can see how the finished, actual design will look with live translations right in the Sketch app. You'll know if tweaks or edits are necessary because you can see words on the screen in the design.
Sync everything back and forth between Sketch and Phrase for easy translation and testing.
Easy to Use and a Time-Saver
There's plenty of documentation to help you get started, including a webinar and how-to guides for working on mobile apps using Sketch with Phrase. But the app is so user-friendly, that you might not even need it.
Phrase plus Sketch can be a real time-saver by allowing designers to include translation as part of design workflows. There's less manual work to do and import/export options make moving between the tools quick and easy. There's even an autopilot option that will automatically translate content from Sketch to Phrase in all languagues available for your project.
Pricing
Phrase comes with no limit on stored words and projects at all plan levels. Pricing is based on team size and use cases with options for projects of almost any size.
Users can try the Phrase free for 14 days – including the Sketch Plugin – to see how it's functionality can benefit their projects. Startups and developers with open source projects should contact the company for special discounts and even free plans.
Standard pricing starts with the Lite plan for 5 users. It's designed for product teams that need complex localization processes and includes API, GitHub and Bitbucket sync, simple review workflow, branching support, mobile SDK for 200,000 MAU, and all formats. This plan is $170 with a discount for annual billing.
Phrase also includes Pro and Exclusive plans as well as options for enterprise clients. You can find complete pricing options here.
Conclusion
If you are struggling with translation support, this is a team-friendly tool that can improve the usability of digital products. It's robust, packed with features and design integrations ensure that your project will look great in any language while being readable for users in multiple locations.
It's free to try, so if you are even thinking about using a tool for location and language support, start here. Phrase won't disappoint.
Our thanks to Phrase for sponsoring this post, and helping to support Design Shack.