PSD2HTML Review

For several years, PSD2HTML have been the primary sponsor of Design Shack. We don't like to suggest a service to you unless we have tried it ourself to ensure that it's worth a recommendation. A recent addition to our network of sites, 13 Styles was in need of a redesign and I took the opportunity to use PSD2HTML's service and document the process.
This article will be more than a straight forward review of PSD2HTML. We'll be considering the basic idea of these type of services and considering when, and for who, they are appropriate. Honesty will be foremost, and I hope that you will gain a real insight into using a PSD to XHTML tool.
Get unlimited downloads of 2 million+ design resources, themes, templates, photos, graphics and more. Envato Elements starts at $16 per month, and is the best creative subscription we've ever seen.
PSD to XHTML Services
PSD2HTML are one of the first companies to provide this service (you can see their original press release), but there are a huge number of competitors in the area today and a Google search for "psd to html" brings back over half a million results. Here is a table summarizing the main players in the industry (a more in depth list can be found at Most Sliced):
We'll be focusing on PSD2HTML, taking you through the process and showing you the final resulting design.
The Process
The ordering process at the site is very simple. There are several options available, starting with either a basic or professional package. We opted for the professional, as semantic, search engine friendly coding was a must have. Other optional additions are:
Flexible width
Stretching the header and footer
Rollovers and dynamic menus
sIFR flash replacement
Commented CSS and XHTML code
Load speed optimization
Integration with CMS software (e.g. WordPress, MT, Drupal, Blogger, CubeCart)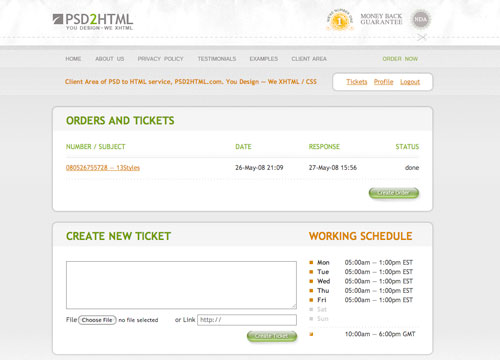 After submitting the order, we were contacted at the start of the following working day with a request to clarify some of the features in the submitted PSD file. By the end of that day, some 7 hours later, the markup was provided through their online ticket system. The speed of the turn around was incredibly impressive – it would take even an experienced designer far longer than 6 hours to code a relatively complex site such as the one we submitted. If you need results quickly, this service would seem to be a great resource.
Speed isn't the only factor, however. We're going to show you, in full, the code created by PSD2HTML for the new layout.
The Results
This is the original 13 Styles design: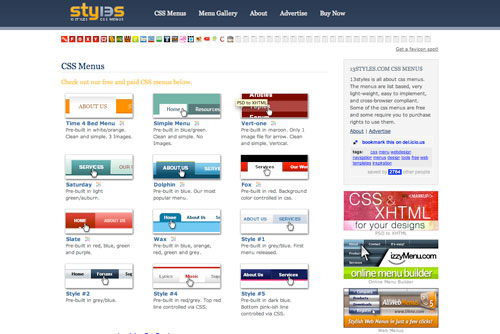 And this is a screenshot of the new version which we created in Photoshop: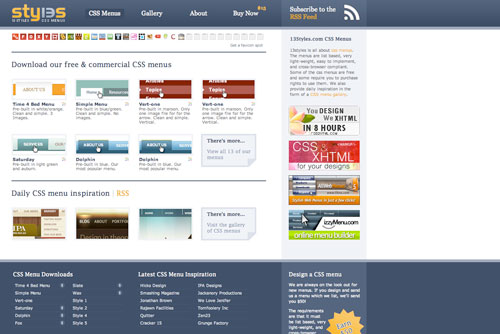 You can see the full website through the following link. It is essentially the exact code which we received back from PSD2HTML, and will still require customization before being integrated into the real 13 Styles site.
Please feel free to take a look and judge the quality for yourself. We found it to be great – well laid out with the correct separation of content and presentation and semantic coding. We aren't incredibly easy to impress, but this was certainly not a rushed, second rate effort. The process takes web design to a level of 'mass production', and high standards can be achieved through having a huge catalog of code examples and snippets to work from.
Do We Recommend Them?
The service was fast, efficient, inexpensive and of an outstanding quality. PSD2HTML would definitely be worth considering if you:
Are short on time
Are a skilled designer, but not a coder
Require high quality, semantic and valid code
Want to have a personal, well trained contact creating the design
It can be argued that design does not come from the ability to write code, but rather the ability to create an intuitive user experience which is simple to operate and gives the desired message. Using a service such as this ensures that you are free to focus on these aspects without being bogged down in small issues such as cross browser compatibility.
PSD2HTML impressed us in every area when coding the 13 Styles site, and we would not hesitate to recommend using their service. Be careful, though, that you don't lose the passion for crafting your own HTML and CSS.