Readymag Can Help You Build a Portfolio Website
If you are anything like me, you are always looking for tools that make your work easier and faster. Readymag is a tool that allows you to create websites, specifically microsites, presentations, magazines and portfolios in a responsive digital format without coding.
The platform is designed for creative professionals who don't have the knowledgebase or time to create a site from scratch. It is further made for creative because of the format options – microsite, magazine, photo stories, portfolios, presentations – that come with Readymag. And you can create a site and publish it quickly using included design tools. Here's a look at Readymag and how it works.
Get unlimited downloads of 2 million+ design resources, themes, templates, photos, graphics and more. Envato Elements starts at $16 per month, and is the best creative subscription we've ever seen.
What is Readymag?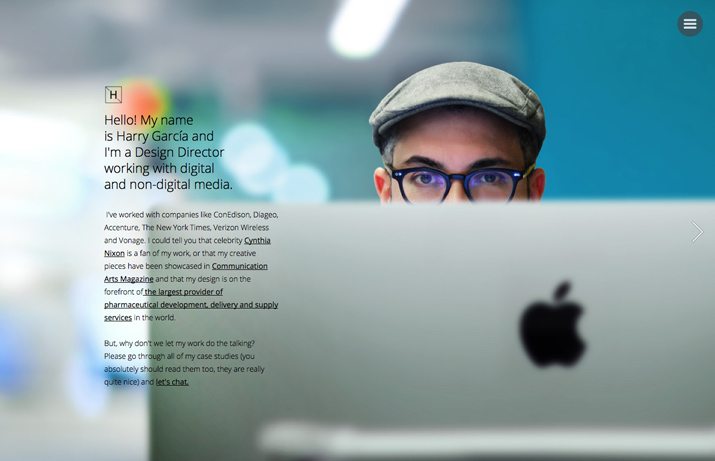 Readymag is built on the idea that "everyone can be a publisher." The company has been around since 2012 and uses the concepts of old school printing and design in a digital medium.
"Finding inspiration in the beauty of printing and functionalist design philosophy, we started to rethink digital interfaces to build the most elegant, powerful and easy-to-use online publishing tool," the company explains on its website. "At Readymag, we're passionate about thoughtful design and truly believe that better tools empower people to self-express and inspire to create a better content."
The tool is simply a code-friendly publishing tool that can be used to create simple websites, presentations or portfolios. Readymag helps you create a website that works on any device – yes, it is responsive – and works using drag and drop tools. So if you are still somewhat intimidated by coding, this might be the right tool for you.
The tool allows you to design in-browser, add interactive (already coded) widgets for special features and take your site live with one-click. The concept combines ease of use with quick publishing capability, for a tool that almost anyone can use.
Key Features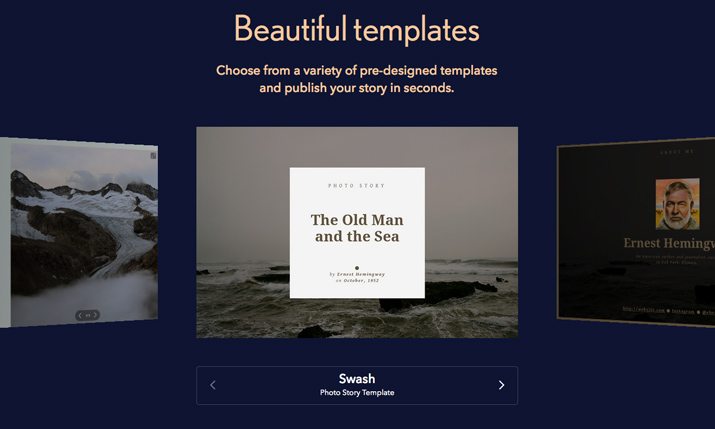 Readymag allows you to build a variety of websites (called mags in their interface) with a lot of tools to make creation simple. While many of the key features are included with every plan, even the basic or beginner option, some are limited to premium options. Key features include:
Responsive design. Anything you build will render on desktops, tablet or phones.
Google Analytics integration for each of your "mags."
Plenty of design options from a wide color palette to more than 1,500 web fonts from providers such as Google, Typekit and Webtype.
Add a custom URL or completely white label your site with the custom domain option.
Mags are search engine optimized as you build so your site is easy to find online.
Every image gets a high resolution version for retina-ready displays.
Interactive embedding previews that you can put on other websites.
Custom templates for ease of design.
Private option allows you to password protect mags.
Using the Design Tools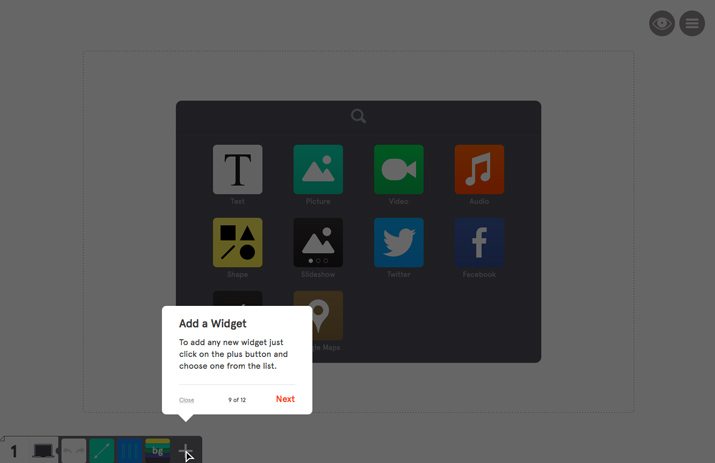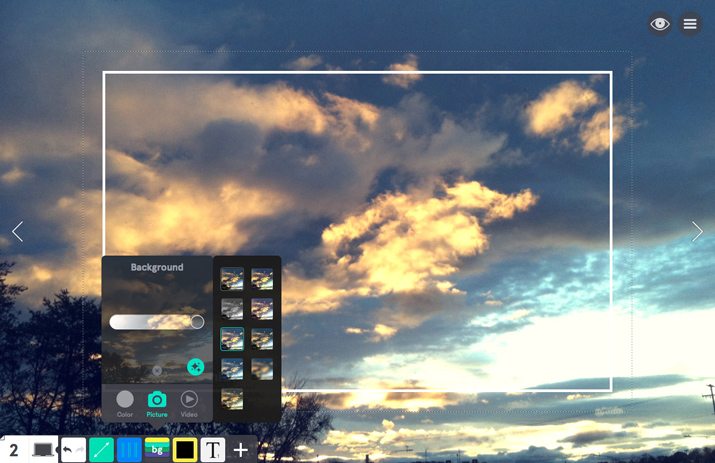 One of the nice features about Readymag are the options for use. Usability starts with the login/registration phase and is easy every step of the way.
Registration only takes a couple of seconds with Facebook or Google login (or you can create a new account if you don't want to link interfaces). You are then promoted to learn the tool in a 12-step tour or by watching a video.
It takes a few minutes to get a feel for the interface, because it is quite different than almost anything else. But after a few clicks, it really starts making sense. (Start with one of the preset templates to make the learning curve easier.)
The basic tools for editing have tools within them as well. The tool menu includes options for page format, guides, backgrounds, shapes, text and widgets. The photo tool, for example (above), includes options for zoom and scale as well as a handful of fun image filters.
You can move arrange, add pages and build pretty quickly. It will go faster if you collect all of the stuff (text, photos, video, links, etc.) you want on your site in advance. You can preview as you go and once you are ready, click publish.
Pros and Cons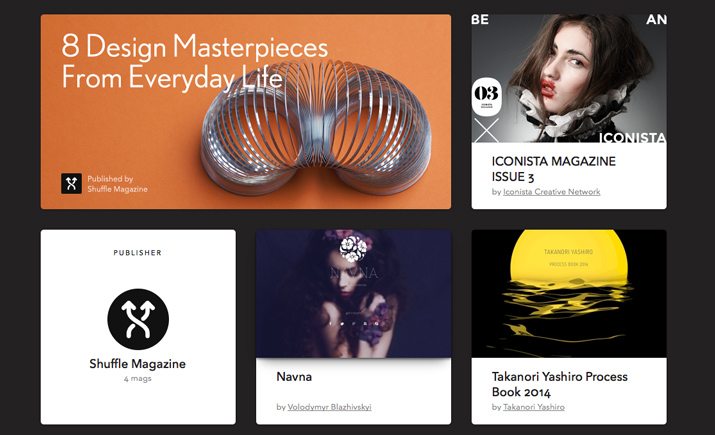 As with any tool, Readymag has some features you will love and others you may not enjoy so much. The pros tend to outweigh the cons, especially for a tool with a modern, well-designed interface that helps you create a polished website quickly.
Pros:
Site creation is easy for those who do not want to code.
Everything is quick to set up and publish.
The drag and drop tools give you a lot of control over the design.
Templates and the interface make it easy to create a site that is simple or complex.
Responsiveness is a must.
Small customizations are nice, such as custom URL even with the free plan.
Actual "magazine" sites could see a lot of benefit from the ability to publish multiple editions and list them on the home page.
Widgets are easy to use and integrate common tools such as text, shapes, images, video, audio, slideshows, Twitter and Facebook, iFrame and Google maps.
Templates are easy to use and a good starting point
Readymag paid plans are affordable and open up great features for users who will use this tool as their dominant web platform.
Cons:
The interface is a little difficult to use at first.
The site uses some terminology you might have to think about – mags, covers, etc. – if you are not used to publishing terms.
Template options are somewhat limited.
This tool is best suited for magazine-style or writing/photography portfolio content and might be difficult to use with other types of information.
Cost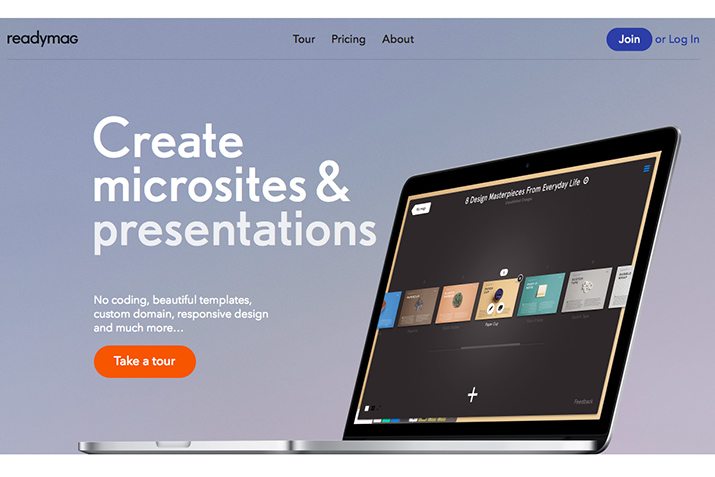 Readymag has three tiers of pricing plans and users can opt for monthly or annual billing. (Annual accounts get an extra discount.) All of the plans include hosting of your information. And if you want to upgrade or downgrade a plan, it's possible to do so at any time.
The free plan includes 1 magazine, 10 pages, templates and support. Users can register free for this option and do not have to enter a credit card number.
The publisher plan is $15 per month, or $108 annually, and includes unlimited magazines and pages, templates, support and the ability to export data to PDF.
The super publisher option is $20 per month, or $144 annually, and adds on features such as private magazines, Google Analytics integration, domain mapping and a white label option for your site.
Readymag is also planning an educational plan soon. Keep an eye on the site for details as that project nears launch.
Conclusion
Readymag is a nice tool with a lot of features. It's easy to use and understand and makes creating something that looks good easy. Practically, it is best suited for portfolio-style websites, but with a little planning could be expanded into something more.
A responsive option that is easy and works without coding is an appealing option for busy creative professionals. You can build a site for free, so there's nothing to lose if you want to take Readymag for a test drive. Have fun!
This post was sponsored via Syndicate Ads. Thanks to them for their support of the site.