Get 3 Months of Skillshare Learning for $0.99
Keeping up with technology and maintaining your design skills has never been more important. From learning how to make the most of software and tools to learning how to create a watch app, there are plenty of opportunities for any designer, developer or freelancer to take advantage of on the path to success.
And right now Design Shack wants to help you better your skills. Right now, all Design Shack readers can take advantage of a stellar deal – 3 months of Skillshare for just $0.99! You can cram in all the training you want for less than the cost of the sugar in your coffee. Here's a look at what you can do with Skillshare.
Get unlimited downloads of 2 million+ design resources, themes, templates, photos, graphics and more. Envato Elements starts at $16 per month, and is the best creative subscription we've ever seen.
What Is Skillshare?

Skillshare is an online learning platform where you can learn anything from illustration to code from high-quality instructors. It's a community-based learning platform for creatives. With more than 2 million students and more than 10,000 courses, this platform has quickly grown up to be one of the best places to learn new skills in a short time.
And you can do it all on a budget. While many of these learning portals can be somewhat pricey or charge by the class, Skillshare is subscription based. You can take as many (or few) classes as you want each month.
Plus, Skillshare is easy to use. The classes are designed to be digestible. Some classes are only 15-minute lessons, while more are less than an hour. You can watch the videos on your own schedule from any device. Plus, the instructors understand how you learn and classes are designed with that hands-on element so that you can create projects for your portfolio as you learn new skills.
What Can You Learn?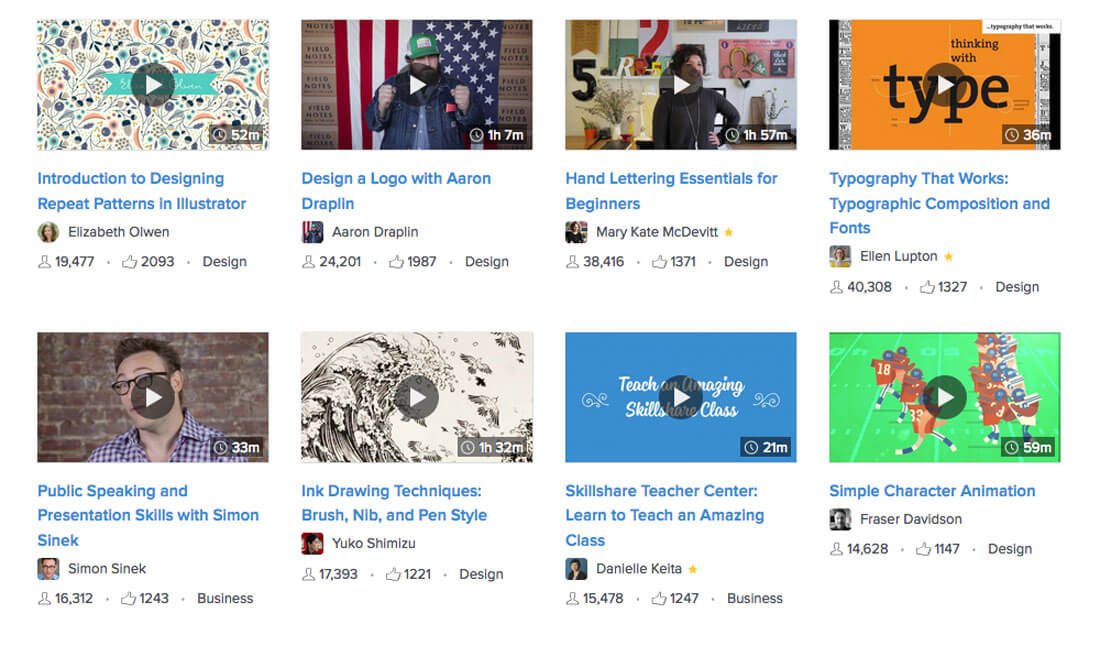 Skillshare has a database of more than 10,000 classes in a variety of subject areas including:
Business
Design
Web Design and Development
Crafts
Film
Music
Culinary Arts
Photography
Technology
Writing
The offerings are diverse enough that you can use Skillshare to help grow in your field or hone in some of your hidden talents or hobbies. (The classes are fun enough that you'll probably want to do both!)
Skillshare also offers learning tracks if you want to do a dive deep into a particular topic. You can take sequenced classes in areas such as digital marketing, illustration, hand lettering, logo design, videography or even cooking!
Amazing Design Courses
For designers, Skillshare has a great collection of courses that you can take and use right away.
Before you learn to code or start designing website, it's important that you understand what a "design" really is and how to craft websites that not just work well but also look amazing.
In this course, Jack Zerby, the Founder and Designer of Flavors.me and Goodsie, will take you through the process of understanding how design works and how you can implement great design techniques in your websites.
An Online Skillshare Class by Jack Zerby
This course, led by Vitaly Friedman, editor-in-chief of Smashing Magazine, is the perfect place to start learning about UXD. The course will teach you about 7 different components of successful user experiences and how to mesh them together to craft amazing web experiences.
An Online Skillshare Class by Vitaly Friedman
You can find these and examples of other great design courses in a previous Design Shack article.
Something for Freelancers, Too
Skillshare is packed with tools to make you better at managing your business as well. Freelancers can learn new design and development techniques as well as how to better interact with clients or even speak in front of a group.
If you're thinking about getting started as a resume/CV writer, this course will prove to be a great resource. In this course, Davis Jones, Co-founder of Eazl, teaches you how to write a killer resume, optimize it for keywords, reverse engineering, and how to describe each section of the resume with clear precision.
An Online Skillshare Class by Davis Jones
Branding is an important part of building a profitable freelancing career. It's how freelancers like Faye Brown stay on top of their industry. They don't even have to go look for work, clients come looking for them.
Take this course to learn the basics of branding your creative business, like coming up with a good brand name, writing a great mission statement, visual branding, and more.
An Online Skillshare Class by Faye Brown
You can find these and examples of other courses just for freelancers in a previous Design Shack article.
Try It for Just 99 Cents
What makes Skillshare so great is its high-quality standards that require instructors to offer only the best courses. (You'll learn from great names in design such as Ellen Lupton, Dan Rubin, Brad Woodard and Jessica Hische.)
Unlike other online learning platforms, you don't have to buy these courses individually. Skillshare's Premium plan is only $8 per month and you'll get access to all these courses and thousands more at once.
Better yet, we have a special offer for Design Shack readers. For a limited time, you can get three months of access to Skillshare Premium for just $0.99! It's an absolute bargain, so be sure to head over to the site and take advantage of the offer. You'll be amazed what you can learn in your first three months!