Stay Completely Organized With Rindle
Designers and freelancers of all types often have one thing in common: the need for tools to streamline workflows and stay organized. So there's always a bit of excitement surrounding new tools that can help you do just that.
Rindle, which is currently in private beta, is one of those tools. What sets it apart from the pack is that it is built to work with many of the apps you are already using to streamline daily tasks and keep you on track. Here's a look at how it works.
Get unlimited downloads of 2 million+ design resources, themes, templates, photos, graphics and more. Envato Elements starts at $16 per month, and is the best creative subscription we've ever seen.
What is Rindle?

Rindle is an app that empowers you to stream information from the tools you already use to automatically generate tasks and move them through your workflow. It's a cloud-based tool that connects tasks in apps you already use to help you increase efficiency.
Rindle saves you time and keeps you more organized. Instead of jumping from app to app or between tabs all day, everything is located in a single dashboard with Rindle because it centralizes all of your tasks into one app.
Rindle is more than just an organization tool; it's a well-designed organization tool. (Something that creative professionals of all types can appreciate. It features a sleek Material Design style interface that you can use without any training.) Whether you are a designer, developer, writer, product manager, freelancer or entrepreneur, there's a more efficient way to manage projects with this tool.
What's particularly nice about Rindle integrations is that with everything in one place, you'll be able to keep focus on tasks. (Just think of how much time you waste flipping between tabs and apps – all while getting distracted.) The Rindle dashboard contains all of your workflow, so you can decrease some of the digital clutter and work faster.
Automate Workflows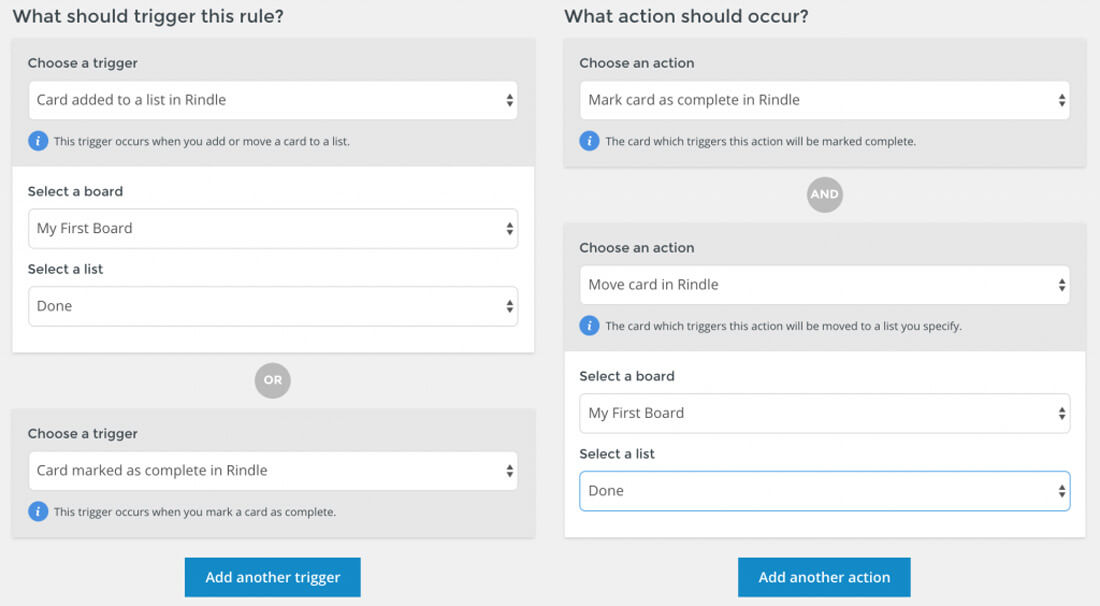 Rindle automation is what really sets this app apart from other workflow tools you might have tried in the past. Powerful rules trigger actions inside and outside of the app so that things get added to – and checked off – your to-do list instantly.
Here's how it happens: You create a rule, which consists of triggers and actions using a simple form that helps you determine what you want to happen.
Triggers actions include marking an item as complete or moving an item to a specific list. Actions relate to things that happen within associated apps, such as checking an item off of a specific list in Wunderlist.
Workflow automations only take a few minutes to set up in Rindle and will change the way you work and think about some of the apps that you use every day. Tasks can be streamlined and you'll have a few more minutes in the day to do something else!
Integrates with Other Apps
The biggest advantage to using Rindle is that it works with tools you are already using. Just connect each app to Rindle to access the information you need in one location. (These are called "Drops" within the app.)
Gmail
Trello
Slack
JIRA
Basecamp
GitHub
Teamwork
Todoist
Wunderlist
Key Features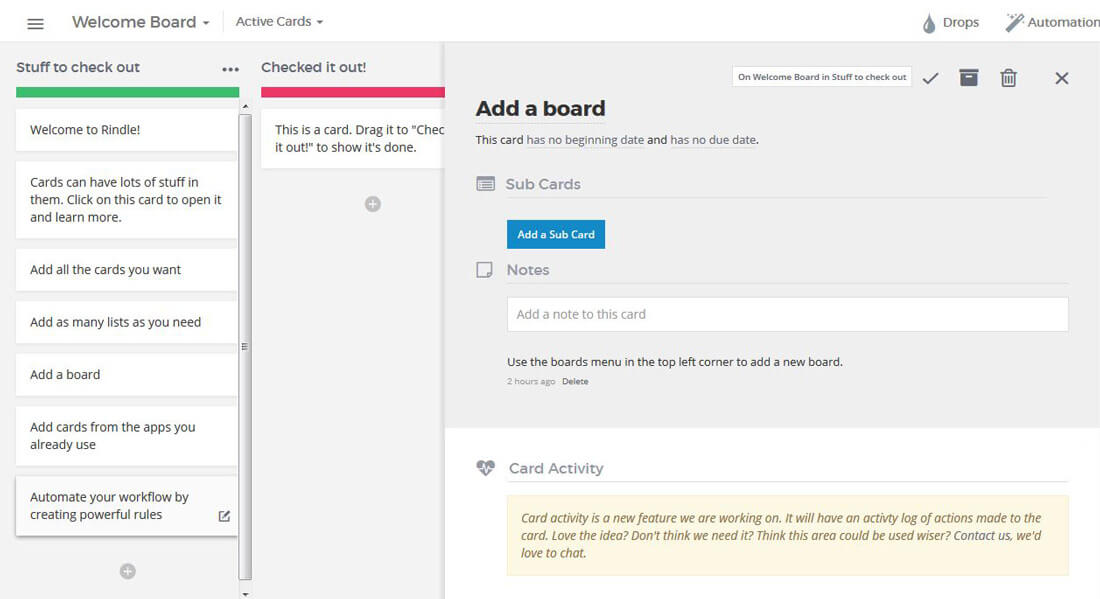 So how exactly does Rindle speed up your workflow? Thanks to automated tasks and plenty of app integrations, you can pull everything you use regularly into a single location.
Within the Rindle app, you can group projects, clients, tasks or topics in different ways. The design is intuitive as well. Rindle makes the most of cards that you can shuffle and organize. Think of every individual task or element as a card. You can also add cards from scratch or move them between different boards and lists.
The Rindle dashboard is completely customizable so you can make it work for you. Even users within the same company or team can have different dashboards. With Rindle, you can create your own boards and columns, each with a unique workflow that you create. It allows you to set your own workflow regardless of who or what platforms you are working with.
Pricing
Rindle is in beta and is free to try. The company will release pricing tiers soon and has promised awesome discounts for beta users. (So now is the time to sign up and try it out.)
Just head to Rindle and join the launch list.
Connect with Rindle
Rindle is adding features and improving daily thanks to a network of beta testers. You can request access and learn more about Rindle in a number of ways.
Conclusion
Rindle is one of those apps that really can change the way you work. It takes a few minutes on the front-end to get everything set up in the way that best suits your workflow, but once you've done it the rewards are there. If you like to see everything you have in your workflow and feel like you are always struggling with too many tabs or open apps, you should give Rindle a try.
It's easy to use and the cross-app integration works nicely. (Many of the apps are things I use every day.) Join the launch list and give it a try.
This content is sponsored via Syndicate Ads. Our thanks to Rindle for supporting the site!