Get More Done With a Remote Team and Taskade
Almost every team is adjusting to remote work and better workflows. Taskade can provide that boost for your team, whether you work across the hall or halfway around the world.
The tool looks like a simple to-do app, so it's easy to use. But the reality is that Taskade is powered by a tree-structured database that will help you manage workflows into action items. It's made for collaboration and comes with all the robust features you need to manage day to day activity.
Here's a look at Taskade and how you can make it work for your design team.
What Is Taskade?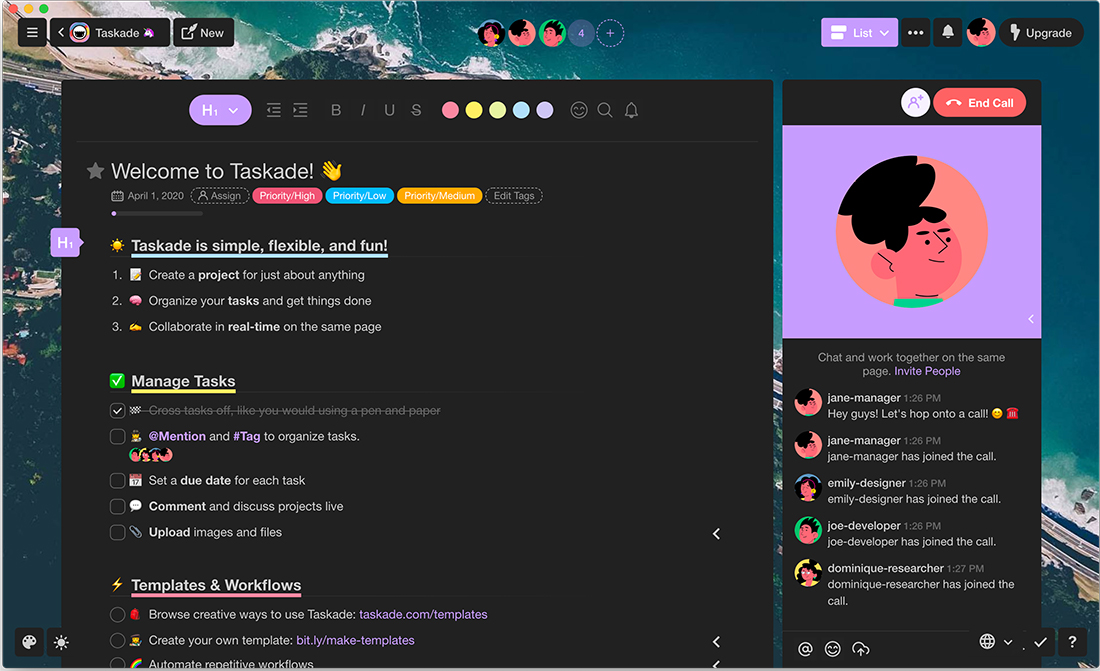 Taskade is a workspace to help you manage action items and keep teams moving together from anywhere. It's a tool for better collaboration and to keep workflows moving forward.
Taskade fits the bill with a sleek, intuitive interface that you won't be ashamed to share with others.
It includes the functionality of other apps – organization, task management, and chat – all in one place. (No more using multiple apps to get things done.)
Here's Taskade's description of the app: "Taskade is where remote teams get work done. Organize tasks, write product specs, automate repetitive workflows, and video chat with your team, all in one unified workspace."
It works with the platforms you already use on Mac or Windows desktops or as an iOS or Android app or as a Chrome or Firefox browser extension. (This is a major bonus because so many other apps only function one a single platform.)
Taskade is designed to work for any size team. You can use it to manage individual workflows as a freelancer with clients or part of a remote squad. Companies such as Capital One, Lyft, Indeed, and Verizon have already found value in using it to manage workflows.
The best part is that it is design (and designer) friendly. We all know that design teams want to use tools that work and look great. Taskade fits the bill with a sleek, intuitive interface that you won't be ashamed to share with others.
Taskade is the last collaboration tool you'll ever need for remote work.
Who Should Use Taskade?
The beauty of Taskade is that it is not industry-specific. Almost any worker can use the app to get more work done. For designers, it is a tool with a lot of practical use.
Designers will love this tool because it looks nice, works efficiently, and is packed with templates to jumpstart actual design projects. Some of our favorites include the "Ultimate Design System Checklist" and "How to Design Charts."
Taskade allows you to work on managing and organizing projects in different ways with lists, boards, actions, and mindmaps. Why does this matter? Because it lets team members work and process objectives and tasks in the way that works for them. (That's a key to efficiency.)
3 Core Features
The core functionality of Taskade is rooted in the idea that it is one tool that can handle the job of multiple other tools for remote work. Think of it as a "Remote OS."
Thre three core features of Taskade are:
Use it to chat and collaborate
Use it to manage projects and tasks
Use it to write and take notes
Why is this so important? Because with Taskade, you can use one tool rather that many. Think of your current workflow. You probably use one tool for chat (maybe something like Slack), another tool to manage projects (maybe Asana or Basecamp), and a third tool to write (such as Google Docs). With Taskade, it's all in one place.
Other Key Features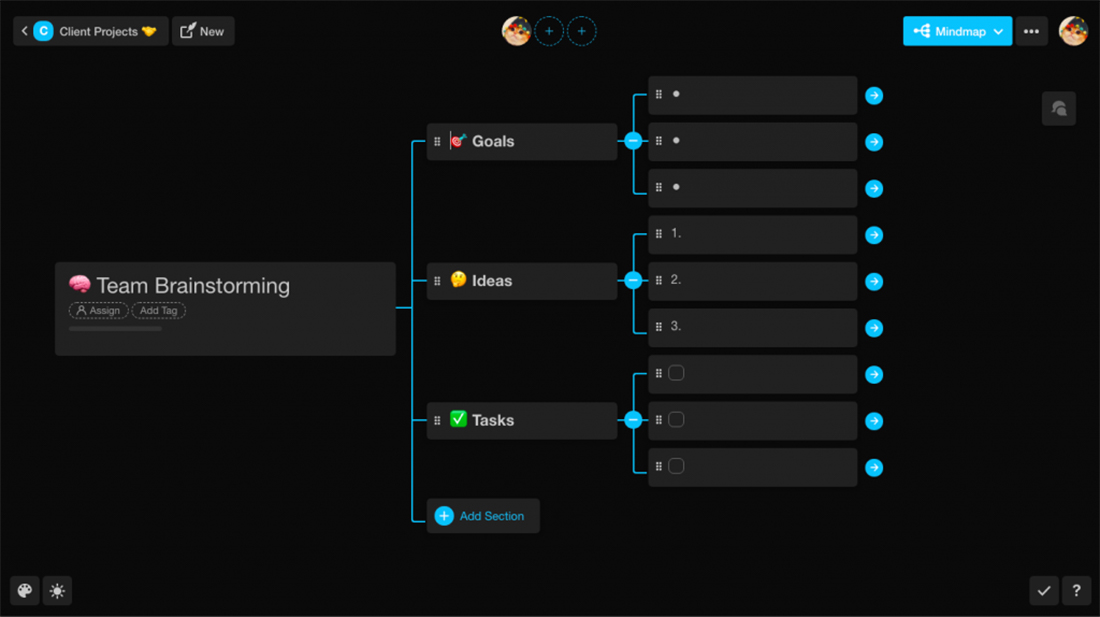 Taskade is packed with tools to make collaboration and remote work that much easier. One of the best features might be the ability to work on projects together in real time.
And if you aren't on the same schedules, that's ok, too. The app syncs everything automatically so that you are always up-to-date on projects from every device.
Features of Taskade include:
Create team outlines, checklists, and workflows
Share and collaborate instantly; invite participants to workspaces
Built-in chat and video conferencing (you don't need another app)
Create unlimited nested outlines
Editing is easy with one click (or tap)
Tag and organize projects based on your workflows
Assign projects or tasks to specific team members
Collaborative task management
Use workspaces to manage projects individually so that tasks align with specific projects
Desktop, app, and browser extensions for every platform (download it here)
Easy to learn and use
Templates and Workflows
Taskade makes it easy to start and finish projects thanks to a solid collection of templates and workflows.
These tools are predesigned models that include checklists, questions and answers for projects, workflow patterns, task management, and more. There are hundreds to choose from (and you can further customize them for specific projects).
You can use a template with one click. Just pick the one you want and click "use template." It pops right into your Taskade workspace and is ready to assign to collaborators. The toughest part might be finding the right template to start with (because there are so many).
But Taskade has worked to make that pretty simple, too. You can use the search bar or sort templates and workflows by type, such as design, strategy, or planning. If you just want to browse, start with Featured Templates. This category will give you an overview of all the different ways you can use the tool.
Guides and Tutorials Make It Easy
It can be said that any tool is only as good as the guides and tutorials that explain how to use it. Taskade is easy to use even without visiting the Help Center, but available guides and tutorials can ensure that you take use to the next level.
From the Getting Started guide to Tips & Tricks, there are plenty of simple walkthroughs and videos that will have you (and your team) navigating the tool like it has always been part of your workflow.
If you are still on the fence about whether Taskade is for your team, the FAQ section might be a good place to start. (We love that every question starts with an emoji.)
Pricing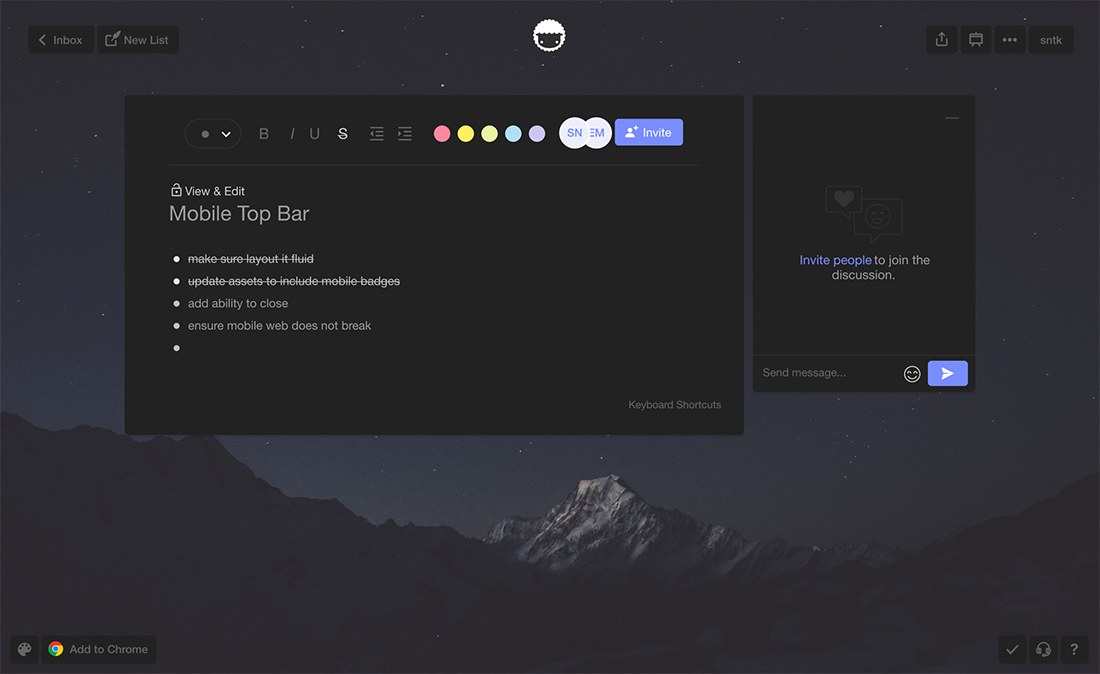 If you have a small team or are a freelance designer, you'll get all the essential features of Taskade for free. You'll only need to upgrade if you need more workspace capacity (and annual plans are super affordable).
Plans and pricing include:
Free: Includes 10 projects, 100 MB of file storage, unlimited tasks, unlimited collaborators, and essential features
Unlimited ($5 per month per user on an annual plan): Includes unlimited projects, collaborators, storage, and unlocks additional features such as priority support, custom training, revision history, and integrations with tools such as Dropbox, Google Drive, and One Drive
Sign up and try it out. You can log in with an email or Google account.
Conclusion
Taskade is a powerful tool to help remote teams and collaborators work better together. Whether you are a freelancer using Taskade to manage client projects or just one of a dozen people working on a website design, this tool can keep you on track.
Jumpstart your productivity with a highly-functional tool with a sleek interface. This might be the last collaboration tool you'll ever need for remote work.
Plus, you can try it free. Get started today.