UIBundle: A One-Stop Shop for Design Resources, Freebies, & Tips
Every designer has a favorite website where they go to download free templates, fonts, and UI kits. Usually, you keep multiple websites bookmarked for different types of design resources. What if you could download them all from one place?
UIBundle offers precisely that. It's a marketplace full of design resources available in popular categories. This site has everything from wireframe kits to icon packs, mockups, and more, all in one place.
The best part is most of the design resources on UIBundle are entirely free to download. Basically, it's every designer's heaven.
Let's take a closer look at this marketplace and see what it has to offer.
What Is UIBundle?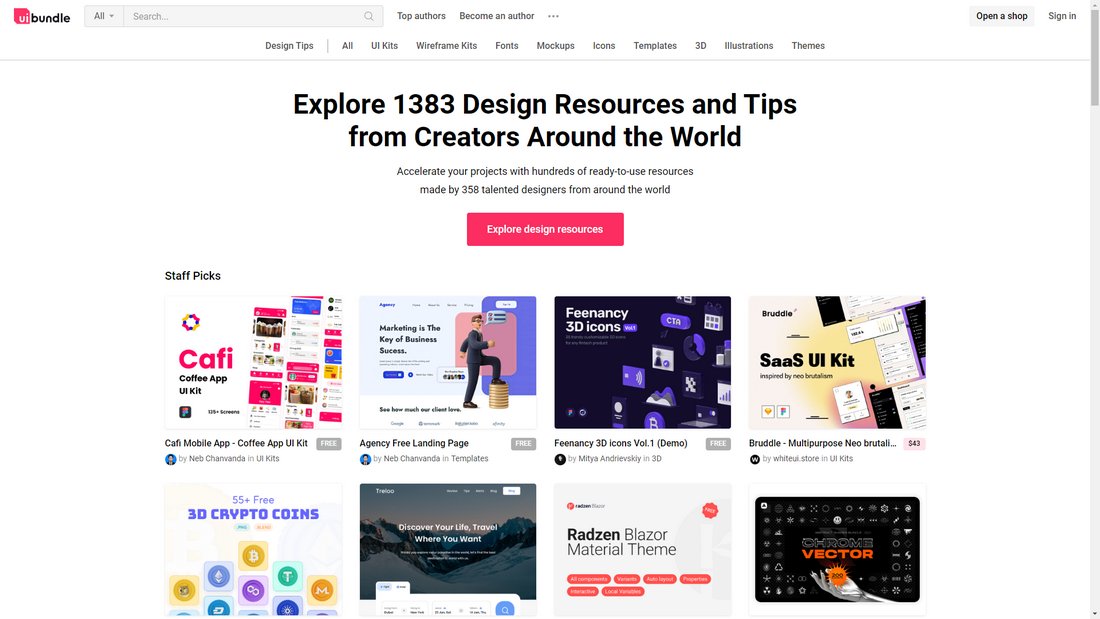 UIBundle is an online marketplace for design resources created by two passionate professionals. It has every type of resource and template you'll need for various types of design projects, including both free and premium downloads.
UIBundle is not only a great place to find free resources to download but it also offers a platform for designers and artists to promote their work and even sell their templates, icon packs, and other designs.
Having been created by two professionals, a designer and a developer, the website offers a very straightforward experience to artists and creators. There are no expensive subscriptions or complicated licensing terms. You can simply create a free account and start downloading.
Hundreds of Free Design Resources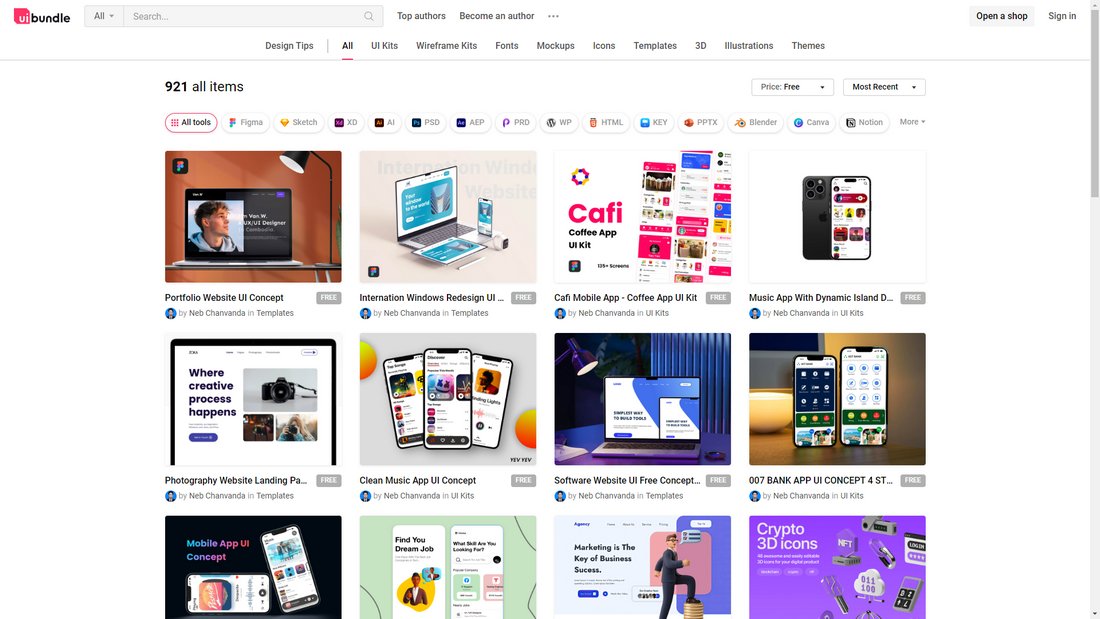 When a client comes to you with a small budget, you will often have to resort to using free resources for the project. But only the designers know how difficult it is to find free resources with a commercial use license.
There are plenty of free resource sites out there but they only allow you to use them for personal projects. Thankfully, most of the resources available on UIBundle come with a commercial use license, allowing you to use them with client projects.
UIBundle has more than 900 free design resources on the website and it's growing fast. A great thing about these resources is that they are also created by professional designers just like you. And you can expect them to be of high quality as well.
Lots of Categories to Explore
UIBundle covers all popular design categories. It has 9 different categories for you to explore all the resources.
For UI designers, there are wireframe kits and UI kits, which are available in a wide range of file formats, including Figma, Sketch, Adobe XD, Photoshop, and more.
Graphic designers can find everything from free fonts to icon packs, illustrations, and mockups, all in one place. You won't have to explore multiple websites to find them again.
For web designers and developers, there are lots of pre-made website templates, Bootstrap admin templates, and themes to choose from. Most of them are free to download.
Learn With Simple Design Tips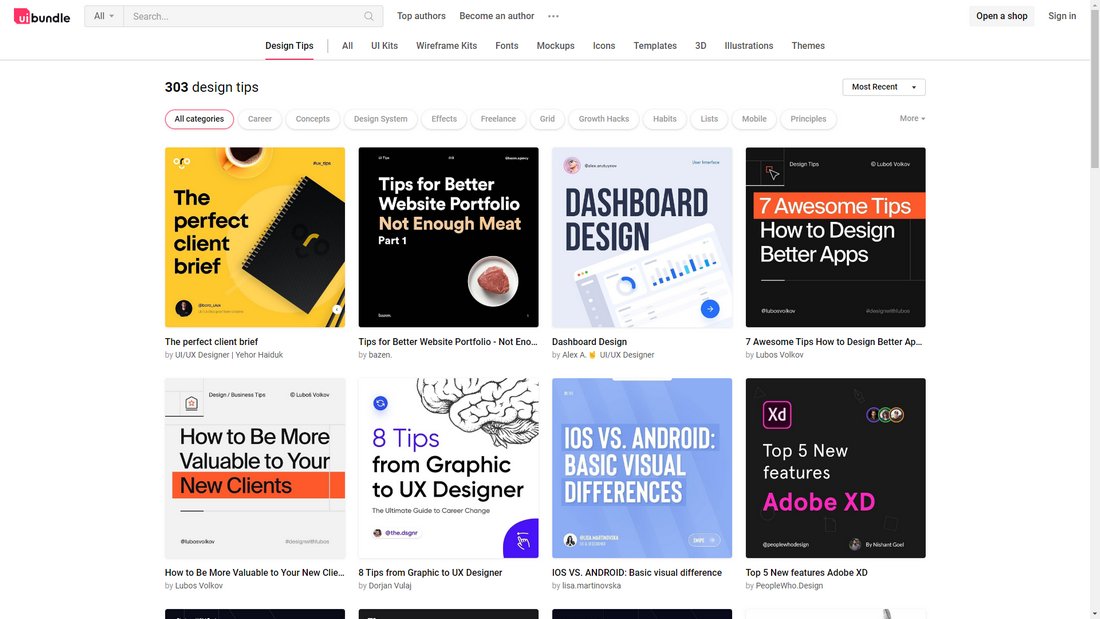 UIBundle also has a Design Tips section with valuable tips and hacks for beginners. But these are not long tutorials or guides.
The design tips in this section are available in a slideshow-like format. This makes it much easier and simpler for you to consume the information and learn much more quickly.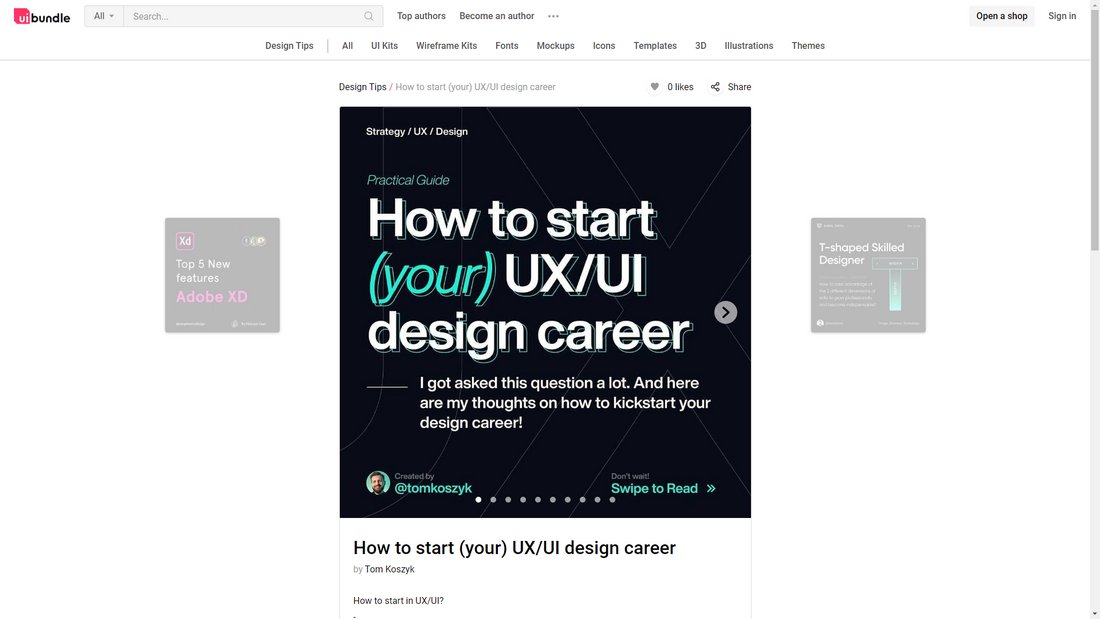 There's no need to skim through thousands of words to learn just one design tip. UIBundle design tips are short, concise, and broken down into bite sized slides for you to learn only the most important information within a couple of minutes.
What makes these tips even more impressive is that they are shared by other professional graphic designers and developers. It's their way of passing on the knowledge to the new generations.
Sell Your Designs & Templates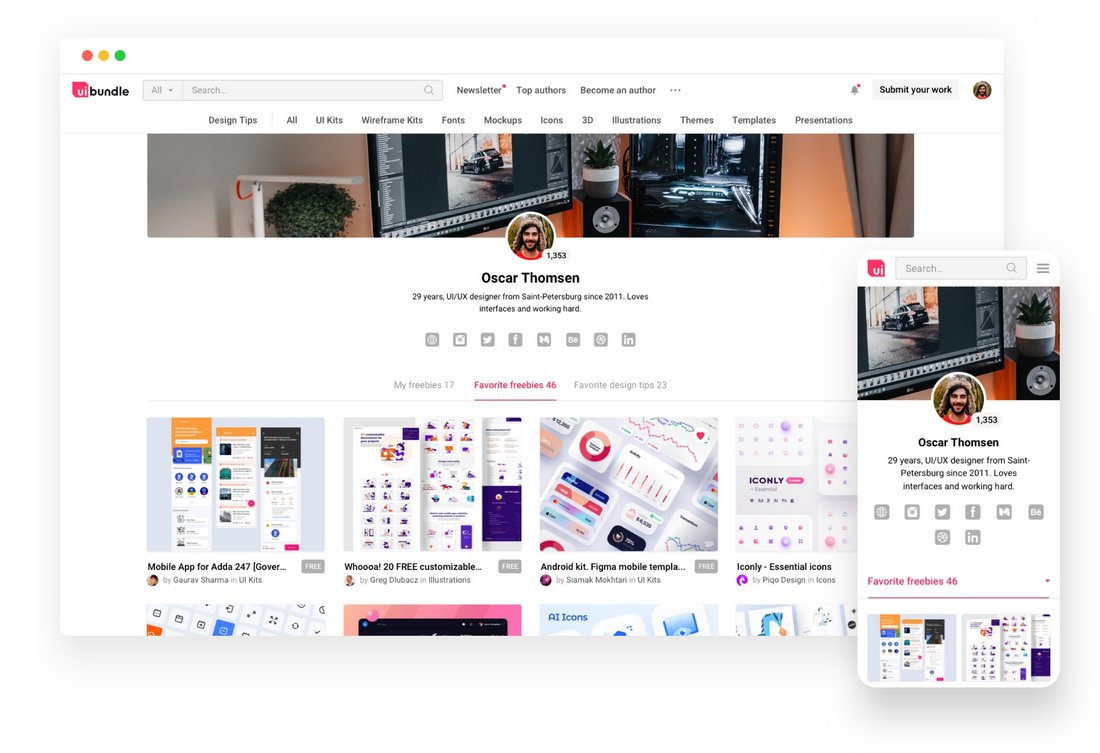 If you've ever thought about sharing your designs with the community as a free template or even selling them online to make a side income, UIBundle has a place for you too.
You can easily create an account to become an author on UIBundle and open a shop right away. UIBundle is using the Gumroad affiliates system and you will earn 60% from every sale you make.
Sharing free design resources is also possible on UIBundle and it's definitely a great way to build your reputation as a designer and attract new clients.
Simple Licensing
If you view the licensing terms for any design resource marketplace, you will be presented with a multi-page document with various tiers of rules and guidelines. Those complicated licensing systems make design work a nightmare for professionals. That's not the case with UIBundle.
UIBundle uses two simple licenses for its free design resources. They are available under "Personal & Commercial Use" or "For Personal Use" licenses. And no link or attribution is required.
The licensing is clearly shown on the description page of every item so you'll know how to use them.
Should You Bookmark UIBundle.com?
If you love freebies and high-quality premium templates or even if you want to learn design from experts in bite-sized pieces, then UIBundle is a website that deserves to be among your precious bookmarks.
UIBundle has one of the most impressive free design resource collections we've seen and the way it offers all those resources under simple licensing terms makes it even more useful.
Whether you want to download resources or sell your own templates and designs, UIBundle is a fantastic website for all types of designers, creators, and artists. Be sure to check it out. It's free to sign up after all.