5 Outside the Box Revenue Stream Ideas for Agencies
One of the most challenging aspects of running an agency is contending with the constantly revolving door of clients. This is simply the nature of the industry – a job well done basically leads to a client relationship ending because they no longer need you anymore. Did you nail it with your first attempt of an awesome logo design for that new client? Great – time to say goodbye.
This revolving door means you always need to feed your sales pipeline with new prospective clients, and it can feel like you're never getting ahead. Even with great referrals and an undeniably compelling portfolio, it can be difficult to generate enough qualified leads to consistently hit your targets, month after month.
No wonder workflow efficiency, sales processes, and lead generation are the top three operational improvement areas among agencies for 2022, according to a recent Productive poll.
If you want to add more resilience to your cash flow, you should consider adding more revenue streams to your business. It's better to focus on a few dependable revenue streams, where your agency will be able to excel, rather than diversify too broadly.
The best direction, to begin with, is to pick areas adjacent to what your agency already does, which means you won't waste too much time trying to build a new reputation or retraining staff.
Here are five ideas to get you started.
1. Start A Paid Newsletter
Once your agency has established its reputation, it's possible to tap into another lucrative market by teaching other designers. There are many hungry new designers who want to improve their skills so that they can charge higher rates and gain more clients themselves. What's more, many potential clients in the discovery phases of their journeys are likely weighing managed services against the DIY approach.
Your agency can set up on Substack with almost no investment and start a design-based newsletter. Each week, someone in your agency can write up case studies from previous clients and comment on the latest trends in the industry.
A great example is the The Design Mom newsletter by Gabriella Blair. She charges just $5 per month, and payment is voluntary, but she has hundreds of paying subscribers, so she brings in a handy amount of money relative to the time it takes her. Along the way, Blair also gains the additional benefit of increasing brand awareness for her services.
2. Partner With Your Clients for the Long Term
Design and marketing projects can come early in a startup's life before they're locked into software in the long term. This gives your agency the opportunity to sell other services that they are likely to need. If your clients are impressed with the professionalism of your agency then you have a head start over any competitors.
Almost all digital companies will require some form of lead management, communications, and customer relationship management (CRM) help, this is often one of the most complex things for early-stage companies to master. If your team designs landing pages, drives traffic, or otherwise helps clients to capture leads, expanding into lead nurture services simply makes sense.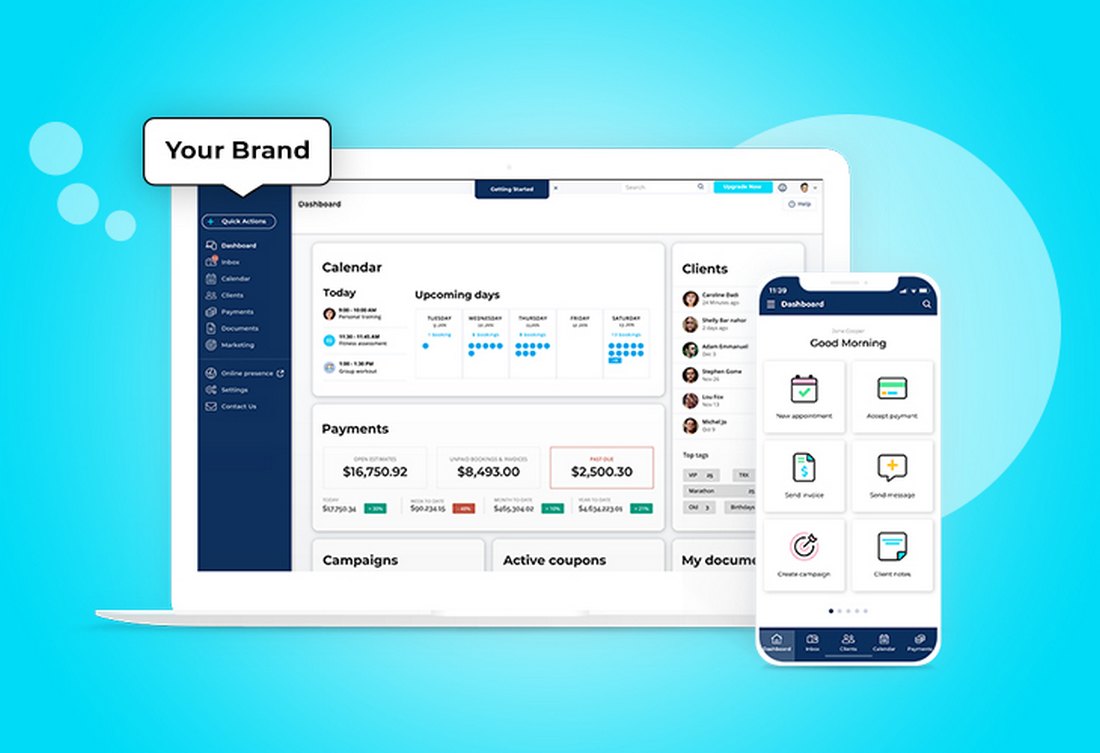 Your agency can build a long-term relationship with the client by offering a co-branded app with vcita. This will handle all of their customer messaging, CRM, and accounts receivable needs, and your agency will be able to support them with their most intricate requirements. The platform also supports modules for other common functions such as appointment scheduling, bulk service pre-purchases, and discount coupons.
This is "software as a service" (SaaS) in its purest form. The extra benefit of partnering with your design and marketing clients in this way is that when they have new design projects, your agency is already there and at the front of their minds. You can even set up your co-branded app to offer upsells and additional third-party services.
3. Create Plug-and-Play Templates
It's a bitter truth that not everyone has the budget to hire an agency directly. It might be because they lack the funds or because they don't realize the value of personalized service. Yet in sum, if you ignore this group, you miss out on a large potential revenue stream.
People still want something high quality for their minimum viable product, and you can help by creating niche templates, plug-ins, and themes. They can buy these for a fraction of the cost it would take to engage you directly – and quickly customize them as an add-on service, to suit your clients' needs.
While it may be less income per customer, it's a highly scalable model, because there is little additional effort for your agency once the templates are made. Customers who buy your agency's templates could later become fully-fledged clients too.
For instance, your agency can design WordPress templates which can reach mass appeal through the theme store. If your design proves popular, this can scale rapidly. Sydney Pro is a WordPress theme that the aThemes design team sells for $69 per year, for example, with over 1000,000 users in their ecosystem across both the free and paid versions.
4. Become an Affiliate
It's normal for designers to need to use multiple programs to do their jobs effectively. It's a core skill for designers to be competent at learning new technologies to keep up with industry trends. When clients are working with an agency, they'll often try to ask questions beyond scope because they trust the opinion of their designer.
For most people, choosing between different software providers is difficult because there are too many options – all of which claim to be great, of course. It's easier to get a personal recommendation than go through all of the research personally for these people. It particularly makes sense for clients to ask for your views when they're looking for software to build out a website design.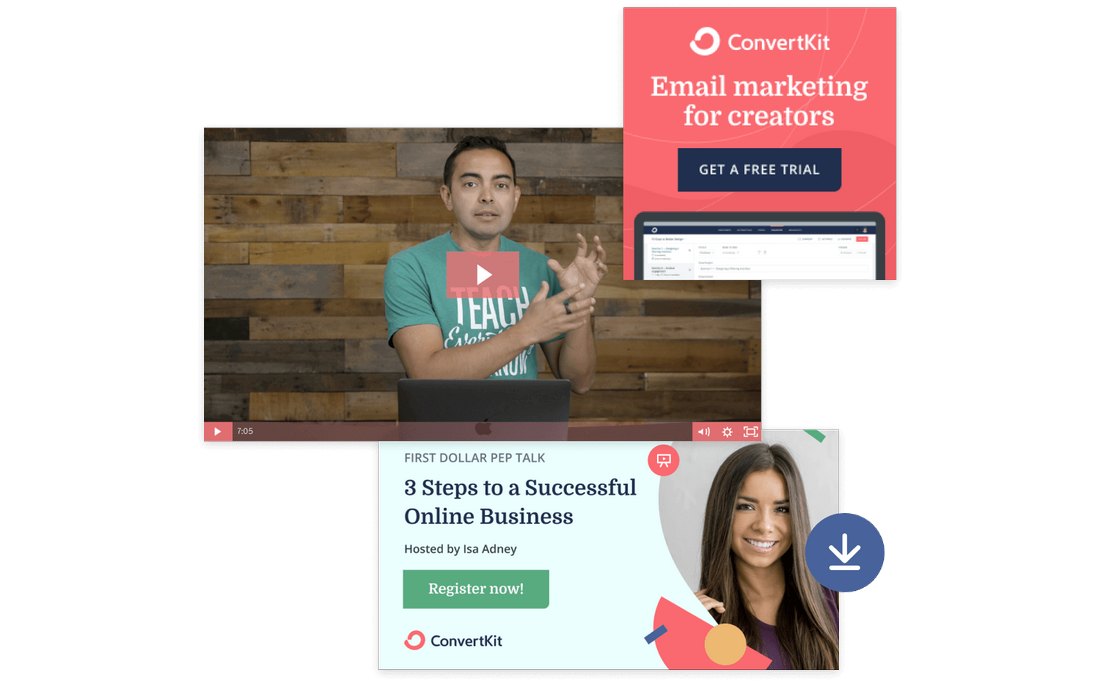 Your agency can maintain a list of affiliations with SaaS products that you encourage your staff to recommend. A product like ConvertKit is perfect in this context, as their affiliate scheme is subscription-based, so you can earn 30% of your referred clients' spending every month. While it may not initially sound like much, this can grow in the long term as you persuade more clients.
5. Manage Client Social Media Accounts
Clients understandably expect the agencies they work with to have strong eyes for aesthetics, and the visual aspects of social media have been rising in importance in recent years. Your agency can expand its services to include social media management, where the agency will be able to help clients to stand out in the newsfeeds.
Your agency can create a beautiful theme for the clients beyond what the average person can do on sites like Canva. This type of work should be easy once you've set up your initial theme. If you use a program like Later, you can bulk create images for their accounts and schedule the posts.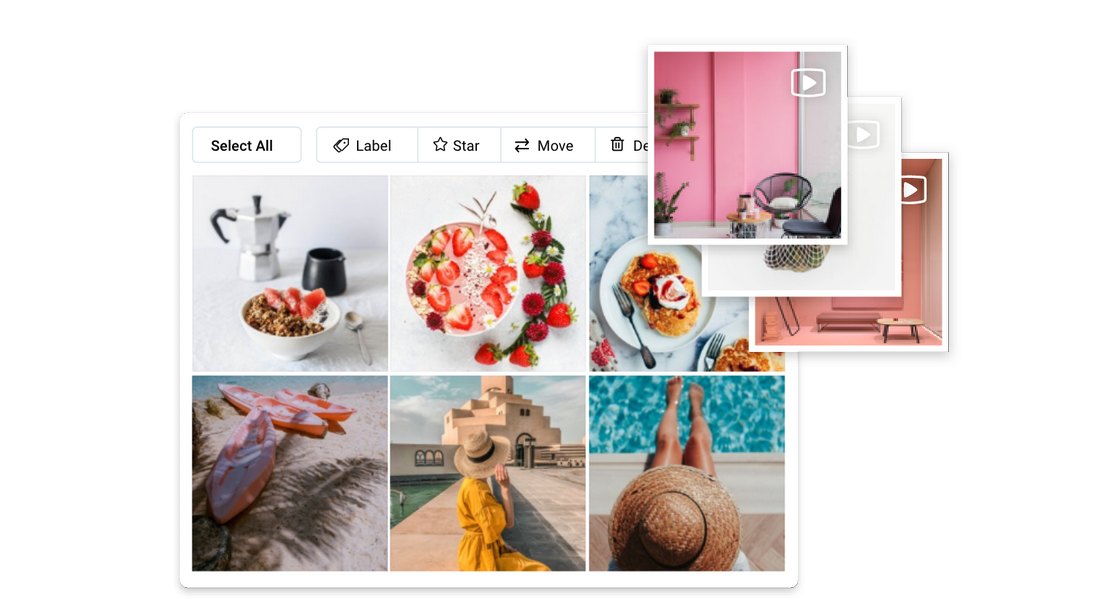 Within a short amount of time, you can do a month's worth of content for your client. You may find the hourly return on this type of work is low to begin with but very high after a few months.
Final Thoughts
Design agencies need to look beyond just design projects to add resilience to their finances. By thinking a little bit outside of the box, your agency can add additional revenue streams. The key is to make use of the skills your designers already have and it can be set up quickly.