How to Design a Poster for an Event: 7 Key Tips
Event poster design is a lot of fun. For most poster projects, you really get to express creativity with a one-off design for a single event. While you may still have constraints such as brand typography or color palette, there's often lots of leeway to create something visually impressive.
With a goal of enticing people to show up or buy tickets, you have to design with impact for these kinds of project. But you also need to convey quite a bit of information in a concise way.
Here's how to design a poster for an event.
Download thousands of stunning poster templates, flyer templates, and more with an Envato Elements membership. It starts at $16 per month, and gives you unlimited access to a growing library of over 1,400,000 poster designs, flyers, print templates, themes, photos, and more.
1. Focus on a Theme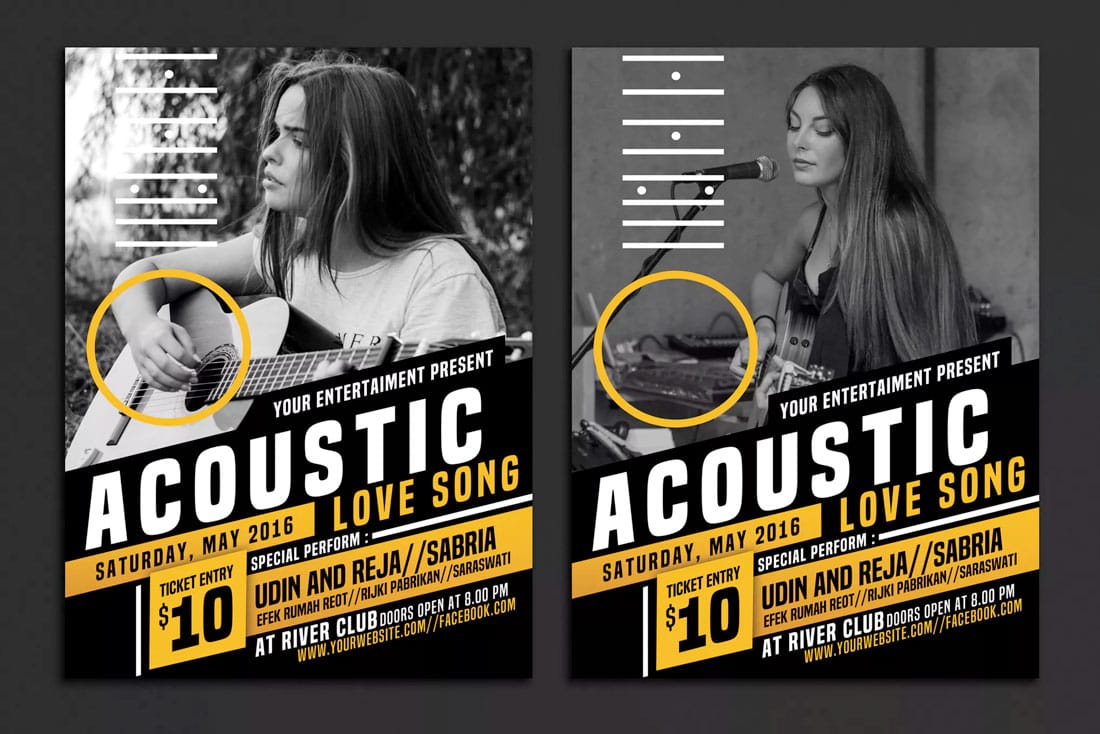 The biggest problem when it comes to event poster design is that they get slapped together too fast. Treat it like a special project and establish a visual theme for the design.
Consider creating a series of similar posters with different artwork using the same aesthetic. If you are planning to place posters in multiple locations this can help people who have seen one version take a fresh look at another poster in another place.
A good event poster theme has a feel that matches your event. Is it serious or fun? Use colors, typography, and imagery that match that tone.
2. Make it Readable from a Distance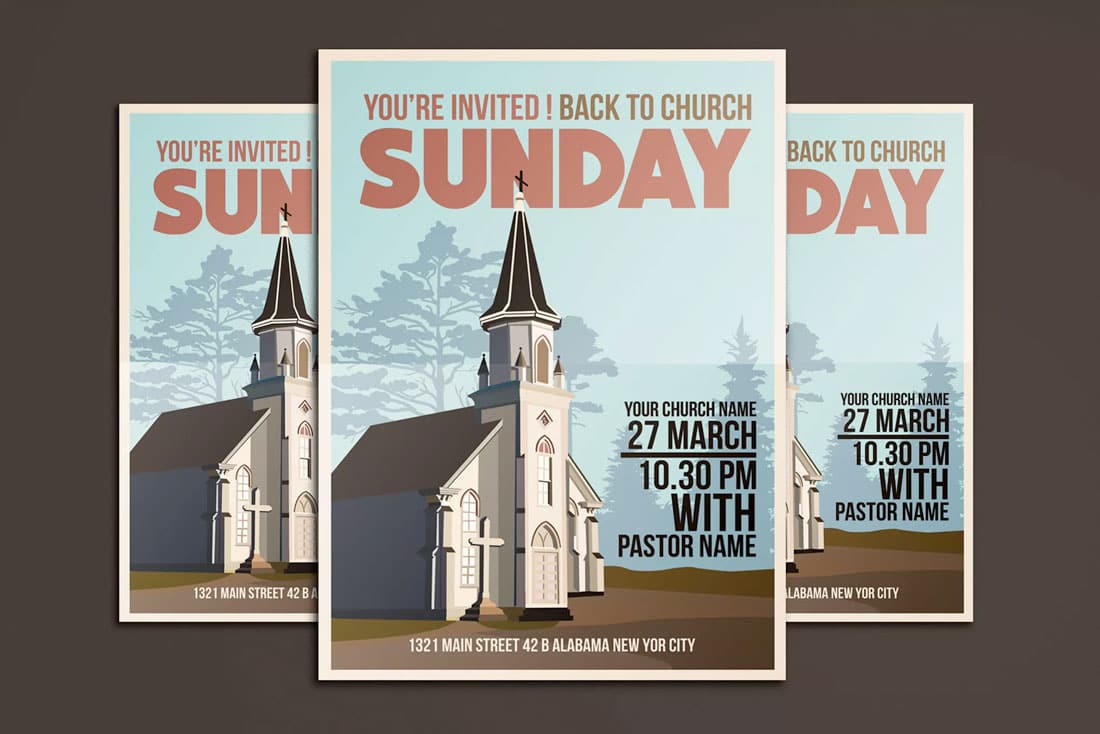 It's almost impossible to make text elements too big on an event poster.
People need to be able to see and read key information from a distance. Poster readability extends to both words and text elements, but also imagery. Can you tell what the event is about from afar?
Top-level event poster hierarchy should be oversized and designed to draw users in. Secondary and tertiary information can be smaller.
Pro Tip: Many users now take pictures of event poster with their mobile phone to remind them of event details later. When you are designing the poster, print a copy and try it out. Can you read all the key information when you take a photo of it? If not, keep working with the design elements to ensure this type of readability.
3. Include Key Information
Time. Date. Place. Contact information.
Does your event poster include all of the above?
If not, it probably needs to. Give people what they need to get interested in your event. Don't make them guess.
4. Use a Stunning Visual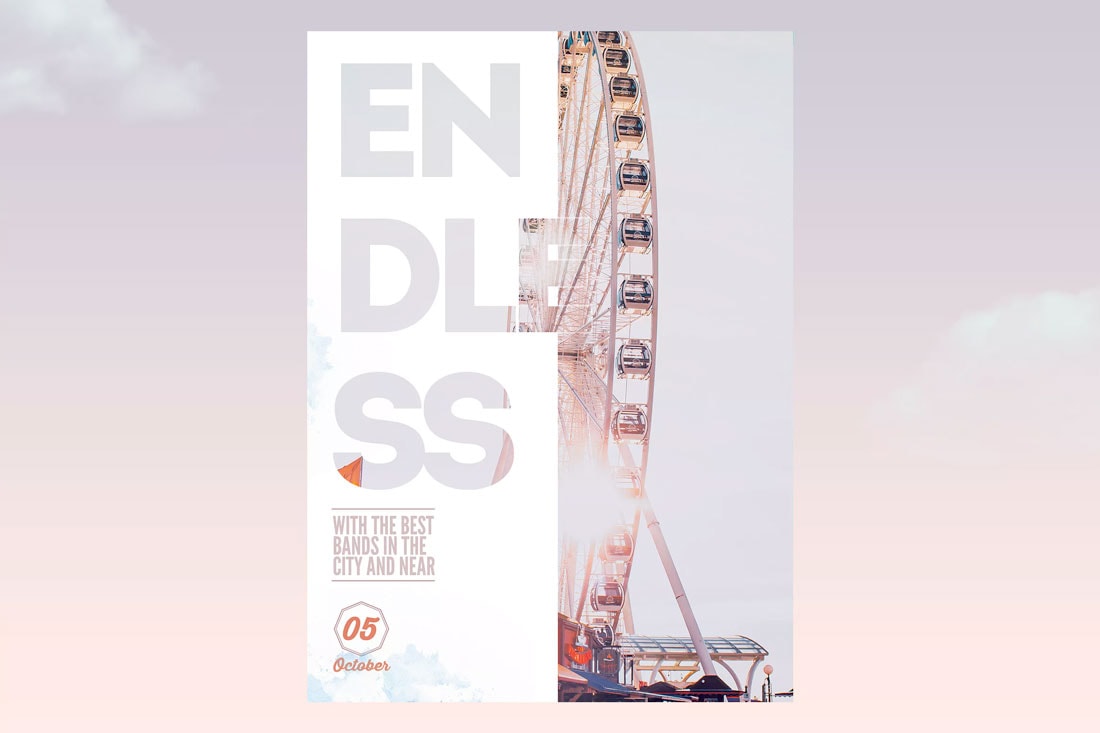 It doesn't matter what the visual is for your event poster … as long as it is good.
Photos, illustrations, cool text elements, or color can all draw people into a poster design. The more stunning the visual, the more likely it is to capture a user's attention.
The challenge with poster design is that it has to stand out in the environment around it. Unlike web design, where users are already on your site by the time they see the design, posters rely on design to bring users closer to them. That's why a stunning visual is so important.
5. Incorporate Branding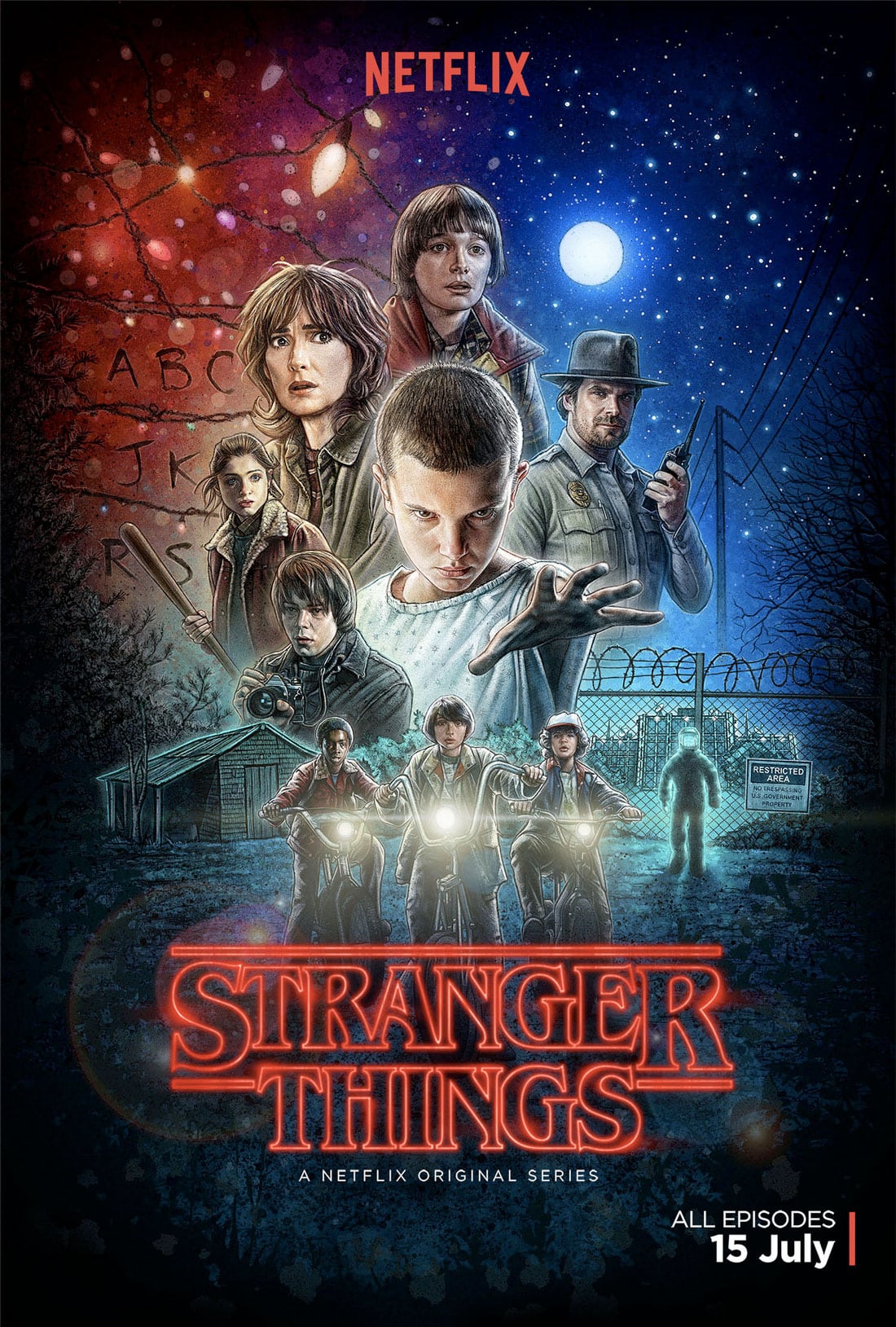 For events that are put on by an organization or have sponsors, don't forget to include logos or brand information.
These elements don't have to be huge but should be displayed in such a way the people know who's working with the event if it is relevant.
The official release date poster for the Netflix show, Stranger Things" does just that. The show name is the biggest text element, but Netflix branding is still in a prominent location. It gives two groups of potential viewers – fans of the show or general Netflix users – equal opportunity to care about the event.
6. Make the Most of Size and Scale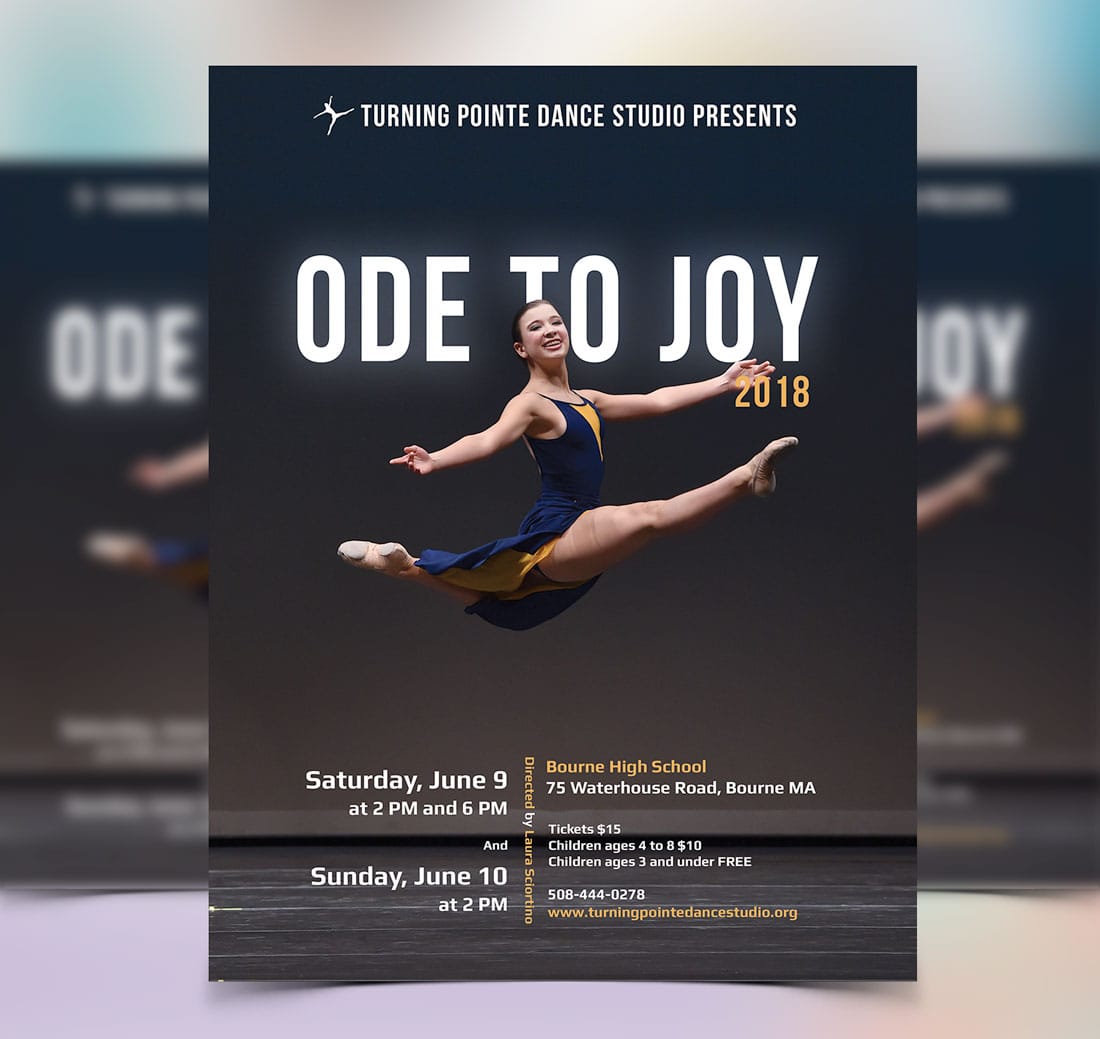 Poster designs come in all different shapes and sizes. Use the scale of the canvas to drive the design.
Consider using this formula for design elements (noting that some elements may overlap or not be used for your design):
Main image: At least 70 percent of canvas
Headline (most often the name of the event): 33 percent
Secondary information, such as date and time: 33 percent
Fine details: 15 percent
Branding or sponsorships: 10 percent
7. Start With A Template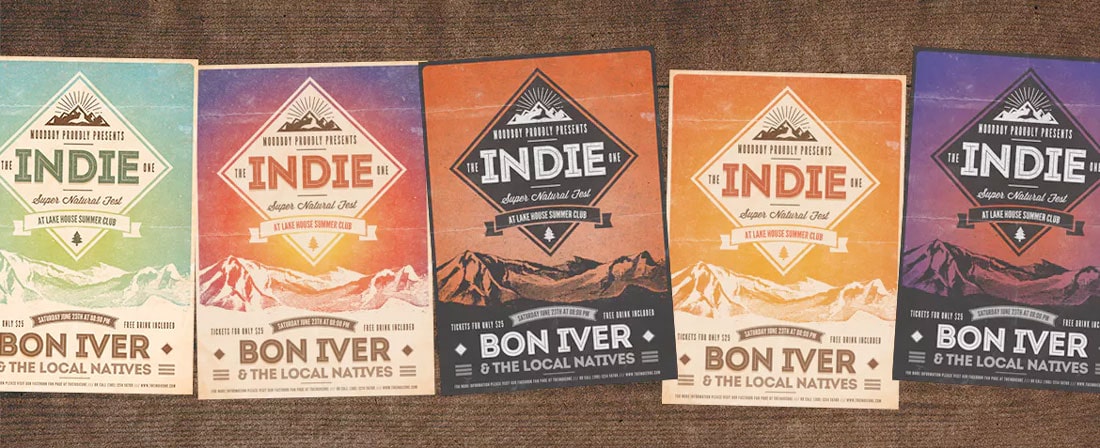 Event poster design can be tough. Starting projects with a design template can help.
Download an event poster template from Envato Elements if you want to get started fast with a design that you can preview ahead of time and then customize. These poster designs come in a variety of formats (match to your software) and all you have to do to use them effectively is substitute the content with your event information.
The hardest part might be picking a design to start with because there are so many options.
Narrow the search criteria by selecting the file format you want to work in, size of the poster, and orientation of the poster (portrait or landscape). You can also search by specific type of event such as "music poster."
Pro Tip: Look for a design that makes it easy to create multiple variations, such as the event poster design featured above.
Conclusion
I'd love to see some of your cool poster designs. Share them with me and Design Shack on Twitter. Make sure to include any other helpful tips you might have.