Manage Your Small Business Finances With Hiveage
Nothing can make your life easier as a small business owner or freelancer than a great invoicing tool. By streamlining some of the business processes you can spend more time on the parts of the job you enjoy and get paid faster.
We introduced you to Hiveage a while ago. The online invoice and billing software is used by more than 50,000 small businesses and freelancers all over the world. And it only keeps getting better. Here's another look at Hiveage and how you can benefit from this great finance-management tool.
Get unlimited downloads of 2 million+ design resources, themes, templates, photos, graphics and more. Envato Elements starts at $16 per month, and is the best creative subscription we've ever seen.
Introduction to Hiveage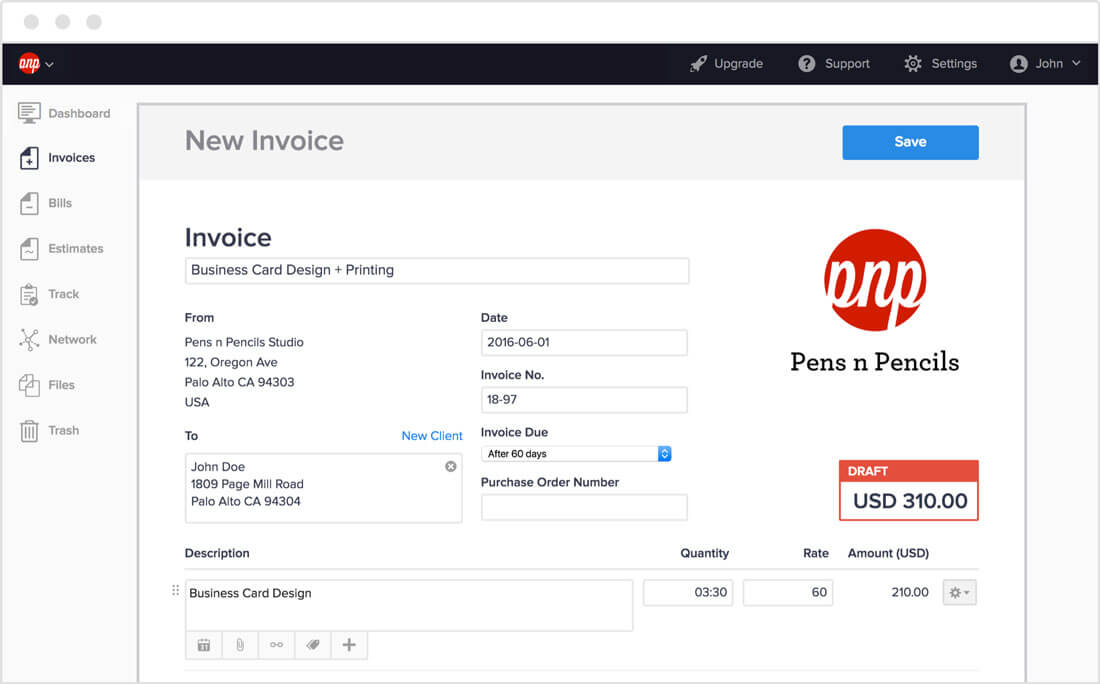 Hiveage is a simple, elegant and powerful online invoicing service for small businesses and freelancers. It has everything to help small businesses manage their finances: Creating and sending invoices and estimates, accepting online payments through popular payment gateways, recording expenses in the form of bills (incoming invoices), tracking time, expenses and mileage, subscription and auto-billing and managing team access and even multiple businesses with a single account.
A designer's first impression of Hiveage is that the interface is sleek and elegant. It looks modern and every element is easy to use and find.
From a business standpoint, Hiveage is great because it provides access to all the tools a small business or freelancer needs to manage their finances. You can send bills or invoices, keep track of expenses and so much more. But here's the best part: You don't have to be an accountant to do it. Hiveage is designed to do most of the heavy lifting for you.
Powerful and Easy to Use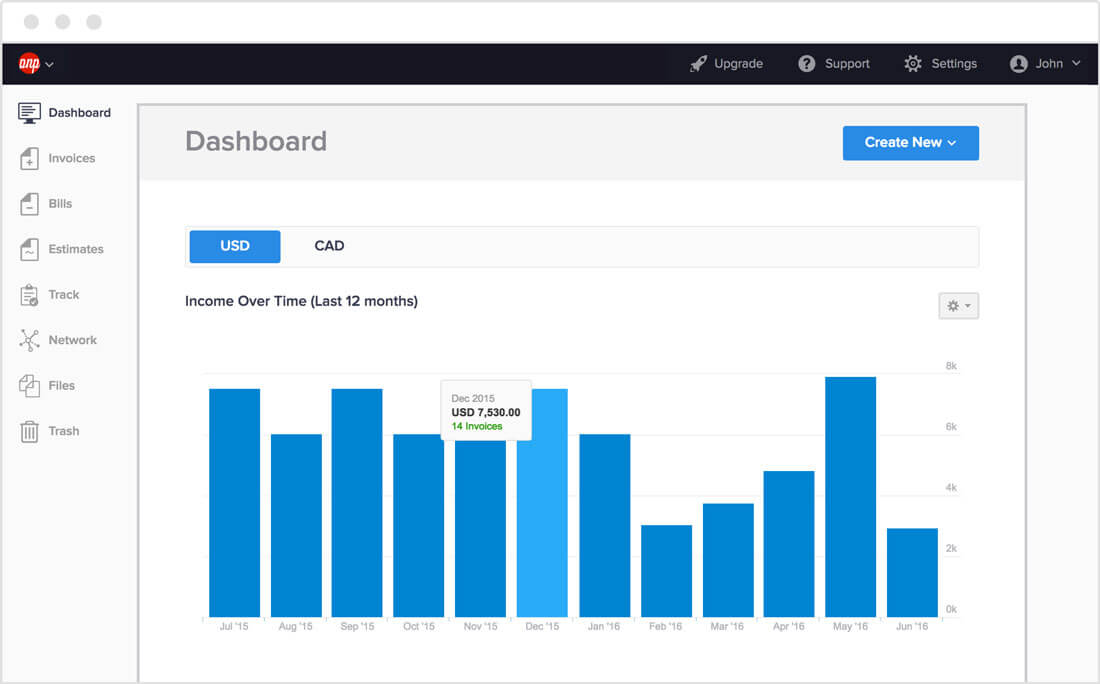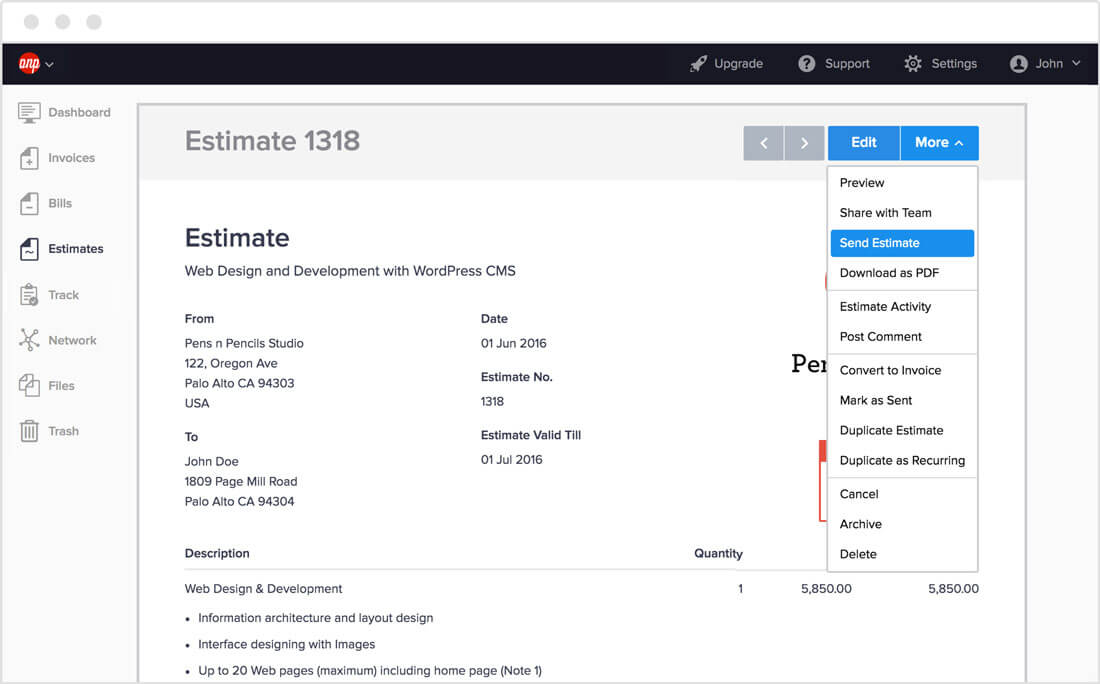 Hiveage includes a powerful set of tools in an easy-to-use interface. Here's a look at some of the best features:
Beautiful invoice templates: Every invoice looks professional and makes it easy for clients to pay on time.
Detailed reporting: You'll always know what's happening with your business with up-to-date reports that include easy to read charts and graphs.
Time tracking: Log work hours and bill directly through Hiveage. (No more estimating work time on slips of paper.)
Estimates and quotes: Provide work estimates in a format designed for approval and to convert those proposals into paying jobs.
Track expenses and mileage: From lunches to car rides, you can keep track of every business expense with ease and you won't have to use paper reports.
Accept payments online: Hiveage works with 12 different payment processors (PayPal, Stripe, Authoriz.net, BrainTree, 2Checkout, Pin Payments, WePay, CoinBase, SecurePay, Paymentwall, Razorpay and Mollie) to make it easy for clients to pay on time. And with one-click payments, it's easy for clients so send you money.
Accept payments offline: Some clients might pay by cash or check. You don't want to lose those payments from your record-keeping and Hiveage allows you to record them with ease.
Accept partial payments: Sometimes you have to cut a client a break – and Hiveage knows that – the tool allows for partial payments.
Mange your team: Hiveage allows you to manage multiple teams – or even businesses – with a single login. Plus, you can set different permissions for each team member, share reports and statements or even comment right inside Hiveage.
Plus, every Hiveage plan includes a ton of features that you would expect from high-quality billing and invoicing software:
Unlimited clients
Unlimited bills, invoices and estimates
Payment reminders
Time, expense and mileage tracking
Dashboard reports
Your branding on every invoice
Run Hiveage from your domain
Multiple currency support and multilingual statements
Online and offline payment processing with taxes, discounts and shipping
Bank-level security
Data import and export
24×7 direct support
Daily backups with 99.8 percent uptime
What's New?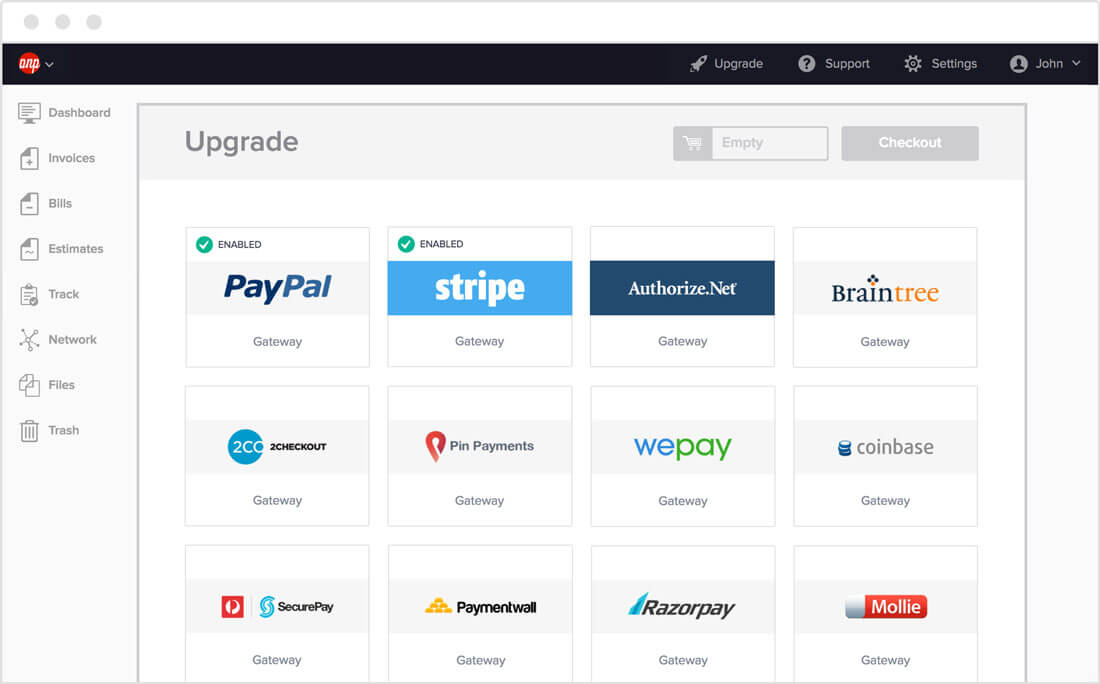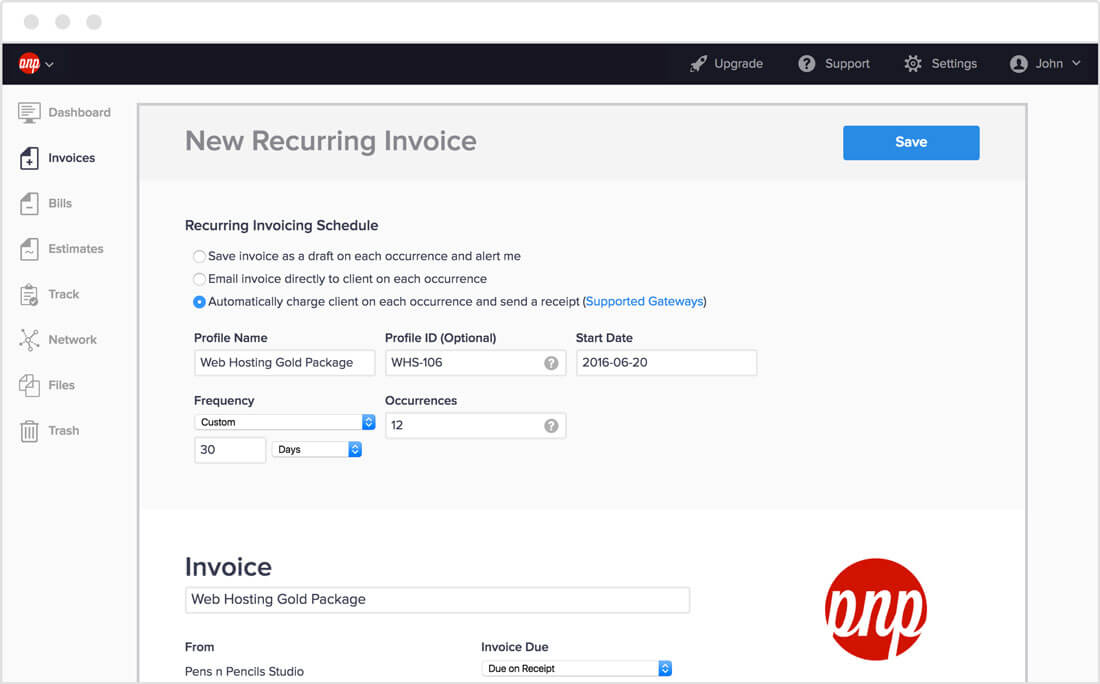 What's nice about Hiveage is that you can almost see the development in action. The tool is constantly improving and adding new features to help you work easier.
Some of the tools that have been added since the last time we looked at Hiveage include:
An iOS app so you can stay up to day with your finances from anywhere.
Enhances search capability within your account.
Payment processing through all major payment gateways.
Enhanced detailed reports and charts.
Affordable Pricing
Now this might be the best feature of all: Hiveage has a number of affordable pricing plans to fit any size business.
Every plan includes all of Hiveage's most popular features. (So you don't have to worry about getting limited software usage is you are a company of one.) Yearly plans include (monthly plans are also available):
Starter ($15 per month): 2 users, 250 recurring profiles, 50 auto-billing profiles and 1 GB storage
Basic ($29 per month): 5 users, 500 recurring profiles, 100 auto-billing profiles and 2 GB storage
Studio ($59 per month): 10 users, 1,000 recurring profiles, 250 auto-billing profiles and 4 GB storage
Company ($79 per month): 20 users, unlimited recurring profiles, 500 auto-billing profiles and 8 GB storage
Nonprofit and enterprise plans are also available. Contact Hiveage directly for details.
Try Hiveage free with a 14-day trial (and you don't have to enter any payment information).
Conclusion
Whether you are still billing on paper or using something clunky like a spreadsheet, it is time to think about setting up an improved online billing and invoicing workflow. You'll save time, get paid faster and Hiveage will pay for itself in no time.
With so many robust features, an easy to use interface and affordable pricing for any size business (from freelancers to larger companies), Hiveage is there to make your life easier and your business more efficient. Get started with it today!
This content is sponsored via Syndicate Ads. Our thanks to Hiveage for helping to support Design Shack.