6 Best Premiere Pro Alternatives in 2023 (Free & Paid)
Adobe Premiere Pro is arguably the best video editing software out there. Its level of versatility and smooth user experience is unmatched to this day. However, the competition is now slowly catching up to take the throne away from Adobe.
Today, we explore some of the best Adobe Premiere Pro alternatives you can use for video editing. Whether it's for editing a Hollywood movie, a YouTube video, or a TikTok video, there are options on this list for all types of projects. Including a few great free video editing software.
Many users now look for Premiere Pro alternatives due to the expensive Adobe Creative Cloud subscription plan. Especially when you're starting out as a beginner or trying to save costs as a freelance video editor, finding the right video editing software will go a long way to help you save money in the long run.
Premiere Pro is also one of the most resource-heavy software out there. If you don't have a high-end system, the video editor will perform horribly. Thankfully, the video editing apps on our list offer solutions to these problems.
Let's dive right in.
Download thousands of versatile Adobe Premiere Pro templates, openers, slideshow templates, lower thirds, and more with an Envato Elements membership. It starts at $16 per month, and gives you unlimited access to a growing library of over 2,000,000 Premiere Pro templates, design assets, photos, videos and more.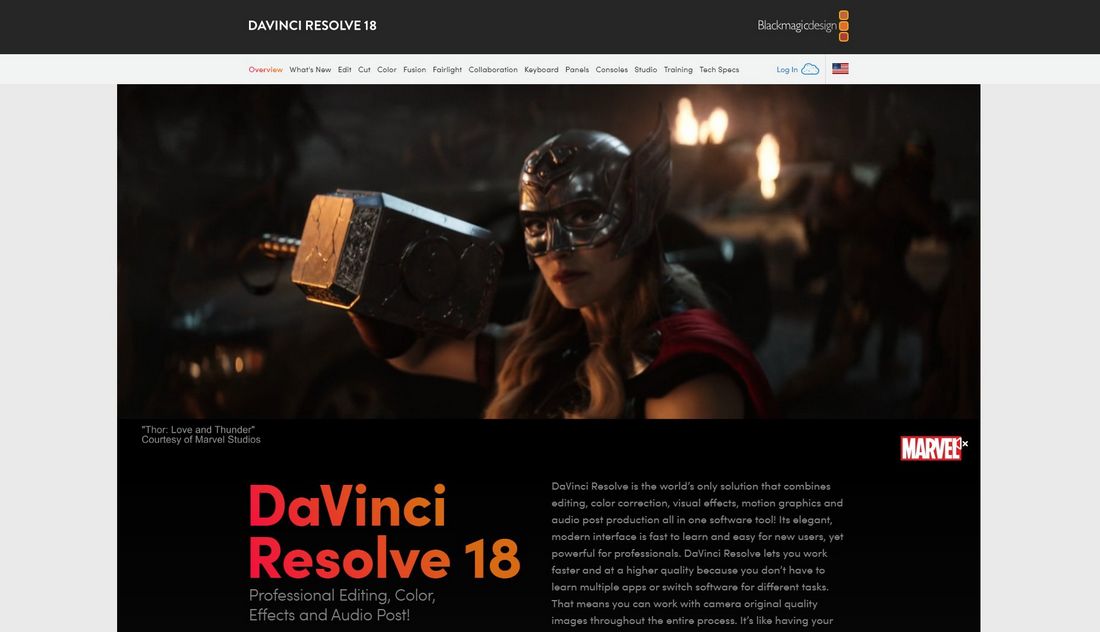 Price: Free / $295 (one time)
Platform: Windows, Mac, Linux
You'll find DaVinci Resolve ranking at the top of many video editing software lists. It's the most popular Adobe Premiere Pro free alternative you can find with features that are just as good as Adobe's video editor.
In many ways, DaVinci Resolve is actually much more advanced than Premiere Pro. For starters, DaVinci Resolve has a module called Fusion, which allows you to create visual effects. When using Premiere Pro, you'll need another subscription to Adobe After Effects to access those functionalities.
Don't let that free price tag think less of this software. DaVinci Resolve is the main software used by industry professionals, even for Hollywood movies like Shang Chi, Black Widow, Godzilla, Dune, and many more.
Best Features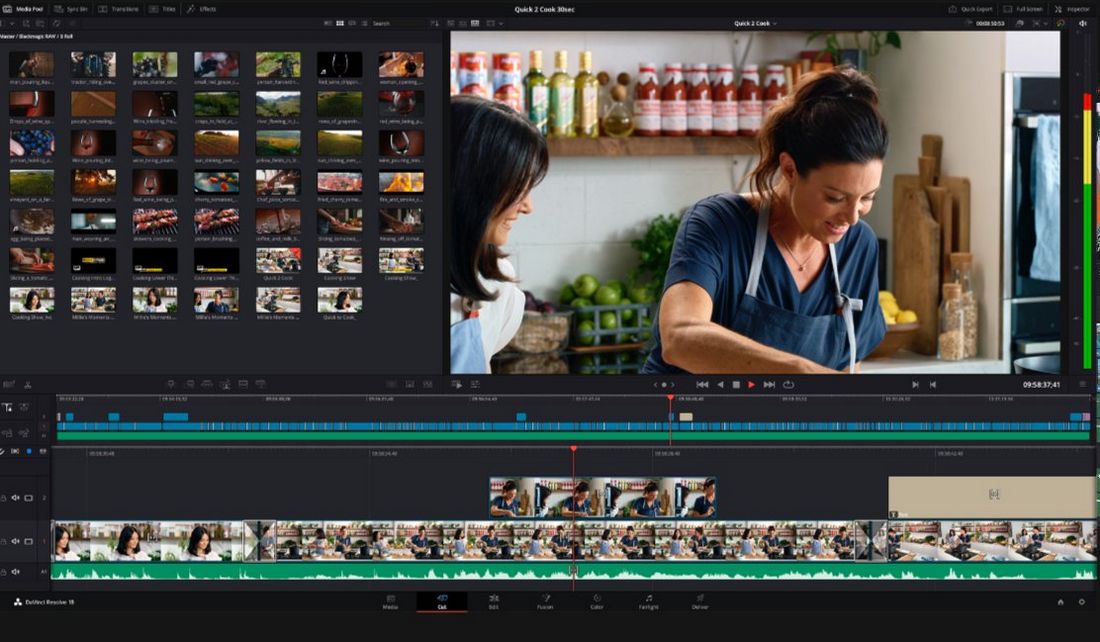 With different modules, you can do all your tasks in one place without switching between apps
Has all the necessary tools for editing, color grading, audio processing, and visual effects
The latest version includes many AI tools powered by DaVinci Neural Engine
Supports third-party plugins for extending features
Multi-user collaboration for working with teams
Has a growing community of passionate users
Who Should Use DaVinci Resolve?
Since it bundles many different modules and features into one app, DaVinci Resolve can be a bit overwhelming at first. And it has a very steep learning curve. We would highly recommend it to professional video editors.
Then again, the free version of the software makes it much more accessible to beginning video editors as well. If you're willing to put in the effort to learn, you won't be disappointed with using DaVinci Resolve for your work.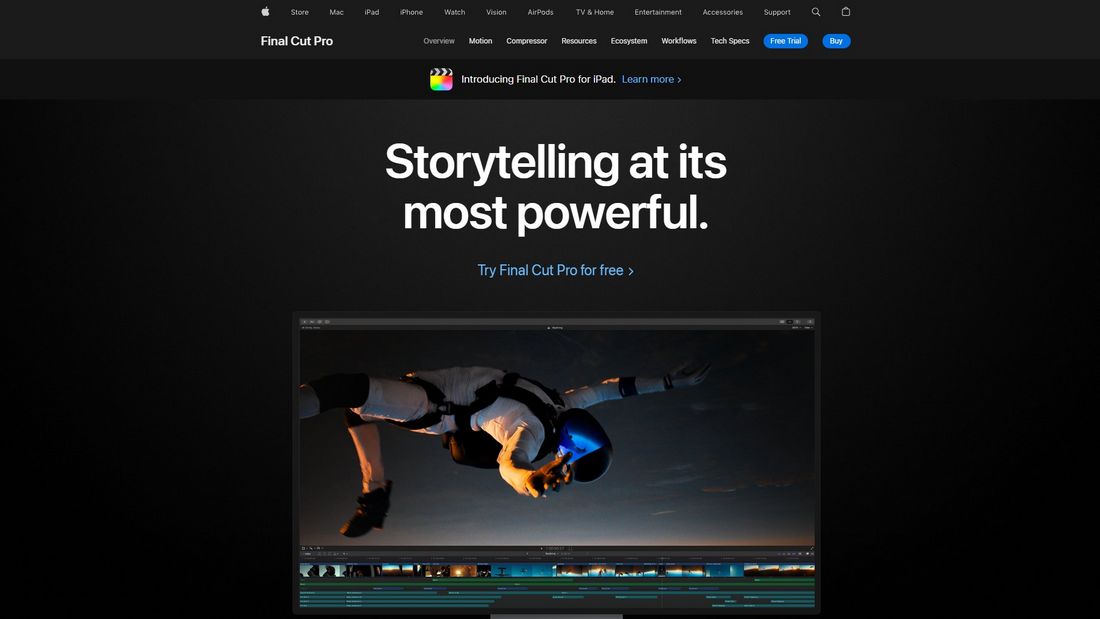 Price: $299.99 (one time)
Platform: Mac
Final Cut Pro may not be as innovative as Premiere Pro or as versatile as DaVinci Resolve, but it offers just the right features and tools for producing professional videos for all kinds of projects.
Unlike its competitors, Final Cut Pro has a very beginner-friendly user interface that makes it easy to learn and manage projects without having to look up guides and tutorials.
Final Cut Pro is the go-to choice among content creators as it makes the entire process of editing and post-processing much simpler. It's also used by freelancers and film editors too.
If you prefer to take your work with you on the go, then you can use Final Cut Pro for iPad to edit projects from anywhere and then continue the project on your Mac device when you get back to the office/home.
Best Features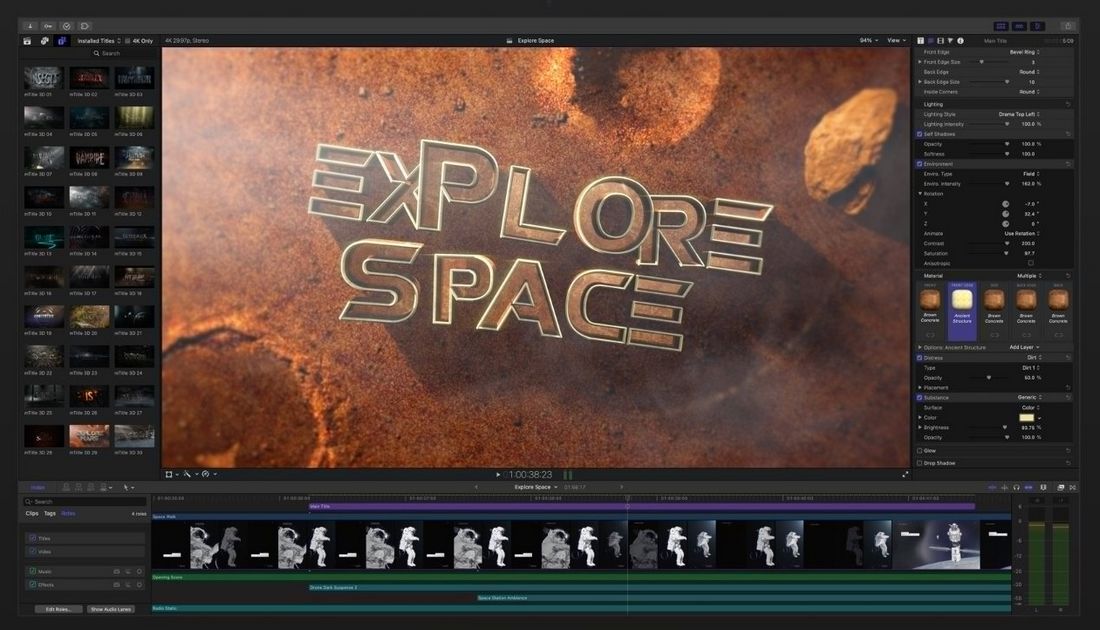 Easier to use and beginner-friendly user experience
Supports multi-cam editing
Ability to create and use basic motion graphics for visual effects
Tools for easily color-grading videos
Thousands of templates and presets from third-party marketplaces
Supports integration with third-party tools for adding more features
Share projects between iPad and Mac devices
Who Should Use Final Cut Pro?
Final Cut Pro may not be the ideal choice for editing big Hollywood films or creating sophisticated visual effects. But it's perfect for all other types of video editing projects and content creation.
We would highly recommend it to beginners and freelancers as it allows you to purchase and own the app by paying a single price. For Mac users, Final Cut Pro is a great place to start their video editing journey.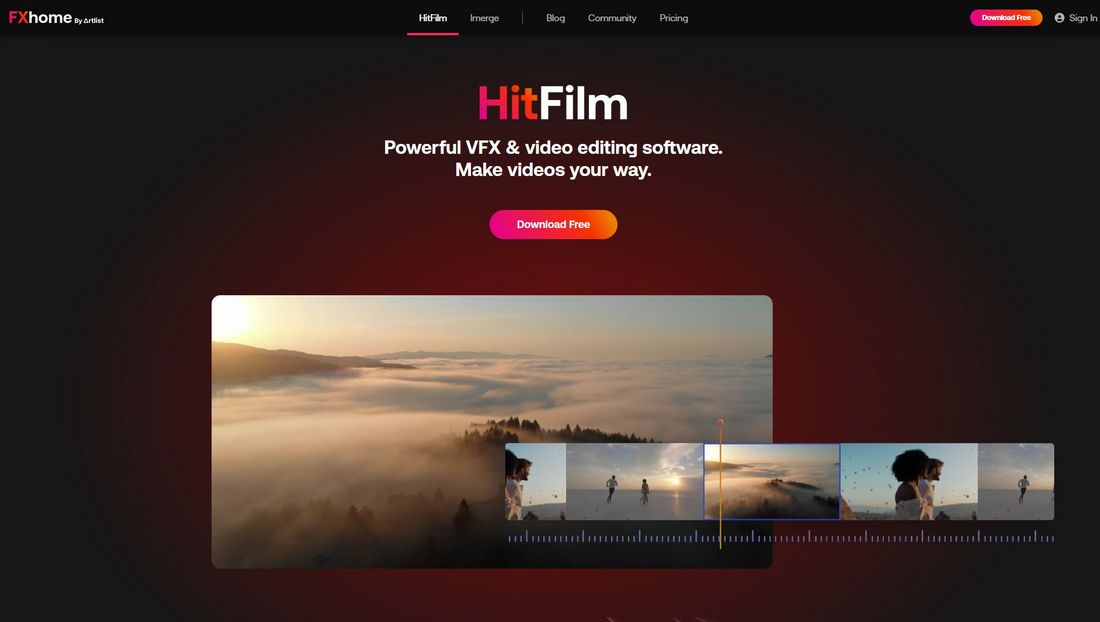 Price: Free / $7.99 a month
Platform: Windows, Mac
Hitfilm (formerly HitFilm Express) has functions and features similar to DaVinci Resolve and Premiere Pro yet it's easier to learn and use for beginners. The software also has tools for both video editing and visual effects.
Hitfilm has a smooth user interface that allows you to handle everything from small YouTube clips to big documentaries without effort. And it promises 2X faster processing and exporting speeds than its competitors.
The free version of Hitfilm feels limited. A common complaint among Hitfilm users is how big of a difference there is between the free and paid version in terms of functionality. Hitfilm also has a small community and lacks templates and resources from third-party marketplaces.
Best Features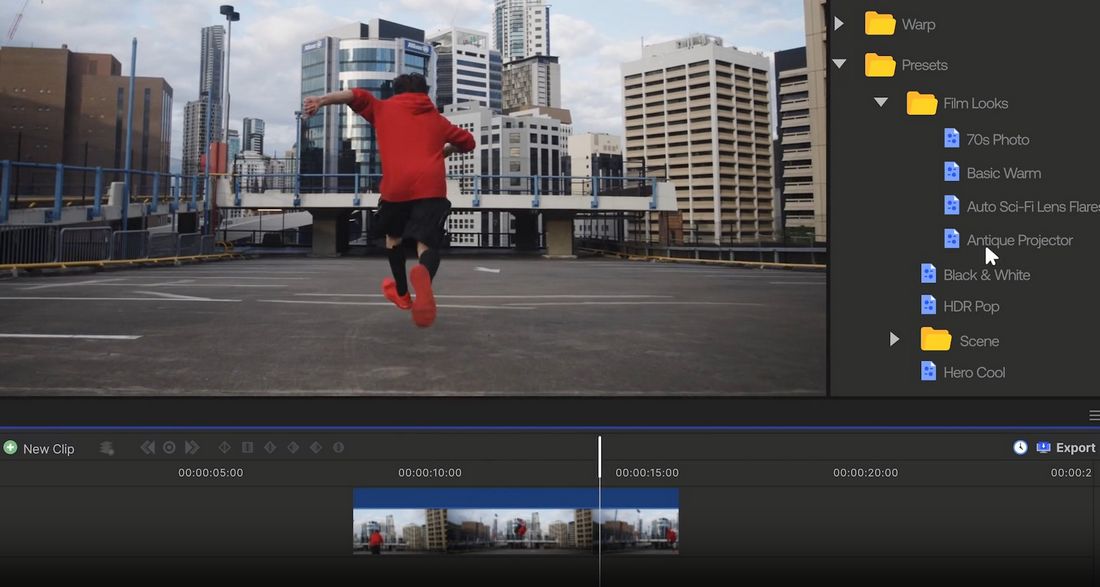 Beginner-friendly user interface makes it a great option for learning video editing
It has everything you need for content creation
Do all the color-grading and visual effects in one place
Easily customize green screens and color corrections
Lets you extend features with plugins
Who Should Use Hitfilm?
The free version of Hitfilm allows you to export unlimited videos of up to HD quality. This version is perfect for beginners to get a feel of how video editing works and practice content creation.
You will have to upgrade to a paid plan to use this software for professional work. Still, it's much cheaper than Premiere Pro.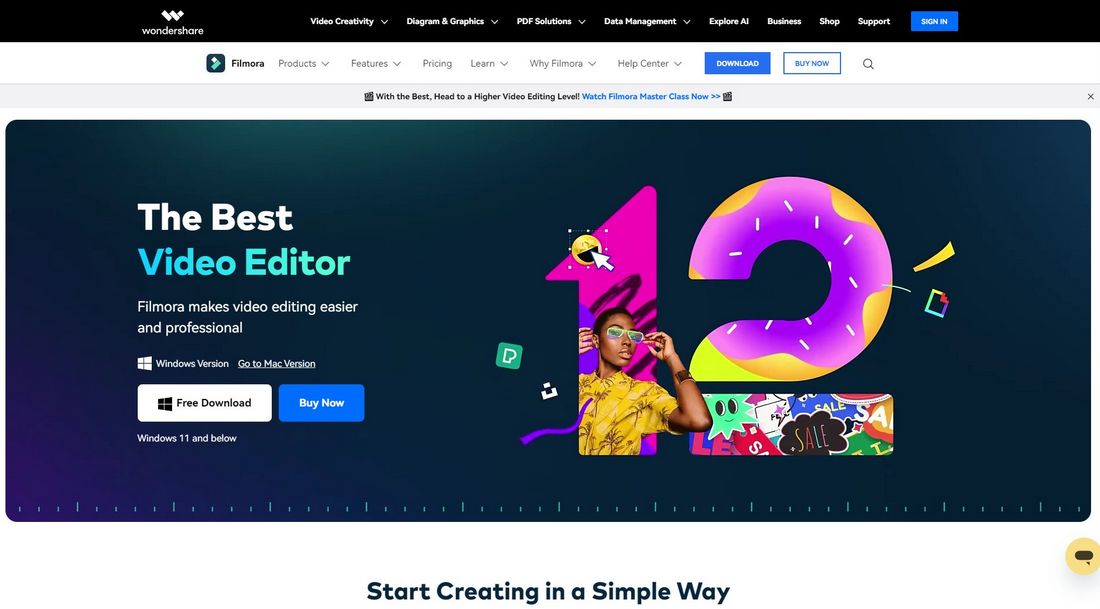 Price: $99.99 / $29.99 a month
Platform: Windows, Mac
Wondershare Filmora is one of the best video editors for content creators. It has lots of AI tools, effects, and animations that allow you to craft trendy videos and promos for social media channels.
While it's not the most sophisticated software for handling Hollywood movies, Filmora is capable of delivering a set of great tools for editing, enhancing, and post-processing videos for various types of projects from YouTube videos to TikTok clips.
Filmora has a wide range of AI tools, including AI portrait mode, text-to-speech (TTS), auto reframe, AI smart cutout, and more. Most of these tools are geared towards social media users.
Best Features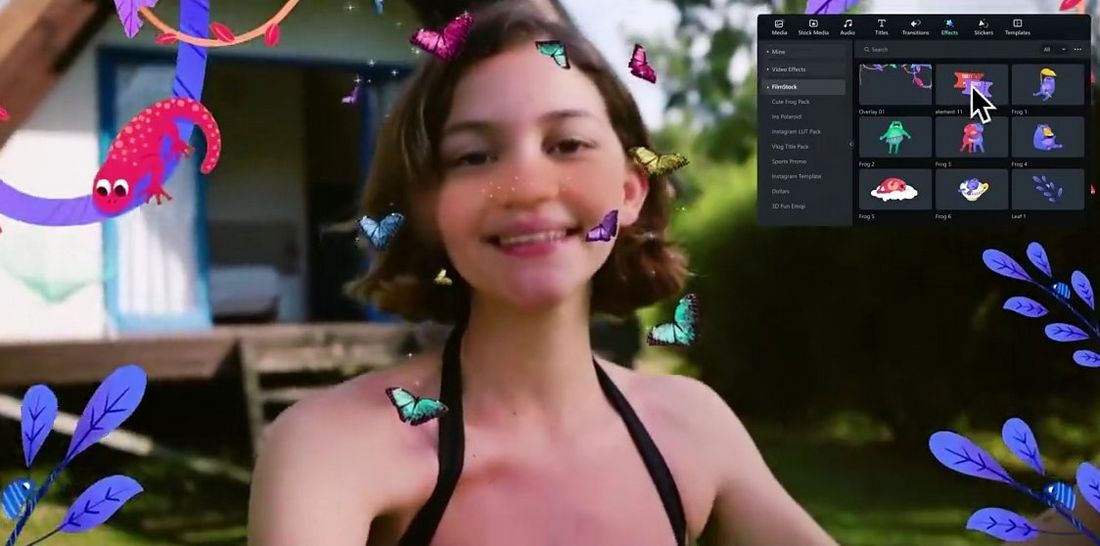 The simple and modern user interface makes it a great choice for complete beginners
It's great for content creators, especially for YouTube and TikTok users
Has tools for editing, audio optimization, color correction, and visual effects
Filmstock effects store with hundreds of templates for Filmora
Who Should Use Filmora?
Filmora is most suitable for creating content for social media. It's also great for simple video productions. However, it lacks the powerful functionalities of Premiere Pro and DaVinci Resolve for producing bigger projects like movies and documentaries.
The ability to purchase the software for a one-time price makes it appealing but you won't be able to upgrade to newer versions of the software. And the subscription plans cost around the same as Premiere Pro. So, we'll leave this up to you to decide.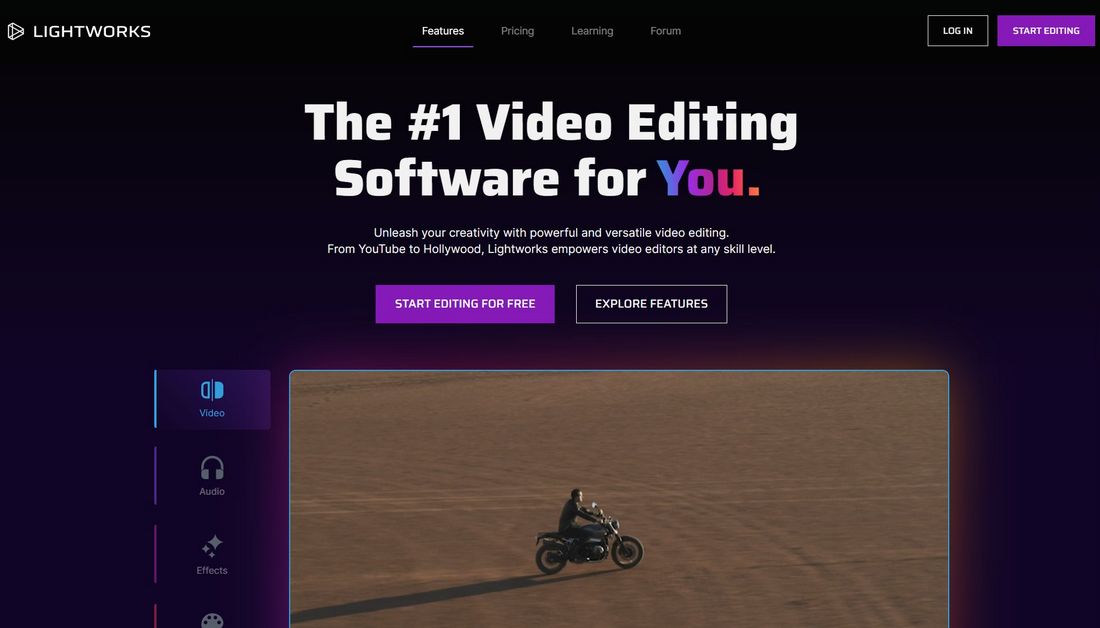 Price: Free / $9.99 a month
Platform: Windows, Mac, Linux
Lightworks is another powerful video editing software that comes with a balance of user-friendly tools and innovative functions. The software offers a suite of tools for editing videos, enhancing audio, color correction, and visual effects capable of handling "Hollywood-strength editing".
Lightworks was used to produce Oscar-winning movies from Wolf of Wall Street to Pulp Fiction, The Irishman, and more.
Timeline editing is much easier with Lightworks as it supports background rendering and exporting while you continue to work on editing your projects. You can also fully customize your workspace according to your style.
Best Features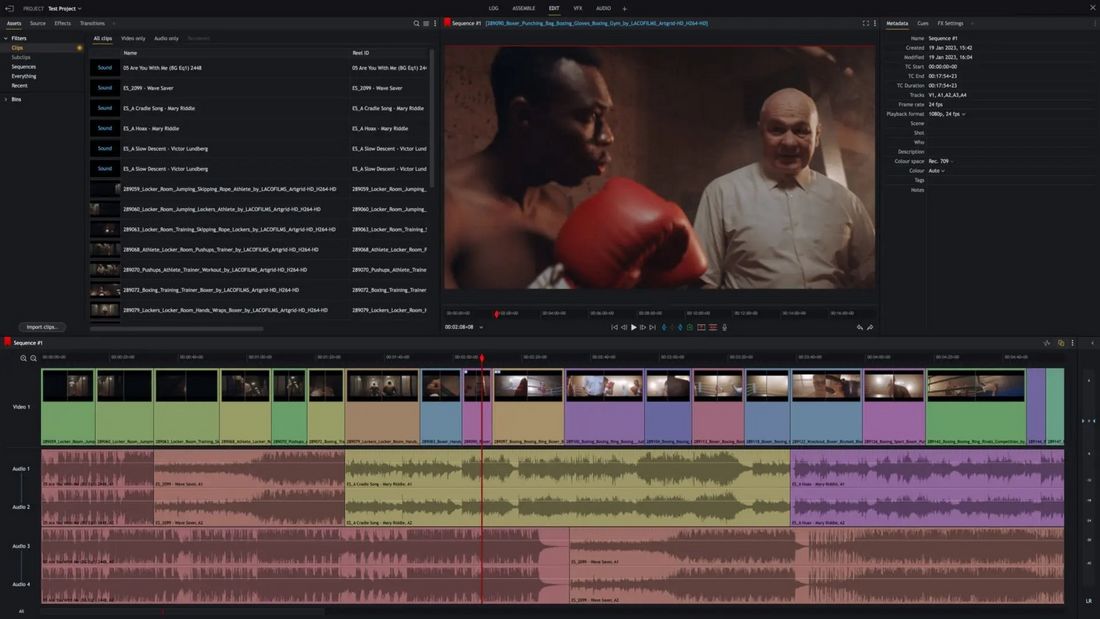 Beginner-friendly user interface with drag-and-drop editing features
Includes tools for editing, visual effects, color correction, and more
Has a massive collection of over 1500 VFX presets
Support for third-party integrations
Capable of handling everything from small to big projects
Who Should Use Lightworks?
Lightworks free version is limited to 720p exports only. But it's ideal for beginners for learning the ropes and for creating social media content. You'll need to upgrade to the $9.99 a month plan to access other high-end features.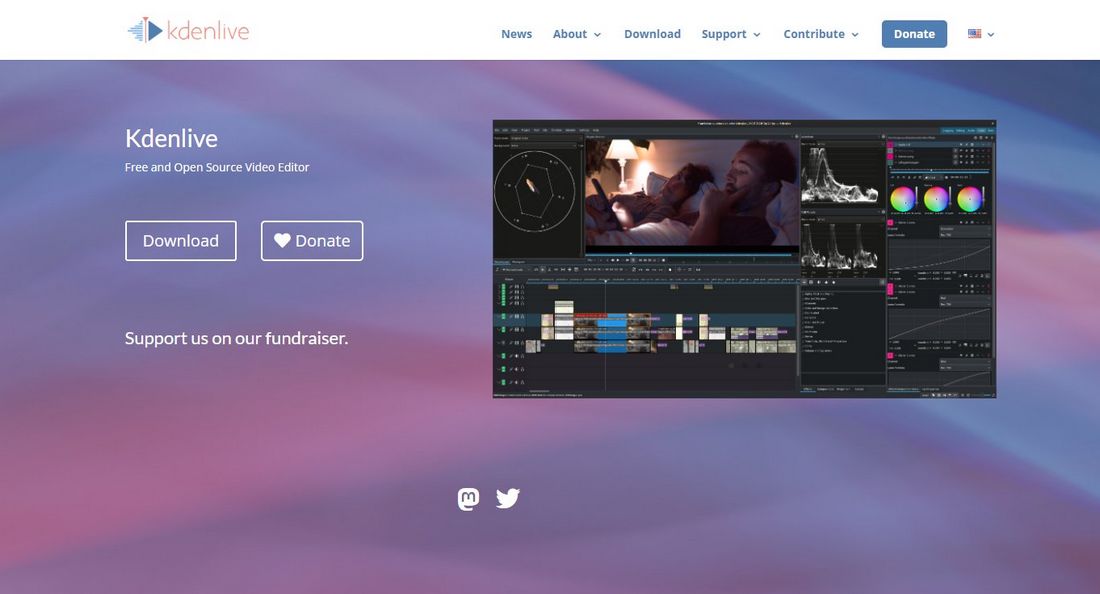 Price: Free
Platform: Windows, Mac, Linux
Kdenlive is a completely free and open-source video editor that comes with a set of powerful features capable of handling a range of projects from social media videos to documentaries.
Kdenlive is not the most sophisticated video editing software out there and it can't be compared with Premiere Pro in terms of third-party tools, community support, or resources. But, for an open-source software, it's exceptionally powerful. And it has a lightweight design that will function smoothly even on lower-end hardware.
Best Features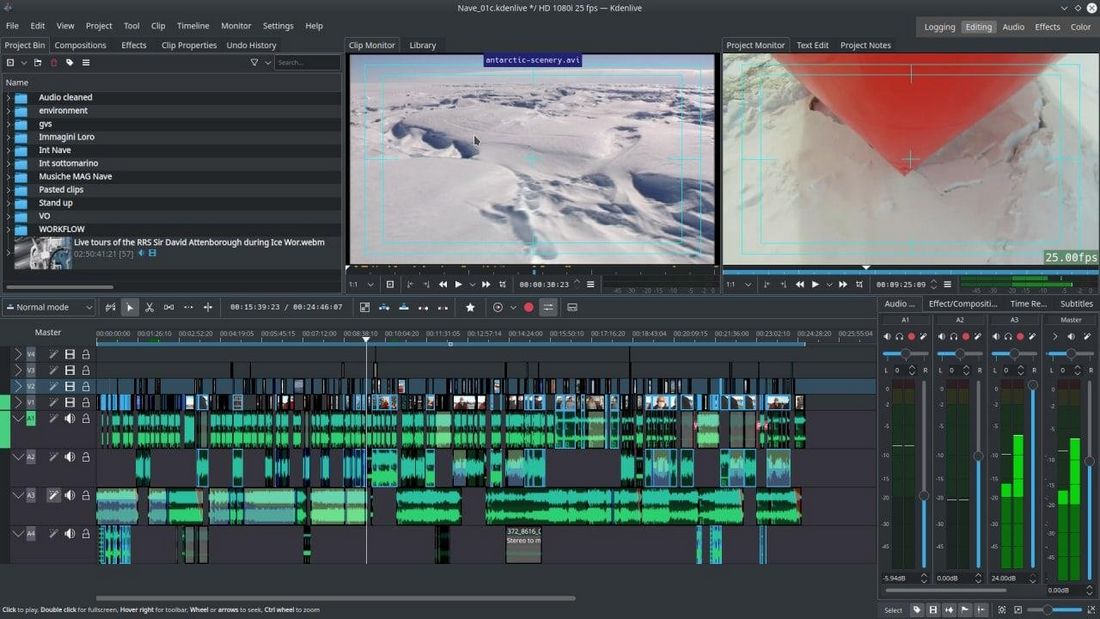 Great for basic editing and video production with multi-track editing
Lots of basic effects and transitions to choose from
Supports keyframing for visual effects
The lightweight design makes it compatible with even low-end hardware
Receives periodic software updates
Who Should Use Kdenlive?
Kdenlive is ideal for a project that doesn't require sophisticated visual effects and color corrections. It's great for learning and editing on older computers and laptops as well.
Which Premiere Pro Alternative Is Best?
As we've mentioned before, there's no match for DaVinci Resolve when it comes to Premiere Pro alternatives. It has advanced features, AI tools, a growing community, and different modules for different parts of the video editing process. And most of all, it's free!
We'd recommend Final Cut Pro as the runner-up for its ease of use and beginner-friendly experience. Especially for Mac users.
Having said that, we encourage you to explore and try out the other software on our list before making any decisions. There are lots of great options to choose from and most of them have free trials for you to check them out.