What Is Adobe Premiere Pro? (And What Is It Used For?)
Adobe Premiere Pro is one of the go-to editing tools for video, including film, TV, and clips for the web and social media. If you are an Adobe CC subscriber and have seen this tool but haven't given it a whirl, what are you waiting for?
While Premiere Pro can look a little intimidating at first, functionality is rooted in the same principles as other Adobe products and with a little tinkering, you should figure it out pretty quick (and there's plenty of documentation and online help available).
So, what is Adobe Premiere Pro and how can you make this most of this video-editing tool? Let's take a look.
Download thousands of versatile Adobe Premiere Pro templates, openers, slideshow templates, lower thirds, and more with an Envato Elements membership. It starts at $16 per month, and gives you unlimited access to a growing library of over 2,000,000 Premiere Pro templates, design assets, photos, videos and more.
What Is Premiere Pro?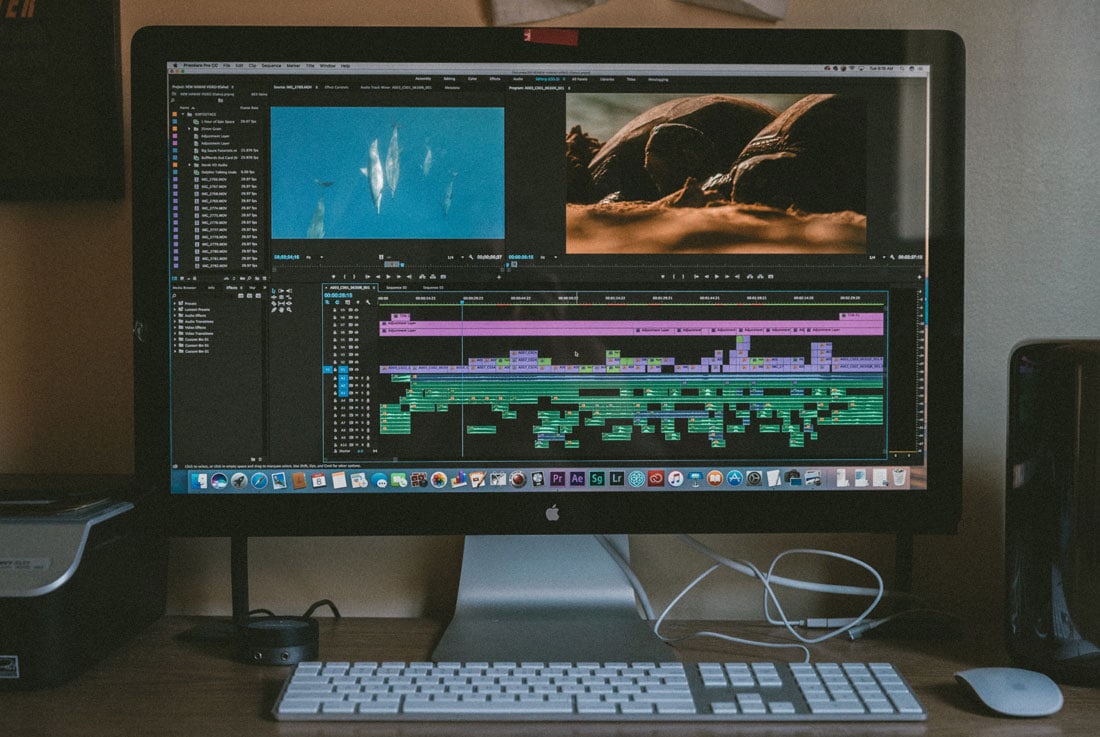 Video content is a must-have element of all kinds of projects, including website design. Even if you never plan to become a professional video editor, having the ability to perform simple edits can come in handy for any creative professional.
If you are already an Adobe subscriber, the good news is that you already have access to Premiere Pro with a full Creative Cloud plan. You just have to install it and get started.
The best thing about using Premiere Pro is that it works with all the files you are working on for other projects. It reads native Adobe files, including PSD files and AI files so that you can drop logos or other parts of projects right into working video files. (This is probably my favorite feature.)
Here's how Adobe describes their video editing tool:
Premiere Pro is the leading video editing software for film, TV, and the web. Creative tools, integration with other Adobe apps and services, and the power of Adobe Sensei help you craft footage into polished films and videos in one seamless workflow. And Premiere Rush, our new app, is included with your subscription so you can capture footage and start editing on all your devices, anywhere.
Premiere Pro allows for both video image and audio editing. (Images and sounds even have separate editing tracks to separate and professionally manage the process.)
Premiere Pro allows users to open files and work with any modern video format, including 8K, web files, and even virtual reality. The tool allows you to start with tons of native video formats and save to standard file types for easy replay and viewing.
The thing to keep in mind is that Premiere Pro is pretty heavy-duty software and does require some computing space on a decently powered machine. If you want to do lighter editing on the go, Premiere Pro standalone plans and Creative Cloud plans include Premiere Rush, a video-editing app that works across devices and allows you to work on files between the app and Premiere Pro on your desktop.
What Can You Do With It?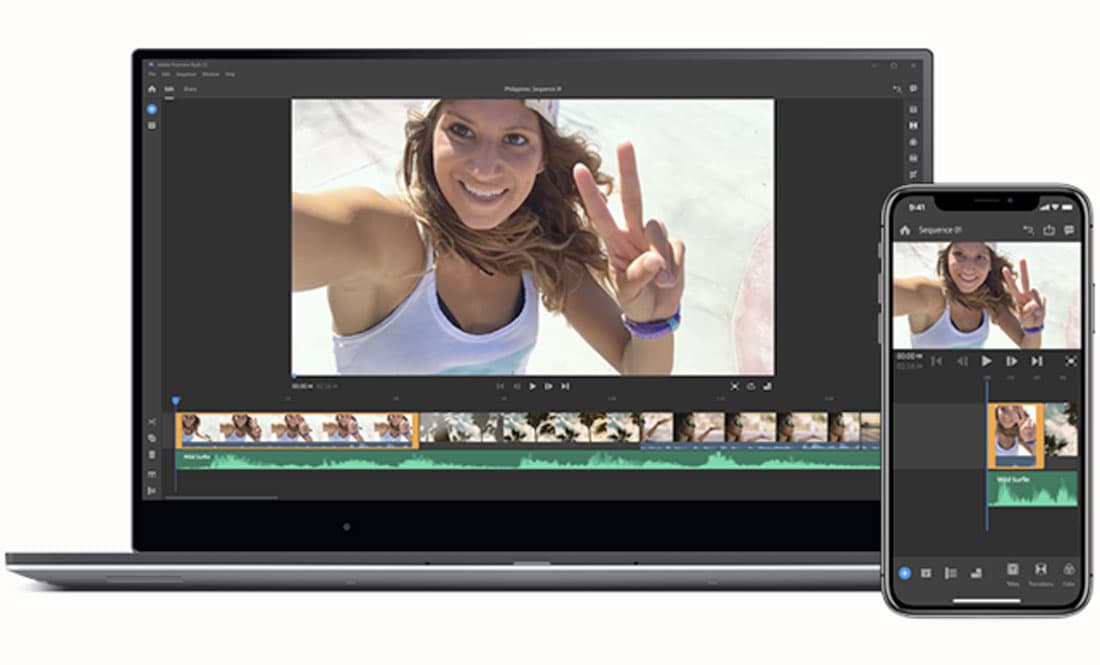 Adobe Premiere Pro is a versatile tool once you get the hang of it.
You can edit video? Snip clips from larger files to make your complication, add b-roll to an audio track, or create a collage with still images, moving images, text elements, and sound.
Premiere Pro is robust enough that you can create and edit a full-length feature film, but it's doubtful that most users will need this application.
Common uses include:
You might use it to convert a video clip to a format and size that will play on a website.
You might add captions or an intro/outro to a clip before posting it online.
You can edit out a few seconds of a video and replace them with something else.
You might adjust color for better viewing.
You might tweak volume levels or sound quality to clean up scratchy or difficult audio.
Cool Features
One of the cool things about Premiere Pro is that it keeps getting better. As technology changes, so does the software. While Premiere Pro is amazing for simple edits and video compilations, you can have a lot of fun experimenting with tools that help you play in virtual or augmented reality or stretch your creative skills.
If you aren't sure where to start Adobe help or using a Premiere Pro template can help you learn how to navigate the software.
Some of the best features of Premiere Pro include:
Auto Ducking for ambient sounds that helps you mix background noise into a video without overpowering other sounds elements and channels.
Robust export options for closed captions that allow you to share captions with third-party applications for easier workflows.
Graphics panel to help you add special elements or text to video content with ease.
Rulers and guides that work like other Adobe tools to help you keep everything aligned in just the right manner on the canvas.
Snappy mask tracking for HD, 4K, and super high-res formats.
3 Premiere Pro Templates to Try
Because of the standard nature of Premiere Pro within the industry, there's no shortage of templates available to help you better learn to use the tool or get projects off the ground quickly.
40 Animated Titles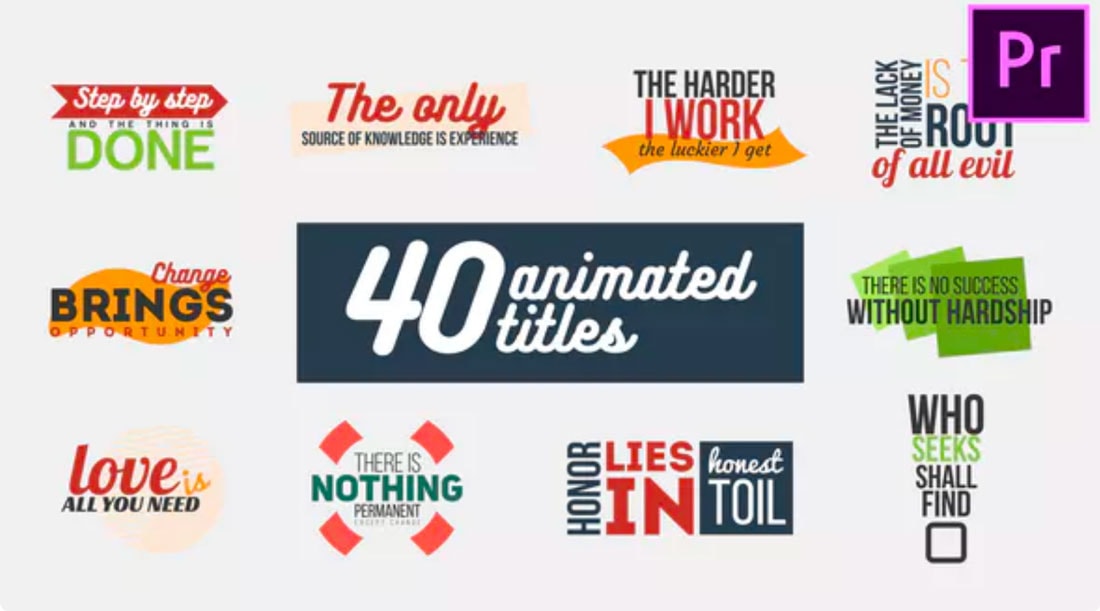 Start engaging users right away with a great intro title. This template includes 40 animated options that you can add right to your video in Premiere Pro.
The Inspiration Photo Slideshow
Packed with image and video transitions and editable layers. All you have to do it pop your content in place of the dummy content and then you have a video slideshow.
Social Media Motion Graphics Templates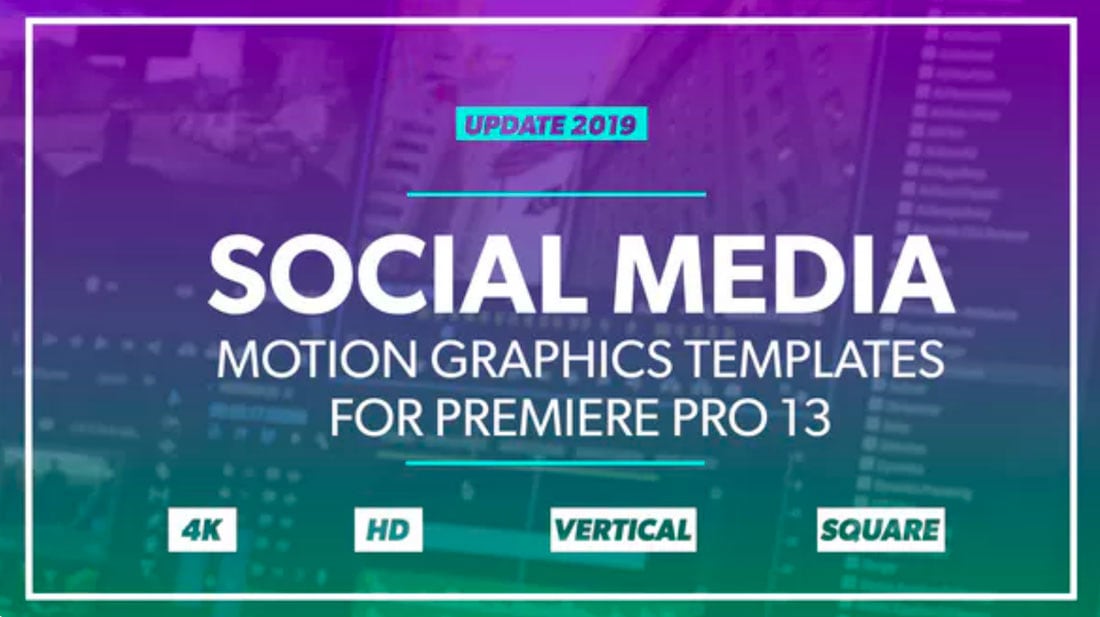 This motion graphics template pack includes everything you need to get video files ready for social media.
How Do You Get It?
Adobe Premiere Pro comes with full Creative Cloud plans. If you are working with multiple Adobe tools already, you are likely already subscribed to this version and Premiere Pro is ready to download from your account.
If you aren't using Creative Cloud, Premiere Pro is a downloadable software tool that comes with a use license.
You can also purchase a Premiere Pro subscription (also includes Rush) from Adobe a la carte. This option also includes 100GB of cloud storage, Adobe Fonts, and Adobe Portfolio.
There are also licensing options for students and teachers at discounted rates. (Check with Adobe for details.)
Premiere Pro also comes with Adobe cloud business licenses. Prices are based on a monthly subscription and vary by plan type.
Conclusion
Now is the time to start learning to edit and manipulate video if you haven't already. Adobe Premiere Pro is the go-to tool for it.
And for designers and creatives already working with Adobe tools, the learning curve won't be as steep thanks to a tool that will feel comfortable and work with your existing Adobe files.