7 Best Sketch Alternatives for Windows & PC
Sketch is one of the most popular apps among designers and artists. Whether you want to design a mobile app interface or craft a set of unique icons, it has all the tools you need in one place.
However, the Sketch app also has a few downsides, the biggest one being the app's exclusivity to Mac devices. If you're a Windows PC user, you can't use the Sketch app.
Thankfully, there are a few amazing Sketch alternatives for PC you can use instead. In this article, we take a closer look at the best Sketch alternatives for Windows, including both free and premium options.
Let's dive in.
Download thousands of versatile Sketch templates for UX, wireframing, app and website design with an Envato Elements membership. It starts at $16 per month, and gives you unlimited access to a growing library of over 2,000,000 Sketch templates, design assets, photos, videos and more.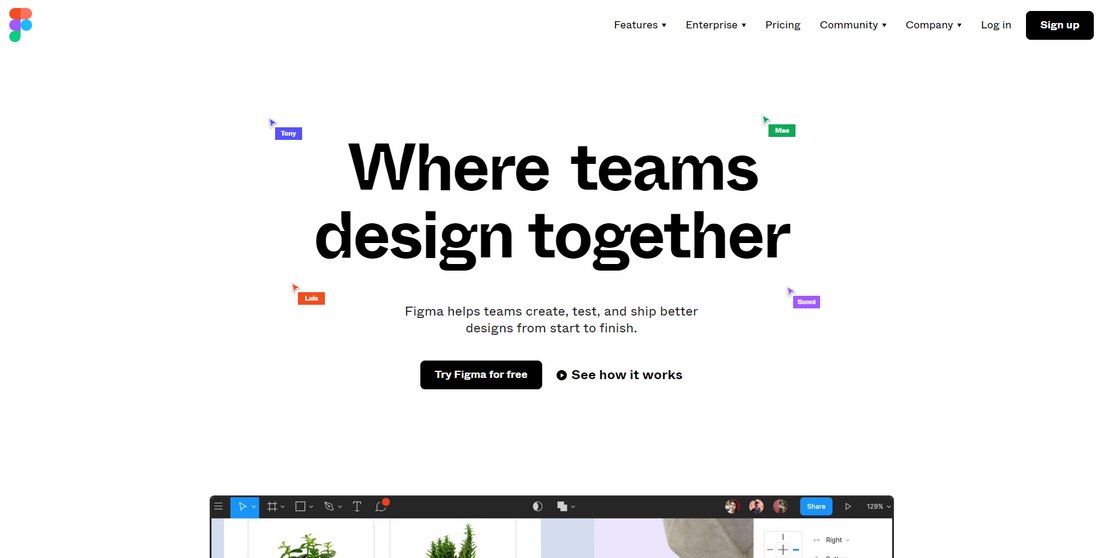 Price: Free / $12 per month
It's quite ironic that the best Sketch alternative is a web-based app that works on any platform, including both Windows and Mac. Figma is a great app you can use for all kinds of design work, including UI design and prototyping.
Figma works directly on your browser, making it a great app for collaborative work. It also features all the powerful tools you need to craft professional designs, just like on the Sketch app.
Figma also allows you to import Sketch files with all the layers and components intact. So even if you receive a Sketch file from your team or client, you'll still be able to edit it without having to buy a MacBook.
Best Features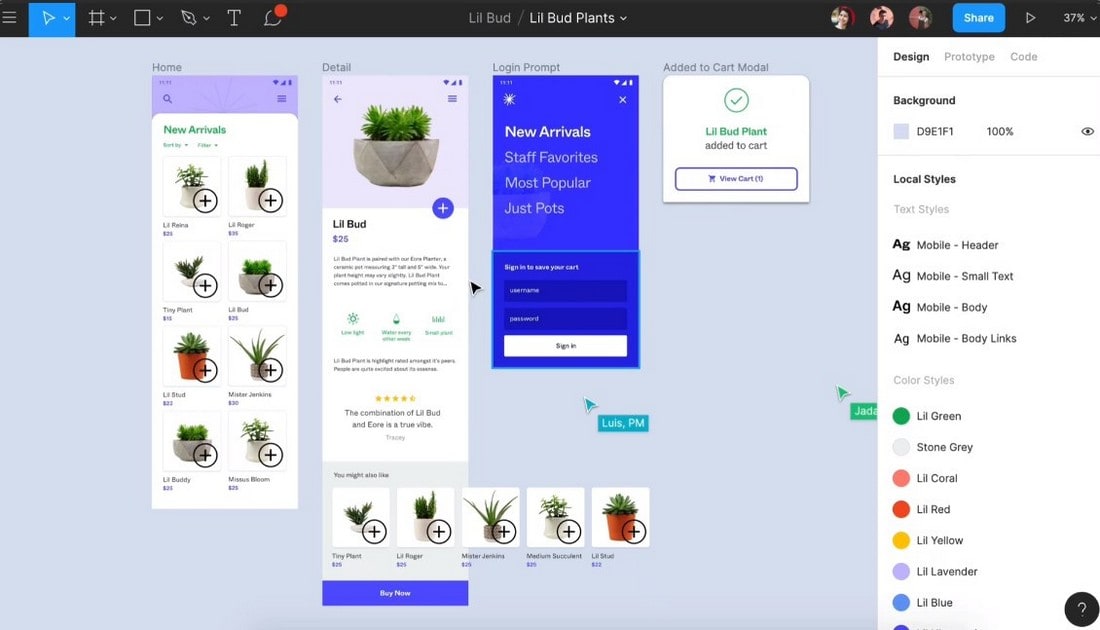 The app editor works cross-platform directly on your browser
Access to a massive library of plugins and templates
Create design systems to organize your assets
Design and create interactive prototypes
Easily collaborate with multiple users without having to install software
Includes tools for graphic designers as well
Who Should Use Figma?
Figma is the ideal solution for app and web UI designers. The prototyping tools of the app will also make the process of testing your designs more convenient as well.
Figma offers a generous free plan where you can create up to 3 active projects. For unlimited projects, the price is $12 per month.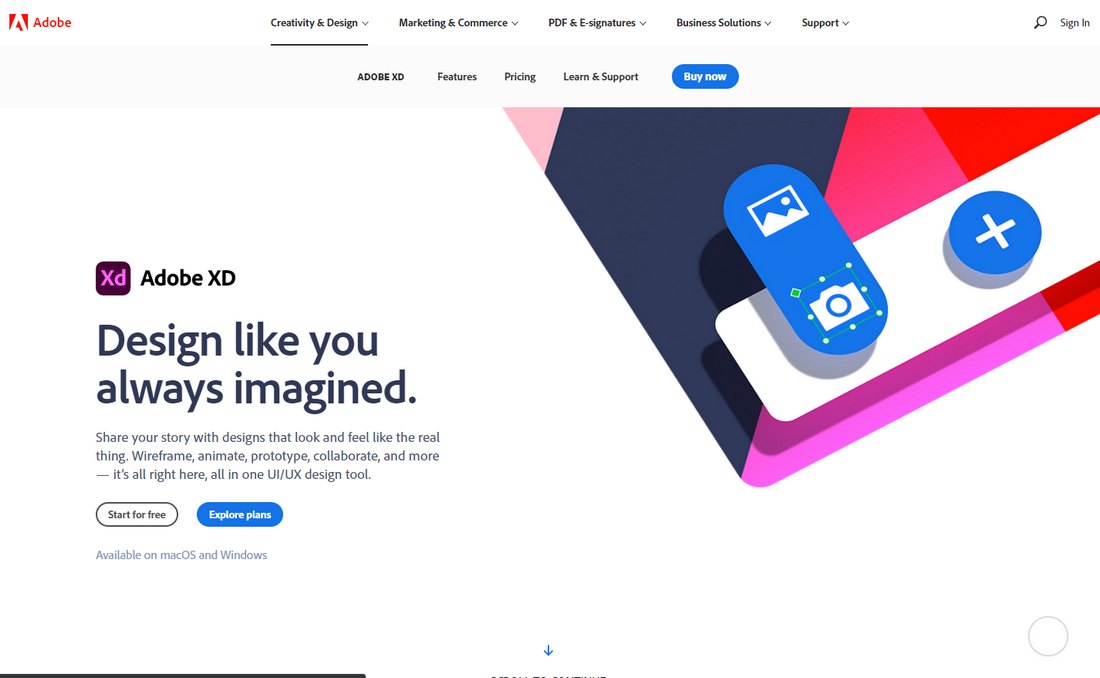 Price: Free / $9.99 per month
Adobe surprised everyone when the company released its new UI design tool for free. Adobe XD is a great free Sketch alternative you can use on both Windows and Mac.
The main focus of the app is design, prototype, and collaboration. It offers lots of great tools to help you create professional user interface designs. On top of all that, you get to use a well-polished software from a company with decades of experience for free.
Best Features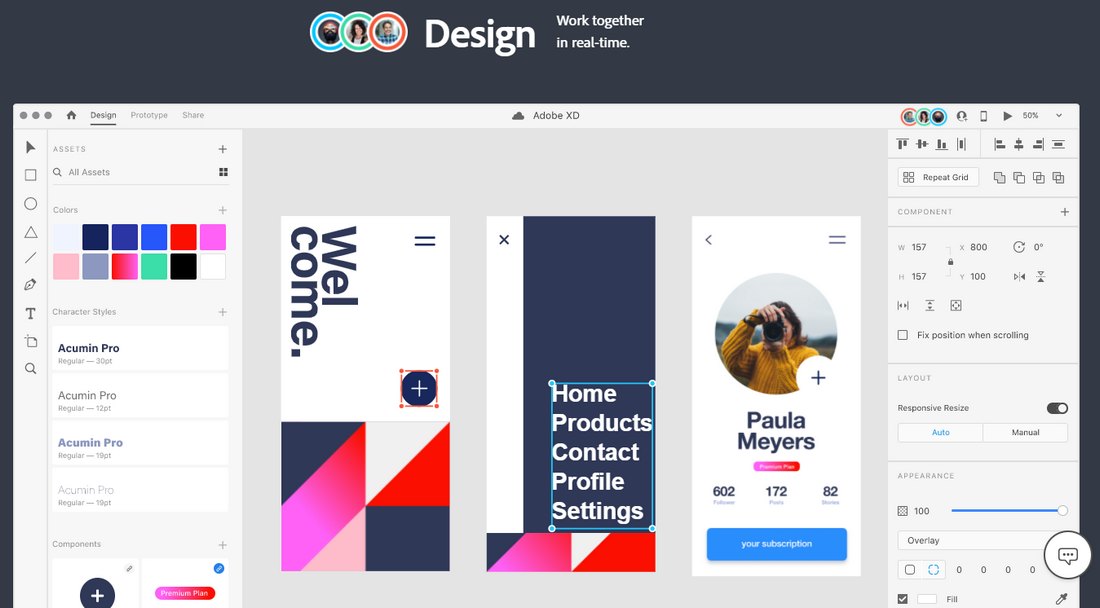 Smooth editor designed for both beginners and experts in mind
Content-Aware Layout automatically adjusts your designs as you create
Allows you to create prototypes with interactions and animations
Import files from Sketch, Photoshop, and Illustrator
Easy team collaboration and handouts with CSS snippets
Who Should Use Adobe XD?
Adobe XD works similarly to Figma. So it's a great option for freelancers and UI designers. However, unlike Figma, Adobe XD need to be downloaded and installed on your computer to use it.
The app only allows you to share 1 file at a time and limits your storage to 2GB for the free plan. For unlimited shared projects and 100GB storage, you can switch to the $9.99 per month plan.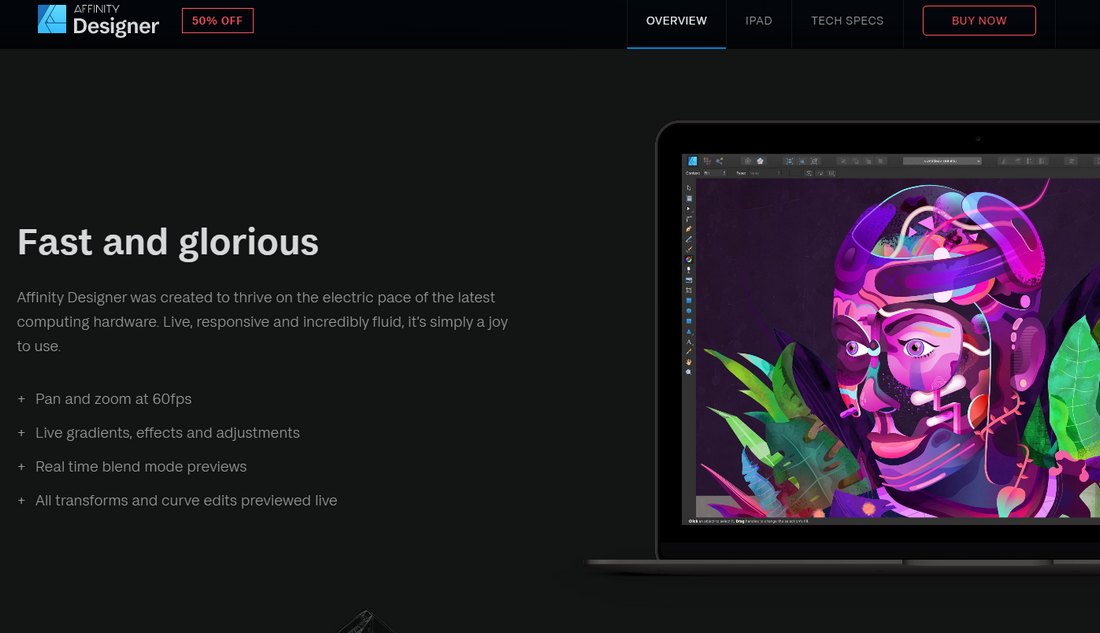 Affinity Designer is the vector graphics editing app from the Affinity software lineup. It's the Serif's affordable answer to the Adobe products. Affinity Designer is commonly known as an alternative to Adobe Illustrator. However, it works great as a Sketch alternative as well.
Unlike most other premium software, Affinity Designer only costs a one-time price of $49.99 and you receive all future updates for free. The app is available on Windows, Mac, and iPad as well.
Best Features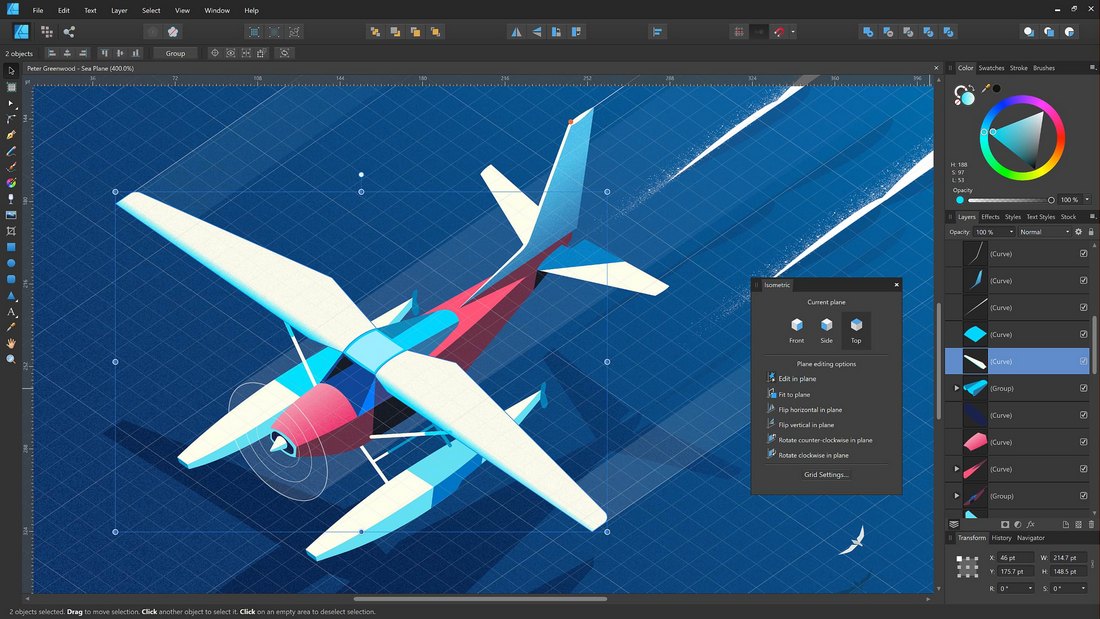 Design complex vector graphics using the beginner-friendly editor
Allows you to switch between vector and raster workspaces
Create unlimited artboards for screen layouts
Import EPS and PSD files with layers intact
Live pixel preview lets you see your designs in standard and Retina resolutions
Who Should Use Affinity Designer?
While Affinity Designer doesn't have any sophisticated prototyping tools, it's the perfect Sketch alternative for graphic and UI designers as well as for artists. You can use it for drawing illustrations, designing icons, UI components, and much more.
Affinity Designer doesn't support the Sketch file format. But, you can convert Sketch files into layered PSD files and then import them to Affinity Designer.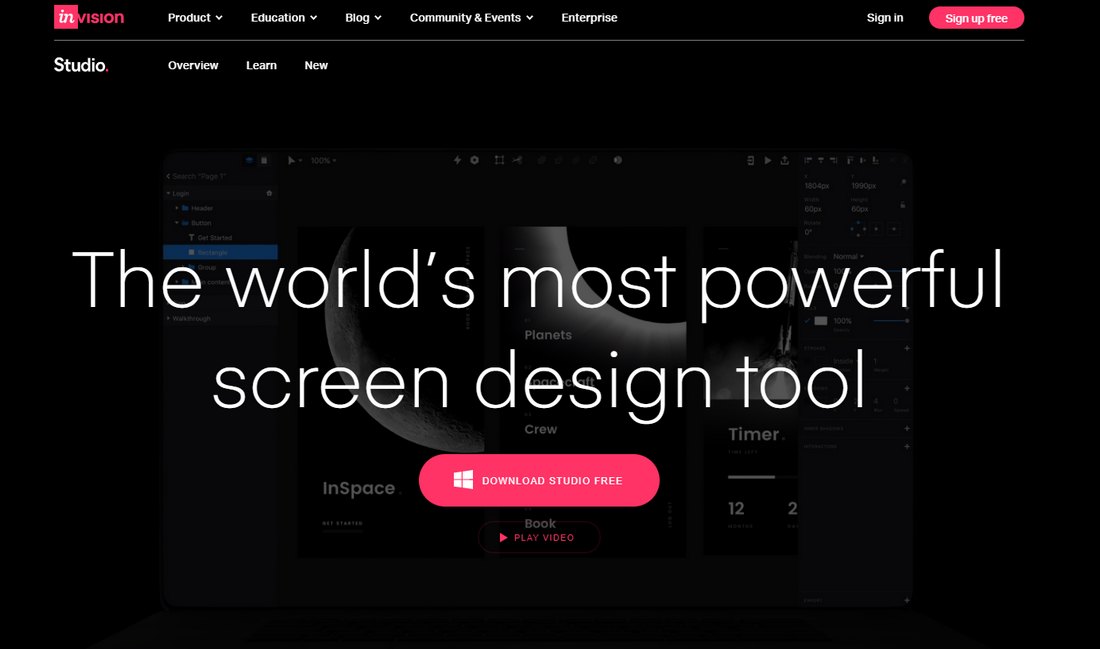 Price: Free / $7.95 per month
InVision Studio is an app made specifically for UI and app screen design. It's known as one of the best tools for creating high-fidelity prototypes.
Since InVision Studio doesn't offer tools you'd normally use in a vector graphics editor, you'll have to use an additional vector editor like Affinity Designer to get the most out of the app.
However, InVision Studio offers an all-in-one solution for professional-quality screen designs and smooth team collaboration.
Best Features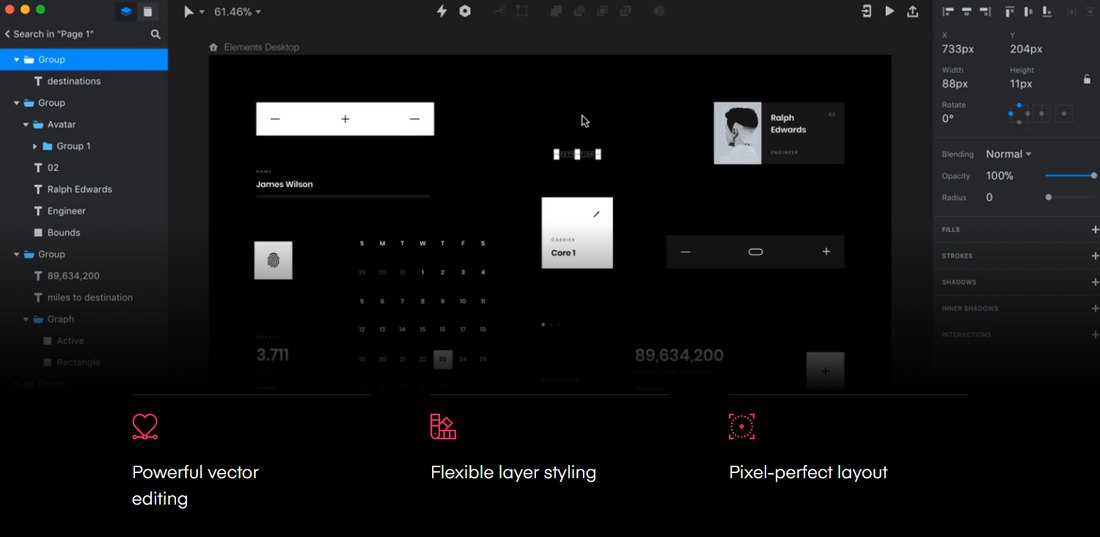 Easily design screens and turn them into animated prototypes
Includes tools for easy rapid prototyping
Import Sketch files to create prototypes out of your designs
Sync and share projects with others using a simple link
Perfect for wireframing, brainstorming, and project planning as well
Who Should Use InVision Studio?
If you're looking for a Sketch alternative to design mobile app screens and user interfaces, InVision Studio is a great option for you.
InVision Studio free plan lets you have 3 active projects and collaborate with up to 10 users. For unlimited projects and more benefits, you can switch to the $7.95 per month plan.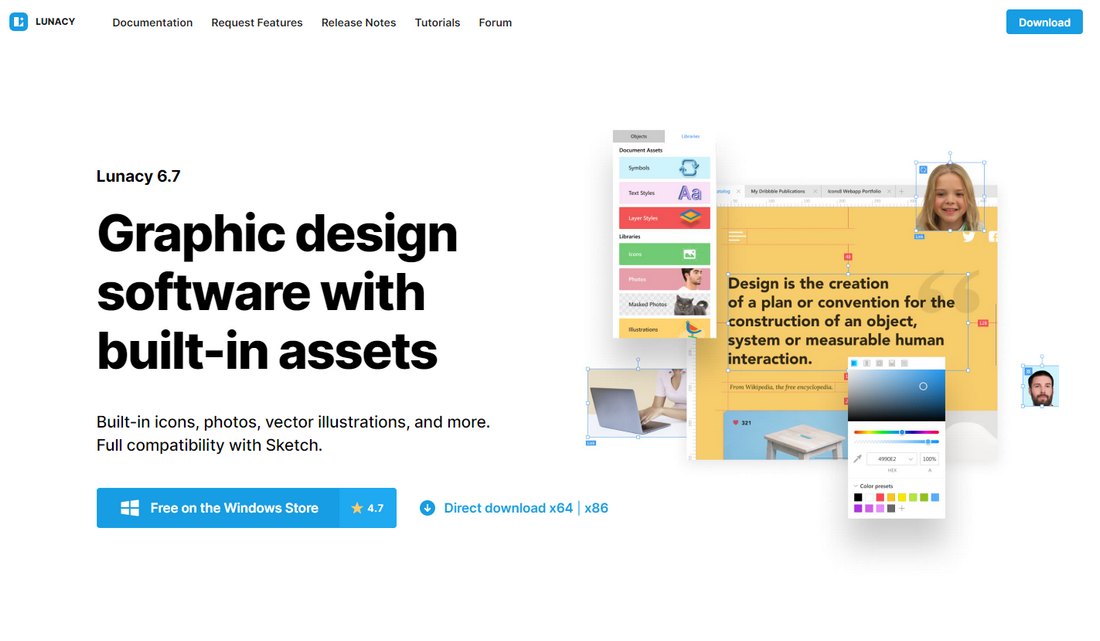 Lunacy is a completely free graphic design software that you can use without any limitations. The app comes with its own built-in assets like icons, illustrations, and lots more.
Lunacy also supports Sketch file imports so you can easily edit Sketch files on Windows. It also features all the important tools for designing professional projects as well as cloud sharing and code exports.
Best Features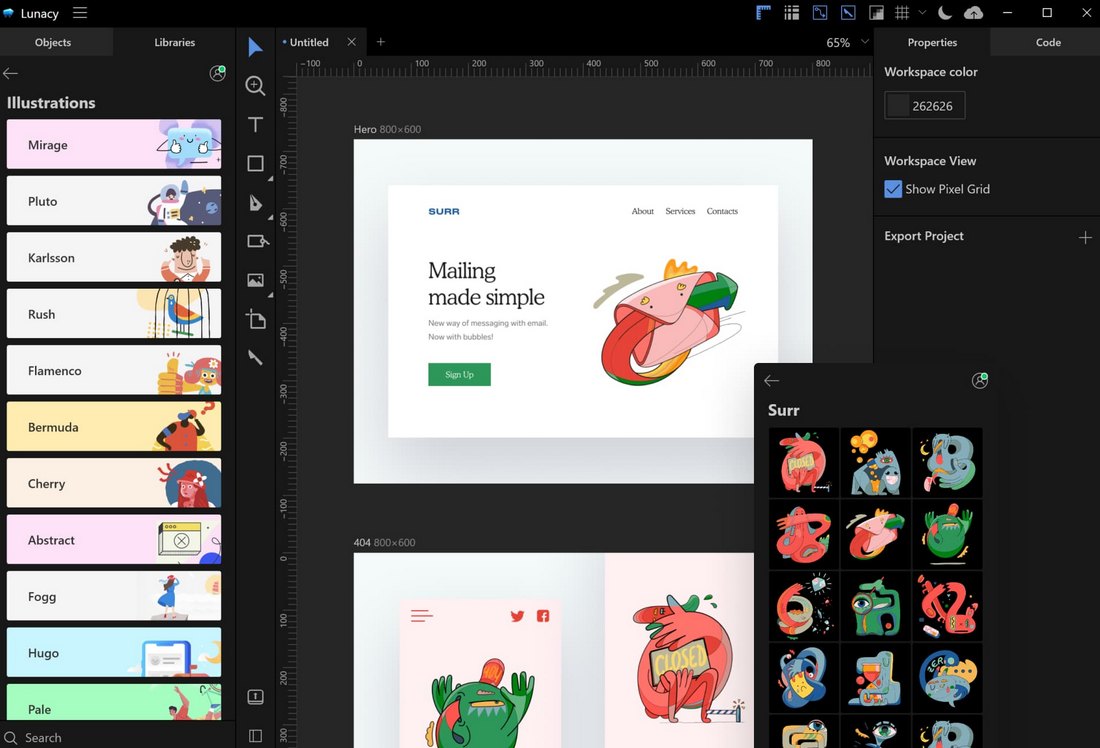 A smooth and powerful editor for designing user interfaces
Features a built-in library of design resources
Allows you to import and edit Sketch files
Includes component libraries, cloud sharing, smart shapes, and more
Works offline without an Internet connection
Who Should Use Lunacy?
Since it's completely free to use, Lunacy is perfect for both personal and professional use. It's especially ideal for freelance web, mobile, and graphic designers.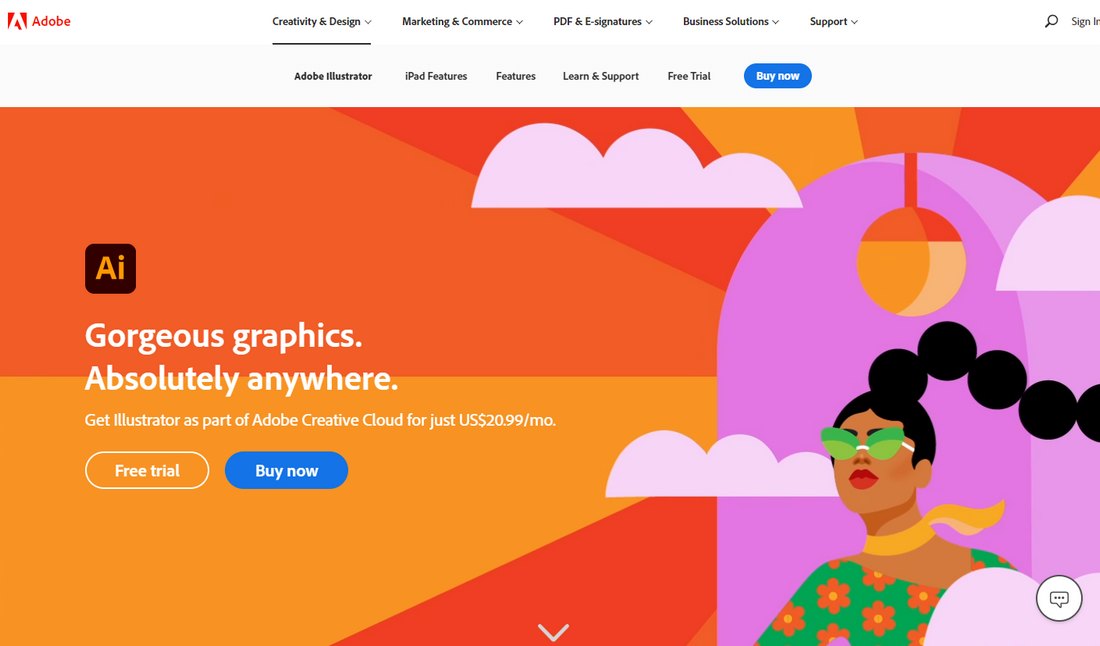 Our list wouldn't be complete if we didn't mention Adobe Illustrator. It's the go-to software for all professional vector graphic designs. And arguably the most popular alternative to Sketch.
Even though Illustrator is not the perfect app for designing app screens, it's great for illustrations and graphic designs. The only downside to using it is the expensive price tag.
Best Features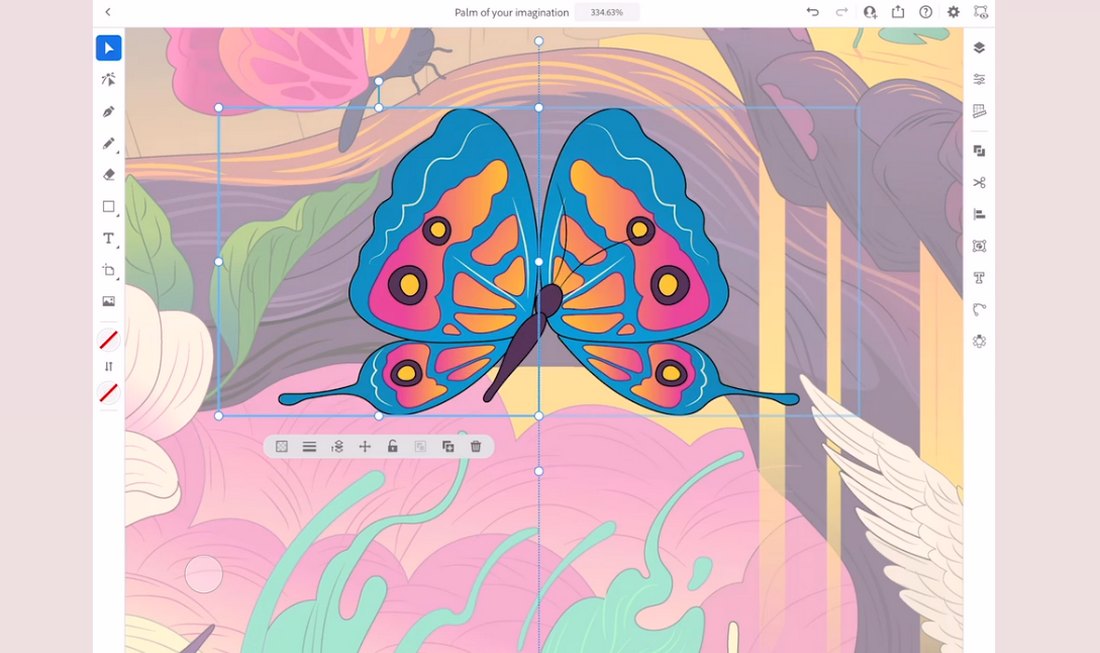 An advanced software well polished over the course of 3 decades
Perfect for drawings, illustrations, logo design, and more
Use together with Photoshop and Adobe XD
100GB of Creative Cloud storage for sharing your projects
Get access to the desktop and iPad app for the same price
Who Should Use Illustrator?
Adobe Illustrator is most suitable for professional and experienced designers. If you can afford it, Illustrator is a great app for beginners as well. There's no shortage of resources and templates for Illustrator.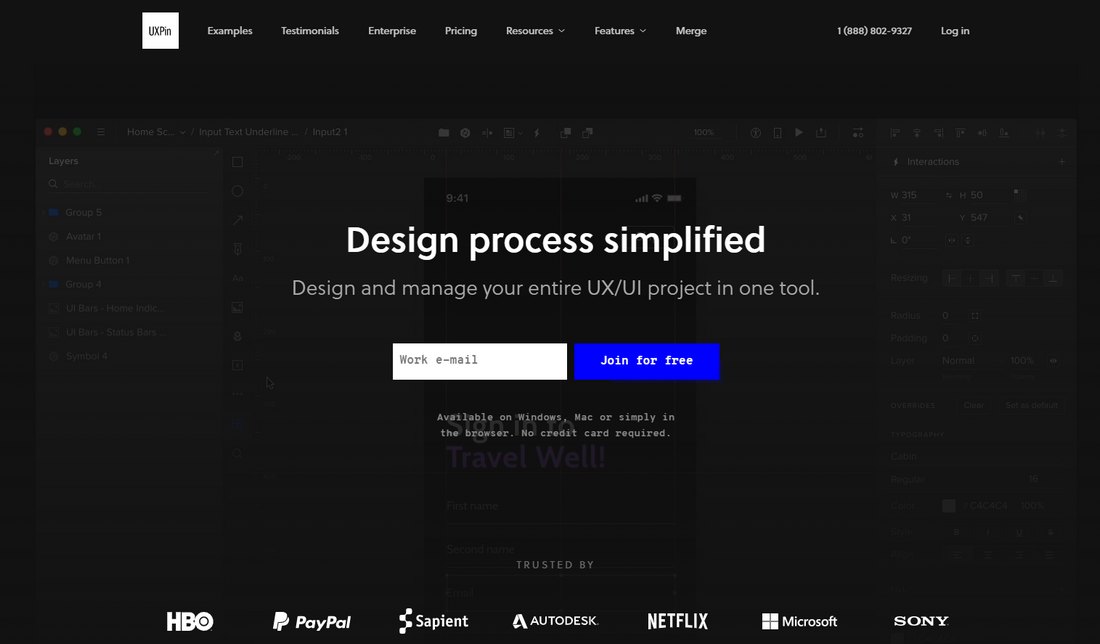 Price: Free / $19 per month
UXPin is another popular design and prototyping app that works on the browser as well as on Windows and Mac. It's designed to offer a much smoother experience for creating more interactive prototypes with code components.
UXPin comes with a set of very useful tools and features like variables, interactive states, and code components that make designing big user interfaces much easier.
Best Features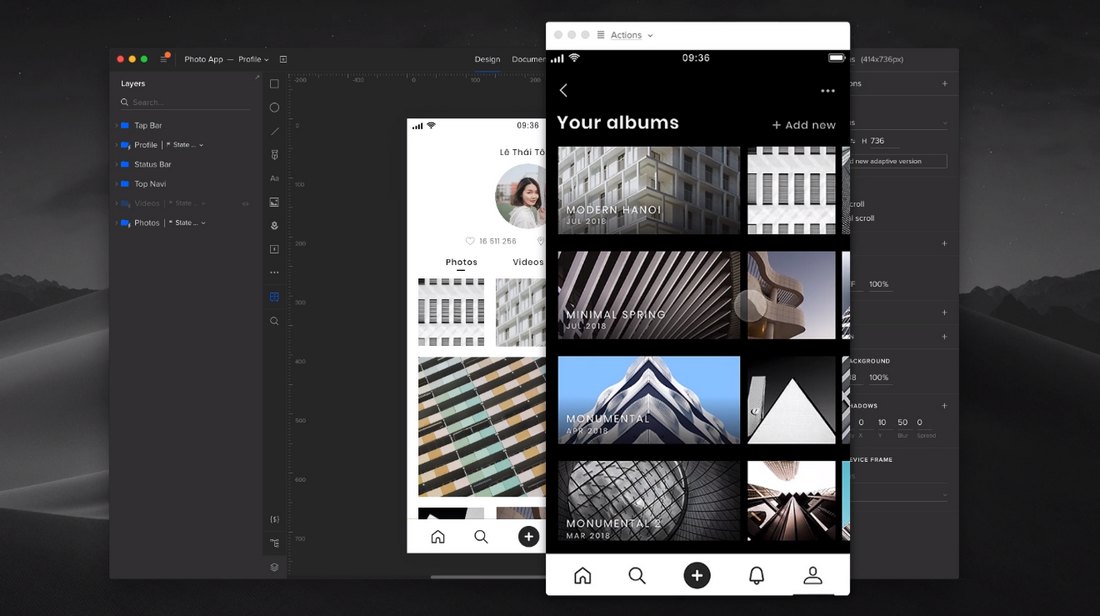 Design and prototype screens that look and feel like real experiences
Built-in resource libraries for iOS, Android, and Bootstrap layouts
Features vector drawing tools for hand-crafting elements
Design on your browser, Windows, or Mac
Real-time collaboration for teams
Who Should Use UXPin?
UXPin offers a free plan with very limited features for testing the app. For professional work, you will need to subscribe to a premium plan. For this reason, UXPin is most suitable for professional UI and UX designers, especially for agencies.
Which Sketch Alternative is Best?
Picking a winner among this list of Sketch alternatives can be difficult. Because it truly depends on your needs to pick the most suitable option for you.
If you're a web or UI designer, Figma is a solid option for you. It not only works smoothly on your browser but you can also use it for free.
If you're an artist looking for an app to design illustrations and icons, give Affinity Designer a try. It's the most affordable Adobe Illustrator alternative. And it packs quite a lot of amazing features as well.
For more suggestions, check out our best drawing software for artists list.