How to Customize a Resume or CV Template
You only get one chance to make a first impression. When you apply for a job, that first impression is often in the form of a resume or CV. The document is a potential employer's glimpse into your career, and can determine whether you become a viable candidate or not!
That's a lot of pressure for a single document. It's important that you have a resume that stands out and shows some of your best assets at a glance.
Here, we'll walk through some resume-building best practices as well as how to customise a resume or CV template in no time.
Download thousands of resume templates, cover letters, and many other design elements, with a monthly Envato Elements membership. It starts at $16 per month, and gives you unlimited access to a growing library of over 2,000,000 presentation templates, fonts, photos, graphics, and more.
Best Practices
Creative professionals often engage in an internal debate before starting on a resume project. Should it be simple and straightforward? Or a creative showcase to suit the personality of the designer?
The answer is somewhere in the middle. Your resume should be creative enough to show off your design chops, but should also suit they type of position you are applying for. It can be a difficult balance at times. As with any design project, the key is that it looks clean, is organized well and is easy to read.
With that in mind, here are a few best practices to consider:
Use color sparingly. While high-color resumes can have a lot of impact, too much color can get distracting. Don't use a full-color background unless you are going to print and deliver the resume. (You never know how someone else will print it, and different machines could create a less-than-stellar result.)
Know your audience and be cognizant of the type of work you include with the attached portfolio. In most cases avoid elements with content that isn't suitable for all audiences.
Establish a brand. Design your resume so that the style mirrors your online portfolio. Use the same colors, typography and styles for a polished look.
Include your accolades. Many designers forget to list honors and awards. Showcase them.
Use columns and formatting to create a distinct hierarchy.
Use an on-trend design style.
Stick to common paper sizing, even for digital submissions. Most prospective employers will print the resume during the evaluation process. Make it easy for them.
Avoid delivery gimmicks. The resume should speak for itself. (Most employers are asking for digital submissions anyway.)
Include key copy points: Career history (with dates), education, computer and software skills, link to portfolio or publications.
Before sending, convert your file to a PDF.
Custom Design
Here's the catch: You probably don't have a lot of time to spend working on a resume or CV. You saw a job posting that interests you and it closes tomorrow.
That's where using a CV or resume template and customizing the design can be a huge time-saving asset.
You can find some of our favourite and most practical options in this collection of the best CV and resume templates. The examples in this list offer a variety of design options; pick something that's close to your natural style. Some are paid and other are free and they come in a variety of file formats.
It's a great place to start, whether you are just looking for inspiration to start on a resume or CV refresh or if you need to create something and send it in a hurry.
The trick to using any template is to make it your own!
How to Use a Resume Template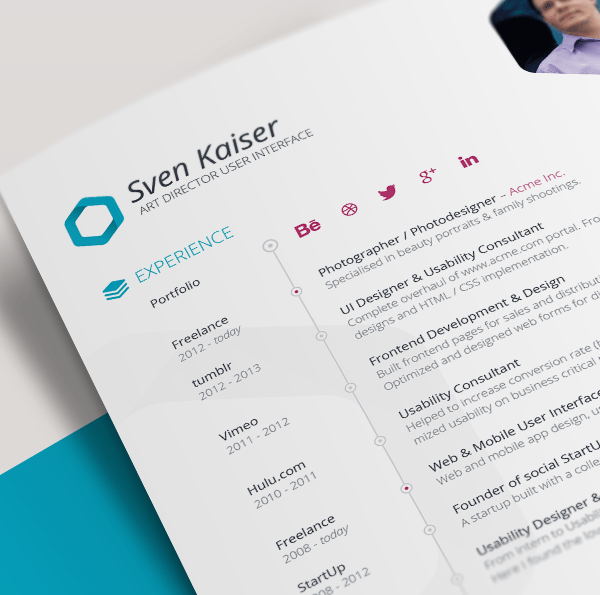 Ready to get started? Here, we'll walk through a few ways to take a template and customize it in just a few minutes. (Note that we'll just focus on the design; it's up to you to add your stellar work history.)
If you are interested, the template is a pay-what-you-want option that comes with an InDesign file. Here's a quick description of "Resume Template for InDesign": An amazingly simple yet eye-catching design prepared for InDesign format. Free for use in personal and commercial projects.
Strip Out Unnecessary Elements
The first thing I do when opening a template is substitute out anything I don't like or things that could create mistakes later. This includes removing all images – this template includes a photo – and replacing all the text with dummy text.
When it comes to templates, choose one that appeals to you structurally. This one, for example, has a hexagonal theme. Those elements don't appeal to me but the use of spacing and asymmetrical columns did. I'll strip out hexagonal elements and headshot in the top corner and replace other hexagons with my "personal brand" circular swirls and a color-blocked header (note that the header isn't full bleed so that it will not cause printing difficulties).
Adjust the Color and Typography Palettes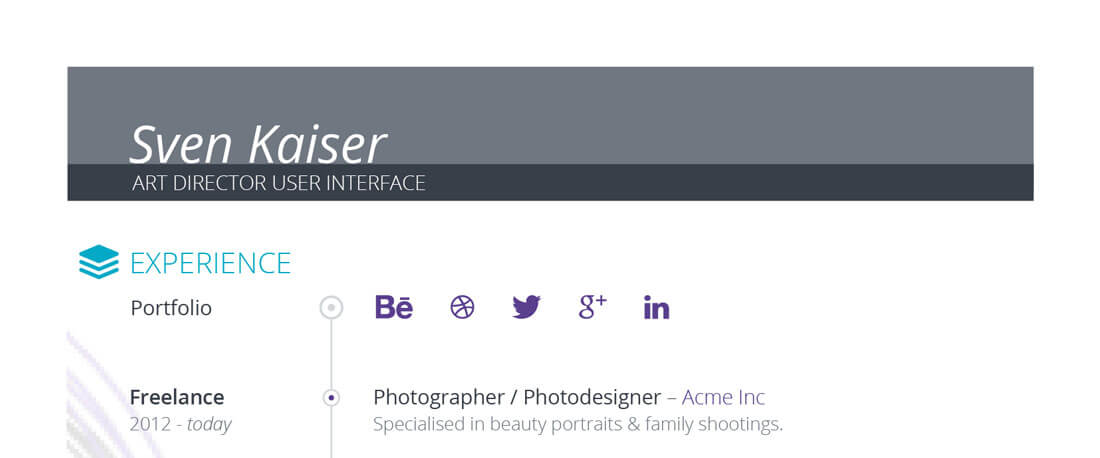 Most templates come set up for adjustments. This one is no exception. Colors and type styles are set in the menus. This is important because you can universally change styles and hit every related element in the document at once.
Adjust colors or typefaces to match your personal brand or portfolio website. (You don't need to have perfect matches, but something that's in the same aesthetic vein is best.)
When considering color and type choices, remember the user. They might look at the resume on a screen or print it out. Make sure there is plenty of contrast between elements so that everything is easy to read regardless of medium.
Then look at your style. Personally, the jobs column seems a little lost to me, so I'll bump up the weight of the type there. That's a part of the resume that employers look at and it's important to ensure that it is seen right away.
Add Your Content

This might be the hard, or easy, part depending on your perspective. Add your career history. Parts of the design will adjust based on the number of elements you have to include versus the template.
Consider moving elements from page to page to make sure that the most important parts of your career are front and center. In this example, I moved the contact information so that everything could fit on a single page (highly recommended if you can do it).
Make sure to arrange content in a way that best reflects your abilities and skills. No template can dictate this for you. Consider jotting down key attributes, skills and jobs on paper before starting so you don't lose focus when adjusting a preexisting design.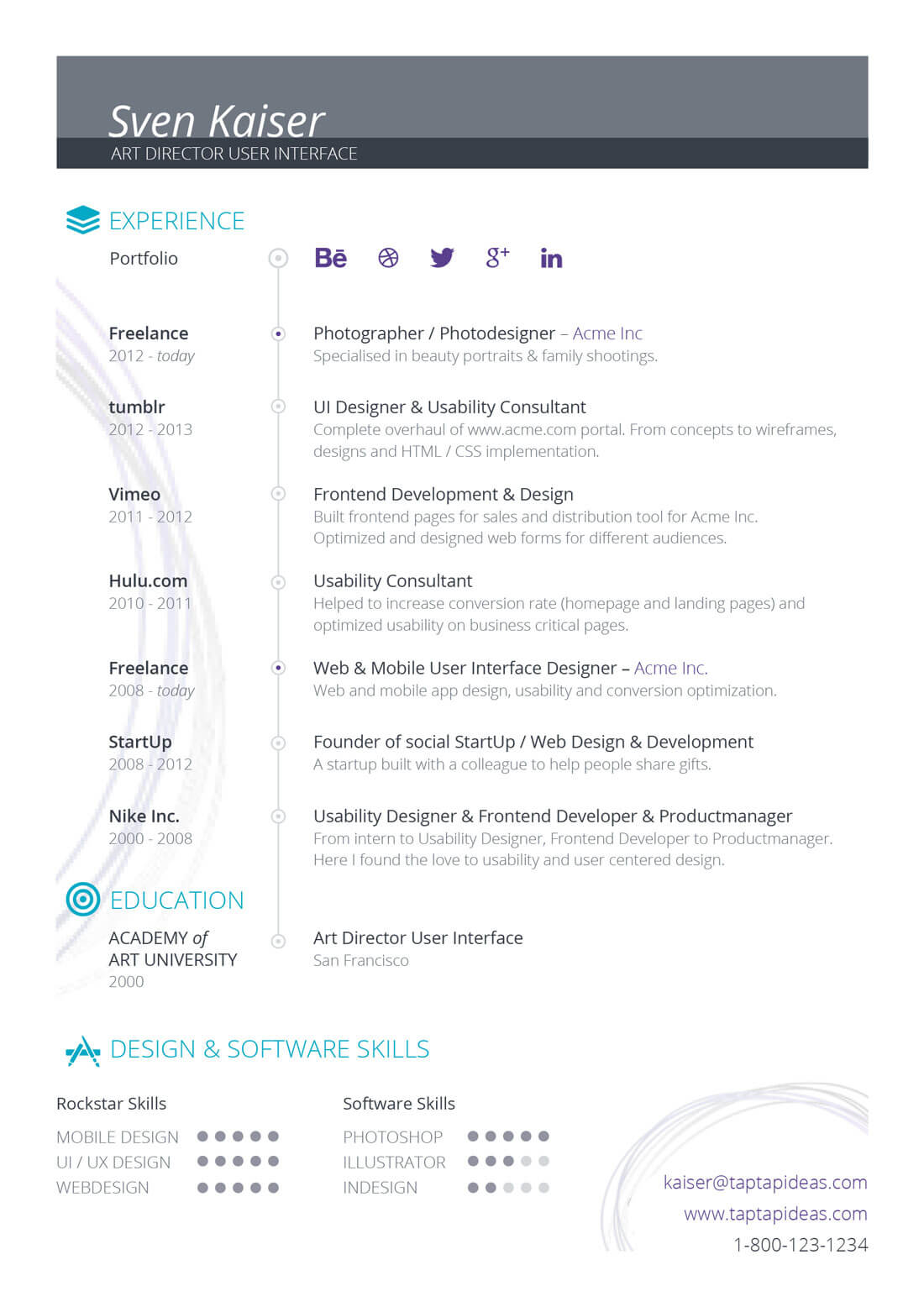 Conclusion
There's no one-size-fits-all solution for creating a resume or CV because everyone is different on paper. A template, though, can provide a good starting point for a design that will make you happy and that saves time. (The example above only took about 15 minutes to adjust.)
Make sure to browse through our collection of the best CV and resume templates, and good luck!