How to Use an Instagram Template
An Instagram template is a kit of pre-made designs to help you share different types of content on the highly popular social media channel.
While there are plenty of Instagram templates out there – for individual posts or to create stories – getting started can seem intimidating. How do you most effectively use an Instagram template to create engaging content?
Here, we have a guide that breaks it all down so you'll be creating Instagram posts like a pro in no time.
Download thousands of beautiful Instagram post and story templates, Instagram video templates, and anything you need to supercharge your social media presence with an Envato Elements membership. It starts at $16 per month, and gives you unlimited access to a growing library of over 2,000,000 Instagram templates, design assets, photos, videos and more.
Why Use an Instagram Template?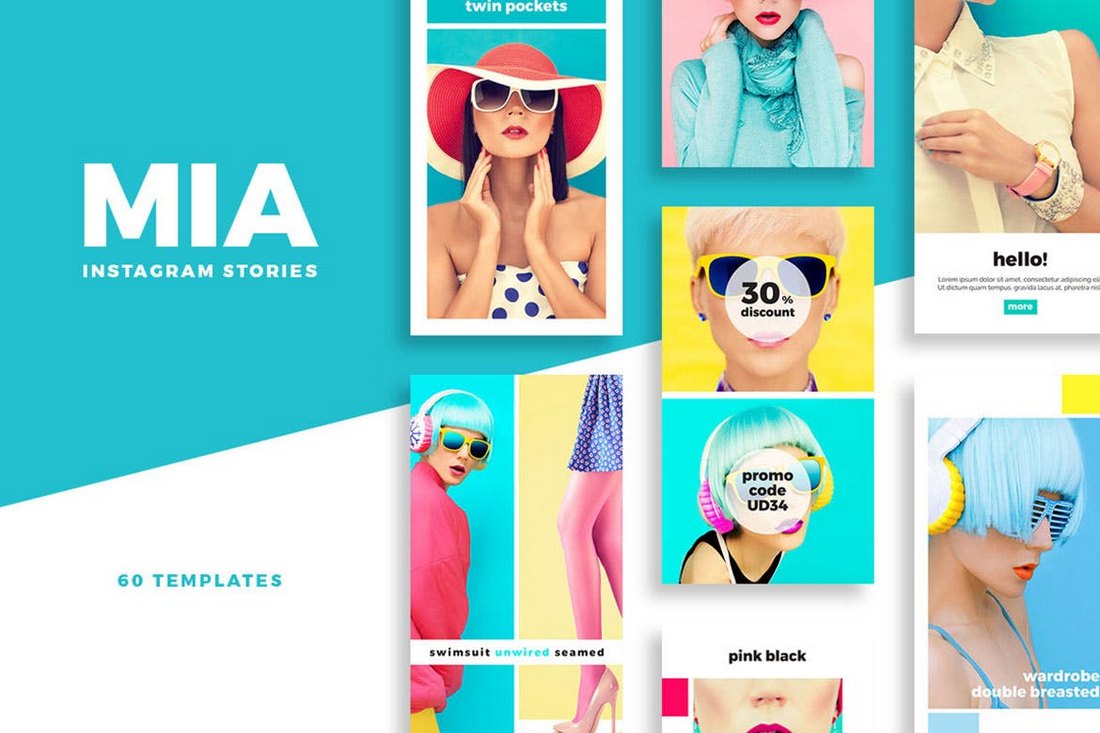 Instagram templates are a great, time-saving tool for marketers, designers and individual looking to make the most of the platform.
A template can include locations to add images and graphics with text, infographics, backgrounds, and other visual elements. It's the basis for jumpstarting the idea of a design. If you struggle with coming up with types of content to share, a template can help.
Further, a template can help you create a visual identity and theme on the social network. The best Instagram accounts have a content and visual theme that followers know and expect. (It's a lot more complicated than just posting whatever photos are on your phone.)
Finally, a solid Instagram template can help a non-designer or designers create promotions quickly. While you can download Instagram templates, you can also create your own as a framework for posting. (Need inspiration? We have some ideas for you here.)
What to Look for in an Instagram Template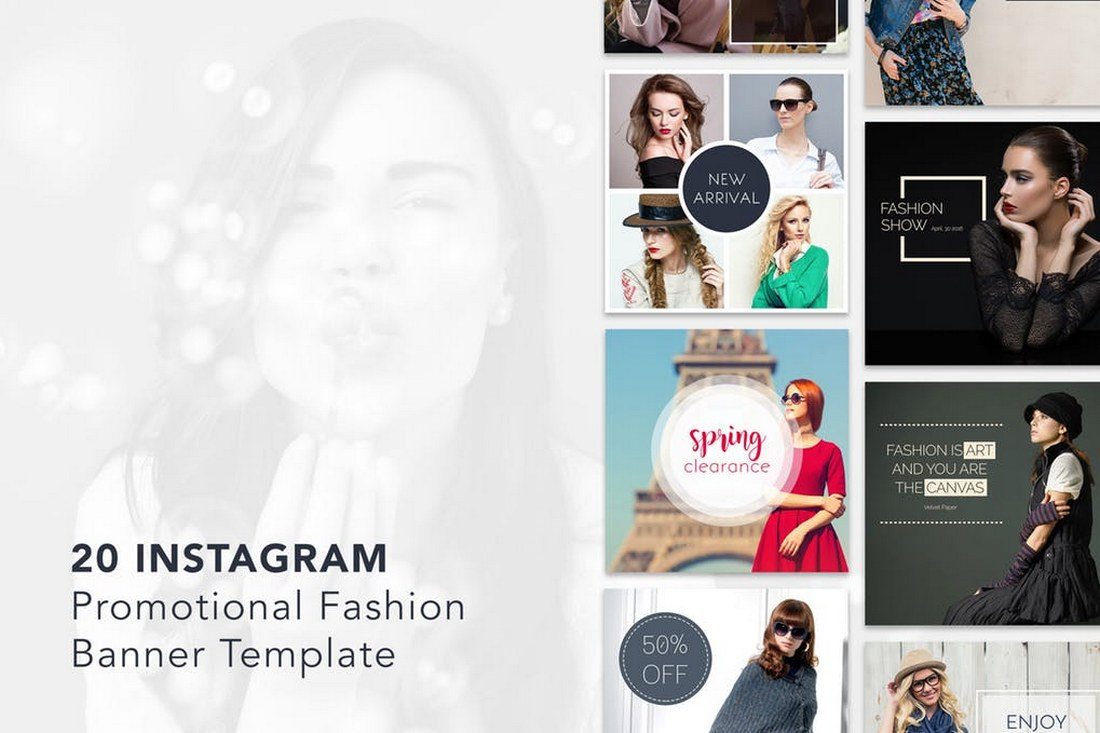 With so many choices out there, how do you find the right Instagram template?
There are a few things to look for:
Specs: Make sure template sizes are current.
Customation: You want template files that you can open and edit in software that you are using, such as Photoshop.
Interactive elements: For Instagram Story templates in particular, look for elements or locations to add interactive parts that are native to the platform, such as hashtags, gifs or polls.
Style: The template should "match" your design style and type of content you post. If your posts are image heavy, text-laden Instagram templates aren't your best option.
Flexibility: Look for a template with plenty of options for different types of content. That way you won't revert to posting the same thing (or something that looks like the same thing) repeatedly.
Post or Story Templates?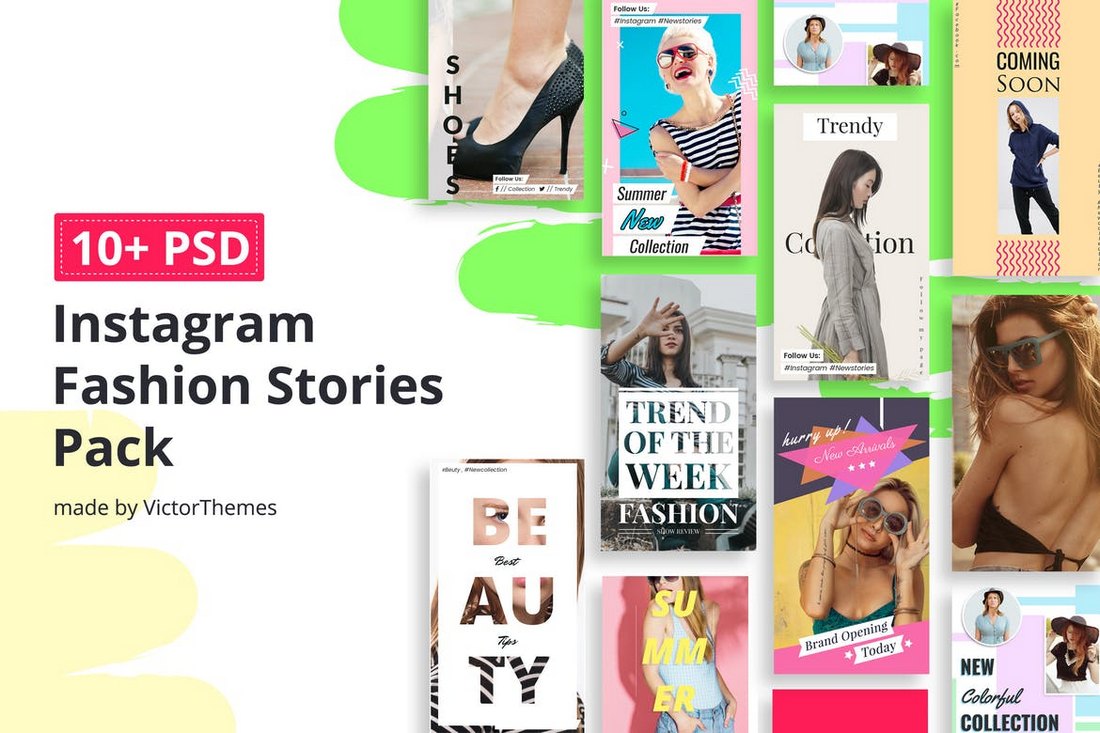 When it comes to using an Instagram template, make sure you have something that works for posts and stories.
An Instagram Post includes an image or video, caption and optional hashtags. Posts do not include the ability to link to outside content.
Instagram Stories are a newer format and growing in popularity. Stories allow users to share multiple photos and videos in a slideshow format. Stories appear at the top of the main feed. And for accounts with more than 10,000 followers, stories can link to outside content.
A solid Instagram template allows for both types of content. You'll know the template is made for both by looking at formats and sizes. By default, an Instagram post is square in shape and includes a single type of media (photo or video). An Instagram story is a vertical format and includes multiple media types (photo, video, gif, poll, etc.).
How to Customize Instagram Templates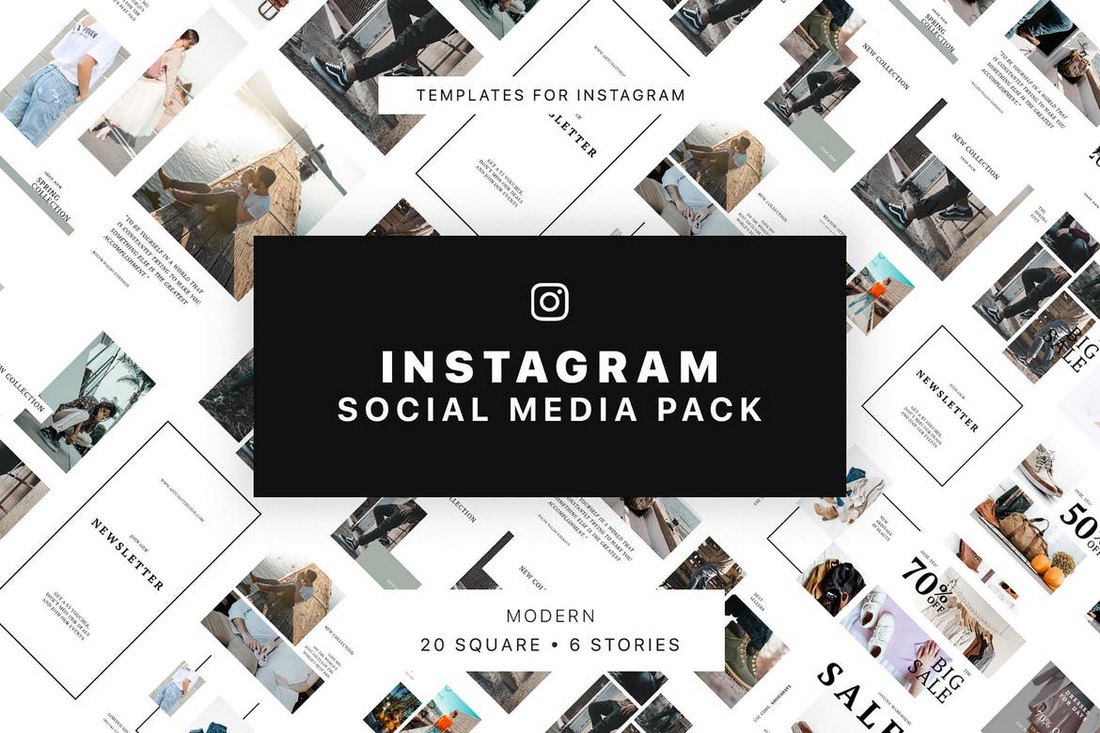 It's easy to use an Instagram template. (The hardest part is finding one you actually like.)
Here's how to use an Instagram template in a few steps:
Download the Instagram template you want to use.
Open the template in Photoshop (most come formatted in PSD).
Add your own colors, images or other elements to the template design.
Save to your mobile device.
Add to Instagram and include additional info such as captions, hashtags or interactive elements for stories.
Publish… and make sure to keep an eye on your content and continue to engage with followers.
Find a Visual Theme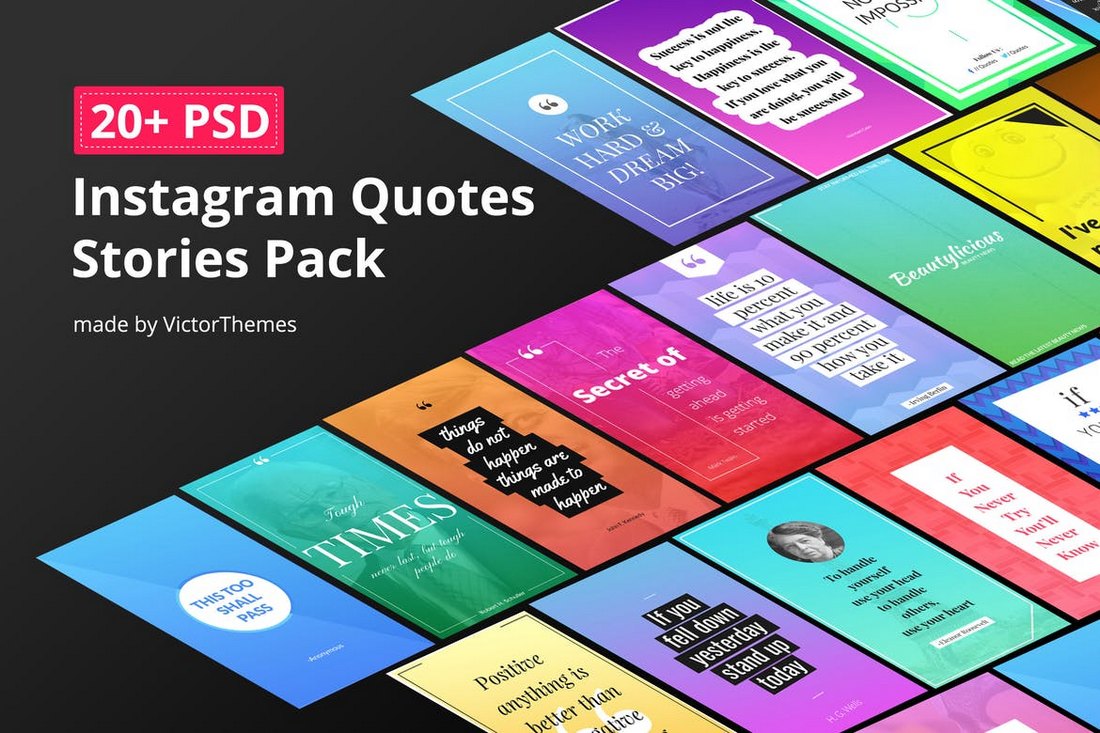 The important thing when it comes to using Instagram is to pick a template that matches your content.
This might be the most important part of using an Instagram template: You need to find and establish a visual theme. (You can see that concept in some of the templates featured in this post.)
A visual theme will help create consistency in your Instagram feed so that your followers can identify your content when it comes through. Visual themes might change over time or to match specific campaigns.
A visual theme can include a color or type palette and the types of images and video you post. It can include how you create content: Do you use gifs in every story?
The visual theme also extends to the words used with visuals. What kind of voice does your brand have on social media? Does it match your brand voice on other channels (such as your website)?
The important thing when it comes to using Instagram is to pick a template that matches your content. Don't just pick a template because it looks cool; it has to actually work with what you want to accomplish on the social media channel. Users want to interact in a way that's authentic and engaging.
Your template should be a reflection of who you are. Not only will it make it easier to use and create content for, but it will also feel more real and turn into something you enjoy doing.
Conclusion
Make a point to create or find an Instagram template that will help you tell your story better. Select a template that's quick and easy for you to customize, works with the kind of content you want to create and has a visual style that matches your own.
Then start creating posts and stories that have the right look and feel for your Instagram account. And don't forget to engage with followers so you can continue to grow your online presence. Have fun!