Webnote: A New App for Browsing and Inspiration Clipping
If you're anything like me, you love collecting visual bits that you find while working online – photos, video, text, gifts, whatever. These little pieces from the web are sources of inspiration that help to shape future projects, showcase trends, and serve as reminders of some of the neat things others are doing.
Creating this visual collection just got a little easier for iPad users with the new Webnote app, which allows you to browse, collect visuals and share all from one app. Here's a look at how it works.
Get unlimited downloads of 2 million+ design resources, themes, templates, photos, graphics and more. Envato Elements starts at $16 per month, and is the best creative subscription we've ever seen.
What is Webnote?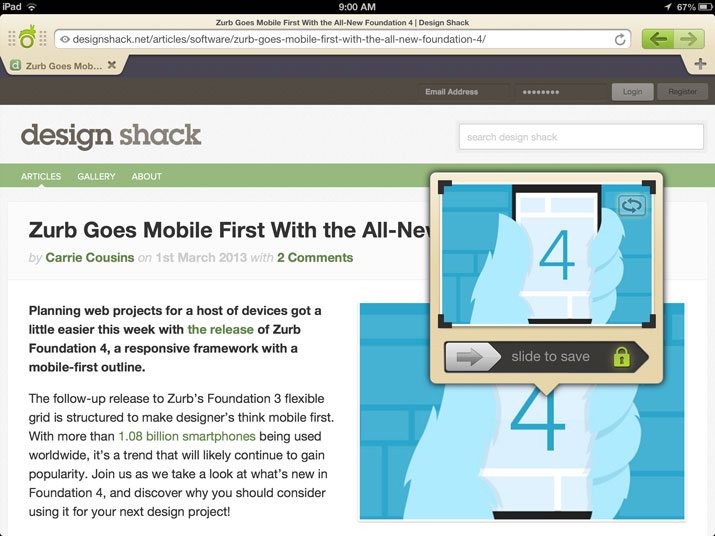 Webnote is both a browser and application all in one. It's first app that functions as an individual browser based on gestures, so you don't have to copy and paste or fumble between social networks or browsers. It allows you to share any type of digital content through your profile or save it in a private collection.
"Bookmarking has not fundamentally changed since the beginning of the web," said Andrés Godoy, co-founder and CEO of Hopin, makers of Webnote. Godoy was also a research fellow at Johns Hopkins University who specialized in the cognitive processing of faces. "We think we need to make the experience more simple and intuitive, but most importantly, enable users to capture the richness of the details within webpages. Ultimately, life is about the little things."
How Does it Work?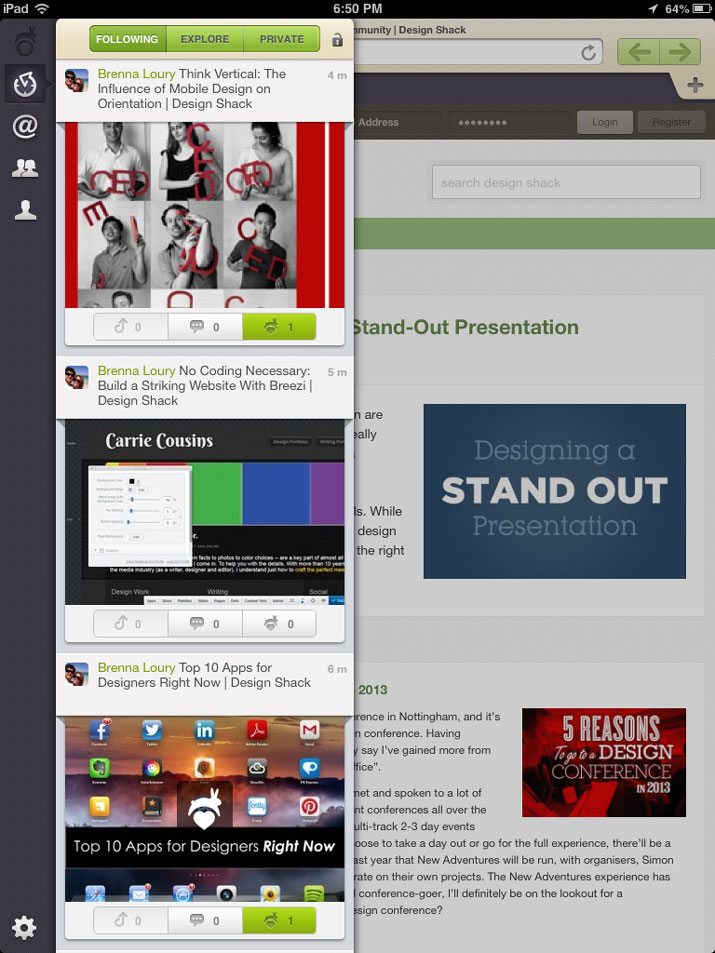 Webnote allows users to browse the web and bookmark, collect and share digital content with a quick double-tap and swipe.
The user interface is smart and easy to pick up. Double-tap to save something and it opens in a mini window right in the browser/app. Size your visual reminder in the view window and add notes; then share or save for private viewing. Plus the side-to-save feature works just as you would expect from something using Apple's iOS.
All of your saved clips are located in a stream that you can access at any time.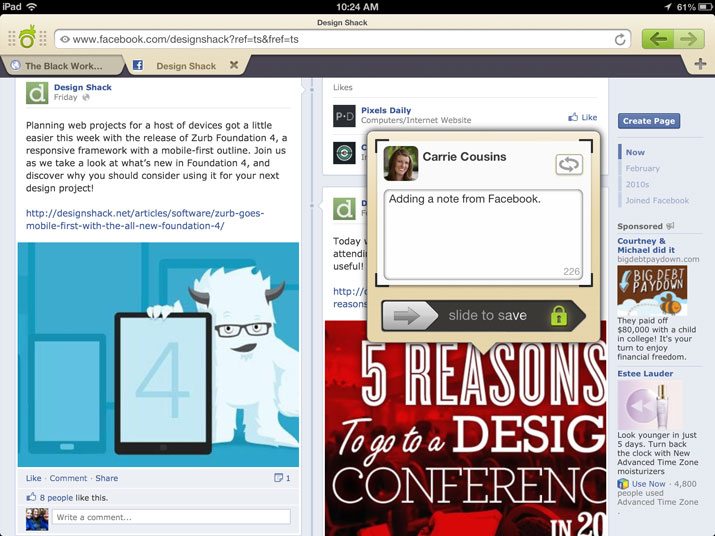 What's great about the app is that it allows you to collect while browsing, and without leaving your place online. You tap and save while your original web location stays in the background. Plus you can browse other clippings without ever leaving the webpage. It works on any website – even Facebook, where other clipping tools have proven unsuccessful – so you really can clip anything you find on the web in seconds.
The browser works like you would expect with buttons for forward and back and options for multiple tabs.
Webnote allows you to connect socially – both by following people connected to the app and through Facebook or Twitter, making it super-simple to share across social networks. Collaborative consumption is at the heart of Webnote, according to the app's makers. Explore content from other users and re-save, comment, or mark posts you similarly find appealing – Webnote cultivates the subtlety of small details while providing the rich utility of context.
Collaborative consumption is at the heart of Webnote.
But for me, private collection is really appealing. You never know what is going to inspire you online – how many of you also collect images of cool buttons or photos that are shot from interesting angles? – but you don't always want the world to know what you are thinking. This feature alone really helps Webnote stand out.
Great for Designers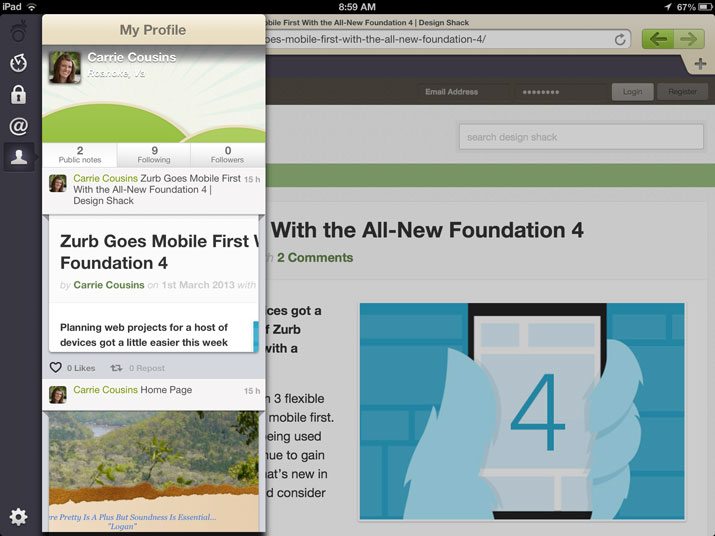 This is a tool made with designers and creatives in mind. And it has a lot of potential to become the go-to tool for designers looking to share visual thoughts because it captures details somewhat mirroring the way we think about design projects – one piece at a time. The app seems to be less about encouraging you to visit the link from the clipped item (which it does save) and focus more on the visual itself.
It has a lot of potential to become the go-to tool for designers looking to share visual thoughts because it captures details.
The platform is more fluid than some others I've used. Pinterest is great for instance, but pinning is only easy when working from a desktop computer. Plus, you really do have to filter through everyone's wedding planning pins.
The visual collection in Webnote is also handy, giving you the ability to save images how you like (many other apps decide this for you). And it's all wrapped up in a fairly sleek interface — as a designer, I like to work with tools that function and look good. Sometimes we do judge books (well, apps) by the cover.
Feature Requests
First, it would be nice to have a web-based component. Users browse in so many locations and work from so many different places, it's important that saved images and notes are accessible anywhere.
I'd also like the "My Profile" tab to showcase all notes, not just public ones. In the current structure, users have to look in two different places – in My Profile for publicly saved items and under "Private Notes" for others.
The sounds are also slightly less-than-subtle… You can mute sounds in the settings, but sound effects are not something that add to a users web experience, and they are somewhat distracting. I want the browser to feel like any other browser just with the added functionality, somehow the sounds were taking away from this.
App Comparison
Webnote: Browser-based clipping from any website. Save images, videos, text, gifs in an editable image with a link to original source. Features private or shared clipping. iPad only. Free.
Evernote Web Clipper: This add-on to the popular Evernote app and online tool allows you to save most anything from the web. Clipping is based on a plugin to Safari and clips are saved to the Evernote app. Sharing is available for premium accounts. (Note: There are multiple Evernote clipping apps and they work in much the same way.) Web and iOS devices. $3.99.
Springpad: As an online tool, Springpad is easy to use and catalog and share items from the web. Clipping has not made it to the app version yet. Springpad does allow users to upload content from non-web sources and share within the Springpad or other social networks. Web and iOS devices. Free.
Pinterest: By using the in-app browser you can pin and share with just a click – a feature many users don't seem to know about. Pinterest detects what and how to pin for you and not all images/websites and pin-able. The platform is widely popular and easy to use. Web and iOS devices. Free.
Clipboard: This app allows you to clip from other apps using copy and paste. The interface allows you to save text, bookmarks and HTML but there is a lot of switching between apps. Web and iOS devices. Free.
Conclusion
Webnote is being released March 7, but Design Shack readers can get it early. Use this special Design Shack link to get a download invitation. The app is free to download and use with no additional costs.
This is a fun little app that might change the way people thinking about browsing and gathering content. Plus the connections to social media can be an interesting way to share your visual thoughts and inspirations with others.
Check it out and let us know what you think in the comments.