10 Best Typography Websites to Explore for Font Inspiration
We all experience creative blocks from time to time when trying to find inspiration for typography designs. Well, that struggle ends today! In this post, we showcase a list of the best websites you can explore to find font inspiration right away.
As Richard Lipton once said, "Type is a dance, and the designer is the choreographer, sort of." As a designer, it's your responsibility to find the right fonts and choreograph them to dance on the stage of your design projects.
But how do you know which font is right for your project? That's where typography inspiration websites come in. These sites show some of the best uses of fonts and typography designs to help you find inspiration.
Have a look and be sure to add these sites to your bookmarks.
Download thousands of stunning premium fonts and typefaces with an Envato Elements membership. It starts at $16 per month, and gives you unlimited access to a growing library of over 2,000,000 fonts, design templates, themes, photos, and more.
Typewolf is one of the most popular online resources among web and graphic designers. This site has a massive collection of curated typography designs for you to find font inspiration for all kinds of projects.
When exploring designs, you can easily find details about the fonts used with information on a separate page dedicated to the font. This font page includes links to marketplaces for purchasing the font as well as a list of other designs that have utilized the same font.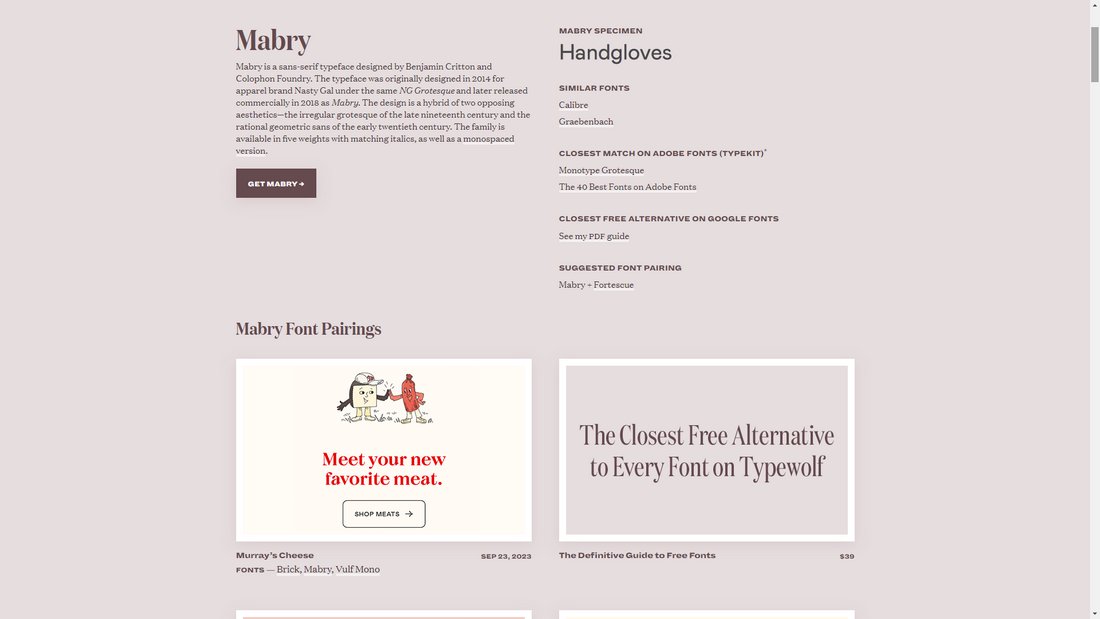 This page also has suggestions for other alternatives to the selected font, including recommended free fonts with similar designs.
In addition to the font inspiration, it also has font pairing lookbooks, typography checklists, font recommendations, and more. Typewolf is certainly an invaluable resource for designers.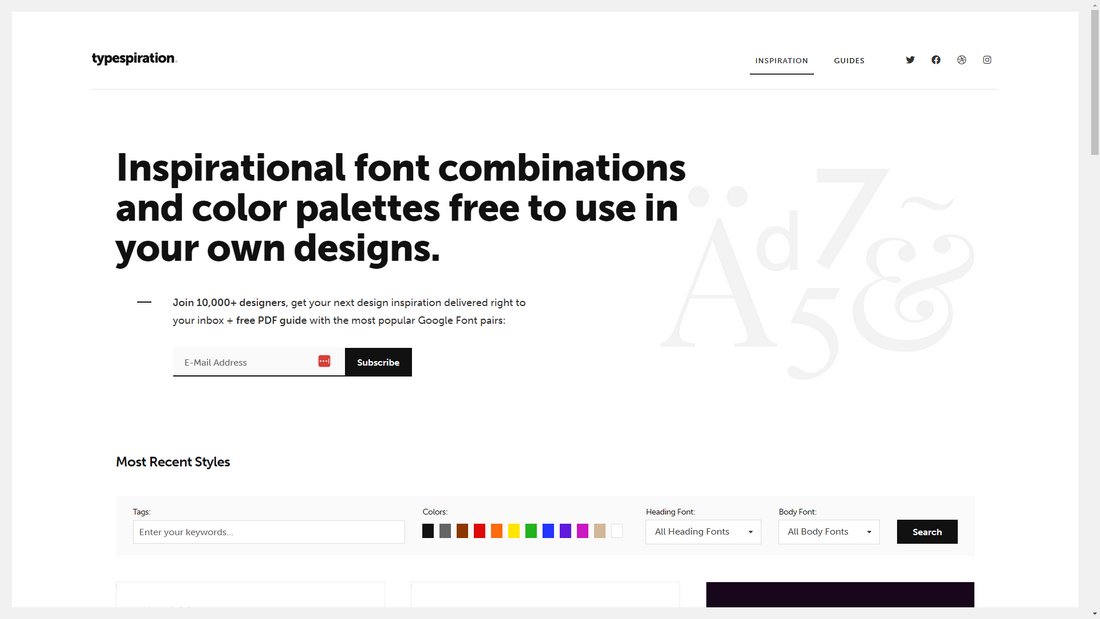 Typespiration is a font inspiration website that's especially suitable for web designers as the site showcases a collection of font combinations with concept UI designs as previews.
You can explore the collection on Typespiration by searching for certain keywords. Or you can filter the collection by colors, heading font, and body font.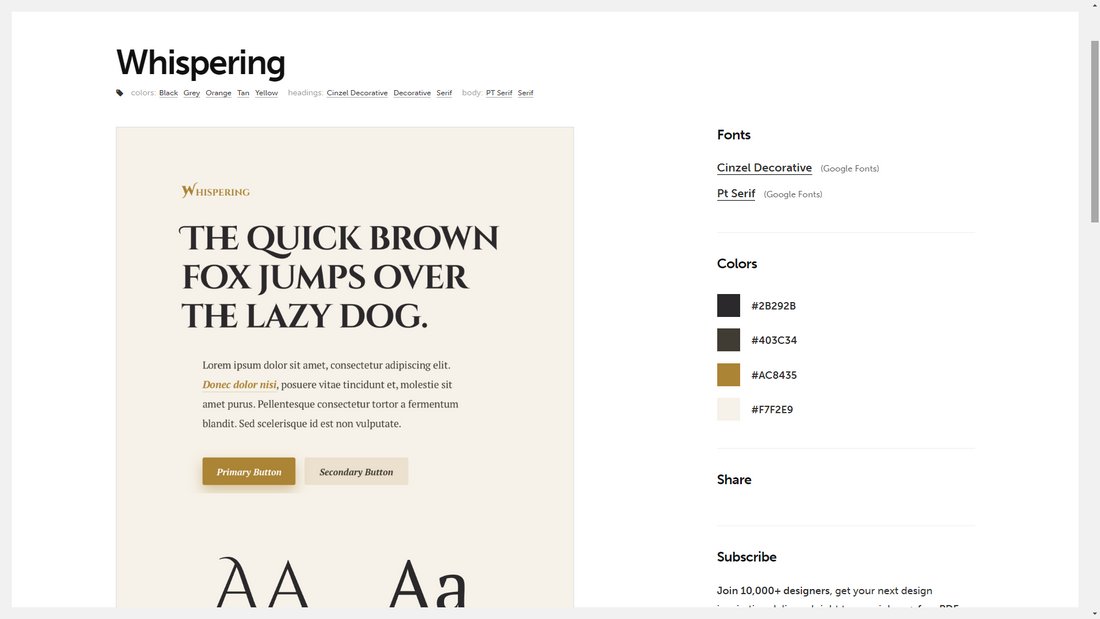 Each page has detailed information about the fonts, color palette, and how the fonts are being used. Almost every font combination on the website is from Google Fonts, which is always helpful for web and UI designers.
You can also find the direct links to the font pages as well. Additionally, Typespiration has an email newsletter that sends new font inspirations straight to your inbox.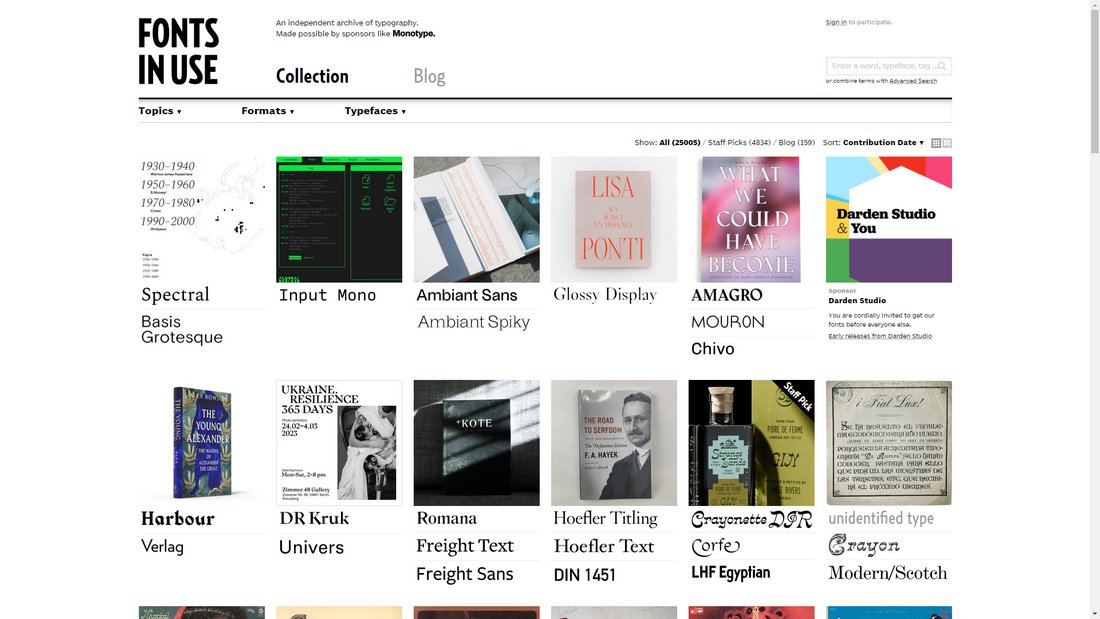 Fonts In Use website has much more valuable information about fonts than most other websites on our list. What makes it even more special is its collection of typography design examples, which consists of real-life designs.
The collection of design examples has everything from book covers to album art, magazine covers, posters, and flyers. This wide variety makes it much easier to find inspiration for more specific projects.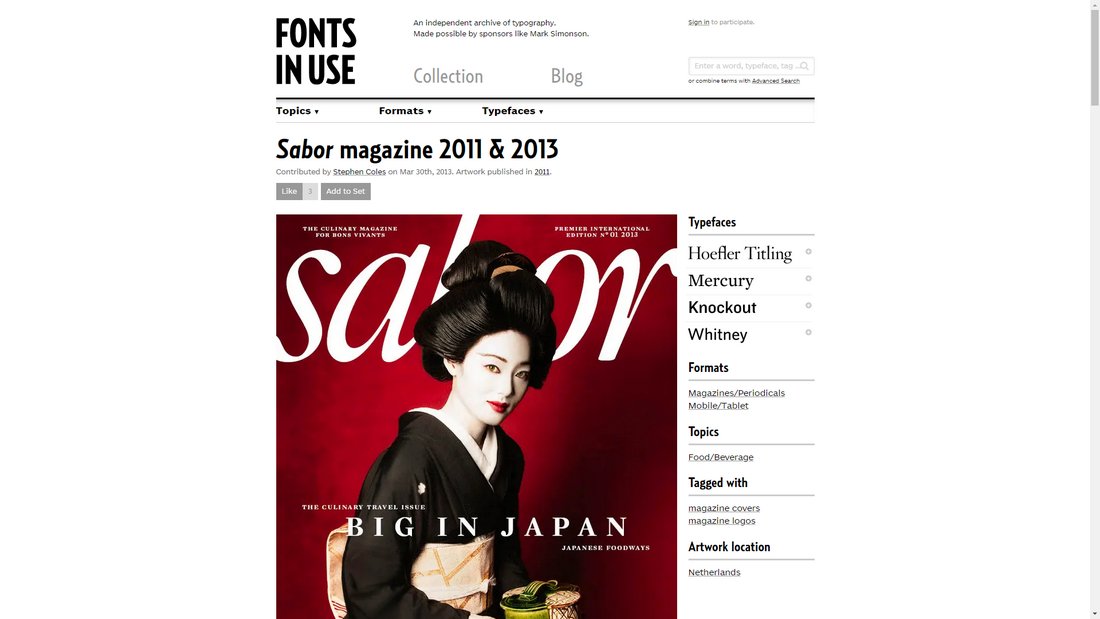 The design page offers more previews of designs with links to the fonts in use. There are separate pages for fonts as well, which have descriptions about the fonts, history, and their uses.
The site also allows you to explore examples by dozens of categories, including by topic, design format, and font.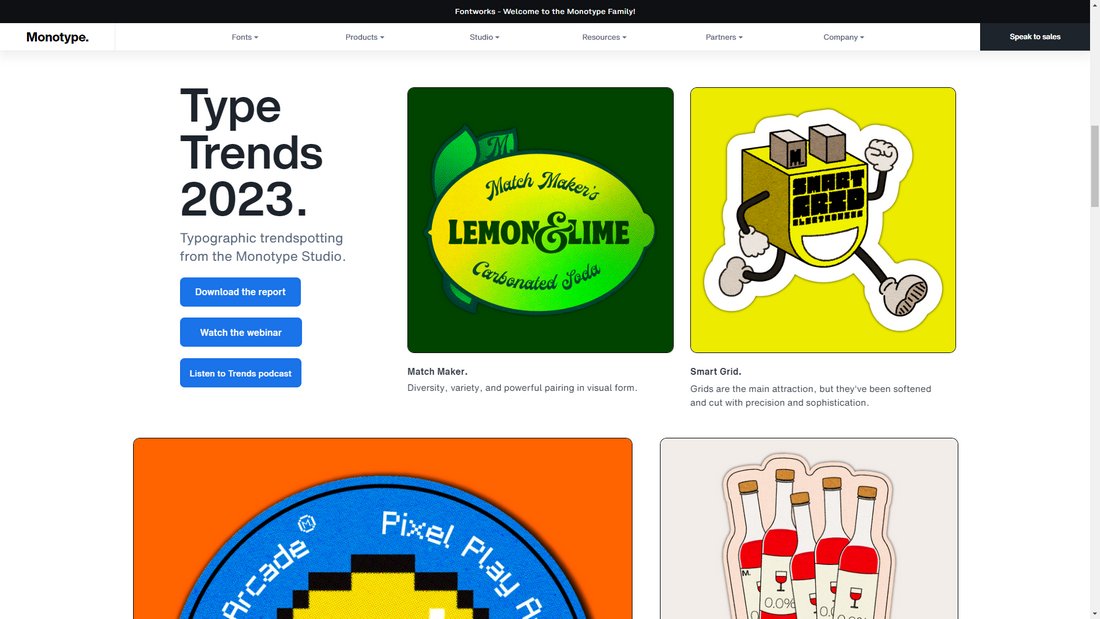 Monotype releases an annual report on the latest type trends with a summary of the latest and emerging trends for each year. This collection usually includes a variety of designs and unique uses of fonts.
Unlike most other websites on our list, this site does not offer detailed explanations or links to the font pages. It's purely about getting inspired and finding new ideas for your next project.
Monotype, however, has a very informative podcast and webinars that you can explore to learn more about the latest typography designs. The Resources section of the website also offers lots of great case studies and eBooks to discover as well.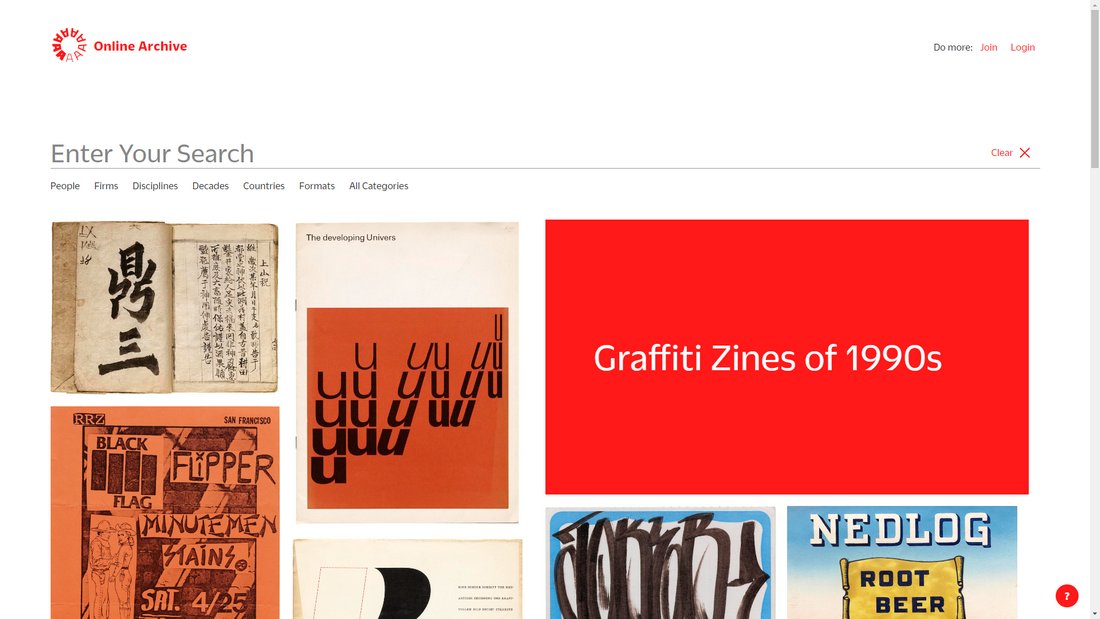 As you can probably guess from the name, Letterform Archive is a library full of classic and vintage typography designs. If you want to learn from the best designers and the best uses of fonts from the 70s, 80s, and 90s, then this website is a treasure trove full of design gold.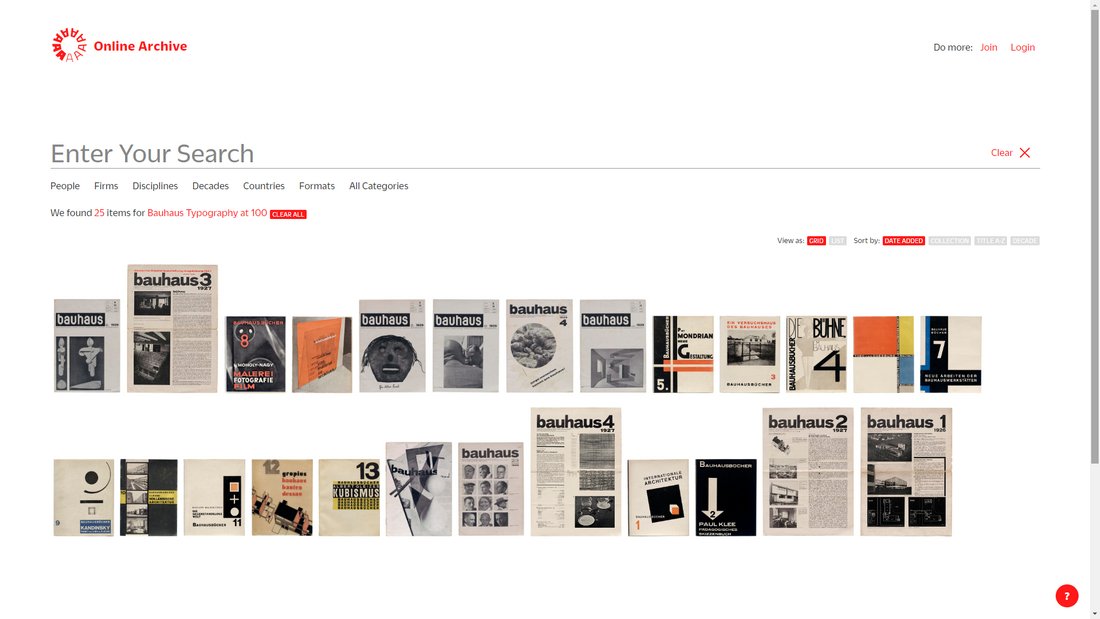 There are several ways you can explore the Letterform Archive collection. You can browse by popular designers or agencies as well as by different decades, countries, and formats.
This website will instantly turn you into a typography aficionado. Every time you visit the website, you will discover something new about fonts. It's a place to learn from the past and get inspired to carry on the legacy of legendary designers.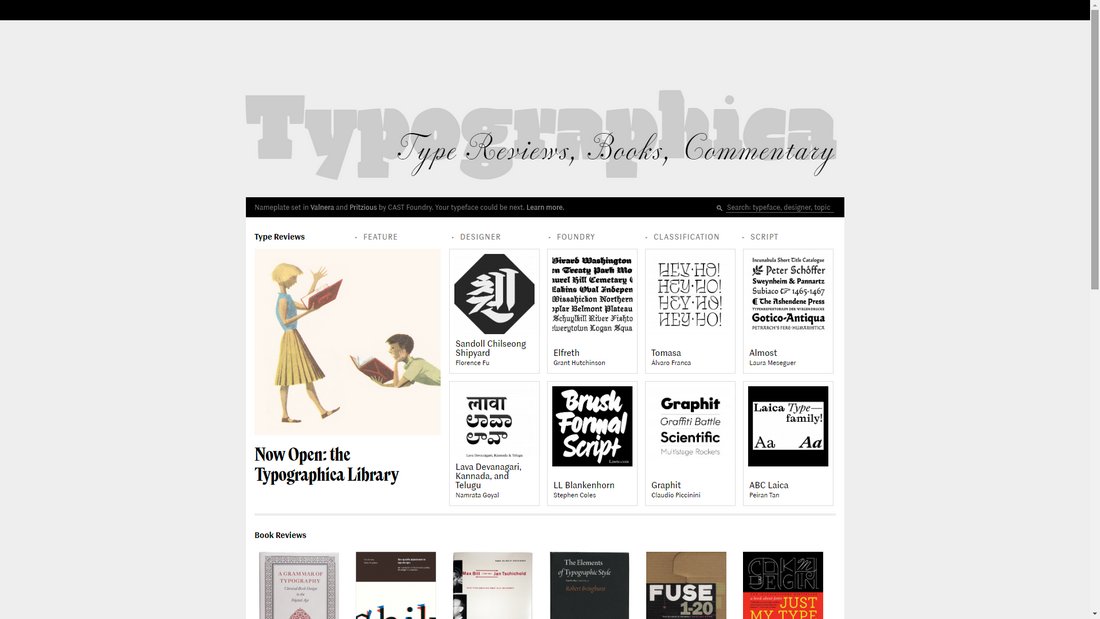 Typographica is a website you should go to when you need to do font research for a project. For example, when you have a font in mind for a project and want to make sure it's the right choice for the design, you can go to Typographica to read a review about the font or font style. And discover much more about the fonts than what can be seen on the surface.
Typographica has a massive collection of font reviews that describe the fonts with plenty of detail. You'll learn so much about each and every font that you use every day after reading the reviews on this site.
You can explore the reviews on Typographica by the designer, foundry, classification, or even by the year. In addition to the font reviews, you can also find book reviews on the website that are related to designers.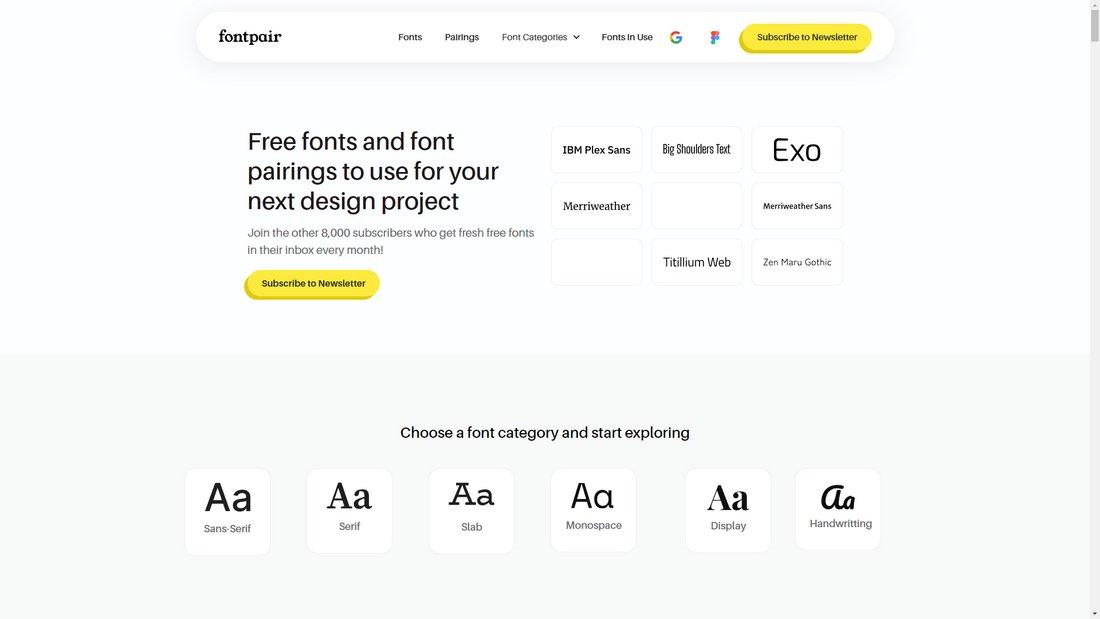 Fontpair is another great website you can visit to find inspiration for font pairing. It features a collection of font pairs that go perfectly together. Almost every font pair consists of free fonts that you can download right away.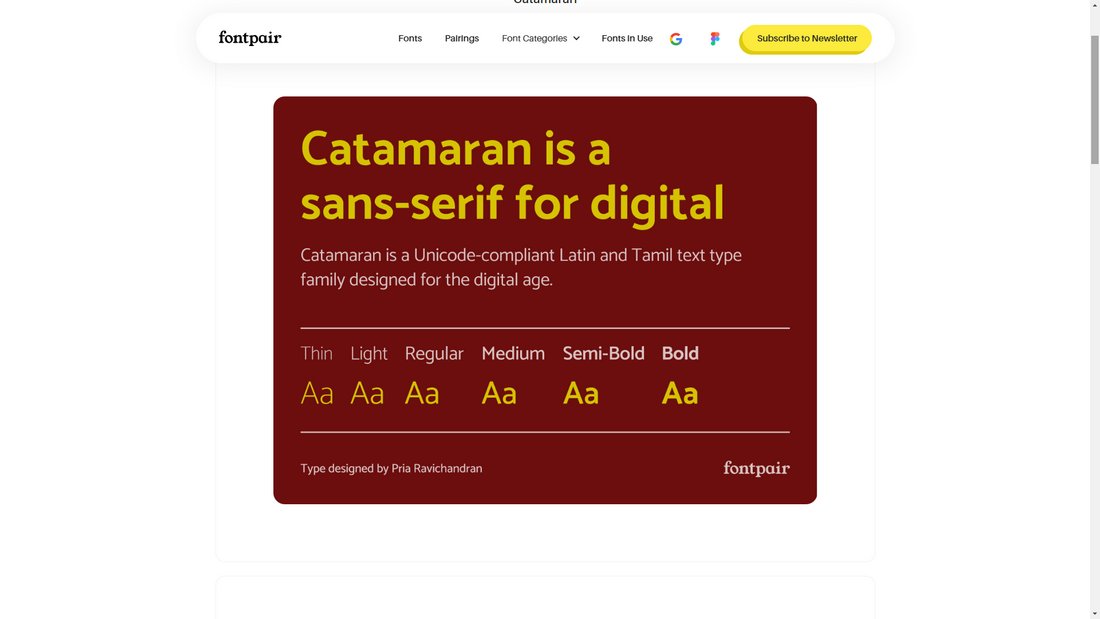 Each page for the fonts has detailed descriptions with links to download the font. If you want to find inspiration from real-world examples, there's a section on the website for you as well.
You can also explore the fonts by popular font style categories and there are separate sections for the free fonts and font pairs too.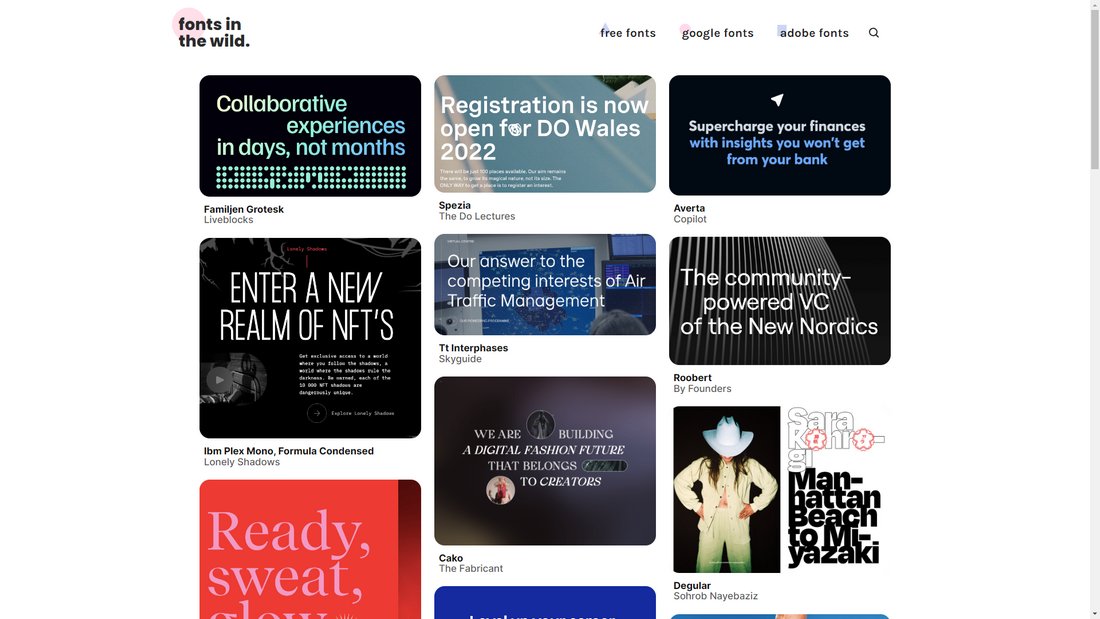 Fonts in the Wild is a simple and very straightforward website you can visit when you need to quickly find font inspiration for a project.
The website has a single-page design where you can continuously explore a mix of design examples of beautiful typography designs. When you click on a design, it will open a modal window with links to the fonts in use.
You can filter the collection by three categories, free fonts, Google fonts, and Adobe fonts. And that's pretty much it. There are no detailed descriptions of the fonts or history lessons. But sometimes, a great example is more than what you need to get inspired.
No introduction is required for this website. Dribbble is filled with great designer portfolios and it has an impressive typography section full of fonts and designs as well.
In this section, you can find lots of high-quality typography designs in the form of logos, UI designs, branding designs, posters, and more. Most of the designs here don't share details about the fonts in use. But it's a great place to find visual inspiration for your projects.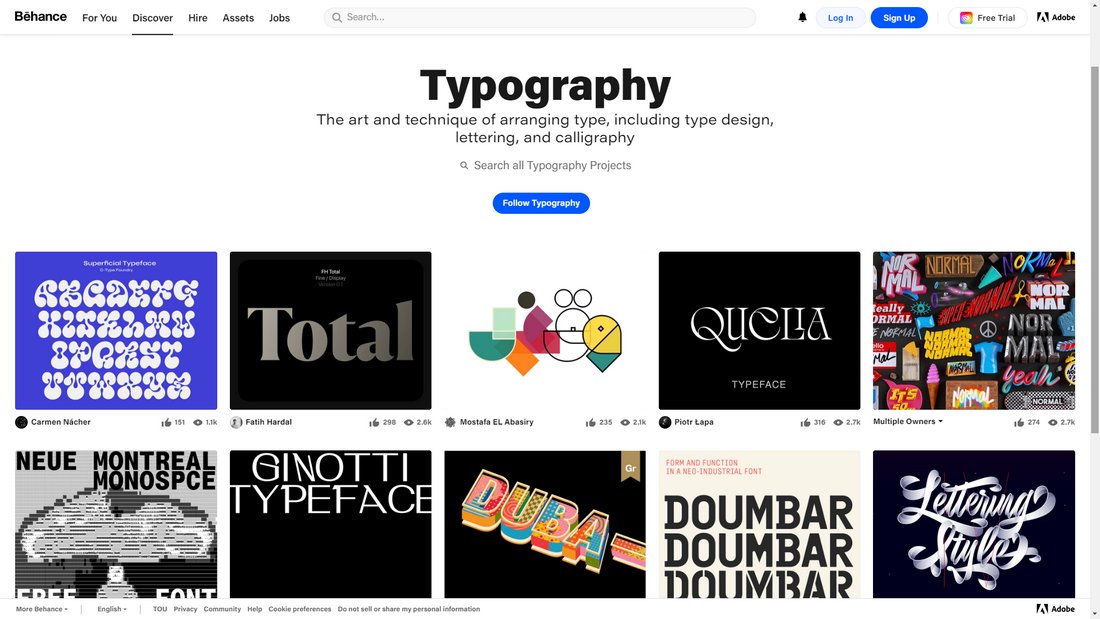 Behance also has a typography designs section, similar to Dribbble. The design collection here is much more focused on the designs themselves rather than the typefaces.
However, you will also find some free and premium fonts in this collection. It's worth keeping this page bookmarked.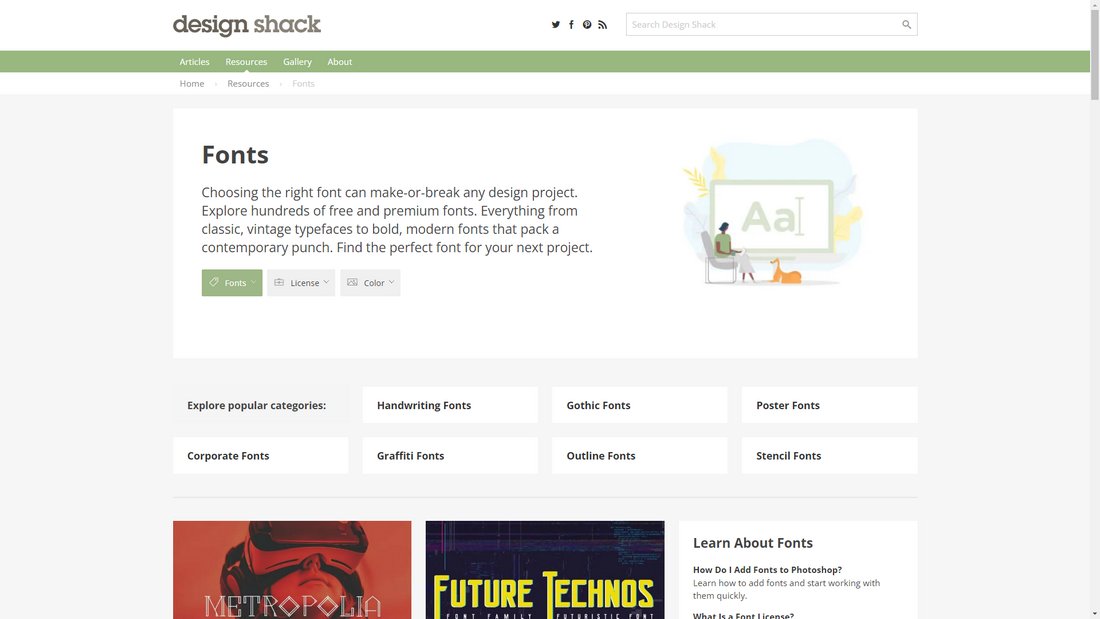 Last but not least, we want to mention our own little font collection here at Design Shack. We've been curating font collections for many years.
You can find font recommendations for any type of design project you're working on. And we always include both free and premium fonts in each collection.
Or you can explore our resources section to find individual fonts. If you're in a hurry, you can quickly filter and search fonts in this section by the type of project you're working on or by color or the license.
In Conclusion
Every designer and artist finds inspiration from the designs around them. Whether it's a piece by Michelangelo or a logo design by Paul Rand, they all find inspiration from something else.
This reminds us of a quote from the book Steal Like an Artist by Austin Kleon, "Every new idea is just a mashup or a remix of one or more previous ideas."
It doesn't matter where you found the inspiration from, as long as you incorporate your own original ideas into the design, it will be your design.