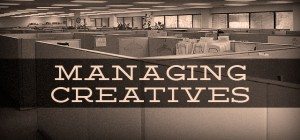 Today's workplace is filled with different personality styles. Understanding those differences and how they affect your workforce can make you a more effective manager.
Working with "left-brained" (more analytical) versus "right-brained" (more creative) employees has its own set of rules. Most creative workers use the right-brain style of learning and working, which is a visual, random, emotional and somewhat impulsive style of learning, according to data compiled at Western Michigan University. Right brain people like to work with sound in the background (note all those ear buds around the office), like to move about while thinking about concepts and generally start with a big idea and narrow it to the details. Left-brained workers and more verbal and logical, like things in order and prefer a formal workplace.
Take a look at your staff. How many right-brain workers are in the room? My guess it the number is pretty high among designers. Here are a few tips for managing your creative people in a way they can relate to.