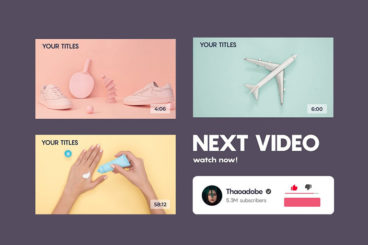 The related video suggestions panel on YouTube is one of the most effective tactics the platform uses to get users to watch hours of content at a time. It's part of the reason why YouTube is so addictive.
With the help of YouTube end screen templates, you can leverage this same tactic to grow your own YouTube channel. And to get your audience to watch more of your videos and grow subscriber numbers through the roof.
YouTube end screen templates allow you to add beautifully designed screens at the end of your videos to suggest more content from your channel and encourage people to subscribe.
We've found some amazing YouTube end screen templates you can use without any expert design or video editing skills. Have a look.