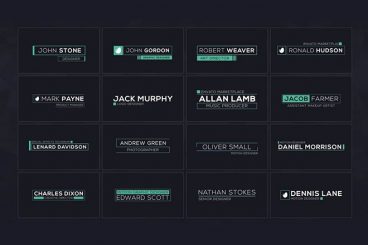 Lower thirds are an important part of many different types of videos. Especially in news segments, interviews, and even in YouTube videos, a properly placed lower third help add more context to your videos. We've hand-picked the best Premiere Pro lower thirds templates to get you off to a great start.
Even though a lower third seems like a simple object that anyone can create, it takes some creative thinking and visual effects to make a lower third that actually makes your videos look more professional. If you take a careful look at some of the best-edited videos on YouTube (or even a news segment on a TV channel), you'll notice how they include lower-thirds that feature attractive effects that blend in with the video seamlessly.
You don't have to be an expert video editor to create that type of lower-thirds. We've found a collection of professional and creative Premiere Pro lower third templates you can download and customize as your own to add better lower-thirds to your videos.
Plus, we're sharing a few helpful tips for lower third design to give you a few design pointers!