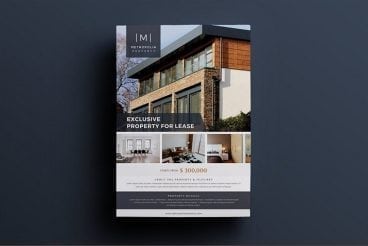 Passing flyers is one of the best marketing strategies real estate agencies use to market their properties. We handpicked a collection of attractive real estate flyer templates to help you design unique flyers to promote your real estate listings like a pro.
Real estate is a booming industry. With many agencies popping up around every corner, you need to think outside the box to get more attention to the houses, flats, and apartments you're trying to market. This involves crafting flyers and brochures that get potential buyers attention and stand out from the crowd.
With the help of these easy to use templates, you'll be able to design such amazing-looking flyers to promote your property listings without even having to spend extra money on hiring graphic designers. You can easily edit these templates all by yourself.
Browse the collection, download a real estate flyer template, and start customizing to design a unique flyer for your business. Or check out our tips for designing real estate flyers for a few extra pointers!