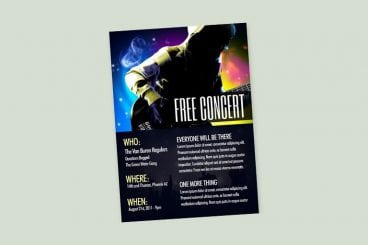 This article will walk you through the process and logic of designing a basic but attractive flyer. We'll look at how you can plan your content, find and implement some quality images and handle the alignment of a significant amount of content while not sacrificing too much of the visual appeal.
Design Shack reader Abigail submitted a Design Dilemma to ask about flyer design. After reading through our tips on designing presentations, she wanted to know how she could apply similar advice to flyer design. In our presentation article, we advised designers to keep their slides painfully simple, but flyers understandably must contain more information than a simple headline.
We're going to answer Abigail's question with a full-on flyer design project that you can either browse through for general design advice or follow along with for some solid experience.